Abstract
Purpose
The purpose of this study was to prospectively assess the clinical implications of neuroendocrine (NE) differentiation in non-small-cell lung cancer (NSCLC) tumors.
Methods
This study accrued subjects suspected to have lung cancer who underwent diagnostic bronchoscopy. Bronchoscopically-biopsied specimens were subjected to routine pathologic examination, and immunohistochemical studies were then performed if lung cancer was diagnosed. Chromogranin-A, synaptophysin, neural cell adhesion molecule, and Leu7 were used to demonstrate NE differentiation.
Results
A total of 280 subjects were accrued to this study over a period of 2 years. Among them, 149 subjects were assessable for this study, and 130 were diagnosed as having NSCLC tumors (55 adenocarcinomas, 50 squamous cell carcinomas, 24 NSCLCs not otherwise specified, and 1 typical carcinoid). Large cell NE carcinoma was not observed in this study. Immunohistochemically, NE differentiation was detected in 16% of NSCLC tumors excluding typical carcinoid. By status of NE differentiation of NSCLC tumors, progression-free survivals were similar in 73 patients undergoing non-surgical treatment (positive, n = 10; negative, n = 63) and 43 patients undergoing surgical resection (positive, n = 8; negative, n = 35), respectively. Overall survival of patients with NE-positive tumors appeared to be favorable both for those undergoing non-surgical treatment and those undergoing surgical resection, though the differences in survival were not significant (P = 0.11 and 0.35, respectively).
Conclusions
NE differentiation was detected in 16% of NSCLC tumors in our study. However, the prognostic implications of the presence of this feature could not be clearly determined in this study.
This is a preview of subscription content, log in to check access.
Access options
Buy single article
Instant access to the full article PDF.
US$ 39.95
Price includes VAT for USA
Subscribe to journal
Immediate online access to all issues from 2019. Subscription will auto renew annually.
US$ 199
This is the net price. Taxes to be calculated in checkout.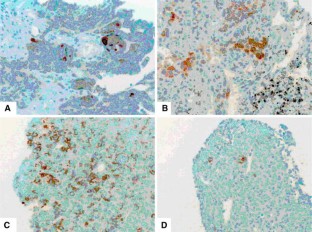 References
Berendsen HH, de Leij L, Poppema S, Postmus PE, Boes A, Sluiter HJ, The H (1989) Clinical characterization of non-small-cell lung cancer tumors showing neuroendocrine differentiation features. J Clin Oncol 7:1614–1620

Center for Cancer Control and Information Services (2007) Trend in crude cancer mortality rate. National Cancer Center, Japan. http://ganjoho.ncc.go.jp/pro/statistics/en/gdb_trend.html?1%1. Accessed 1 Sep 2008

Graziano SL, Mazid R, Newman N, Tatum A, Oler A, Mortimer JA, Gullo JJ, DiFino SM, Scalzo AJ (1989) The use of neuroendocrine immunoperoxide markers to predict chemotherapy response in patients with non-small-cell lung cancer. J Clin Oncol 7:1398–1406

Kibbelaar RE, Moolenaar KEC, Michalides RJAM, Van Bodegom PC, Vanderschueren RGJRA, Wagenaar SS, Dingemans KP, Bitter-Suermann D, Dalesio O, Van Zandwijk N, Mooi WJ (1991) Neural cell adhesion molecule expression, neuroendocrine differentiation and prognosis in lung carcinoma. Eur J Cancer 27:431–435

Linnoila RI, Piantadosi S, Ruckdeschel JC (1994) Impact of neuroendocrine differentiation in non-small cell lung cancer. Chest 106:367S–371S

Mountain CF (1997) Revisions in the international system for staging lung cancer. Chest 111:1710–1717

Schleusener JT, Tazelaar HD, Jung S, Cha SS, Cera PJ, Myers JL, Creagan ET, Goldberg RM, Marschke RF (1996) Neuroendocrine differentiation is an independent prognostic factor in chemotherapy-treated nonsmall cell lung carcinoma. Cancer 77:1284–1294

Segawa Y, Takigawa N, Kataoka M, Takata I, Fujimoto N, Ueoka H (1997) Risk factors for development of radiation pneumonitis following radiation therapy with or without chemotherapy for lung cancer. Int J Radiat Oncol Biol Phys 39:91–98

Skov BG, Serensen JB, Hirsch FR, Larsson LI, Hansen HH (1991) Prognostic impact of histologic demonstration of chromogranin A and neuron specific enolase in pulmonary adenocarcinoma. Ann Oncol 2:355–360

Smith W, Khuri FR (2004) The care of the lung cancer patient in the 21st century: a new age. Semin Oncol 31:11–15

Travis WD, Colby TV, Corrin B, Shimosato Y, Brambilla E, Sobin LH (1999) Histological typing of lung and pleural tumors. In: World Health Organization International Histological Classification of Tumors, 3rd edn. Springer, Berlin, pp 7–12

Travis WD, Linder J, Mackay B (2000) Classification, histology, cytology, and electron microscopy. In: Pass HI, Mitchell JB, Johnson DH et al (eds) Lung Cancer, 2nd edn. Lippincott Williams & Wilkins, Philadelphia, pp 453–495
Acknowledgments
This study was supported in part by a grant from the Ministry of Health, Labor, and Welfare of Japan (No. 15–15).
About this article
Cite this article
Segawa, Y., Takata, S., Fujii, M. et al. Immunohistochemical detection of neuroendocrine differentiation in non-small-cell lung cancer and its clinical implications. J Cancer Res Clin Oncol 135, 1055 (2009). https://doi.org/10.1007/s00432-009-0544-1
Received:

Accepted:

Published:
Keywords
Non-small-cell lung carcinoma

Neuroendocrine lung tumor

Neuroendocrine differentiation

Immunohistochemistry