Abstract
Purpose
This study aimed to evaluate serum cytochrome c (cyto-c) levels as a novel role of tumor marker in patients with operable malignant tumors.
Methods
Serum cyto-c levels and lactate dehydrogenase (LD) activity were measured in a total of 257 cases (232 malignant and 25 benign). To identify the relationship between serum cyto-c and current tumor markers, six variables, such as gender, age, invasion, lymph node metastasis, distant metastasis, and LD, were analyzed by uni- and multivariate regression analysis methods. The test performance of serum cyto-c for the prediction of malignant behavior was evaluated by receiver operating characteristic (ROC) curves.
Results
The serum cyto-c level was significantly higher in patients with malignant tumors than patients with benign tumors (20.6 vs. 15.5 ng/mL; P = 0.017, Mann–Whitney U test). No difference in the levels among subtypes of cancer was found, indicating that the change in serum cyto-c levels reflect cancer individually and not specific subtypes of cancer. The survival in patients with serum cyto-c levels over 40 ng/mL was poor (Kaplan–Meier test, P < 0.0001, Hazard ratio 16.76, 95% confidential interval 4.45–63.04). Multiple linear regression analyses disclosed the close association of serum cyto-c levels with invasion (P = 0.0004), metastasis (P = 0.0262) except for regional lymph node metastasis, and activity of serum LD (P < 0.0001), all of which are well known to represent malignant behavior. Conversely, the measurement of serum cyto-c was verified to have excellent diagnostic accuracy of 0.802 and 0.781 for the detection of invasion and metastasis (the area under curves of the constructed ROCs).
Conclusion
Serum cyto-c is a potent tumor marker as a predictor for malignant potential in cancers.
This is a preview of subscription content, log in to check access.
Access options
Buy single article
Instant access to the full article PDF.
US$ 39.95
Price includes VAT for USA
Subscribe to journal
Immediate online access to all issues from 2019. Subscription will auto renew annually.
US$ 199
This is the net price. Taxes to be calculated in checkout.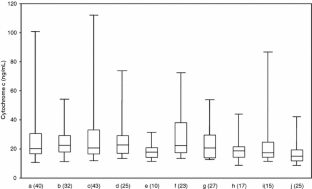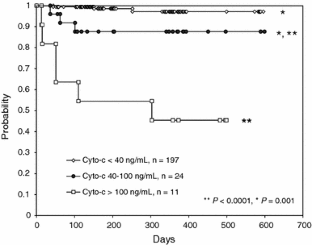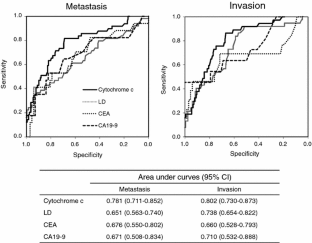 References
Adachi N, Hirota M, Hamaguchi M, Okamoto K, Watanabe K, Endo F (2004) Serum cytochrome c level as a prognostic indicator in patients with systemic inflammatory response syndrome. Clin Chim Acta 342:127–136

Alleyne T, Joseph J, Sampson V (2001) Cytochrome-c detection: a diagnostic marker for myocardial infarction. Appl Biochem Biotechnol 90:97–105

Barczyk K, Kreuter M, Pryjma J, Booy EP, Maddika S, Ghavami S, Berdel WE, Roth J, Los M (2005) Serum cytochrome c indicates in vivo apoptosis and can serve as a prognostic marker during cancer therapy. Int J Cancer 20:167–173

Beachy SH, Repasky EA (2008) Using extracellular biomarkers for monitoring efficacy of therapeutics in cancer patients: an update. Cancer Immunol Immunother 57:759–775

Harris AL (2002) Hypoxia–a key regulatory factor in tumour growth. Nat Rev Cancer 2:38–47

Holdenrieder S, Stieber P (2004) Apoptotic markers in cancer. Clin Biochem 37:605–617

Hosoya M, Nunoi H, Aoyama M, Kawasaki Y, Suzuki H (2005) Cytochrome c and tumor necrosis factor-alpha values in serum and cerebrospinal fluid of patients with influenza-associated encephalopathy. Pediatr Infect Dis J. 24:467–470

Hosoya M, Kawasaki Y, Katayose M, Sakuma H, Watanabe M, Igarashi E, Aoyama M, Nunoi H, Suzuki H (2006) Prognostic predictive values of serum cytochrome c, cytokines, and other laboratory measurements in acute encephalopathy with multiple organ failure. Arch Dis Child 91:469–472

Manjo G, Joris I (1995) Apoptosis, oncosis, and necrosis. An overview of cell death. Amer J Pathol 146:3–15

Meggiato T, Calabrese F, Valente M, Favaretto E, Baliello E, Del Favero G (2000) Spontaneous apoptosis and proliferation in human pancreatic csancer. Pancreas 20:117–122

Osaka A, Hasegawa H, Tsuruda K, Inokuchi N, Yanagihara K, Yamada Y, Aoyama M, Sawada T, Kamihira S (2008) Serum cytochrome c to indicate the extent of ongoing tumor cell death. Int J Lab Hematol (Epub ahead of print)

Tanaka F, Otake Y, Yanagihara K, Kawano Y, Miyahara R, Li M, Ishikawa S, Wada H (2003) Correlation between apoptotic index and angiogenesis in non-small cell lung cancer: comparison between CD105 and CD34 as a marker of angiogenesis. Lung Cancer 39:289–296
Conflict of interest statement
None of the authors have any conflicts of interest in connection with this work.
About this article
Cite this article
Osaka, A., Hasegawa, H., Yamada, Y. et al. A novel role of serum cytochrome c as a tumor marker in patients with operable cancer. J Cancer Res Clin Oncol 135, 371–377 (2009). https://doi.org/10.1007/s00432-008-0479-y
Received:

Accepted:

Published:

Issue Date:
Keywords
Cytochrome c

Prediction

Tumor marker

Metastatic potential