Abstract
Purpose
Radiotherapy is the most frequently used and cheapest treatment both for curative and palliative purposes in HNSCC. Despite advances in technology and intensive treatments with radiation, only half of the patients are cured. New therapeutic approaches focusing on the molecular mechanism that mediate tumour cell growth or cell death in combination with radiotherapy have been suggested. The effects of radiation, antibody to EGFR and Docetaxel as single treatment or in combinations on HNSCC cells were investigated.
Methods
The established HNSCC cells with mutant (mt) P53 and over-expressed normal EGFR was used as the in vitro model. Gene expression profile, cell cycle progression and cell death were used as the indication of treatment outcome.
Results
With c-DNA microarray of well-characterised functional genes, massive changes in the genes expression of HNSCC were detected. The alterations of gene expression profiles do not have any correlation neither on tumour cell growth nor cell death. HNSCC cells with mt P53 and over-expressed normal EGFR did not response to radiation, anti-EGFR monoclonal antibody and their combination therapy. Effective treatment could be obtained from single therapy with Docetaxel. No additive effects on cell cycle arrest or cell death were seen in the combination of Docetaxel to anti-EGFR antibody, radiation or anti-EGFR antibody + radiation.
Conclusions
The c-DNA microarray analysis does not indicate any specific target or treatment effects of HNSCC with mt P53 and over-expressed normal EGFR. Single therapy, target at microtubules might be the most suitable treatment modulation in this tumour type.
This is a preview of subscription content, log in to check access.
Access options
Buy single article
Instant access to the full article PDF.
US$ 39.95
Price includes VAT for USA
Subscribe to journal
Immediate online access to all issues from 2019. Subscription will auto renew annually.
US$ 199
This is the net price. Taxes to be calculated in checkout.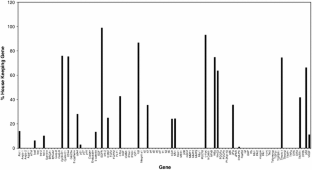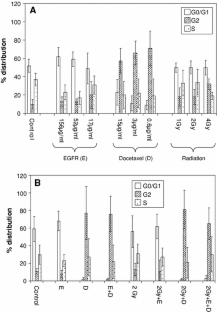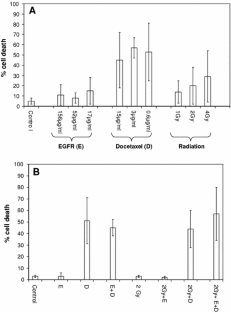 References
Ang KK, Berkey BA, Tu X, Zhang HZ, Katz R, Hammond EH, Fu KK, Milas L (2002) Impact of epidermal growth factor receptor expression on survival and pattern of relapse in patients with advanced head and neck carcinoma. Cancer Res 62:7350–7356

Baselga J, Trigo JM, Bourhis J, Tortochaux J, Cortes-Funes H, Hitt R, Gascon P, Amellal N, Harstrick A, Eckardt A (2005) Phase II multicenter study of the antiepidermal growth factor receptor monoclonal antibody cetuximab in combination with platinum-based chemotherapy in patients with platinum-refractory metastatic and/or recurrent squamous cell carcinoma of the head and neck. J Clin Oncol 23:5568–5577

Bernier J, Domenge C, Ozsahin M, Matuszewska K, Lefebvre JL, Greiner RH, Giralt J, Maingon P, Rolland F, Bolla M, Cognetti F, Bourhis J, Kirkpatrick A, van Glabbeke M (2004) Postoperative irradiation with or without concomitant chemotherapy for locally advanced head and neck cancer. N Engl J Med 350:1945–1952

Bianco R, Troiani T, Tortora G, Ciardiello F (2005) Intrinsic and acquired resistance to EGFR inhibitors in human cancer therapy. Endocr Relat Cancer 12(Suppl 1):S159–S171

Bonner JA, Harari PM, Giralt J, Azarnia N, Shin DM, Cohen RB, Jones CU, Sur R, Raben D, Jassem J, Ove R, Kies MS, Baselga J, Youssoufian H, Amellal N, Rowinsky EK, Ang KK (2006) Radiotherapy plus cetuximab for squamous-cell carcinoma of the head and neck. N Engl J Med 354:567–578

Bossi G, Sacchi A (2007) Restoration of wild-type p53 function in human cancer: relevance for tumor therapy. Head Neck 29:272–284

Castro J, Heiden T, Wang N, Tribukait B (1993) Preparation of cell nuclei from fresh tissues for high-quality DNA flow cytometry. Cytometry 14:793–804

Choe MS, Chen Z, Klass CM, Zhang X, Shin DM (2007) Enhancement of docetaxel-induced cytotoxicity by blocking epidermal growth factor receptor and cyclooxygenase-2 pathways in squamous cell carcinoma of the head and neck. Clin Cancer Res 13:3015–3023

Chompret A, Brugieres L, Ronsin M, Gardes M, Dessarps-Freichey F, Abel A, Hua D, Ligot L, Dondon MG, Bressac-de Paillerets B, Frebourg T, Lemerle J, Bonaiti-Pellie C, Feunteun J (2000) P53 germline mutations in childhood cancers and cancer risk for carrier individuals. Br J Cancer 82:1932–1937

Dassonville O, Formento JL, Francoual M, Ramaioli A, Santini J, Schneider M, Demard F, Milano G (1993) Expression of epidermal growth factor receptor and survival in upper aerodigestive tract cancer. J Clin Oncol 11:1873–1878

Dassonville O, Bozec A, Fischel JL, Milano G (2007) EGFR targeting therapies: monoclonal antibodies versus tyrosine kinase inhibitors Similarities and differences. Crit Rev Oncol Hematol 62:53–61

Grandis JR, Tweardy DJ (1993a) Elevated levels of transforming growth factor alpha and epidermal growth factor receptor messenger RNA are early markers of carcinogenesis in head and neck cancer. Cancer Res 53:3579–3584

Grandis JR, Tweardy DJ (1993b) TGF-alpha and EGFR in head and neck cancer. J Cell Biochem Suppl 17F:188–191

Kalyankrishna S, Grandis JR (2006) Epidermal growth factor receptor biology in head and neck cancer. J Clin Oncol 24:2666–2672

Kato S, Han SY, Liu W, Otsuka K, Shibata H, Kanamaru R, Ishioka C (2003) Understanding the function-structure and function-mutation relationships of p53 tumor suppressor protein by high-resolution missense mutation analysis. Proc Natl Acad Sci USA 100:8424–8429

Lee EJ, Whang JH, Jeon NK, Kim J (2007) The epidermal growth factor receptor tyrosine kinase inhibitor ZD1839 (Iressa) suppresses proliferation and invasion of human oral squamous carcinoma cells via p53 independent and MMP, uPAR dependent mechanism. Ann N Y Acad Sci 1095:113–128

Lewin N, Lagerlund M, Lundgren J, Nordlander B, Elmberger G, Södergren T, Lageros C, Rutqvist LE, Lewin F (2005) Significance of references RNA in human tumor related gene expression profiles analyses by cDNA microarray. Anticancer Res 25:1397–1408

Magne N, Fischel JL, Dubreuil A, Formento P, Poupon MF, Laurent-Puig P, Milano G (2002) Influence of epidermal growth factor receptor (EGFR), p53 and intrinsic MAP kinase pathway status of tumour cells on the antiproliferative effect of ZD1839 ("Iressa"). Br J Cancer 86:1518–1523

Mendelsohn J, Baselga J (2003) Status of epidermal growth factor receptor antagonists in the biology and treatment of cancer. J Clin Oncol 21:2787–2799

Nyati MK, Morgan MA, Feng FY, Lawrence TS (2006) Integration of EGFR inhibitors with radiochemotherapy. Nat Rev Cancer 6:876–885

Ringel I, Horwitz SB (1991) Studies with RP 56976 (taxotere): a semisynthetic analogue of taxol. J Natl Cancer Inst 83:288–291

Rowinsky EK (1997) The development and clinical utility of the taxane class of antimicrotubule chemotherapy agents. Annu Rev Med 48:353–374

Schlecht NF, Burk RD, Adrien L, Dunne A, Kawachi N, Sarta C, Chen Q, Brandwein-Gensler M, Prystowsky MB, Childs G, Smith RV, Belbin TJ (2007) Gene expression profiles in HPV-infected head and neck cancer. J Pathol 213:283–293

Seiwert TY, Cohen EE, Haraf DJ, Stenson K, Blair EA, Mauer A, Dekker A, Vokes EE (2007) A phase I trial of docetaxel based induction and concomitant chemotherapy in patients with locally advanced head and neck cancer. Cancer Invest 25:435–444

Soussi T, Kato S, Levy PP, Ishioka C (2005) Reassessment of the TP53 mutation database in human disease by data mining with a library of TP53 missense mutations. Hum Mutat 25:6–17

van't Veer LJ, Dai H, van de Vijver MJ, He YD, Hart AA, Mao M, Peterse HL, van der Kooy K, Marton MJ, Witteveen AT, Schreiber GJ, Kerkhoven RM, Roberts C, Linsley PS, Bernards R, Friend SH (2002) Gene expression profiling predicts clinical outcome of breast cancer. Nature 415:530–536

Wang SJ, Bourguignon LY (2006) Hyaluronan and the interaction between CD44 and epidermal growth factor receptor in oncogenic signaling and chemotherapy resistance in head and neck cancer. Arch Otolaryngol Head Neck Surg 132:771–778
Acknowledgments
We would like to thank Jean Louise Fischel for the Cal 33 cells. Bo Stenlöw, Gunnar Wagenius and Christofer Lagerros for all practical help and suggestion. This investigation was supported from Swedish Larynx foundation and Erik, Karin and Gösta Selanders foundation.
About this article
Cite this article
Laytragoon-Lewin, N., Ustun, H., Castro, J. et al. In vitro effect of radiation, antibody to epidermal growth factor receptor and Docetaxel in human head and neck squamous carcinoma cells with mutant P53 and over-expressed EGFR. J Cancer Res Clin Oncol 135, 203–209 (2009). https://doi.org/10.1007/s00432-008-0456-5
Received:

Accepted:

Published:

Issue Date:
Keywords
Head and neck squamous cell carcinoma (HNSCC)

Radiation

Epidermal growth factor receptor (EGFR)

Mutant (mt) P53

Docetaxel