Abstract
Purpose
Imatinib is a small molecule inhibiting the tyrosine kinases bcr-abl, c-kit, PDGFR-α and PDGFR-β. Investigations were performed to screen ovarian cancer cell lines and tumor samples for target receptor expression. Effects of Imatinib on cell proliferation and apoptosis induction were measured with and without additional cytotoxic agents.
Methods
Expression patterns of abl, c-kit, PDGFR-α and PDGFR-β (Imatinib targets) were studied in 5 cell lines and 111 tissue arrays by PCR and immunohistochemistry. Proliferation assays were performed with single agent Imatinib or combined with Paclitaxel and Carboplatin. Apoptosis was measured by DNA fragmentation.
Results
All cell lines expressed abl and PDGFR-β. C-kit was only expressed in 2/5 cell lines and PDGFR-α in 4/5. Imatinib reduced cell growth and lead to pro-apoptotic changes. Combination of Carboplatin, Paclitaxel and Imatinib showed synergistic activity.
Conclusions
Our results suggest that Imatinib may be useful for the specific treatment of ovarian cancer as an add-on to conventional chemotherapy.
This is a preview of subscription content, log in to check access.
Access options
Buy single article
Instant access to the full article PDF.
US$ 39.95
Price includes VAT for USA
Subscribe to journal
Immediate online access to all issues from 2019. Subscription will auto renew annually.
US$ 199
This is the net price. Taxes to be calculated in checkout.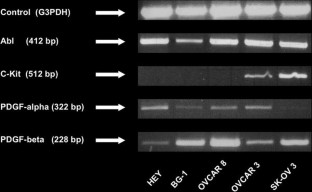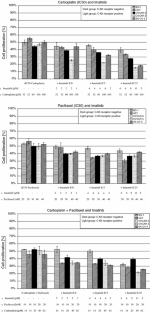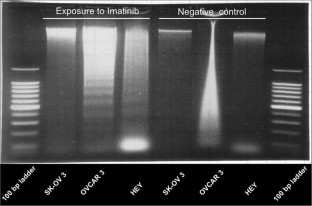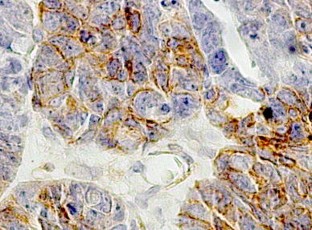 References
Alberts DS, Hallum AV III, Stratton-Custis M, Garcia DJ, Gleason-Guzman M, Salmon SE, Santabarbara P, Niesor EJ, Floret S, Bentzen CL (2001) Phase I pharmacokinetic trial and correlative in vitro phase II tumor kinetic study of Apomine (SR-45023A), a novel oral biphosphonate anticancer drug. Clin Cancer Res 7:1246–1250

Alberts DS, Liu PY, Wilczynski SP, Jang A, Moon J, Ward JH, Beck JT, Clouser M, Markman M (2007) Phase II trial of imatinib mesylate in recurrent, biomarker positive, ovarian cancer (Southwest Oncology Group Protocol S0211). Int J Gynecol Cancer 17:784–788

Apte SM, Bucana CD, Killion JJ, Gershenson DM, Fidler IJ (2004a) Expression of platelet-derived growth factor and activated receptor in clinical specimens of epithelial ovarian cancer and ovarian carcinoma cell lines. Gynecol Oncol 93:78–86

Apte SM, Fan D, Killion JJ, Fidler IJ (2004b) Targeting the platelet-derived growth factor receptor in antivascular therapy for human ovarian carcinoma. Clin Cancer Res 10:897–908

Arimoto-Ishida E, Ohmichi M, Mabuchi S, Takahashi T, Ohshima C, Hayakawa J, Kimura A, Takahashi K, Nishio Y, Sakata M, Kurachi H, Tasaka K, Murata Y (2004) Inhibition of phosphorylation of a forkhead transcription factor sensitizes human ovarian cancer cells to cisplatin. Endocrinology 145:2014–2022

Bristow RE, Tomacruz RS, Armstrong DK, Trimble EL, Montz FJ (2002) Survival effect of maximal cytoreductive surgery for advanced ovarian carcinoma during the platinum era: a meta-analysis. J Clin Oncol 20:1248–1259

Buchdunger E, O'Reilly T, Wood J (2002) Pharmacology of imatinib (STI571). Eur J Cancer 38(Suppl 5):S28–S36

Coleman RL, Broaddus RR, Bodurka DC, Wolf JK, Burke TW, Kavanagh JJ, Levenback CF, Gershenson DM (2006) Phase II trial of imatinib mesylate in patients with recurrent platinum- and taxane-resistant epithelial ovarian and primary peritoneal cancers. Gynecol Oncol 101:126–131

Dunigan DD, Waters SB, Owen TC (1995) Aqueous soluble tetrazolium/formazan MTS as an indicator of NADH- and NADPH-dependent dehydrogenase activity. Biotechniques 19:640–649

Faivre S, Raymond E, Casiraghi O, Temam S, Berthaud P (2005) Imatinib mesylate can induce objective response in progressing, highly expressing KIT adenoid cystic carcinoma of the salivary glands. J Clin Oncol 23:6271–6273; author reply 6273–6274

Frolov A, Chahwan S, Ochs M, Arnoletti JP, Pan ZZ, Favorova O, Fletcher J, von Mehren M, Eisenberg B, Godwin AK (2003) Response markers and the molecular mechanisms of action of Gleevec in gastrointestinal stromal tumors. Mol Cancer Ther 2:699–709

Gordon AN, Fleagle JT, Guthrie D, Parkin DE, Gore ME, Lacave AJ (2001) Recurrent epithelial ovarian carcinoma: a randomized phase III study of pegylated liposomal doxorubicin versus topotecan. J Clin Oncol 19:3312–3322

Hartman M, Piliponsky AM, Temkin V, Levi-Schaffer F (2001) Human peripheral blood eosinophils express stem cell factor. Blood 97:1086–1091

Hu L, Hofmann J, Lu Y, Mills GB, Jaffe RB (2002) Inhibition of phosphatidylinositol 3′-kinase increases efficacy of paclitaxel in in vitro and in vivo ovarian cancer models. Cancer Res 62:1087–1092

Jemal A, Murray T, Ward E, Samuels A, Tiwari RC, Ghafoor A, Feuer EJ, Thun MJ (2005) Cancer statistics. CA Cancer J Clin 55:10–30

Kano Y, Akutsu M, Tsunoda S, Mano H, Sato Y, Honma Y, Furukawa Y (2001) In vitro cytotoxic effects of a tyrosine kinase inhibitor STI571 in combination with commonly used antileukemic agents. Blood 97:1999–2007

Krystal GW, Honsawek S, Litz J, Buchdunger E (2000) The selective tyrosine kinase inhibitor STI571 inhibits small cell lung cancer growth. Clin Cancer Res 6:3319–3326

Kubler HR, van Randenborgh H, Treiber U, Wutzler S, Battistel C, Lehmer A, Wagenpfeil S, Hartung R, Paul R (2005) In vitro cytotoxic effects of imatinib in combination with anticancer drugs in human prostate cancer cell lines. Prostate 63:385–394

Lassus H, Sihto H, Leminen A, Nordling S, Joensuu H, Nupponen NN, Butzow R (2004) Genetic alterations and protein expression of KIT and PDGFRA in serous ovarian carcinoma. Br J Cancer 91:2048–2055

Mabuchi S, Ohmichi M, Kimura A, Hisamoto K, Hayakawa J, Nishio Y, Adachi K, Takahashi K, Arimoto-Ishida E, Nakatsuji Y, Tasaka K, Murata Y (2002) Inhibition of phosphorylation of BAD and Raf-1 by Akt sensitizes human ovarian cancer cells to paclitaxel. J Biol Chem 277:33490–33500

Matei D, Chang DD, Jeng MH (2004) Imatinib mesylate (Gleevec) inhibits ovarian cancer cell growth through a mechanism dependent on platelet-derived growth factor receptor alpha and Akt inactivation. Clin Cancer Res 10:681–690

Matei D, Emerson RE, Lai YC, Baldridge LA, Rao J, Yiannoutsos C, Donner DD (2006) Autocrine activation of PDGFRalpha promotes the progression of ovarian cancer. Oncogene 25:2060–2069

Neijt JP, Engelholm SA, Tuxen MK, Sorensen PG, Hansen M, Sessa C, de Swart CA, Hirsch FR, Lund B, van Houwelingen HC (2000) Exploratory phase III study of paclitaxel and cisplatin versus paclitaxel and carboplatin in advanced ovarian cancer. J Clin Oncol 18:3084–3092

Page C, Lin HJ, Jin Y, Castle VP, Nunez G, Huang M, Lin J (2000) Overexpression of Akt/AKT can modulate chemotherapy-induced apoptosis. Anticancer Res 20:407–416

Palumbo C, van Roozendaal K, Gillis AJ, van Gurp RH, de Munnik H, Oosterhuis JW, van Zoelen EJ, Looijenga LH (2002) Expression of the PDGF alpha-receptor 1.5 kb transcript, OCT-4, and c-KIT in human normal and malignant tissues. Implications for the early diagnosis of testicular germ cell tumours and for our understanding of regulatory mechanisms. J Pathol 196:467–477

Pietras K, Ostman A, Sjoquist M, Buchdunger E, Reed RK, Heldin CH, Rubin K (2001) Inhibition of platelet-derived growth factor receptors reduces interstitial hypertension and increases transcapillary transport in tumors. Cancer Res 61:2929–2934

Remmele W, Stegner HE (1987) Recommendation for uniform definition of an immunoreactive score (IRS) for immunohistochemical estrogen receptor detection (ER-ICA) in breast cancer tissue. Pathologe 8:138–140

Roche-Lestienne C, Soenen-Cornu V, Grardel-Duflos N, Lai JL, Philippe N, Facon T, Fenaux P, Preudhomme C (2002) Several types of mutations of the Abl gene can be found in chronic myeloid leukemia patients resistant to STI571, and they can pre-exist to the onset of treatment. Blood 100:1014–1018

Satomura K, Derubeis AR, Fedarko NS, Ibaraki-O'Connor K, Kuznetsov SA, Rowe DW, Young MF, Gehron Robey P (1998) Receptor tyrosine kinase expression in human bone marrow stromal cells. J Cell Physiol 177:426–438

Shaw TJ, Vanderhyden BC (2007) AKT mediates the pro-survival effects of KIT in ovarian cancer cells and is a determinant of sensitivity to imatinib mesylate. Gynecol Oncol 105:122–131

Thompson JE, Thompson CB (2004) Putting the rap on Akt. J Clin Oncol 22:4217–4226

Westphal JR, Van't Hullenaar R, Peek R, Willems RW, Crickard K, Crickard U, Askaa J, Clemmensen I, Ruiter DJ, De Waal RM (2000) Angiogenic balance in human melanoma: expression of VEGF, bFGF, IL-8, PDGF and angiostatin in relation to vascular density of xenografts in vivo. Int J Cancer 86:768–776

Yuan ZQ, Feldman RI, Sussman GE, Coppola D, Nicosia SV, Cheng JQ (2003) AKT2 inhibition of cisplatin-induced JNK/p38 and Bax activation by phosphorylation of ASK1: implication of AKT2 in chemoresistance. J Biol Chem 278:23432–23440
Acknowledgment
We are thankful for an unrestricted research grant from Novartis Pharmaceutical, Germany supporting this study.
Additional information
C. Mundhenke and M. T. Weigel contributed equally to this work.
About this article
Cite this article
Mundhenke, C., Weigel, M.T., Sturner, K.H. et al. Novel treatment of ovarian cancer cell lines with Imatinib mesylate combined with Paclitaxel and Carboplatin leads to receptor-mediated antiproliferative effects. J Cancer Res Clin Oncol 134, 1397 (2008). https://doi.org/10.1007/s00432-008-0408-0
Received:

Accepted:

Published:
Keywords
Ovarian cancer

Targeted therapy

In vitro

Imatinib Mesylate