Abstract
Background
Enlarged lymph nodes in the mediastinum reflect neoplastic, infectious or other diseases. The classification of these nodes is crucial in the management of the patient. Currently, only invasive measures obtaining tissue samples reach satisfying specificity. Contrast-enhanced endoscopic ultrasound (EUS) may offer a non-invasive alternative.
Materials and methods
A total of 122 patients (age: 63 ± 15 years, 92 males, 30 females) with enlarged mediastinal and/or paraaortic lymph nodes diagnosed by CT scan were included in the study. EUS-guided fine needle aspiration was performed and cytologic specimens were diagnosed as representing a malignant or benign process in case of Papanicolau IV and V, or Papanicolau I and II, respectively.
Results
Based on cytology results, the investigated lymph nodes were classified as neoplastic (n = 48) or non-neoplastic lymph nodes. Using the B-mode criteria the preliminary diagnosis was confirmed in 64 out of 74 benign lymph nodes (specificity 86%). Regarding malignant lymph nodes 33 of 48 were confirmed (sensitivity 68%). Using the advanced contrast-enhanced EUS criteria the diagnosis was confirmed in 68 of 74 benign lymph nodes (specificity 91%). However, in case of malignant lymph nodes the number of correct diagnoses dropped to 29 of 48 lymph nodes (sensitivity 60%). The contrast-enhanced EUS criteria to identify benign lymph nodes and node enlargement in malignant lymphoma do not differ. If those ten patients with malignant lymphoma are excluded, the sensitivity of the contrast enhanced EUS for malignant lymph nodes rises to 73%.
Conclusion
Contrast-enhanced EUS improves the specificity in diagnosing benign lymph nodes as compared to B-mode EUS. It does not improve the correct identification of malignant lymph nodes and cannot replace EUS-guided fine-needle aspiration.
This is a preview of subscription content, log in to check access.
Access options
Buy single article
Instant access to the full article PDF.
US$ 39.95
Price includes VAT for USA
Subscribe to journal
Immediate online access to all issues from 2019. Subscription will auto renew annually.
US$ 199
This is the net price. Taxes to be calculated in checkout.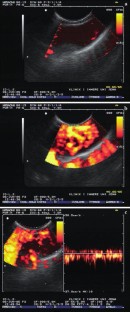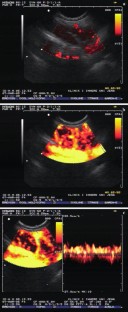 References
Ahuja A, Ying M (2002) An overview of neck node sonography. Invest Radiol 37:333–342

Baatenburg de Jong RJ, Rongen RJ, Lameris JS, Harthoom M, Verwoerd CD, Knegt P (1989) Metastatic neck disease. Palpation vs. ultrasound examination. Arch Otolaryngol Head Neck Surg 115:689–690

Becker D, Strobel D, Bernatik T, Hahn EG (2001) Echo-enhanced color- and power-Doppler EUS for the discrimination between focal pancreatitis and pancreatic carcinoma. Gastrointest Endosc 53:784–789

Catalano MF, Sivak MV Jr, Rice T, Gragg LA, Van Dam J (1994) Endosonographic features predictive of lymph node metastasis. Gastrointest Endosc 40:442–446

Dietrich CF, Schuesslerm G, Trojan J, Fellbaum C, Ignee A (2005) Differentiation of focal nodular hyperplasia and hepatocellular adenoma by contrast-enhanced ultrasound. Br J Radiol 78:704–707

Fritscher-Ravens A, Sriram PV, Bobrowski C, Pforte A, Topalidis T, Krause C, Jaeckle S, Thonke F, Soehendra N (2000) Mediastinal lymphadenopathy in patients with or without previous malignancy: EUS-FNA-based differential cytodiagnosis in 153 patients. Am J Gastroenterol 95:2278–2284

Giovagniorio F, Galluzzo M, Andreoli C, De CM, David V (2002) Colour Doppler sonography in evaluation of superficial lymphomatous lymph nodes. J Ultrasound Med 21:403–408

Hirooka Y, Goto H, Ito A, Hayakawa S, Watanabe Y, Ishiguro Y, Kojima S, Hayakawa T, Naitoh Y (1998) Contrast-enhanced endoscopic ultrasonography in pancreatic diseases: a preliminary study. Am J Gastroenterol 93:632–635

Ho SSY, Ahuja AT, Kew J, Metreweli C (2000) Differentiation of lymphadenopathy in different forms of carcinoma with Doppler sonography. Clin Radiol 55:627–631

Hocke M, Schulze E, Gottschalk P, Topalidis T, Dietrich CF (2006) Contrast-enhanced endoscopic ultrasound in discrimination between focal pancreatitis and pancreatic cancer. World J Gastroenterol 12:246–250

Kanamori A, Hirooka Y, Itoh A, Hashimoto S, Kawashima H, Hara K, Uchida H, Goto J, Ohmiya N, Niwa Y, Goto H (2006) Usefulness of contrast-enhanced endoscopic ultrasonography in the differentiation between malignant and benign lymphadenopathy. Am J Gastroenterol 101:45–51

Kasono K, Hyodo T, Suminaga Y, Sugiura Y, Mamai K, Ikoma A, Tamemoto H, Imawari M, Kawakami M, Ishikawa SE (2002) Contrst-enhanced endoscopic ultrasonography improves the preoperative localization of insulinomas. Endocr J 49(4):517–522

Larsen SS, Krasnik M, Vilmann P, Jacobsen GK, Pedersen JH, Faurschou P, Folke K (2002) Endoscopic ultrasound guided biopsy of mediastinal lesions has a major impact on patient management. Thorax 57:98–103

LeBlanc JK, Ciaccia D, Al-Assi MT, McGrath K, Imperiale T, Tao LC, Vallery S, DeWitt J, Sherman S, Collins E (2004) Optimal number of EUS-guided fine needle passes needed to obtain a correct diagnosis. Gastrointest Endosc 59:475–481

Loren DE, Seghal CM, Ginsberg GG, Kochman ML (2002) Computer-assisted analysis of lymph nodes detected by EUS in patients with esophageal carcinoma. Gastrointest Endosc 56:742–746

Micames CG, McCrory DC, Pavey DA, Jowell PS, Gress FG (2007) Endoscopic ultrasound-guided fine-needle aspiration for non-small cell lung cancer staging: a systematic review and metaanalysis. Chest 131:539–548

Nakase K, Yamamoto K, Hiasa A, Tawara I, Yamaguchi M, Shiku H (2006) Contrast-enhanced ultrasound examination of lymph nodes in different types of lymphoma. Cancer Detect Prevent 30:188–191

Nomura N, Goto H, Niwa Y, Arisawa T, Hirooka Y, Hayakawa T (1999) Usefulness of contrast-enhanced EUS in the diagnosis of upper GI tract diseases. Gastrointest Endosc 50:555–560

Okamoto Y, Kawamoto H, Takaki A, Ishida E, Ogawa T, Kuwaki K, Kobayashi Y, Sakaguchi K, Shiratori Y (2007) Contrast-enhanced ultrasonography depicts small tumor vessels for the evaluation of pancreatic tumors. Eur J Radiol 61:163–169

Rickes S, Unkrodt K, Neye H, Ocran KW, Wermke W (2002) Differentiation of pancreatic tumours by conventional ultrasound, unenhanced and echo-enhanced power Doppler sonography. Scand J Gastroenterol 37(11):1313–1320

Saftoiu A, Vilmann P, Hassan H, Gorunescu F (2006) Analysis of endoscopic ultrasound elastography used for characterisation and differentiation of benign and malignant lymph nodes. Ultraschall Med 27:535–542

Schulte-Altedorneburg G, Demharter J, Linne R, Droste DW, Bohndorf K, Bucklein W (2003) Does ultrasound contrast agent improve the diagnostic value of colour and power Doppler sonography in superficial lymph node enlargement ? Eur J Radiol 48:252–257

Sharma A, Fidias P, Hayman LA, Loomis SL, Taber KH, Aquino SL (2004) Patterns of lymphadenopathy in thoracic malignancies. Radiographics 24:419–439

Tournoy KG, Praet MM, Van Maele G, Van Meerbeeck JP (2005) Esophageal endoscopic ultrasound with fine-needle aspiration with an on-site cytopathologist: high accuracy for the diagnosis of mediastinal lymphadenopathy. Chest 128:3004–3009

Vassallo P, Edel G, Roos N, Naguib A, Peters PE (1993) In-vitro high-resolution ultrasonography of benign and malignant lymph nodes. A sonographic-pathologic correlation. Invest Radiol 28:698–705

Wiersema MJ, Vazquez-Sequeiros E, Wiersema LM (2001) Evaluation of mediastinal lymphadenopathy with endoscopic US-guided fine-needle aspiration biopsy. Radiology 219:252–257

Yasuda I, Tsurumi H, Omar S, Iwashita T, Kojima Y, Yamada T, Sawada M, Takami T, Moriwaki H, Soehendra N (2006) Endoscopic ultrasound-guided fine-needle aspiration biopsy for lymphadenopathy of unknown origin. Endoscopy 38:919–924

Ying M, Ahuja A, Brook F (2002) Sonographic appearances of cervical lymph nodes: variations by age and sex. J Clin Ultrasound 30:1–11
Additional information
M. Hocke and M. Menges contributed equally to this work.
About this article
Cite this article
Hocke, M., Menges, M., Topalidis, T. et al. Contrast-enhanced endoscopic ultrasound in discrimination between benign and malignant mediastinal and abdominal lymph nodes. J Cancer Res Clin Oncol 134, 473–480 (2008). https://doi.org/10.1007/s00432-007-0309-7
Received:

Accepted:

Published:

Issue Date:
Keywords
Endoscopic ultrasound

Lymph nodes

Lymphadenopathy

Contrast enhancer

Differential diagnosis