Abstract
Purpose
Frozen tumor tissues from a patient who showed rapid progression to anaplastic oligodendroglioma after near total resection of oligodendroglioma were used to examine differential expression of proteins to gain better understanding of the pathogenesis of malignant transformation.
Methods
We have determined their protein profiles using a 2D gel electrophoresis and matrix-assisted laser desorption/ionization time-of-flight mass spectrometry approach.
Results
Among 23 differentially expressed spots, overexpression of peroxiredoxin 6 and underexpression of rho GDP dissociation inhibitor alpha were confirmed to be valid after western blot and immunocytochemical analysis of oligodendroglioma tissue.
Conclusions
Abnormal expression of peroxiredoxin 6 and rho GDP dissociation inhibitor alpha may be associated with malignant transformation in oligodendroglioma and these proteins might be candidates of molecular predictive factors.
This is a preview of subscription content, log in to check access.
Access options
Buy single article
Instant access to the full article PDF.
US$ 39.95
Price includes VAT for USA
Subscribe to journal
Immediate online access to all issues from 2019. Subscription will auto renew annually.
US$ 199
This is the net price. Taxes to be calculated in checkout.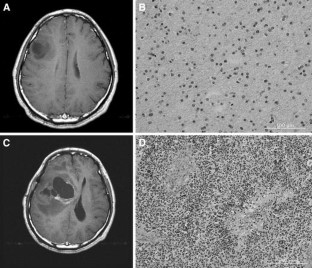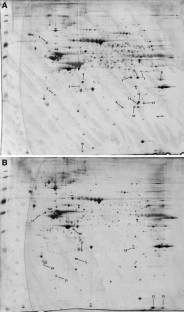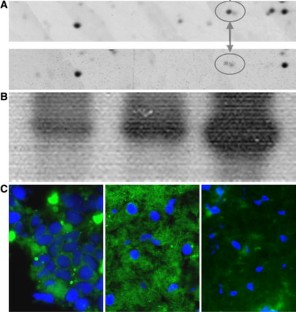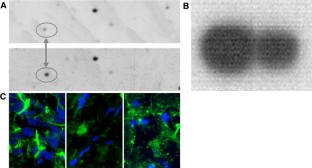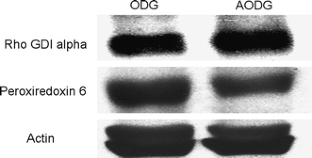 References
Bello MJ, Vaquero J, de Campos JM, Kusak ME, Sarasa JL, Saez-Castresana J, Pestana A, Rey JA (1994) Molecular analysis of chromosome 1 abnormalities in human gliomas reveals frequent loss of 1p in oligodendroglial tumors. Int J Cancer 57:172–175

Celli P, Nofrone I, Palma L, Cantore G, Fortuna A (1994) Cerebral oligodendroglioma: prognostic factors and life history. Neurosurgery 35:1018–1034 discussion 1034–1015

Chardin P (2006) Function and regulation of Rnd proteins. Nat Rev Mol Cell Biol 7:54–62

Chen WC, McBride WH, Iwamoto KS, Barber CL, Wang CC, Oh YT, Liao YP, Hong JH, de Vellis J, Shau H (2002) Induction of radioprotective peroxiredoxin-I by ionizing irradiation. J Neurosci Res 70:794–798

Chumbalkar VC, Subhashini C, Dhople VM, Sundaram CS, Jagannadham MV, Kumar KN, Srinivas PN, Mythili R, Rao MK, Kulkarni MJ, Hegde S, Hegde AS, Samual C, Santosh V, Singh L, Sirdeshmukh R (2005) Differential protein expression in human gliomas and molecular insights. Proteomics 5:1167–1177

Clark EA, Golub TR, Lander ES, Hynes RO (2000) Genomic analysis of metastasis reveals an essential role for RhoC. Nature 406:532–535

von Deimling A, Fimmers R, Schmidt MC, Bender B, Fassbender F, Nagel J, Jahnke R, Kaskel P, Duerr EM, Koopmann J, Maintz D, Steinbeck S, Wick W, Platten M, Muller DJ, Przkora R, Waha A, Blumcke B, Wellenreuther R, Meyer-Puttlitz B, Schmidt O, Mollenhauer J, Poustka A, Stangl AP, Lenartz D, von Ammon K (2000) Comprehensive allelotype and genetic anaysis of 466 human nervous system tumors. J Neuropathol Exp Neurol 59:544–558

Dransart E, Olofsson B, Cherfils J (2005) RhoGDIs revisited: novel roles in Rho regulation. Traffic 6:957–966

Fella K, Gluckmann M, Hellmann J, Karas M, Kramer PJ, Kroger M (2005) Use of two-dimensional gel electrophoresis in predictive toxicology: identification of potential early protein biomarkers in chemically induced hepatocarcinogenesis. Proteomics 5:1914–1927

Furuta M, Weil RJ, Vortmeyer AO, Huang S, Lei J, Huang TN, Lee YS, Bhowmick DA, Lubensky IA, Oldfield EH, Zhuang Z (2004) Protein patterns and proteins that identify subtypes of glioblastoma multiforme. Oncogene 23:6806–6814

Hashimoto N, Murakami M, Takahashi Y, Fujimoto M, Inazawa J, Mineura K (2003) Correlation between genetic alteration and long-term clinical outcome of patients with oligodendroglial tumors, with identification of a consistent region of deletion on chromosome arm 1p. Cancer 97:2254–2261

Hoang-Xuan K, He J, Huguet S, Mokhtari K, Marie Y, Kujas M, Leuraud P, Capelle L, Delattre JY, Poirier J, Broet P, Sanson M (2001) Molecular heterogeneity of oligodendrogliomas suggests alternative pathways in tumor progression. Neurology 57:1278–1281

Husemann K, Wolter M, Buschges R, Bostrom J, Sabel M, Reifenberger G (1999) Identification of two distinct deleted regions on the short arm of chromosome 1 and rare mutation of the CDKN2C gene from 1p32 in oligodendroglial tumors. J Neuropathol Exp Neurol 58:1041–1050

Iwadate Y, Sakaida T, Hiwasa T, Nagai Y, Ishikura H, Takiguchi M, Yamaura A (2004) Molecular classification and survival prediction in human gliomas based on proteome analysis. Cancer Res 64:2496–2501

Iwadate Y, Sakaida T, Saegusa T, Hiwasa T, Takiguchi M, Fujimoto S, Yamaura A (2005) Proteome-based identification of molecular markers predicting chemosensitivity to each category of anticancer agents in human gliomas. Int J Oncol 26:993–998

Jeuken JW, Sprenger SH, Vermeer H, Kappelle AC, Boerman RH, Wesseling P (2002) Chromosomal imbalances in primary oligodendroglial tumors and their recurrences: clues about malignant progression detected using comparative genomic hybridization. J Neurosurg 96:559–564

Jiang WG, Watkins G, Lane J, Cunnick GH, Douglas-Jones A, Mokbel K, Mansel RE (2003) Prognostic value of rho GTPases and rho guanine nucleotide dissociation inhibitors in human breast cancers. Clin Cancer Res 9:6432–6440

Kanner AA, Staugaitis SM, Castilla EA, Chernova O, Prayson RA, Vogelbaum MA, Stevens G, Peereboom D, Suh J, Lee SY, Tubbs RR, Barnett GH (2006) The impact of genotype on outcome in oligodendroglioma: validation of the loss of chromosome arm 1p as an important factor in clinical decision making. J Neurosurg 104:542–550

Kim HJ, Chae HZ, Kim YJ, Kim YH, Hwangs TS, Park EM, Park YM (2003) Preferential elevation of Prx I and Trx expression in lung cancer cells following hypoxia and in human lung cancer tissues. Cell Biol Toxicol 19:285–298

Kinnula VL, Lehtonen S, Sormunen R, Kaarteenaho-Wiik R, Kang SW, Rhee SG, Soini Y (2002) Overexpression of peroxiredoxins I, II, III, V, and VI in malignant mesothelioma. J Pathol 196:316–323

Kinnula VL, Paakko P, Soini Y (2004) Antioxidant enzymes and redox regulating thiol proteins in malignancies of human lung. FEBS Lett 569:1–6

Lebrun C, Fontaine D, Ramaioli A, Vandenbos F, Chanalet S, Lonjon M, Michiels JF, Bourg V, Paquis P, Chatel M, Frenay M (2004) Long-term outcome of oligodendrogliomas. Neurology 62:1783–1787

Lehtonen ST, Svensk AM, Soini Y, Paakko P, Hirvikoski P, Kang SW, Saily M, Kinnula VL (2004) Peroxiredoxins, a novel protein family in lung cancer. Int J Cancer 111:514–521

Li DQ, Wang L, Fei F, Hou YF, Luo JM, Zeng R, Wu J, Lu JS, Di GH, Ou ZL, Xia QC, Shen ZZ, Shao ZM (2006a) Identification of breast cancer metastasis-associated proteins in an isogenic tumor metastasis model using two-dimensional gel electrophoresis and liquid chromatography-ion trap-mass spectrometry. Proteomics 6(11):3352–3368

Li J, Zhuang Z, Okamoto H, Vortmeyer AO, Park DM, Furuta M, Lee YS, Oldfield EH, Zeng W, Weil RJ (2006b) Proteomic profiling distinguishes astrocytomas and identifies differential tumor markers. Neurology 66:733–736

Manevich Y, Fisher AB (2005) Peroxiredoxin 6, a 1-Cys peroxiredoxin, functions in antioxidant defense and lung phospholipid metabolism. Free Radic Biol Med 38:1422–1432

Nobes CD, Hall A (1995) Rho, rac, and cdc42 GTPases regulate the assembly of multimolecular focal complexes associated with actin stress fibers, lamellipodia, and filopodia. Cell 81:53–62

Odreman F, Vindigni M, Gonzales ML, Niccolini B, Candiano G, Zanotti B, Skrap M, Pizzolitto S, Stanta G, Vindigni A (2005) Proteomic studies on low- and high-grade human brain astrocytomas. J Proteome Res 4:698–708

Reifenberger J, Reifenberger G, Liu L, James CD, Wechsler W, Collins VP (1994) Molecular genetic analysis of oligodendroglial tumors shows preferential allelic deletions on 19q and 1p. Am J Pathol 145:1175–1190

Ridley AJ, Paterson HF, Johnston CL, Diekmann D, Hall A (1992) The small GTP-binding protein rac regulates growth factor-induced membrane ruffling. Cell 70:401–410

Schnelzer A, Prechtel D, Knaus U, Dehne K, Gerhard M, Graeff H, Harbeck N, Schmitt M, Lengyel E (2000) Rac1 in human breast cancer: overexpression, mutation analysis, and characterization of a new isoform, Rac1b. Oncogene 19:3013–3020

Shaw EG, Scheithauer BW, O'Fallon JR, Tazelaar HD, Davis DH (1992) Oligodendrogliomas: the Mayo Clinic experience. J Neurosurg 76:428–434

Takaishi K, Sasaki T, Kotani H, Nishioka H, Takai Y (1997) Regulation of cell–cell adhesion by rac and rho small G proteins in MDCK cells. J Cell Biol 139:1047–1059

Tong CY, Ng HK, Pang JC, Hui AB, Ko HC, Lee JC (1999) Molecular genetic analysis of non-astrocytic gliomas. Histopathology 34:331–341
Acknowledgments
This study was supported by a grant of the National R&D Program for Cancer Control, Ministry of Health & Welfare, Republic of Korea (0520050-1).
About this article
Cite this article
Park, C., Kim, J.H., Moon, M.J. et al. Investigation of molecular factors associated with malignant transformation of oligodendroglioma by proteomic study of a single case of rapid tumor progression. J Cancer Res Clin Oncol 134, 255–262 (2008). https://doi.org/10.1007/s00432-007-0282-1
Received:

Accepted:

Published:

Issue Date:
Keywords
Mass spectrometry

Oligodendroglioma

Malignant transformation

Peroxiredoxin

Rho GDP dissociation inhibitor