Abstract
Purpose
To evaluate the efficacy and safety of a novel low dose chemotherapy as a remission induction regimen for elderly de novo AML patients ineligible for intensive chemotherapy.
Method
Fifty consecutive patients aged 60 to 85 with untreated de novo AML were enrolled. Patients with poor PS or defined non-hematological complications were given continuous drip infusion of low dose cytarabine (Ara-C), 20 mg/body and etoposide (VP-16), 50 mg/body for 10 days (AV group). Patients without those cormobidities were given intensive induction therapy (S group). After achieving complete remission (CR), S group patients and those with improved PS in AV group received consolidation chemotherapy with intensive regimen (S-S or AV-S group), and other patients received AV regimen repeatedly (AV-AV group).
Results
Eighteen (64%; 95% confidence interval (CI), 0.47–0.82) of 28 patients in AV group and 16 (73%; 95% CI, 0.54–0.91) of 22 patients in S group achieved CR, respectively. The 1-year OS rates of the patients in the AV-AV group (n = 9), AV-S group (n = 9), and S-S group (n = 16) were 22, 81, and 78%, respectively. Although the sample size was small, no significant difference was observed for the 1-year OS rate between the AV-S and S-S groups. Regimen related death were 4 patients in S group, while no patient in AV group.
Conclusion
Therapeutic strategy consisting of remission induction using AV regimen and consolidation using intensive regimen after improving PS is beneficial in the management of elderly AML patients who have difficulty in tolerating for intensive induction chemotherapy.
This is a preview of subscription content, log in to check access.
Access options
Buy single article
Instant access to the full article PDF.
US$ 39.95
Price includes VAT for USA
Subscribe to journal
Immediate online access to all issues from 2019. Subscription will auto renew annually.
US$ 199
This is the net price. Taxes to be calculated in checkout.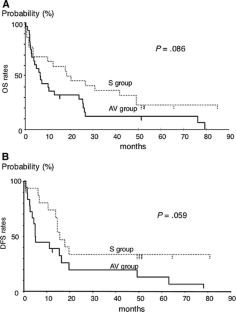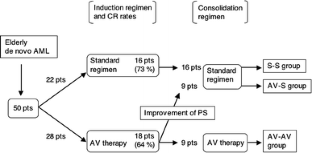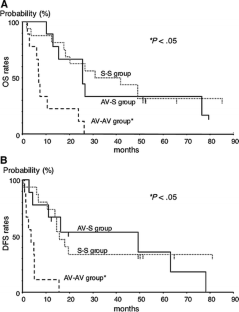 References
Anderson JE, Kopecky KJ, Willman CL, Head D, O'Donnell MR, Luthardt FW, Norwood TH, Chen IM, Balcerzak SP, Johnson DB, Appelbaum FR (2002) Outcome after induction chemotherapy for older patients with acute myeloid leukemia is not improved with mitoxantrone and etoposide compared to cytarabine and daunorubicin: a Southwest Oncology Group study. Blood 100:3869–3876

Bennett JM, Catovsky D, Daniel MT, Flandrin G, Galton DA, Gralnick HR, Sultan C (1976) Proposals for the classification of the acute leukaemias. French–American–British (FAB) co-operative group. Br J Haematol 33:451–458

Berman E, Heller G, Santorsa J, McKenzie S, Gee T, Kempin S, Gulati S, Andreeff M, Kolitz J, Gabrilove J et al (1991) Results of a randomized trial comparing idarubicin and cytosine arabinoside with daunorubicin and cytosine arabinoside in adult patients with newly diagnosed acute myelogenous leukemia. Blood 77:1666–1674

Chen CC, Yang CF, Yang MH, Lee KD, Kwang WK, You JY, Yu YB, Ho CH, Tzeng CH, Chau WK, Hsu HC, Gau JP (2005) Pretreatment prognostic factors and treatment outcome in elderly patients with de novo acute myeloid leukemia. Ann Oncol 16:1366–1373

Deschler B, Lubbert M (2006) Acute myeloid leukemia: epidemiology and etiology. Cancer 107:2099–2107

Estey EH (2000) How I treat older patients with AML. Blood 96:1670–1673

Goldstone AH, Burnett AK, Wheatley K, Smith AG, Hutchinson RM, Clark RE (2001) Attempts to improve treatment outcomes in acute myeloid leukemia (AML) in older patients: the results of the United Kingdom Medical Research Council AML11 trial. Blood 98:1302–1311

Hiddemann W, Kern W, Schoch C, Fonatsch C, Heinecke A, Wormann B, Buchner T (1999) Management of acute myeloid leukemia in elderly patients. J Clin Oncol 17:3569–3576

Kantarjian H, O'Brien S, Cortes J, Giles F, Faderl S, Jabbour E, Garcia-Manero G, Wierda W, Pierce S, Shan J, Estey E (2006) Results of intensive chemotherapy in 998 patients age 65 years or older with acute myeloid leukemia or high-risk myelodysplastic syndrome: predictive prognostic models for outcome. Cancer 106:1090–1098

Koyama S, Itou S, Shibata A (1990) [Low dose continuous infusion therapy with etoposide (VP-16) and cytosine arabinoside (Ara-C) for a patient with refractory acute myelogenous leukemia]. Rinsho Ketsueki 31:1891–1892

Lowenberg B, Zittoun R, Kerkhofs H, Jehn U, Abels J, Debusscher L, Cauchie C, Peetermans M, Solbu G, Suciu S et al (1989) On the value of intensive remission-induction chemotherapy in elderly patients of 65+ years with acute myeloid leukemia: a randomized phase III study of the European Organization for Research and Treatment of Cancer Leukemia Group. J Clin Oncol 7:1268–1274

Mayer RJ, Davis RB, Schiffer CA, Berg DT, Powell BL, Schulman P, Omura GA, Moore JO, McIntyre OR, Frei E 3rd (1994) Intensive postremission chemotherapy in adults with acute myeloid leukemia. Cancer and Leukemia Group B. N Engl J Med 331:896–903

Rees JK, Gray RG, Wheatley K (1996) Dose intensification in acute myeloid leukaemia: greater effectiveness at lower cost. Principal report of the Medical Research Council's AML9 study. MRC Leukaemia in Adults Working Party. Br J Haematol 94:89–98

Slovak ML, Kopecky KJ, Cassileth PA, Harrington DH, Theil KS, Mohamed A, Paietta E, Willman CL, Head DR, Rowe JM, Forman SJ, Appelbaum FR (2000) Karyotypic analysis predicts outcome of preremission and postremission therapy in adult acute myeloid leukemia: a Southwest Oncology Group/Eastern Cooperative Oncology Group Study. Blood 96:4075–4083

Stone RM, Berg DT, George SL, Dodge RK, Paciucci PA, Schulman PP, Lee EJ, Moore JO, Powell BL, Baer MR, Bloomfield CD, Schiffer CA (2001) Postremission therapy in older patients with de novo acute myeloid leukemia: a randomized trial comparing mitoxantrone and intermediate-dose cytarabine with standard-dose cytarabine. Blood 98:548–553

Tilly H, Castaigne S, Bordessoule D, Casassus P, Le Prise PY, Tertian G, Desablens B, Henry-Amar M, Degos L (1990) Low-dose cytarabine versus intensive chemotherapy in the treatment of acute nonlymphocytic leukemia in the elderly. J Clin Oncol 8:272–279

Visani G, Malagola M, Piccaluga PP, Isidori A (2004) Low dose Ara-C for myelodysplastic syndromes: is it still a current therapy? Leuk Lymphoma 45:1531–1538

Wiernik PH, Banks PL, Case DC Jr, Arlin ZA, Periman PO, Todd MB, Ritch PS, Enck RE, Weitberg AB (1992) Cytarabine plus idarubicin or daunorubicin as induction and consolidation therapy for previously untreated adult patients with acute myeloid leukemia. Blood 79:313–319

Yates J, Glidewell O, Wiernik P, Cooper MR, Steinberg D, Dosik H, Levy R, Hoagland C, Henry P, Gottlieb A, Cornell C, Berenberg J, Hutchison JL, Raich P, Nissen N, Ellison RR, Frelick R, James GW, Falkson G, Silver RT, Haurani F, Green M, Henderson E, Leone L, Holland JF (1982) Cytosine arabinoside with daunorubicin or adriamycin for therapy of acute myelocytic leukemia: a CALGB study. Blood 60:454–462
About this article
Cite this article
Tsurumi, H., Kanemura, N., Hara, T. et al. Therapeutic strategy of untreated de novo acute myeloid leukemia in the elderly: the efficacy of continuous drip infusion with low dose cytarabine and etoposide. J Cancer Res Clin Oncol 133, 547–553 (2007). https://doi.org/10.1007/s00432-007-0203-3
Received:

Accepted:

Published:

Issue Date:
Keywords
Elderly

AML

Low dose cytarabine

Etoposide