Abstract
Silymarin is a polyphenolic flavonoid that has a strong antioxidant activity and exhibits anti-carcinogenic, anti-inflammatory, and cytoprotective effects. Although its hepatoprotective effect has been well documented, the effect of silymarin on T cells is largely unknown. The purpose of this study was to analyze the effects of the silymarin on the proliferation and cell cycle progression of Jurkat cells, a human peripheral blood leukemia T cell line. Cells were incubated with various concentrations of silymarin for 24–72 h and examined for cell growth and proliferation using 3-(4,5-dimethylthiazol-2-yl)-2,5-diphenyltetrazolium bromide (MTT) and DNA 5-bromo 2′-deoxyuridine (BrdU) colorimetric assays. Cell cycle analysis by flow cytometry was also performed using propidium iodide staining. Results of the study revealed that silymarin increased proliferation of Jurkat cells at 50–400 μM concentrations with 24 h exposure, confirmed by both MTT and BrdU assays. However, Jurkat incubation with silymarin at higher concentrations of 400 μM for 48 h and 200–400 μM for 72 h caused inhibition of DNA synthesis, cell cycle arrest at the G2/M phase and significant cell death. Results of the present study also revealed a similarity of cell growth patterns between Jurkat, U937 and RPMI 8866 cells. In conclusion, this study demonstrated an in vitro growth stimulatory effect of silymarin on leukemia cells with monocyte, T and B cell origin that has not been previously reported for either solid tumors or other leukemia cells, suggesting a possible specific stimulatory effect of silymarin on the key cells of the immune system.
This is a preview of subscription content, log in to check access.
Access options
Buy single article
Instant access to the full article PDF.
US$ 39.95
Price includes VAT for USA
Subscribe to journal
Immediate online access to all issues from 2019. Subscription will auto renew annually.
US$ 199
This is the net price. Taxes to be calculated in checkout.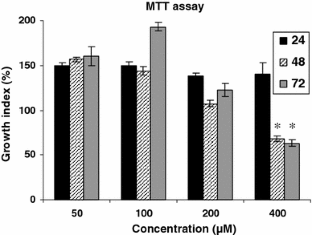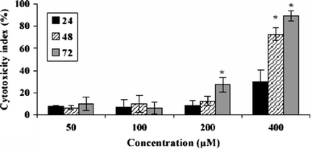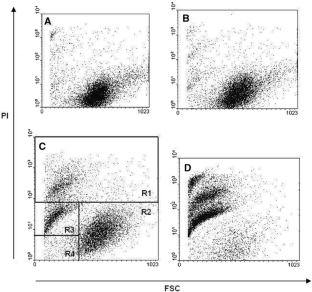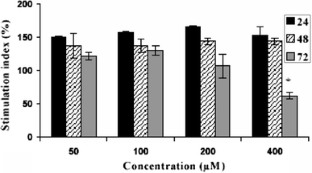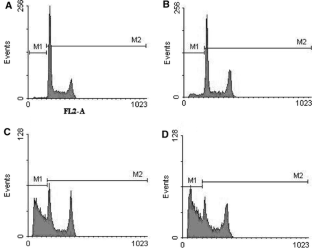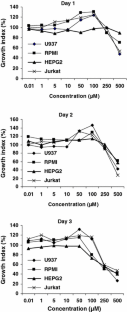 References
Agarwal BB, Shishodia S (2006) Molecular targets of dietary agents for prevention and therapy of cancer. Biochem Pharmacol 71:1397–1421

Alidoost F, Gharagozloo M, Bagherpour B, Jafarian A, Sajjadi SE, Hourfar H, Moayedi B (2006) Effects of silymarin on the proliferation and glutathione levels of peripheral blood mononuclear cells from beta-thalassemia major patients. Int Immunopharmacol 6:1305–1310

Bazley LA, Gullick WJ (2005) The epidermal growth factor receptor family. Endocr Relat Cancer 12:S17–S27

Bruggisser R, von Daeniken K, Jundt G, Schaffner W, Tullberg-Reinert H (2002) Interference of plant extracts, phytoestrogens and antioxidants with the MTT tetrazolium assay. Planta Med 68:445–448

Crocenzi FA, Roma MG (2006) Silymarin as a new hepatoprotective agent in experimental cholestasis: new possibilities for an ancient medication. Curr Med Chem 13:1055–1074

Davis-Searles PR, Nakanishi Y, Kim NC, Graf TN, Oberlies NH, Wani MC, Wall ME, Agarwal R, Kroll DJ. (2005) Milk thistle and prostate cancer: differential effects of pure flavonolignans from Silybum marianum on antiproliferative end points in human prostate carcinoma cells. Cancer Res 65:4448–4457

Dietzmann J, Thiel U, Ansorge S, Neumann KH, Tager M (2002) Thiol-inducing and immunoregulatory effects of flavonoids in peripheral blood mononuclear cells from patients with end-stage diabetic nephropathy. Free Radic Biol Med 33:1347–1354

Hannay JA, Yu D (2003) Silibinin: a thorny therapeutic for EGF-R expressing tumors? Cancer Biol Ther 2:532–533

HemaIswarya S, Doble M (2006) Potential synergism of natural products in the treatment of cancer. Phytother Res 20:239–249

Kanadaswami C, Lee LT, Lee PP, Hwang JJ, Ke FC, Huang YT, Lee MT (2005) The antitumor activities of flavonoids. In Vivo 19:895–909

Kang SN, Lee MH, Kim KM, Cho D, Kim TS (2001) Induction of human promyelocytic leukemia HL-60 cell differentiation into monocytes by silibinin: involvement of protein kinase C. Biochem Pharmacol 61:1487–1495

Kren V, Walterova D (2005) Silybin and silymarin: new effects and applications. Biomed Pap Med Fac Univ Palacky Olomouc Czech Repub 149:29–41

Lang I, Deak G, Nekam K, Muzes G, Gonzalez-Cabello R, Gergely P, Feher J (1988) Hepatoprotective and immunomodulatory effects of antioxidant therapy. Acta Med Hung 45:287–295

Lang I, Nekam K, Deak G, Muzes G, Gonzales-Cabello R, Gergely P, Cisomos G, Feher J (1990) Immunomodulatory and hepatoprotective effects of in vivo treatment with free radical scavengers. Ital J Gastroenterol 22:283–287

McCarty MF, Block KI (2006) Toward a core nutraceutical program for cancer management. Integr Cancer Ther 5:150–171

Meroni PL, Barcellini W, Borghi MO, Vismara A, Ferraro G, Ciani D, Zanussi C (1988) Silybin inhibition of human T-lymphocyte activation. Int J Tissue React 10:177–181

Middleton EJ, Kandaswami C, Theoharides TC (2000) The effects of plant flavonoids on mammalian cells: implications for inflammation, heart disease, and cancer. Pharmacol Rev 52:673–751

Qi L, Singh RP, Lu Y, Agarwal R, Harrison GS, Franzusoff A, Glode LM (2003) Epidermal growth factor receptor mediates silibinin-induced cytotoxicity in a rat glioma cell line. Cancer Biol Ther 2:526–531

Sarkar FH, Li Y (2006) Using chemopreventive agents to enhance the efficacy of cancer therapy. Cancer Res 66:3347–3350

Schumann J, Prockl J, Kiemer AK, Vollmar AM, Bang R, Tiegs G (2003) Silibinin protects mice from T cell-dependent liver injury. J Hepatol 39:333–340

Shapiro GI, Harper JW (1999) Anticancer drug targets: cell cycle and checkpoint control. J Clin Invest 104:1645–1653

Singh RP, Agarwal R (2005). Mechanisms and preclinical efficacy of silibinin in preventing skin cancer. Eur J Cancer 41:1969–1979

Singh RP, Agarwal R (2006a) Natural flavonoids targeting deregulated cell cycle progression in cancer cells. Curr Drug Targets 7:345–354

Singh RP, Agarwal R (2006b) Prostate cancer chemoprevention by silibinin: bench to bedside. Mol Carcinog 45:436–442

Singh RP, Dhanalakshmi S, Agarwal C, Agarwal R (2005) Silibinin strongly inhibits growth and survival of human endothelial cells via cell cycle arrest and downregulation of survivin, Akt and NF-kappaB: implications for angioprevention and antiangiogenic therapy. Oncogene 24:1188–1202

Singh RP, Dhanalakshmi S, Mohan S, Agarwal C, Agarwal R (2006) Silibinin inhibits UVB- and epidermal growth factor-induced mitogenic and cell survival signaling involving activator protein-1 and nuclear factor-kappaB in mouse epidermal JB6 cells. Mol Cancer Ther 5:1145–1153

Sonnenbichler J, Zetl I (1986) Biochemical effects of the flavonolignane silibinin on RNA, protein and DNA synthesis in rat livers. Prog Clin Biol Res 213:319–331

Sonnenbichler J, Goldberg M, Hane L, Madubunyi I, Vogl S, Zetl I (1986) Stimulatory effect of Silibinin on the DNA synthesis in partially hepatectomized rat livers: non-response in hepatoma and other malign cell lines. Biochem Pharmacol 35:538–541

Sonnenbichler J, Scalera F, Sonnenbichler I, Weyhenmeyer R (1999) Stimulatory effects of silibinin and silicristin from the milk thistle Silybum marianum on kidney cells. J Pharmacol Exp Ther 290:1375–1383

Sundaresan S, Roberts PE, King KL, Sliwkowski MX, Mather JP (1998) Biological response to ErbB ligands in nontransformed cell lines correlates with a specific pattern of receptor expression. Endocrinology 139:4756–4764

Tyagi AK, Agarwal C, Chan DC, Agarwal R (2004) Synergistic anti-cancer effects of silibinin with conventional cytotoxic agents doxorubicin, cisplatin and carboplatin against human breast carcinoma MCF-7 and MDA-MB468 cells. Oncol Rep 11:493–499

Valenzuela A, Garrido A (1994) Biochemical bases of the pharmacological action of the flavonoid silymarin and of its structural isomer silibinin. Biol Res 27:105–112

Wellington K, Jarvis B (2001) Silymarin: a review of its clinical properties in the management of hepatic disorders. Biodrugs 15:465–489

Wilasrusmee C, Kittur S, Shah G, Siddiqui J, Bruch D, Wilasrusmee S, Kittur DS (2002) Immunostimulatory effect of Silybum marianum (milk thistle) extract. Med Sci Monit 8:BR439–BR443

Zhong X, Zhu Y, Lu Q, Zhang J, Ge Z, Zheng S (2006) Silymarin causes caspases activation and apoptosis in K562 leukemia cells through inactivation of Akt pathway. Toxicology 227:211–216
Acknowledgments
This work was supported by grant 1929 from Shiraz University of Medical Sciences. The authors wish to acknowledge Dr. Katherine Pilkington from Detmold Family Imaging Suite, Institute of Medical and Veterinary Science, Adelaide, South Australia, for critical editing of the manuscript and invaluable comments.
About this article
Cite this article
Gharagozloo, M., Amirghofran, Z. Effects of silymarin on the spontaneous proliferation and cell cycle of human peripheral blood leukemia T cells. J Cancer Res Clin Oncol 133, 525–532 (2007). https://doi.org/10.1007/s00432-007-0197-x
Received:

Accepted:

Published:

Issue Date:
Keywords
Silymarin

Cell cycle

Leukemia cell line