Abstract
Purpose
EGFR mutations in lung cancer increase sensitivity to an EGFR tyrosine kinase inhibitor, gefitinib. Mutation analysis of EGFR is essential for prediction of gefitinib response and avoidance of the coincidental severe side effects for the unresponsive population. The purpose of the present study is to apply DHPLC as a screening system of detection of EGFR mutations for large scaled population.
Methods
EGFR mutations were detected by both DHPLC procedure and direct sequencing using lung cancer tissue samples obtained from 97 patients (81 surgical specimens and 16 pleural effusions of non-resectable lung cancer patients).
Results
DHPLC analysis detected EGFR mutations in 5 h as opposed to 18 h by direct sequencing for ten samples, and it costs eightfold more expensive by direct sequencing than DHPLC. In addition, DHPLC analysis was sixfold more sensitive than sequencing analysis for detection of the point mutation of exon 21, L858R. Using this system, EGFR mutations in exons 18, 19 and 21 were found in 34 of 97 patients (36%). Thirteen of the 15 patients with exon 21 mutations (87%) were female non-smokers, who were diagnosed with adenocarcinomas with the feature of BAC. Eight of the 18 patients with exon 19 mutations (44%) were 7 male and 1 female current or former smokers, and BAC feature was observed in 61% (8/18).
Conclusion
DHPLC analysis for screening followed by sequencing analysis appears to be more sensitive and accurate, as well as easier and faster. In addition, these results suggest different mutagenesis and carcinogenesis pathways for mutations.
This is a preview of subscription content, log in to check access.
Access options
Buy single article
Instant access to the full article PDF.
US$ 39.95
Price includes VAT for USA
Subscribe to journal
Immediate online access to all issues from 2019. Subscription will auto renew annually.
US$ 199
This is the net price. Taxes to be calculated in checkout.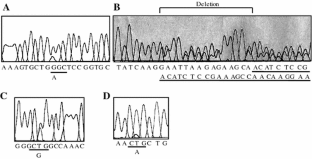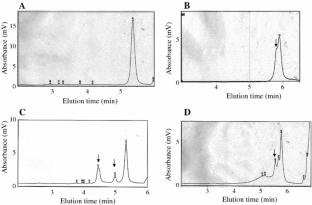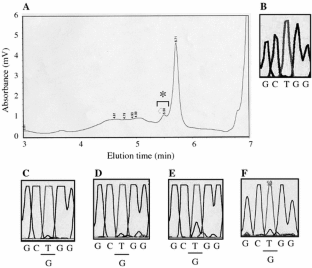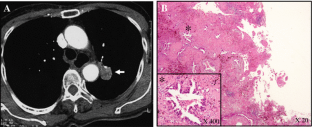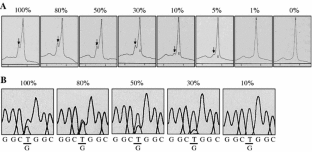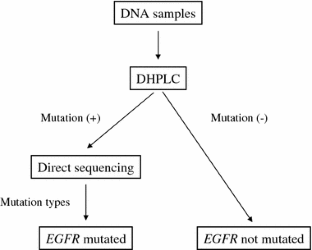 Abbreviations
AAH:

Atypical adenomatous hyperplasia

BAC:

Bronchioloalveolar carcinoma

CT:

Computed tomography

DHPLC:

Denaturing high-performance liquid chromatography

EGFR:

Epidermal growth factor receptor

TEAA:

Triethylammonium acetate
References
Aoyagi Y, Yokose T, Minami Y, Ochiai A, Iijima T, Morishita Y, Oda T, Fukao K, Noguchi M (2001) Accumulation of losses of heterozygosity and multistep carcinogenesis in pulmonary adenocarcinoma. Cancer Res 61:7950–7954

AuAstrazeneca (2004) In-house data; result and discussion document concerning the prospective investigation on Iressa Tablet 250 (Special investigation)

"Cancer Statistics in Japan" Editorial Board (2005) Number of deaths and proportional mortality rates from malignant neoplasms by site in Japan. In: Nomura K, Sobue T, Nakatani H, Maehara M, Kiryu Y, Tsukuma H Doi M (eds) Cancer Statistics in Japan-2005. Foundation for Promotion Cancer Research, Tokyo, pp 36–39

Fukuoka M, Yano S, Giaccone G, Tamura T, Nakagawa K, Douillard JY, Nishiwaki Y, Vansteenkiste J, Kudoh S, Rischin D, Eek R, Horai T, Noda K, Takata I, Smit E, Averbuch S, Macleod A, Feyereislova A, Dong RP, Baselga J (2003) Multi-institutional randomized phase II trial of gefitinib for previously treated patients with advanced non-small-cell lung cancer (The IDEAL 1 Trial). J Clin Oncol 21:2237–2246

Han SW, Kim TY, Hwang PG, Jeong S, Kim J, Choi IS, Oh DY, Kim JH, Kim DW, Chung DH, Im SA, Kim YT, Lee JS, Heo DS, Bang YJ, Kim NK (2005) Predictive and prognostic impact of epidermal growth factor receptor mutation in non-small-cell lung cancer patients treated with gefitinib. J Clin Oncol 23:2493–2501

Huang SF, Liu HP, Li LH, Ku YC, Fu YN, Tsai HY, Chen YT, Lin YF, Chang WC, Kuo HP, Wu YC, Chen YR, Tsai SF (2004) High frequency of epidermal growth factor receptor mutations with complex patterns in non-small cell lung cancers related to gefitinib responsiveness in Taiwan. Clin Cancer Res 10:8195–8203

Jorissen RN, Walker F, Pouliot N, Garrett TP, Ward CW, Burgess AW (2003) Epidermal growth factor receptor: mechanisms of activation and signalling. Exp Cell Res 284:31–53

Kim DW, Choy H (2004) Potential role for epidermal growth factor receptor inhibitors in combined-modality therapy for non-small-cell lung cancer. Int J Radiat Oncol Biol Phys 59:11–20

Kobayashi S, Boggon TJ, Dayaram T, Janne PA, Kocher O, Meyerson M, Johnson BE, Eck MJ, Tenen DG, Halmos B (2005) EGFR mutation and resistance of non-small-cell lung cancer to gefitinib. N Engl J Med 352:786–792

Kosaka T, Yatabe Y, Endoh H, Kuwano H, Takahashi T, Mitsudomi T (2004) Mutations of the epidermal growth factor receptor gene in lung cancer: biological and clinical implications. Cancer Res 64:8919–8923

Le Calvez F, Mukeria A, Hunt JD, Kelm O, Hung RJ, Taniere P, Brennan P, Boffetta P, Zaridze DG, Hainaut P (2005) TP53 and KRAS mutation load and types in lung cancers in relation to tobacco smoke: distinct patterns in never, former, and current smokers. Cancer Res 65:5076–5083

Lynch TJ, Bell DW, Sordella R, Gurubhagavatula S, Okimoto RA, Brannigan BW, Harris PL, Haserlat SM, Supko JG, Haluska FG, Louis DN, Christiani DC, Settleman J, Haber DA (2004) Activating mutations in the epidermal growth factor receptor underlying responsiveness of non-small-cell lung cancer to gefitinib. N Engl J Med 350:2129–2139

Mountain CF, Dresler CM (1997) Regional lymph node classification for lung cancer staging. Chest 111:1718–1723

Noguchi M, Morikawa A, Kawasaki M, Matsuno Y, Yamada T, Hirohashi S, Kondo H, Shimosato Y (1995) Small adenocarcinoma of the lung. Histologic characteristics and prognosis. Cancer 75:2844–2852

Paez JG, Janne PA, Lee JC, Tracy S, Greulich H, Gabriel S, Herman P, Kaye FJ, Lindeman N, Boggon TJ, Naoki K, Sasaki H, Fujii Y, Eck MJ, Sellers WR, Johnson BE, Meyerson M (2004) EGFR mutations in lung cancer: correlation with clinical response to gefitinib therapy. Science 304:1497–1500

Pao W, Miller V, Zakowski M, Doherty J, Politi K, Sarkaria I, Singh B, Heelan R, Rusch V, Fulton L, Mardis E, Kupfer D, Wilson R, Kris M, Varmus H (2004) EGF receptor gene mutations are common in lung cancers from "never smokers" and are associated with sensitivity of tumors to gefitinib and erlotinib. Proc Natl Acad Sci USA 101:13306–13311

Pao W, Miller VA, Politi KA, Riely GJ, Somwar R, Zakowski MF, Kris MG, Varmus H (2005) Acquired resistance of lung adenocarcinomas to gefitinib or erlotinib is associated with a second mutation in the EGFR kinase domain. PLoS Med 2:225–235

Seto T, Yamamoto N (2004) Interstitial lung diseases (ILD) induced by gefitinib in patients with advanced non-small cell lung cancer (NSCLC): results of a West Japan Thoracic Oncology group (WJTOG) epidemiological survey. Proc Am Soc Clin Oncol 24:629

Shigematsu H, Gazdar AF (2006) Somatic mutations of epidermal growth factor receptor signaling pathway in lung cancers. Int J Cancer 118:257–262

Sordella R, Bell DW, Haber DA, Settleman J (2004) Gefitinib-sensitizing EGFR mutations in lung cancer activate anti-apoptotic pathways. Science 305:1163–1167

Tang X, Shigematsu H, Bekele BN, Roth JA, Minna JD, Hong WK, Gazdar AF, Wistuba II (2005) EGFR tyrosine kinase domain mutations are detected in histologically normal respiratory epithelium in lung cancer patients. Cancer Res 65:7568–7572

Tokumo M, Toyooka S, Kiura K, Shigematsu H, Tomii K, Aoe M, Ichimura K, Tsuda T, Yano M, Tsukuda K, Tabata M, Ueoka H, Tanimoto M, Date H, Gazdar AF, Shimizu N (2005) The relationship between epidermal growth factor receptor mutations and clinicopathologic features in non-small cell lung cancers. Clin Cancer Res 11:1167–1173

Westra WH, Baas IO, Hruban RH, Askin FB, Wilson K, Offerhaus GJ, Slebos RJ (1996) K-ras oncogene activation in atypical alveolar hyperplasias of the human lung. Cancer Res 56:2224–2228

Xiao W, Oefner PJ (2001) Denaturing high-performance liquid chromatography: a review. Hum Mutat 17:439–474

Yang SH, Mechanic LE, Yang P, Landi MT, Bowman ED, Wampfler J, Meerzaman D, Hong KM, Mann F, Dracheva T, Fukuoka J, Travis W, Caporaso NE, Harris CC, Jen J (2005) Mutations in the tyrosine kinase domain of the epidermal growth factor receptor in non-small cell lung cancer. Clin Cancer Res 11:2106–2110

Yatabe Y, Kosaka T, Takahashi T, Mitsudomi T (2005) EGFR mutation is specific for terminal respiratory unit type adenocarcinoma. Am J Surg Pathol 29:633–639
About this article
Cite this article
Sueoka, N., Sato, A., Eguchi, H. et al. Mutation profile of EGFR gene detected by denaturing high-performance liquid chromatography in Japanese lung cancer patients. J Cancer Res Clin Oncol 133, 93–102 (2007). https://doi.org/10.1007/s00432-006-0144-2
Received:

Accepted:

Published:

Issue Date:
Keywords
Lung cancer

EGFR mutation

DHPLC

BAC