Abstract
The Rho sub-family of proteins is involved in regulating the organization of the cytoskeleton and in cell motility. Our aim is to clarify the clinical significance of Rho protein in hepatocellular carcinomas (HCC) and to determine the relationship between the level of expression and patient outcome following hepatectomy. The expression of RhoA protein in HCC and corresponding non-tumor tissues of 26 patients who underwent surgical resection was analyzed by immunoblotting. The expression level of each case was calculated as tumor/non-tumor (T/N) ratios. High expression (T/N≥1) of RhoA protein in HCC compared to the paired non-tumor tissues was recognized in 18 patients (69.2%) of 26 samples. The activity of RhoA is also increased in HCC with high expression of RhoA. The high expression of RhoA protein did not correlate with various clinical parameters. However, the disease-free survival rates of the RhoA-high expression group (T/N≥1) were significantly lower than those of the RhoA-low expression group (T/N<1) (P<0.05). The high expression of RhoA protein in HCC plays an important role in intrahepatic recurrence of patients who underwent a hepatectomy for HCC, and RhoA is a useful marker for predicting early recurrence in an early-stage HCC.
This is a preview of subscription content, log in to check access.
Access options
Buy single article
Instant access to the full article PDF.
US$ 39.95
Price includes VAT for USA
Subscribe to journal
Immediate online access to all issues from 2019. Subscription will auto renew annually.
US$ 199
This is the net price. Taxes to be calculated in checkout.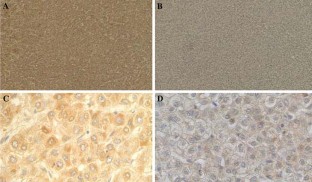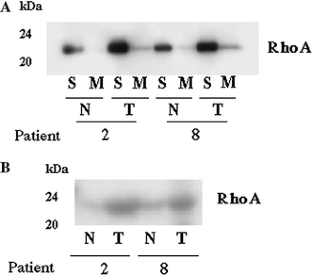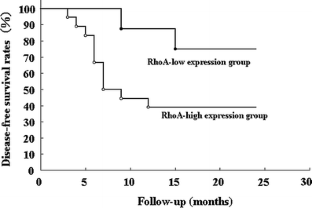 References
Adamson P, Marshall CJ, Hall A, Tilbrook PA (1992) Post-translational modifications of p21rho proteins. J Biol Chem 267:20033–20038

Avraham H, Weinberg RA (1989) Characterization and expression of the human rhoH12 gene product. Mol Cell Biol 9:2058–2066

Bourne HR, Sanders DA, McCormick F (1990) The GTPase superfamily: a conserved switch for diverse cell functions. Nature 348:125–132

Ching YP, Wong CM, Chan SF, Leung TH, Ng DC, Jin DY, Ng IO (2003) Deleted in liver cancer (DLC) 2 encodes a RhoGAP protein with growth suppressor function and is underexpressed in hepatocellular carcinoma. J Biol Chem 278:10824–10830

Fritz G, Just I, Kaina B (1999) Rho GTPases are over-expressed in human tumors. Int J Cancer 81:682–687

Genda T, Sakamoto M, Ichida T, Asakura H, Kojiro M, Narumiya S, Hirohashi S (1999) Cell motility mediated by Rho and Rho-associated protein kinase plays a critical role in intrahepatic metastasis of human hepatocellular carcinoma. Hepatology 30:1027–1036

Hao J, Ju H, Zhao S, Junaid A, Scammell-LaFleur TK, Dixon IMC (1999) Elevation of expression of Smads 2, 3, and 4, decorin and TGF-beta in the chronic phase of myocardial infarct scar healing. J Mol Cell Cardiol 31:667–678

Ikeda K, Saitoh S, Tsubota A, Arase Y, Chayama K, Kumada H, Watanabe G, Tsurumaru M (1993) Risk factors for tumor recurrence and prognosis after curative resection of hepatocellular carcinoma. Cancer 71:19–25

Itoh K, Yoshioka K, Akedo H, Uehata M, Ishizaki T, Narumiya S (1999) An essential part for Rho-associated kinase in the transcellular invasion of tumor cells. Nat Med 5:221–225

Kamai T, Tsujii T, Arai K, Takagi K, Asami H, Ito Y, Oshima H (2003) Significant association of Rho/ROCK pathway with invasion and metastasis of bladder cancer. Clin Cancer Res 9:2632–2641

Kawata S, Yamasaki E, Nagase T, Inui Y, Matsuda Y, Inada M, Tamura S, Noda S, Imai Y, Matsuzawa Y (2001) Effect of pravastatin on survival in patients with advanced hepatocellular carcinoma. A randomized controlled trial. Br J Cancer 84:886–891

Kumada T, Nakano S, Takeda I, Sugiyama K, Osada T, Kiriyama S, Sone Y, Toyoda H, Shimada S, Takahashi M, Sassa T (1997) Patterns of recurrence after initial treatment in patients with small hepatocellular carcinoma. Hepatology 25:87–92

Lang P, Guizani L, Vitte-Mony I, Stancou R, Dorseuil O, Gacon G, Bertoglio J (1992) ADP-ribosylation of the ras-related, GTP-binding protein RhoA inhibits lymphocyte-mediated cytotoxicity. J Biol Chem 267:11677–11680

Leung TH, Ching YP, Yam JW, Wong CM, Yau TO, Jin DY, Ng IO (2005) Deleted in liver cancer 2 (DLC2) suppresses cell transformation by means of inhibition of RhoA activity. Proc Natl Acad Sci USA 102:15207–15212

Machesky LM, Hall A (1996) Rho: a connection between membrane receptor signaling and the cytoskeleton. Trends Cell Biol 6:304–310

Makuuchi M, Kosuge T, Takayasu T, Yamazaki S, Kakazu T, Miyagawa S, Kawasaki S (1993) Surgery for small liver cancers. Semin Surg Oncol 9:298–304

Nakashima T (1976) Vascular changes and hemodynamics in hepatocellular carcinoma. In: Okuda K, Peter RL (eds) Hepatocellular carcinoma. Wiley, New York, pp 169–203

Narumiya S, Morii N (1993) Rho gene products, botulinum C3 exoenzyme and cell adhesion. Cell Signal 5:9–19

Perona R, Esteve P, Jimenez B, Ballestero RP, Ramon y Cajal S, Lacal JC (1993) Tumorigenic activity of rho genes from Aplysia californica. Oncogene 8:1285–1292

Ren X, Kiosses WB, Schwartz MA (1999) Regulation of the small GTP-binding protein Rho by cell adhesion and cytoskeleton. EMBO J 18:578–585

Sebti SM, Hamilton AD (1997) Inhibition of Ras prenylation: a novel approach to cancer chemotherapy. Pharmacol Ther 74:103–114

Simonetti RG, Camma C, Fiorello F, Politi F, D'Amico G, Pagliaro L (1991) Hepatocellular carcinoma. A worldwide problem and the major risk factors. Dig Dis Sci 36:962–972

Takaishi K, Sasaki T, Kotani H, Nishioka H, Takai Y (1997) Regulation of cell–cell adhesion by rac and rho small G proteins in MDCK cells. J Cell Biol 139:1047–1059

Takamura M, Sakamoto M, Genda T, Ichida T, Asakura H, Hirohashi S (2001) Inhibition of intrahepatic metastasis of human hepatocellular carcinoma by Rho-associated protein kinase inhibitor Y-27632. Hepatology 33:577–581

Uehata M, Ishizaki T, Satoh H, Ono T, Kawahara T, Morishita T, Tamakawa H, Yamagami K, Inui J, Maekawa M, Narumiya S (1997) Calcium sensitization of smooth muscle mediated by a Rho-associated protein kinase in hypertension. Nature 389:990–999

Yoshioka K, Matumura F, Akedo H, Itoh K (1998) Small GTP-binding protein rho stimulates the actomyosin system, leading to invasion of tumor cells. J Biol Chem 276:5146–5154

Yoshioka K, Nakamoto S, Itoh K (1999) Overexpression of small GTP-binding protein RhoA promotes invasion of tumor cells. Cancer Res 59:2004–2010

Zhang FL, Casey PJ (1996) Protein prenylation: molecular mechanisms and functional consequences. Annu Rev Biochem 65:241–269
About this article
Cite this article
Fukui, K., Tamura, S., Wada, A. et al. Expression and prognostic role of RhoA GTPases in hepatocellular carcinoma. J Cancer Res Clin Oncol 132, 627–633 (2006). https://doi.org/10.1007/s00432-006-0107-7
Received:

Accepted:

Published:

Issue Date:
Keywords
RhoA

Hepatocellular carcinoma

Recurrence