Abstract
Purpose:Adenoid cystic carcinoma (ACC) is one of the most common malignant tumours of the salivary glands characterized by multiple recurrences and distant metastasis resulting in significantly worsening prognosis. Galectin-3, a member of the β-galactoside-binding lectin family, has been implicated in tumour progression, metastasis, and found to have prognostic value. The aim of the study was to determine galectin-3 expression in ACC and correlate it with clinicopathological features and patient survival. Methods: Galectin-3 expression was investigated in paraffin sections of 35 ACC of the head and neck. Patients were divided into two groups based on a threshold of 5% positivity in the tumour cell population. The mean follow-up period for all patients was 90.1 months (range 3–300.1 months). Results: Seventeen (48.6%) tumour specimens were considered galectin-3-positive. Galectin-3 reactivity was significantly associated with regional and distant metastasis (P=0.045 and P<0.001, respectively). There was no statistical significance in the correlation of galectin-3 expression and disease-free survival and overall survival rate (P=0.095 and 0.102, respectively). Conclusion: Galectin-3 may be used as an indicator in the prediction of metastatic spread in ACC.
This is a preview of subscription content, log in to check access.
We're sorry, something doesn't seem to be working properly.
Please try refreshing the page. If that doesn't work, please contact support so we can address the problem.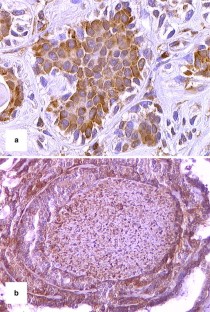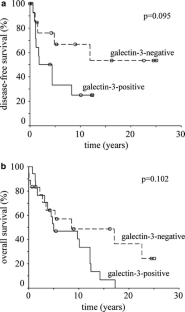 References
Bradley PJ (2001) Distant metastases from salivary glands cancer. ORL J Otorhinolaryngol Relat Spec 63:233–242

Bradley PJ (2004) Adenoid cystic carcinoma of the head and neck: a review. Curr Opin Otolaryngol Head Neck Surg 12:127–132

Castronovo V, Van Den Brule FA, Jackers P, Clausse N, Liu FT, Gillet C, Sobel ME (1996) Decreased expression of galectin-3 is associated with progression of human breast cancer. J Pathol 179:43–48

Conley J, Dingman DL (1974) Adenoid cystic carcinoma in the head and neck (cylindroma). Arch Otolaryngol 100:81–90

Fordice J, Kershaw C, El-Naggar A, Goepfert H (1999) Adenoid cystic carcinoma of the head and neck: predictors of morbidity and mortality. Arch Otolaryngol Head Neck Surg 125:149–152

Hill ME, Constenla DO, A'Hern RP, Henk JM, Rhys-Evans P, Breach N, Archer D, Gore ME (1997) Cisplatin and 5-fluorouracil for symptom control in advanced salivary adenoid cystic carcinoma. Oral Oncol 33:275–258

Huang M, Ma D, Sun K, Yu G, Guo C, Gao F (1997) Factors influencing survival rate in adenoid cystic carcinoma of the salivary glands. Int J Oral Maxillofac Surg 26:435–439

Iurisci I, Tinari N, Natoli C, Angelucci D, Cianchetti E, Iacobelli S (2000) Concentrations of galectin-3 in the sera of normal controls and cancer patients. Clin Cancer Res 6:1389–1393

Kim KH, Sung MW, Chung PS, Rhee CS, Park CI, Kim WH (1994) Adenoid cystic carcinoma of the head and neck. Arch Otolaryngol Head Neck Surg 120:721–726

Liu D, Labow DM, Dang N, Martini N, Bains M, Burt M, Downey R Jr, Rusch V, Shah J, Ginsberg RJ (1999) Pulmonary metastasectomy for head and neck cancers. Ann Surg Oncol 6:572–578

Lotan R, Ito H, Yasui W, Yokozaki H, Lotan D, Tahara E (1994) Expression of a 31-kDa lactoside-binding lectin in normal human gastric mucosa and in primary and metastatic gastric carcinomas. Int J Cancer 56:474–480

Matsuba HM, Spector GJ, Thawley SE, Simpson JR, Mauney M, Pikul FJ (1986) Adenoid cystic salivary gland carcinoma. A histopathologic review of treatment failure patterns. Cancer 57:519–524

Ochieng J, Furtak V, Lukyanov P (2004) Extracellular functions of galectin-3. Glycoconj J 19:527–535

Pacis RA, Pilat MJ, Pienta KJ, Wojno K, Raz A, Hogan V, Cooper CR (2000) Decreased galectin-3 expression in prostate cancer. Prostate 44:118–123

Penner CR, Folpe AL, Budnick SD (2002) C-kit expression distinguishes salivary gland adenoid cystic carcinoma from polymorphous low-grade adenocarcinoma. Mod Pathol 15:687–691

Perzin KH, Gullane P, Clairmont AC (1978) Adenoid cystic carcinomas arising in salivary glands: a correlation of histologic features and clinical course. Cancer 42:265–282

Pinkston JA, Cole P(1999) Incidence rates of salivary gland tumours: results from a population-based study. Otolaryngol Head Neck Surg 120:834–840

Shimamura T, Sakamoto M, Ino Y, Shimada K, Kosuge T, Sato Y, Tanaka K, Sekihara H, Hirohashi S (2002) Clinicopathological significance of galectin-3 expression in ductal adenocarcinoma of the pancreas. Clin Cancer Res 8:2570–2575

Silverman DA, Carlson TP, Khuntia D, Bergstrom RT, Saxton J, Esclamado RM (2004) Role for postoperative radiation therapy in adenoid cystic carcinoma of the head and neck. Laryngoscope 114:1194–1199

Spiro RH (1997) Distant metastasis in adenoid cystic carcinoma of salivary origin. Am J Surg 174:495–498

Spiro RH, Huvos AG (1992) Stage means more than grade in adenoid cystic carcinoma. Am J Surg 164:623–628

Spiro RH, Huvos AG, Strong EW (1974) Adenoid cystic carcinoma of salivary origin. A clinicopathologic study of 242 cases. Am J Surg 128:512–520

Stell PM (1986) Adenoid cystic carcinoma. Clin Otolaryngol 11:267–291

Sung MW, Kim KH, Kim JW, Min YG, Seong WJ, Roh JL, Lee SJ, Kwon TK, Park SW (2003) Clinicopathologic predictors and impact of distant metastasis from adenoid cystic carcinoma of the head and neck. Arch Otolaryngol Head Neck Surg 129:1193–1197

Takenaka Y, Fukumori T, Raz A (2004) Galectin-3 and metastasis. Glycoconj J 19:543–549

Umeda M, Nishimatsu N, Masago H, Ishida Y, Yokoo S, Fujioka M, Shibuya Y, Komori T (1999) Tumour-doubling time and onset of pulmonary metastasis from adenoid cystic carcinoma of the salivary gland. Oral Surg Oral Med Oral Pathol Oral Radiol Endod 88:473–478

Vermorken JB, Verweij J, de Mulder PH, Cognetti F, Clavel M, Rodenhuis S, Kirkpatrick A, Snow GB (1993) Epirubicin in patients with advanced or recurrent adenoid cystic carcinoma of the head and neck: a phase II study of the EORTC Head and Neck Cancer Cooperative Group. Ann Oncol 4:785–788

Verweij J, de Mulder PH, de Graeff A, Vermorken JB, Wildiers J, Kerger J, Schornagel J, Cognetti F, Kirkpatrick A, Sahmoud T, Lefebvre JL (1996) Phase II study on mitoxantrone in adenoid cystic carcinomas of the head and neck. EORTC Head and Neck Cancer Cooperative Group. Ann Oncol 7:867–869

van der Wal JE, Becking AG, Snow GB, van der Waal I (2002) Distant metastases of adenoid cystic carcinoma of the salivary glands and the value of diagnostic examinations during follow-up. Head Neck 24:779–783

Xu XC, el-Naggar AK, Lotan R (1995) Differential expression of galectin-1 and galectin-3 in thyroid tumours. Potential diagnostic implications. Am J Pathol 147:815–822

Xu XC, Sola Gallego JJ, Lotan R, El-Naggar AK (2000) Differential expression of galectin-1 and galectin-3 in benign and malignant salivary gland neoplasms. Int J Oncol 17:271–276
About this article
Cite this article
Teymoortash, A., Pientka, A., Schrader, C. et al. Expression of galectin-3 in adenoid cystic carcinoma of the head and neck and its relationship with distant metastasis. J Cancer Res Clin Oncol 132, 51–56 (2006). https://doi.org/10.1007/s00432-005-0040-1
Received:

Accepted:

Published:

Issue Date:
Keywords
Adenoid cystic carcinoma

Galectin-3

Metastatic spread

Prognosis