Abstract
Purpose
Glucocorticoids exert anti-proliferative effects in various cell types and have long been known to induce apoptosis in thymocytes. Although a few reports have described the regression of human thymoma with glucocorticoid therapy, its effects on neoplastic thymic epithelial cells (TECs) have not been reported. In the present study, we investigated glucocorticoid receptor (GR) expression on neoplastic TECs and the effects of glucocorticoids in vitro on the cell cycle progression of tumor cells.
Patients and methods
Thymoma specimens were obtained during surgery from 21 patients. Three of the specimens with glucocorticoid therapy were examined using the TdT-mediated dUTP-biotin nick-end labeling method. Primary tumor specimens from ten untreated thymomas were examined for GR expression by immunohistochemistry. Isolated neoplastic TECs from the remaining eight untreated thymomas were examined using immunohistochemistry, flow cytometric and cell cycle analysis.
Results
GR are expressed on neoplastic TECs as well as on non-neoplastic thymocytes in thymomas, regardless of WHO histological classification. Glucocorticoids caused an accumulation of TEC in G0/G1 phase in all cases examined (n=6), and also induced apoptosis in the three with the lowest levels of Bcl-2 expression.
Conclusions
Our results indicate that neoplastic TECs express GR and that glucocorticoids directly suppress their in vitro proliferation.
This is a preview of subscription content, log in to check access.
Access options
Buy single article
Instant access to the full article PDF.
US$ 39.95
Price includes VAT for USA
Subscribe to journal
Immediate online access to all issues from 2019. Subscription will auto renew annually.
US$ 199
This is the net price. Taxes to be calculated in checkout.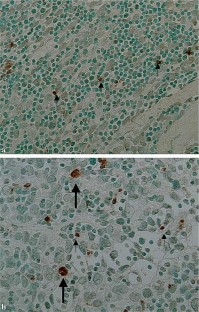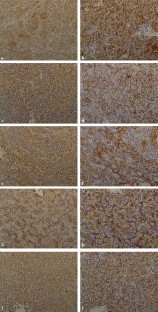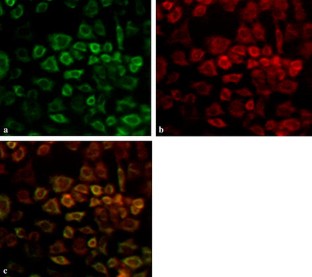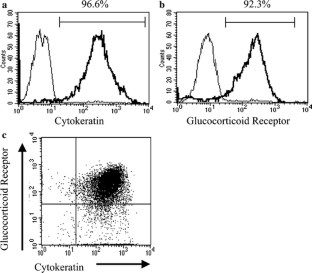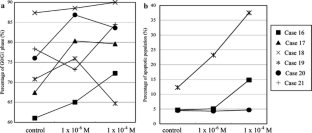 Abbreviations
GR:

Glucocorticoid receptor

TEC:

Thymic epithelial cell
References
Auphan N, DiDonato JA, Rosette C, Helmberg A, Karin M (1995) Immunosupression by glucocorticoids: inhibition of NF-κB activity through induction of IκB synthesis. Science 270:286–290

Beato M, Herrlich P, Schutz G (1995) Steroid hormone receptors: many actors in search of a plot. Cell 83:851–857

Berki T, Kumanovics G, Kumanovics A, Falus A, Ujhelyi E, Nemeth P (1998) Production and flow cytometric application of a monoclonal anti-glucocorticoid receptor antibody. J Immunol Methods 214:19–27

Berki T, Palinkas L, Boldizsar F, Nemeth P (2002) Glucocorticoid (GC) sensitivity and GC receptor expression differ in thymocyte subpopulations. Int Immunol 14:463–469

Cohen JJ, Duke RC (1984) Glucocorticoid activation of a calcium-dependent endonuclease in thymocyte nuclei leads to cell death. J Immunol 132:38–42

Cole TJ, Blendy JA, Monaghan AP, Krieglstein K, Schmid W, Aguzzi A, Fantuzzi G, Hummler E, Unsicker K, Schutz G (1995) Targeted disruption of the glucocorticoid receptor gene blocks adrenergic chromaffin cell development and severely retards lung maturation. Genes Dev 9:1608–1621

Corroyer S, Nabeyrat E, Clement A (1997) Involvement of the cell cycle inhibitor CIP1/WAF1 in lung alveolar epithelial cell growth arrest induced by glucocorticoids. Endocrinology 138:3677–3685

Florian RG, Michael K (2004) The IKK/NF-κB activation pathway—a terget for prevention and treatment of cancer. Cancer Lett 206:193–199

Gilhus NE, Jones M, Turley H, Gatter KC, Nagvekar N, Newsom-Davis J, Willcox N (1995) Oncogene proteins and proliferation antigens in thymomas: increased expression of epidermal growth factor and Ki67 antigen. J Clin Pathol 48:447–455

Greenberg AK, Hu J, Basu S, Hay J, Reibman J, Yie TA, Tchou-Wong KM, Rom WN, Lee TC (2002) Glucocorticoide inhibit lung cancer cell growth through both the extracellular signal-related kinase patheway and cell cycle regulators. Am J Respir Cell Mo Biol 27:320–328

Grilli M, Chiu JJ, Lenardo MJ (1993) NF-kappa B and Rel: participants in a multiform transcriptional regulatory system. Int Rev Cytol 143:1–62

Hiroshima K, Iyoda A, Toyozaki T, Supriatna Y, Shibuya K, Shimamura F, Haga Y, Yoshida S, Fujisawa T, Ohwada H (2002) Proliferative activity and apoptosis in thymic epithelial neoplasms. Mod Pathol 15:1326–1332

Hu E, Levine J (1986) Chemotherapy of malignant thymoma. Case report and review of the literature. Cancer 57:1101–1104

Inoue M, Fujii Y, Okumura M, Takeuchi Y, Shiono H, Miyoshi S, Matsuda H, Shirakura R (1998) Neoplastic thymic epithelial cells of human thymoma support T cell development from CD4-CD8- cells to CD4+CD8+ cells in vitro. Clin Exp Immunol 112:419–426

Inoue M, Okumura M, Miyoshi S, Shiono H, Fukuhara K, Kadota Y, Shirakura R, Matsuda H (1999) Impaired expression of MHC class II molecules in response to interferon-gammna (INF-γ) on human thymoma neoplastic epithalial cells. Clin Exp Immunol 117:1–7

Kadota Y, Okumura M, Miyoshi S, Kitagawa-Sakakida S, Inoue M, Shiono H, Maeda Y, Kinoshita T, Shirakura R, Matsuda H (2000) Altered T cell development in human thymoma is related to impairment of MHC class II transactivator expression induced by interferon-gamma (IFN-γ). Clin Exp Immunol 121:59–68

Karin M (1998) New twists in gene regulation by glucocorticoid receptor: is DNA binding dispensable? Cell 93:487–490

Levine GD, Rosai J (1978) Thymic hyperplasia and neoplasia: a review of current concepts. Hum Pathol 9:495–515

Loehrer PJ Sr, Wang W, Johnson DH, Aisner SC, Ettinger DS (2004) Octreotide alone or with prednisone in patients with advanced thymoma and thymic carcinoma: an Eastern Cooperative Oncology Group Phase II Trial. J Clin Oncol 22:293–299

Masaoka A, Monden Y, Nakahara K, Tanioka T (1981) Follow-up study of thymomas with special reference to their clinical stages. Cancer 48:2485–2492

Masuda A, Ohtsuka K, Matsuyama M (1990) Establishment of functional epithelial cell lines from a rat thymoma and a rat thymus. In Vitro Cell Dev Biol 26:713–721

Müller-Hermelink HK, Marino M, Palestro G, Schumacher U, Kirchner T (1985) Immunohistological evidences of cortical and medullary differentiation in thymoma. Virchows Arch A 408:143–161

Palmieri G, Lastoria S, Colao A, Vergara E, Varrella P, Biondi E, Selleri C, Catalano L, Lombardi G, Bianco AR, Salvatore M (1997) Successful treatment of a patient with a thymoma and pure red-cell aplasia with octreotide and prednisone. N Engl J Med 23:263–265

Pan CC, Chen PC, Wang LS, Lee JY, Chiang H (2003) Expression of apoptosis-related markers and HER-2/neu in thymic epithelial tumours. Histopathology 43:165–172

Ramdas J, Liu W, Harmon JM (1999) Glucocorticoid-induced cell death requires autoinduction of glucocorticoid receptor expression in human leukemic T cells. Cancer Res 59:1378–1385

Rogatsky I, Hittelman AB, Pearce D, Garabedian MJ (1999) Distinct glucocorticoid receptor transcriptional regulatory surfaces mediate the cytotoxic and cytostatic effects of glucocorticoids. Mol Cell Biol 19:5036–5049

Rosai J, Sobin LH (1999) Histological typing of tumors of the thymus. International histological classification of tumors, 2nd edn. Springer, Heidelberg Berlin New York

Scheinman RI, Cogswell PC, Lofquist AK, Baldwin AS Jr (1995a) Role of transcriptional activation of IκBα in mediation of immunosupression by glucocorticoids. Science 270:283–286

Scheinman RI, Gualberto A, Jewell CM, Cidlowski JA, Baldwin AS Jr (1995b) Characterization of mechanisms involved in transrepression of NF-κB by activated glucocorticoid receptors. Mol Cell Biol 15:943–953

Soffer LJ, Gabrilove JL, Wolf BS (1952) Effect of ACTH on thymic masses. J Clin Endocrinol Metab 12:690–696

Tateyama H, Takahashi E, Saito Y, Fukai I, Fujii Y, Niwa H, Eimoto T (2001) Histopathologic changes of thymoma preoperatively treated with corticosteroids. Virchows Arch 438:238–247

Termeer A, Visser FJ, Mravunac M (2001) Regression of invasive thymoma following corticosteroid therapy. Neth J Med 58:181–184

Wang CY, Mayo MW, Korneluk RC, Goeddel DV, Baldwin AS Jr (1998) NF-κB antiapoptosis: induction of TRAF1 and TRAF2 and c-IAP1and c-IAP2 to suppress caspase-8 activation. Science 281:1680–1683

Wang W, Wykrzykowska J, Johnson T, Sen R, Sen J (1999) A NF-κB/c-myc-dependent survival pathway is targeted by corticosteroids in immature thymocytes. J Immunol 162:314–322

Wiegers GJ, Knoflach M, Bock G, Niederegger H, Dietrich H, Falus A, Boyd R, Wick G (2001) CD4+CD8+TCRlow thymocytes express low levels of glucocorticoid receptors while being sensitive to glucocorticoid-induced apoptosis. Eur J Immunol 31:2293–2301

Wyllie AH (1980) Glucocorticoid-induced thymocyte apoptosis is associated with endogenous nuclease activation. Nature 284:555–556

Yamamoto KR (1985) Steroid receptor regulated transcription of specific genes and gene networks. Annu Rev Genet 19:209–252

Young IT (1977) Proof without prejudice: use of the Kolmogorov-Smirnov test for analysis of histograms from flow systems and other sources. J Histochem Cytochem 25:935–941
Acknowledgements
We are grateful to Nick Willcox for critically reading the manuscript. We wish to thank Keiji Iuchi (National Kinki Central Hospital), Katsuhiro Nakagawa (Osaka Prefectural Habikino Hospital), Hajime Maeda (National Toneyama Hospital), Hirohumi Sueki (Ohtemae Hospital), Hiroto Tada (Osaka City General Hospital), Hyung-Eng Yoon (Rinku Medical Center), Akinori Akashi, Yukiyasu Takeuchi (Takarazuka City Hospital), Tetsuo Kido (Osaka Police Hospital), and Yoshitomo Okumura (Hyogo Medical University) for their submission of the specimens, and also Al Averbach for editing the manuscripts
About this article
Cite this article
Funakoshi, Y., Shiono, H., Inoue, M. et al. Glucocorticoids induce G1 cell cycle arrest in human neoplastic thymic epithelial cells. J Cancer Res Clin Oncol 131, 314–322 (2005). https://doi.org/10.1007/s00432-004-0646-8
Received:

Accepted:

Published:

Issue Date:
Keywords
Thymoma

Thymic epithelial cell

Glucocorticoid

Glucocorticoid receptor

Apoptosis