Abstract
Purpose
To study the differential expression of the S100 gene family at the RNA level in human esophageal squamous cell carcinoma (ESCC), and to find the relationship of the S100 gene family with ESCC.
Methods
Firstly, the specific primers were designed for the different S100 genes with Software Primer 3, which required that both primer sequences of each S100 gene were from two different exons respectively. Then, the differential expression of 16 S100 genes was examined by semiquantitative reverse transcription-polymerase chain reaction (RT-PCR) in 62 cases of ESCC versus the corresponding normal esophageal mucosa. All RT-PCR products were analyzed by 1.5% agarose gel. With Fluor-S MultiImager and Multi-Analyst software, the electrophoresis images were evaluated with statistics analysis using SAS 8.1 software.
Results
Eleven out of 16 S100 genes were significantly downregulated (p<0.05) in ESCC versus the normal counterparts such as S100A1, S100A2, S100A4, S100A8, S100A9, S100A10, S100A11, S100A12, S100A14, S100B, and S100P genes. Only the S100A7 gene in the S100 family was markedly upregulated (p<0.05). Moreover, the S100B gene was significantly correlated with histological differentiation of ESCC (p=0.0247), and the deregulation of some S100 genes was closely correlated (p<0.05), such as S100A10/S100A11, S100A2/S100A8, S100A2/S100A14, S100A8/S100A14, and S100A2/S100P etc.
Conclusions
The S100 gene family is closely associated with ESCC.
This is a preview of subscription content, log in to check access.
Access options
Buy single article
Instant access to the full article PDF.
US$ 39.95
Price includes VAT for USA
Subscribe to journal
Immediate online access to all issues from 2019. Subscription will auto renew annually.
US$ 199
This is the net price. Taxes to be calculated in checkout.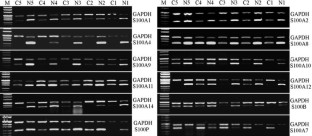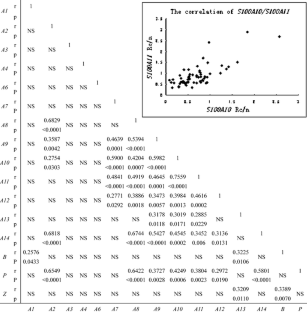 References
Baudier J, Delphin C, Grunwald D, Khochbin S, Lawrence JJ (1992) Characterization of the tumor suppressor protein p53 as a protein kinase C substrate and a S100b-binding protein. Proc Natl Acad Sci USA 89:11627–11631

Cajone F, Sherbet GV (1999) Stathmin is involved in S100A4-mediated regulation of cell cycle progression. Clin Exp Metastasis 17:865–871

Chen B, Wang M, Cai Y, Xu X, Xu Z, Han Y, Wu M (2000) Transglutaminase-3, an esophageal cancer-related gene. Int J Cancer 88:862–865

Chen B, Wang M, Cai Y, Xu X, Xu Z, Han Y, Wu M (2002) Decreased expression of SPRR3 in Chinese human oesophageal cancer. Carcinogenesis 21:2147–2150

Chen YJ, Vortmeyer A, Zhuang Z, Huang S, Jensen RT (2003) Loss of heterozygosity of chromosome 1q in gastrinomas: occurrence and prognostic significance. Cancer Res 63:817–823

Gendler SJ, Cohen EP, Craston A, Duhig T, Johnstone G, Barnes D (1990) The locus of the polymorphic epithelial mucin (PEM) tumour antigen on chromosome 1q21 shows a high frequency of alteration in primary human breast tumours. Int J Cancer 45:431-435

Hitomi J, Yamaguchi K, Kikuchi Y, Kimura T, Maruyama K, Nagasaki K (1996) A novel calcium-binding protein in amniotic fluid, CAAF1: its molecular cloning and tissue distribution. J Cell Sci 109:805-815

Hitomi J, Kimura T, Kusumi E, Nakagawa S, Kuwabara S, Hatakeyama K, Yamaguchi K (1998) Novel S100 proteins in human esophageal epithelial cells: CAAF1 expression is associated with cell growth arrest. Arch Histol Cytol 61:163-178

Kyriazanos ID, Tachibana M, Dhar DK, Schibakita M, Ono T, Kohno H, Nagasue N (2002) Expression and prognostic significance of S100A2 protein in squamous cell carcinoma of the esophagus. Oncol Rep 9:503–510

Lestou VS, Ludkovski O, Connors JM, Gascoyne RD, Lam WL, Horsman DE (2003) Characterization of the recurrent translocation t(1;1)(p36.3;q21.1–2) in non-Hodgkin lymphoma by multicolor banding and fluorescence in situ hybridization analysis. Genes Chromosomes Cancer 36:375–381

Lin J, Blake M, Tang C, Zimmer D, Rustandi RR, Weber DJ, Carrier F (2001) Inhibition of p53 transcriptional activity by the S100B calcium-binding protein. J Biol Chem 276:35037–35041

Liu D, Rudland PS, Sibson DR, Platt-Higgins A, Barraclough R (2000) Expression of calcium-binding protein S100A2 in breast lesions. Br J Cancer 83:1473–1479

Moore BW (1965) A soluble protein characteristic of the nervous system. Biochem Biophys Res Commun 19:739–744

Nagy N, Brenner C, Markadieu N, Chaboteaux C, Camby I, Schafer BW, Pochet R, Heizmann CW, Salmon I, Kiss R, Decaestecker C (2001) S100A2, a putative tumor suppressor gene, regulates in vitro squamous cell carcinoma migration. Lab Invest 81:599–612

Ninomiya I, Ohta T, Fushida S, Endo Y, Hashimoto T, Yagi M, Fujimura T, Nishimura G, Tani T, Shimizu K, Yonemura Y, Heizmann CW, Schafer BW, Sasaki T, Miwa K (2001) Increased expression of S100A4 and its prognostic significance in esophageal squamous cell carcinoma. Int J Oncol 18:715–720

Parker C, Lakshmi MS, Piura B, Sherbet GV (1994) Metastasis-associated mts1 gene expression correlates with increased p53 detection in the B16 murine melanoma. DNA Cell Biol 13:343–351

Parker C, Whittaker PA, Usmani BA, Lakshmi MS, Sherbet GV (1994) Induction of 18A2/mts1 gene expression and its effects on metastasis and cell cycle control. DNA Cell Biol 13:1021–1028

Pietas A, Schluns K, Marenholz I, Schafer BW, Heizmann CW, Petersen I (2002) Molecular cloning and characterization of the human S100A14 gene encoding a novel member of the S100 family. Genomics 79:513–522

Propper C, Huang X, Roth J, Sorg C, Nacken W (1999) Analysis of the MRP8-MRP14 protein-protein interaction by the two-hybrid system suggests a prominent role of the C-terminal domain of S100 proteins in dimer formation. J Biol Chem 274:183–188

Ribeiro U Jr, Posner MC, Safatle-Ribeiro AV, Reynolds JC (1996) Risk factors for squamous cell carcinoma of the oesophagus. Br J Surg 83:1174–1185

Rustandi RR, Baldisseri DM, Weber DJ (2000) Structure of the negative regulatory domain of p53 bound to S100B(betabeta). Nat Struct Biol 7:570–574

Sakaguchi M, Miyazaki M, Inoue Y, Tsuji T, Kouchi H, Tanaka T, Yamada H, Namba M (2000) Relationship between contact inhibition and intranuclear S100C of normal human fibroblasts. J Cell Biol 149:1193-1206

Sato N, Hitomi, J (2002) S100P expression in human esophageal epithelial cells: Human esophageal epithelial cells sequentially produce different S100 proteins in the process of differentiation. Anat Rec 267:60–69

Schafer BW, Wicki R, Engelkamp D, Mattei MG, Heizman CW (1995) Isolation of a YAC clone covering a cluster of nine S100 genes on human chromosome 1q21: rationale for a new nomenclature of the S100 calcium-binding protein family. Genomics 25:638–643

Scotto C, Deloulme JC, Rousseau D, Chambaz E, Baudier J (1998) Calcium and S100B regulation of p53-dependent cell growth arrest and apoptosis. Mol Cell Biol 18:4272–4281

Strupat K, Rogniaux H, van Dorsselaer A, Roth J, Vogl T (2000) Calcium-induced noncovalently linked tetramers of MRP8 and MRP14 are confirmed by electrospray ionization-mass analysis. J Am Soc Mass Spectrom 11:780–788

Togawa K, Jaskiewize K, Takahashi H, Meltzer SJ, Rustgi AK (1994) Human papillomavirus DNA sequences in esophagus squamous cell carcinoma. Gastroenterology 107:128–136

Watson PH, Leygue ER, Murphy LC (1998) Psoriasin (S100A7). Int J Biochem Cell Biol 30:567–571

Weterman MA, Wilbrink M, Dijkhuizen T, van den Berg E, Geurts van Kessel A (1996) Fine mapping of the 1q21 breakpoint of the papillary renal cell carcinoma-associated (X;1) translocation. Hum Genet 98:16–21

Wong N, Chan A, Lee SW, Lam E, To KF, Lai PB, Li XN, Liew CT, Johnson PJ (2003) Positional mapping for amplified DNA sequences on 1q21-q22 in hepatocellular carcinoma indicates candidate genes over-expression. J Hepatol 38:298–306

Wright FA, Lemon WJ, Zhao WD, Sears R, Zhuo D, Wang JP, Yang HY, Bser T, Stredney D, Spitzner J, Stutz A, Krahe R, Yuan B (2001) A draft annotation and overview of the human genome. Genome Biol 2:0025.1–0025.18
Acknowledgements
This work was cosupported by the China Key Program on Basic Research (G1998051021), the Chinese Hi-tech R&D program (2001AA231041), and the National Science Foundation of China (30170519).
About this article
Cite this article
Ji, J., Zhao, L., Wang, X. et al. Differential expression of S100 gene family in human esophageal squamous cell carcinoma. J Cancer Res Clin Oncol 130, 480–486 (2004). https://doi.org/10.1007/s00432-004-0555-x
Received:

Accepted:

Published:

Issue Date:
Keywords
S100 gene family

Human esophageal squamous cell carcinoma

Histological differentiation