Abstract
Purpose
Intrahepatic cholangiocarcinoma usually presents late in the clinical course and has a poor prognosis. No effective systemic therapy is currently available. This study aimed to determine the efficacy and toxicity of the ECF regimen (epirubicin, cisplatin. and 24-h continuous infusion of 5-FU) in advanced intrahepatic cholangiocarcinoma.
Patients and method
On day 1, epirubicin 50 mg/m2 and cisplatin 60 mg/m2 were administered i.v., repeated every 21 days. 5-FU (200 mg/m2/day was given continuous i.v. via an ambulatory infusion pump throughout the treatment course. A total of 24 patients (15 men and nine women) with advanced intrahepatic cholangiocarcinoma between August 1996 and April 2002 were enrolled in this study.
Results
Of the 20 evaluable patients, two had partial response (10%) and nine had stable disease (45%), including two minor response. Grade 3/4 neutropenia was observed in six patients, while grade 3/4 thrombocytopenia was seen in five patients. There was no neutropenic infection or thrombocytopenic bleeding during any of the cycles of chemotherapy.
Conclusion
ECF regimen is well-tolerated but is not an effective treatment for advanced intrahepatic cholangiocarcinoma. Newer clinical trials with combination drugs should be developed.
This is a preview of subscription content, log in to check access.
Access options
Buy single article
Instant access to the full article PDF.
US$ 39.95
Price includes VAT for USA
Subscribe to journal
Immediate online access to all issues from 2019. Subscription will auto renew annually.
US$ 199
This is the net price. Taxes to be calculated in checkout.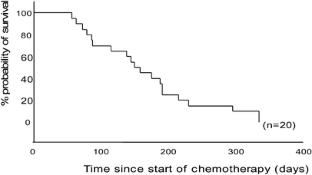 References
Adjei AA, Klein CE, Kastrissios H, Goldberg RM, Alberts SR, Pitot HC, Sloan JA, Reid JM, Hanson LJ, Atherton P, Rubin J, Erlichman C (2000) Phase I and pharmacokinetic study of irinotecan and docetaxel in patients with advanced solid tumors: preliminary evidence of clinical activity. J Clin Oncol 18:1116–1123

Ahn SY, Cha TJ, Seo SH, Lee SW, Han BW, Goo JY, Park BC (1990) Clinical aspects of Phase I trial of 5-day continuous venous infusion of oxaliplatin at circadian rhythm-modulated rate compared with constant rate. J Natl Cancer Inst 82:1046–1050

Arai Y, Inaba Y, Takeuchi Y (1997) Interventional techniques for hepatic arterial infusion chemotherapy. In: Castaneda-Zuniga WR (ed) Interventional radiology, 3rd edn. Williams & Wilkins, Maryland, pp 192–205

Chen JS, Jan YY, Lin YC, Wang HM, Chang WC, Liau CT (1998) Weekly 24 h infusion of high-dose 5-fluorouracil and leucovorin in patients with biliary tract carcinomas. Anticancer Drugs 9:393–397

Davis HL Jr, Ramirez G, Ansfield FJ (1974) Adenocarcinomas of stomach, pancreas, liver and biliary tracts. Survival of 328 patients treated with fluoropyrimidine therapy. Cancer 33:193–197

Ducreux M, Rougier P, Fandi A, Clavero-Fabri MC, Villing AL, Fassone F, Fandi L, Zarba J, Armand JP (1998) Effective treatment of advanced biliary tract carcinoma using 5-fluorouracil continuous infusion with cisplatin. Ann Oncol 9:653–656

Ellis PA, Norman A, Hill A, O'Brien ME, Nicolson M, Hickish T, Cunningham D (1995) Epirubicin, cisplatin and infusional 5-fluorouracil (5-FU) (ECF) in hepatobiliary tumors. Eur J Cancer 31A:1594–1598

Falkson G, MacIntyre JM, Moertel CG (1984) Eastern cooperative oncology group experience with chemotherapy for inoperable gallbladder and bile duct cancer. Cancer 54:965–969

Findlay M, Cunningham D, Norman A, Mansi J, Nicolson M, Hickish T, Nicolson V, Nash A, Sacks N, Ford H (1994) A phase II study in advanced gastro-esophageal cancer using epirubicin and cisplatin in combination with continuous infusion 5-fluorouracil (ECF). Ann Oncol 5:609–616

Fong Y, Kemeny N, Lawrence TS (2001) Cancer of the liver and biliary trees. In: DeVita VT, Helman S, Rosenberg SA (eds) Cancer: principles & practice of oncology, 6th edn. Lippincott Williams & Wilkins, Philadelphia, p 1178

Harvey JH, Smith FP, Schein PS (1984) 5-fluorouracil, mitomycin, and doxorubicin (FAM) in carcinoma of the biliary tract. J Clin Oncol 2:1245–1248

Ikeguchi M, Hirooka Y, Makino M, Kaibara N (2001) Dihydropyrimidine dehydrogenase activity of cancerous and non-cancerous tissues in liver and large intestine. Oncol Rep 8:621–625

Ito Y, Takeda T, Sasaki Y, Sakon M, Monden M, Yamada T, Ishiguro S, Imaoka S, Tsujimoto M, Matsuura N (2000) Bcl-2 expression in cholangiocellular carcinoma is inversely correlated with biologically aggressive phenotypes. Oncology 59:63–67

Kubicka S, Rudolph KL, Tietze MK, Lorenz M, Manns M (2001) Phase II study of systemic gemcitabine chemotherapy for advanced unresectable hepatobiliary carcinomas. Hepatogastroenterology 48:783–789

Liver cancer study group of Japan (1987) Primary liver cancer in Japan: sixth report. Cancer 60:1400–1411

Nakajima T, Kondo Y, Miyazaki M, Okui K (1998) A histopathologic study of 102 cases of intrahepatic cholangiocarcinoma. Hum Pathol 19:112–134

Okuda K, Kubo Y, Okazaki N, Arishima T, Hashimoto M (1977) Clinical aspects of intrahepatic bile duct carcinoma including hilar carcinoma: a study of 57 autopsy-proven cases. Cancer 39:232–246

Patt YZ, Jones DV Jr, Hoque A, Lozano R, Markowitz A, Raijman I, Lynch P, Charnsangavej C (1996) Phase II trial of intravenous fluorouracil and subcutaneous interferon alfa-2b for biliary tract cancer. J Clin Oncol 14:2311–2315

Patt YZ, Hassan MM, Lozano RD, Waugh KA, Hoque AM, Frome AI, Lahoti S, Ellis L, Vauthey JN, Curley SA, Schnirer II, Raijman I (2001) Phase II trial of cisplatin, interferon alpha-2b, doxorubicin, and 5-fluorouracil for biliary tract cancer. Clin Cancer Res 7:3375–3380

Raderer M, Hejna MH, Valencak JB, Kornek GV, Weinlander GS, Bareck E, Lenauer J, Brodowicz T, Lang F, Scheithauer W (1999) Two consecutive phase II studies of 5-fluorouracil/leucovorin/mitomycin C and of gemcitabine in patients with advanced biliary cancer. Oncology 56:177–180

Sanz-Altamira PM, Ferrante K, Jenkins RL, Lewis WD, Huberman MS, Stuart KE (1998) Phase II trial of 5-fluorouracil, leucovorin, and carboplatin in patients with unresectable biliary tree carcinoma. Cancer 82:2321–2325

Seo BN, Chung JH, Chung ID (1995) Clinical aspects for treatment of cholangiocarcinoma in Korea. Proc Korean Cancer Assoc S107:130

Shimada M, Takenaka K, Kawahara N, Yamamoto K, Shirabe K, Maehara Y, Sugimachi K (1996) Chemosensitivity in primary liver cancers: evaluation of the correlation between chemosensitivity and clinicopathological factors. Hepatogastroenterology 43:1159–1164

Tanaka N, Yamakado K, Nakaatsuka A, Fujii A, Maatsumura K, Takeda K (2002) Arterial chemoinfusion therapy through an implanted port system for patients with unresectable intrahepatic cholangiocarcinoma: initial experience. Eur J Radiol 41:42–48
About this article
Cite this article
Lee, M.A., Woo, I.S., Kang, J. et al. Epirubicin, cisplatin, and protracted infusion of 5-FU (ECF) in advanced intrahepatic cholangiocarcinoma. J Cancer Res Clin Oncol 130, 346–350 (2004). https://doi.org/10.1007/s00432-003-0534-7
Received:

Accepted:

Published:

Issue Date:
Keywords
Intrahepatic cholangiocarcinoma

ECF regimen