Abstract
Purpose
To investigate cloning, expression, and mutation analysis of the putative candidate tumor suppressor gene related with nasopharyngeal carcinoma (NPC).
Methods
We studied the expression profiles in the NPC cell line HNE1 with the normal nasopharyngeal epithelial cell as control by using cDNA array representing 11,000 cDNA clusters. EST W95442 was found down-regulated in HNE1. Subsequently, the corresponding gene sequence including this EST was established by cDNA cloning and the RACE (rapid amplification of cDNA end) procedure. The expression pattern of this gene was examined by using Northern blot analysis in various human tissues. Furthermore, we screened the mutations of the coding sequence of the gene using reverse transcription-polymerase chain reaction and single-strand conformation polymorphisms (RT-PCR-SSCP) as well as direct sequencing analysis.
Results
A novel gene (GenBank accession No. AF462348) was cloned and named NOR1 standing for oxidored-nitro domain-containing protein 1 (Human Gene Nomenclature Committee-approved symbol). Northern blot analysis revealed that the NOR1 gene had two transcripts (1.2 kb, 1.6 kb), and expressed ubiquitously in human tissues. Moreover, a Glu58Gly mutation in the exon 1 of NOR1 was detected in two of 25 NPC biopsies.
Conclusions
We cloned a novel gene NOR1, and the Glu58Gly polymorphism of NOR1 may be involved in the development and/or progression of NPC suggesting that NOR1 could be a candidate tumor repressor gene related with NPC.
This is a preview of subscription content, log in to check access.
Access options
Buy single article
Instant access to the full article PDF.
US$ 39.95
Price includes VAT for USA
Subscribe to journal
Immediate online access to all issues from 2019. Subscription will auto renew annually.
US$ 199
This is the net price. Taxes to be calculated in checkout.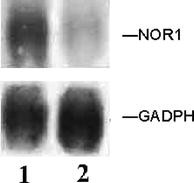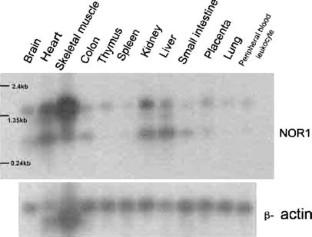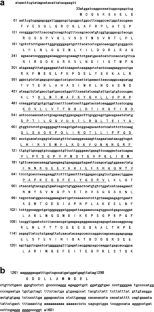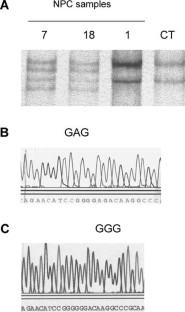 References
Ayanaba A, Alexander M (1973) Microbial formation of nitrosamines in vitro. Appl Microbiol 25:862–868

Calmels S, Ohshiiman H, McCoy E, et al (1987) Biochemical studies on the catalysis of nitrosation by bacteria. Carcinogenesis 8:1085–1088

Claudio PP, Howard CM, Fu Yan (2000) Mutations in the retinoblastoma-related gene RB/P130 in primary nasopharyngel carcinoma. Cancer Res 60:8-12

Deng LW, Jiang L, Tan GL, Li GY (1998) A common region of allelic loss on chromosome region on 3p25.3–26.2 in nasopharyngeal carcinoma. Gene Chromosome Cancer 23:21–25

Druckrey H, Pressmann R, Ivankovic S (1967) Organotrope carcinogene Wirkungen bei 65 verschiedenen N-nitroso-Verbindungen an BD-Ratten. Z.Krebsforsch 69:103–01

Guo Y, Fan Y, Liang QW, et al (1995) Chromosome abberations in 47 nasopharyngeal carcinoma. Chinese J Cancer Res 18:5–8

Hildesheim A, Levin P (1993) Etiology of nasopharyngeal carcinoma: a review. Epidemiol Rev 15:446–485

Kozak M (1989) The scanning model for translation: an update. J Cell Biol 108:229–24

Li ZH, Wan L, Zhang XH, et al (2001) Chromosomal aberration analyzed by comparative genomic hybridization in nasopharyngeal carcinoma. Chin J Med Genet 18:336–342

Magee PN, Montesano R, Pressmann R (1976) N-nitroso compounds and related carcinogens. Chem Carcinogens 173:491–625

Mills AL, Alexander M (1976) N-Nitrosamine formation by cultures of several microorganisms. Appl Environ Microbiol 31:892–895

Mirvish SS (1995) Role of N-nitroso compounds(NOC) and N-nitrosation in etiology of gastric, esophageal, nasopharyngeal and bladder cancer and contribution to cancer of known exposure to NOC. Cancer Lett 97:271

Parkinson GN, Skelly JV, Neidle S (2000) Crystal structure of FMN-dependent nitroreductase from Escherichia coli prodrug-activating enzyme. J Med Chem 43:3624–3631

Plumb JA, Bilsland A, Kakani R (2001) Tolomerase-specific suicide gene therapy vectors expressing bacterial nitroreductase sensitize human cancer cells to the pro-drug CB1954. Oncogene 20:7797–7803

Polrier S, Bouvier G, Malaveille C (1989) Volatile nitrosamine levels and genotoxicity of food samples from high-risk areas for nasopharyngeal carcinoma before and after nirosation. Int J Cancer 44:1088–1094

Tomasinin R, Samir Azizi A, Vaccaro MI (2001) Molecular and function characterization of the stress-induced protein (SIP) gene and its two transcripts generated by alternative splicing. J Biol Chem 47:44185–44192

Ward MH, Pan WH, Cheng YJ, et al (2000) Dietary exposure to nitrite and nitrosamines and risk of nasopharyngeal carcinoma in TaiWan. Int J Cancer 86:603–609

Watanabe M, Nishino T, Takio K, et al (1998) Purification and characterization of wild-type and mutant " classical" nitroreductase of Salmonella typhimurium.J Biol Chem 273:23922–23928

Williams JA (2001) Single nucleotide polymorphism, metabolic activation and environmental carcinogenesis: why molecular epidemiologists should think about enzyme expression. Carcinogenesis 22:209–214

Wilson WR, Pullen SM, Hogg A, Helsby NA, Hicks KO, Denny WA (2002) Quantitation of bystander effects in nitroreductase suicide gene therapy using three-dimensional cell cultures.Cancer Res 62:1425–1432

Yan J, Fang Y, Liang Q, et al (2001) Frequent chromosomal gain of 4q and loss of 1p in primary nasopharyngeal carcinoma. Chin J Oncol 23:208–210

Yu MC, Ho J, Lai SH, et al (1986) Cantonese-style salted fish as a cause of nasopharyngal carcinoma: report of a case-control study in Hong Kong. Cancer Res 46:956–961

Zou XN, Lu SH, Liu B, et al (1994) Volatile N-nitrosamines and their precursors in Chinese salted fish—a possible etological factor for NPC in China. Int J Cancer 59:155–158
Acknowledgements
This work is supported by (1) Chinese High Tech R&D Program, No.2001AA221031; (2) Chinese National Key Program on Basic Research, No.G1998051008; (3) National Natural Science Foundation of China, grants: 30100217.
Additional information
This work is supported by: (1) Chinese High Tech R&D Program, No. 2001AA221031; (2) Chinese National Key Program on Basic Research, No. G1998051008; and (3) National Natural Science Foundation of China, grants 30100217
About this article
Cite this article
Nie, X., Zhang, B., Li, X. et al. Cloning, expression, and mutation analysis of NOR1, a novel human gene down-regulated in HNE1 nasopharyngeal carcinoma cell line. J Cancer Res Clin Oncol 129, 410–414 (2003). https://doi.org/10.1007/s00432-003-0451-9
Received:

Accepted:

Published:

Issue Date:
Keywords
Nasopharyngeal carcinoma

Gene cloning

Mutation analysis