Abstract
Despite neonatal lung ultrasound (LU) being diffused worldwide, its introduction in limited-resource areas has not been formally investigated. We conceived a project to introduce it in a level 3 NICU of a developing country and verify if, after a short protocolized training, clinicians may efficaciously use LU. Inter-rater agreement between ultrasound trainees and trainers was analyzed within both the local test and the diffusion phases of the project. High inter-rater agreements were found between expert trainers and the two neonatologists who were trained in a skilled European center (Cohen's Kappa, 0.951; 95%CI, 0.882–0.999), as well as between the two and the second round of locally trained colleagues (Cohen's Kappa, 0.896; 95%CI, 0.797–0.996). Moreover, a high agreement was found between the clinical respiratory diagnosis (used as the "gold standard") and the LU diagnosis given by the first two trainees (intraclass correlation, 0.992; 95%CI, 0.987–0.996) and the locally trained physicians (intraclass correlation, 0.97; 95%CI, 0.95–0.98). A final survey demonstrated that the project was perceived as efficacious and that LU was going to be integrated into routine clinical practice.
Conclusions: А short LU training provided sufficient proficiency and allowed the LU introduction in clinical practice in the neonatal intensive care unit in a developing country.
What is Known:
• Lung ultrasound is a promising technique for evaluating neonatal respiratory distress at least in high-income countries. Previous studies revealed high specificity and sensitivity in diagnosing specific neonatal disorders.
• An important barrier to the more extensive use of lung ultrasound in neonatal critical care is a lack of efficient and suitable training solutions.
What is New:
• Descriptive LU performed by neonatologist in a developing country after a short formal training is feasible with good quality.
• A short formal LU training program provided good proficiency and allowed a correct descriptive diagnosis in a neonatal unit in a developing country.
This is a preview of subscription content, log in to check access.
Access options
Buy single article
Instant access to the full article PDF.
US$ 39.95
Price includes VAT for USA
Subscribe to journal
Immediate online access to all issues from 2019. Subscription will auto renew annually.
US$ 199
This is the net price. Taxes to be calculated in checkout.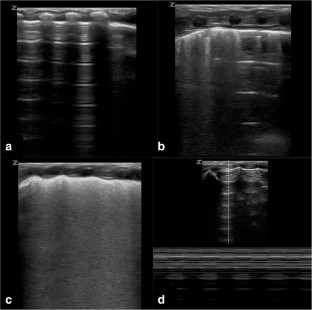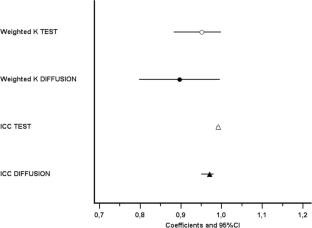 Abbreviations
ARDS:

Acute respiratory distress syndrome

LU:

Lung ultrasound

MAS:

Meconium aspiration syndrome

NICU:

Neonatal intensive care unit

RDS:

Respiratory distress syndrome

TTN:

Transient tachypnea of the neonate
References
1.

Lichtenstein DA, Malbrain MLNG (2017) Lung ultrasound in the critically ill (LUCI): a translational discipline. Anaesthesiol Intensive Ther 49:430–436. https://doi.org/10.5603/AIT.a2017.0063

2.

Raimondi F, Yousef N, Migliaro F, Capasso L, De Luca D (2018) Point-of-care lung ultrasound in neonatology: classification into descriptive and functional applications. Pediatr Res 1–8. https://doi.org/10.1038/s41390-018-0114-9 [Epub ahead of print]

3.

Copetti R, Cattarossi L, Macagno F, Violino M, Furlan R (2008) Lung ultrasound in respiratory distress syndrome: a useful tool for early diagnosis. Neonatology 94:52–59

4.

Raimondi F, Yousef N, Rodriguez Fanjul J, De Luca D, Corsini I, Shankar-Aguilera S et al (2019) A multicenter lung ultrasound study on transient tachypnea of the neonate. Neonatology:263–268

5.

Piastra M, Yousef N, Brat R, Manzoni P, Mokhtari M, De Luca D (2014) Lung ultrasound findings in meconium aspiration syndrome. Early Hum Dev 90:S41–S43

6.

Pereda MA, Chavez MA, Hooper-Miele CC, Gilman RH, Steinhoff MC, Ellington LE, Gross M, Price C, Tielsch JM, Checkley W (2015) Lung ultrasound for the diagnosis of pneumonia in children: a meta-analysis. Pediatrics 135:714–722

7.

Brat R, Yousef N, Klifa R, Reynaud S, Shankar Aguilera S, De Luca D (2015) Lung ultrasonography score to evaluate oxygenation and surfactant need in neonates treated with continuous positive airway pressure. JAMA Pediatr 169:e151797

8.

De Martino L, Yousef N, Ben-Ammar R, Raimondi F, Shankar-Aguilera S, De Luca D (2018) Lung ultrasound score predicts surfactant need in extremely preterm neonates. Pediatrics 142(3). https://doi.org/10.1542/peds.2018-0463

9.

Raschetti R, Yousef N, Vigo G, Marseglia G, Centorrino R, Ben-Ammar R et al (2019) Echography-guided surfactant therapy to improve timeliness of surfactant replacement: a quality improvement project. J Pediatr 212:137–143.e1. https://doi.org/10.1016/j.jpeds.2019.04.020

10.

Raimondi F, Rodriguez Fanjul J, Aversa S, Chirico G, Yousef N, De Luca D et al (2016) Lung ultrasound for diagnosing pneumothorax in the critically ill neonate. J Pediatr 175:74–78 e1

11.

Sippel S, Muruganandan K, Levine A, Shah S (2011) Review article: use of ultrasound in the developing world. Int J Emerg Med 4(1). https://doi.org/10.1186/1865-1380-4-72

12.

Riviello ED, Kiviri W, Twagirumugabe T, Mueller A, Banner-Goodspeed VM, Officer L, Novack V, Mutumwinka M, Talmor DS, Fowler RA (2016) Hospital incidence and outcomes of the acute respiratory distress syndrome using the Kigali modification of the Berlin definition. Am J Respir Crit Care Med 193(1):52–59

13.

De Luca D, van Kaam AH, Tingay DG, Courtney SE, Danhaive O, Carnielli VP et al (2017) The Montreux definition of neonatal ARDS: biological and clinical background behind the description of a new entity. Lancet Respir Med 5:657–666

14.

Shah VP, Tunik MG, Tsung JW (2013) Prospective evaluation of point-of-care ultrasonography for the diagnosis of pneumonia in children and young adults. JAMA Pediatr 167:119

15.

Brusa G, Savoia M, Vergine M, Bon A, Copetti R, Cattarossi L (2015) Neonatal lung sonography: interobserver agreement between physician interpreters with varying levels of experience. J Ultrasound Med 34:1549–1554

16.

Burns KEA, Duffett M, Kho ME, Meade MO, Adhikari NKJ, Sinuff T, Cook DJ, ACCADEMY Group (2008) A guide for the design and conduct of self-administered surveys of clinicians. Can Med Assoc J 179:245–252

17.

Ogrinc G, Davies L, Goodman D, Batalden P, Davidoff F, Stevens D (2016) SQUIRE 2.0 (Standards for QUality Improvement Reporting Excellence): revised publication guidelines from a detailed consensus process. BMJ Qual Saf 25:986–992

18.

Perlman JM, Wyllie J, Kattwinkel J, Wyckoff MH, Aziz K, Guinsburg R et al (2015) Part 7: neonatal resuscitation: 2015 international consensus on cardiopulmonary resuscitation and emergency cardiovascular care science with treatment recommendations (reprint). Pediatrics 136(Supplement):S120–S166

19.

Copetti R, Cattarossi L (2007) The "double lung point": an ultrasound sign diagnostic of transient tachypnea of the newborn. Neonatology 91:203–209

20.

Cicchetti DV, Fleiss JL (1977) Comparison of the null distributions of weighted kappa and the C ordinal statistic. Appl Psychol Meas 1:195–201

21.

Müller R, Büttner P (1994) A critical discussion of intraclass correlation coefficients. Stat Med 13:2465–2476

22.

Zhou X, McClish DK, Obuchowski NA (2011) Statistical methods in diagnostic medicine, 2nd edn. Wiley, Hoboken

23.

Vergine M, Copetti R, Brusa G, Cattarossi L (2014) Lung ultrasound accuracy in respiratory distress syndrome and transient tachypnea of the newborn. Neonatology 106:87–93

24.

Razak A, Faden M (2019) Neonatal lung ultrasonography to evaluate need for surfactant or mechanical ventilation: a systematic review and meta-analysis. Arch Dis Child Fetal Neonatal Ed fetalneonatal-2019:316832

25.

Migliaro F, Sodano A, Capasso L, Raimondi F (2014) Lung ultrasound-guided emergency pneumothorax needle aspiration in a very preterm infant. BMJ Case Rep 2014. https://doi.org/10.1136/bcr-2014-206803

26.

Corsini I, Parri N, Gozzini E, Coviello C, Leonardi V, Poggi C, Giacalone M, Bianconi T, Tofani L, Raimondi F, Dani C (2019) Lung ultrasound for the differential diagnosis of respiratory distress in neonates. Neonatology 115:77–84

27.

Yousef N, Mokhtari M, Durand P, Raimondi F, Migliaro F, Letourneau A et al (2018) Lung ultrasound findings in congenital pulmonary airway malformation. Am J Perinatol 35:1222–1227

28.

Raimondi F, Migliaro F, Sodano A, Umbaldo A, Romano A, Vallone G, Capasso L (2012) Can neonatal lung ultrasound monitor fluid clearance and predict the need of respiratory support? Crit Care 16(6):R220. https://doi.org/10.1186/cc11865

29.

Gomond-Le Goff C, Vivalda L, Foligno S, Loi B, Yousef N, De Luca D (2019) Effect of different probes and expertise on the interpretation reliability of point-of-care lung ultrasound. Chest S0012-3692(19):34292–34298. https://doi.org/10.1016/j.chest.2019.11.013 [Epub ahead of print]
Ethics declarations
Local ethical committee approved this study (n.112), and written informed consent was obtained from parents upon NICU admission.
Conflict of interest
The authors declare that they have no conflict of interest.
Additional information
Publisher's note
Springer Nature remains neutral with regard to jurisdictional claims in published maps and institutional affiliations.
Communicated by Patrick Van Reempts
About this article
Cite this article
Mazmanyan, P., Kerobyan, V., Shankar-Aguilera, S. et al. Introduction of point-of-care neonatal lung ultrasound in a developing country. Eur J Pediatr (2020). https://doi.org/10.1007/s00431-020-03603-w
Received:

Revised:

Accepted:

Published:
Keywords
Newborn

Lung ultrasound

Neonatal lung disease

Developing country