Abstract
The objectives of this study were to determine if any specific clinical signs, symptoms, or comorbidities could reliably predict underlying feeding difficulty and need for further evaluation (i.e., video swallow study, VSS) in infants with Down syndrome, to establish the prevalence of gastrostomy tube placement (G-tube), and to determine if any clinical signs, symptoms, or comorbidities correlated with a higher risk for needing placement of a G-tube. An electronic medical record retrospective chart review of 73 children with Down syndrome born between January 2013 and March 2017 and seen in Nationwide Children's Hospital's multidisciplinary Down Syndrome Clinic included demographic information, medical history, and results of studies and specialist evaluations. Descriptive statistics were utilized to summarize the data. Comparisons were performed to identify factors which differed between feeding difficulty vs. no feeding difficulty and G-tube placement vs. no G-tube placement. "Feeding difficulty" was the only feeding term established by the AAP guidelines which was consistently noted in charts of children with feeding abnormalities. Infants with feeding difficulty had increased use of medical services and more abnormalities on specialist evaluations and studies. Congenital heart disease, cardiothoracic surgery, obstructive sleep apnea, and hypothyroidism did not differ significantly between the groups assessed. Our cohort had a prevalence of 13.7% for requiring G-tube placement in their first year of life.
Conclusion: The currently established clinical tools for determining which patients may benefit from radiographic evaluation lack sufficient sensitivity to detect all individuals with feeding difficulty. Due to the high prevalence of abnormal VSS results and high rate of G-tube placement, universal radiographic screening for individuals with Down syndrome could be considered, even in the absence of obvious clinical signs or symptoms. However, determining how to balance this with cost, availability, and radiation exposure may be difficult.
What is Known:
• Feeding difficulty in children with Down syndrome can lead to significantly increased morbidity, such as poor weight gain, failure to thrive, aspiration, persistent respiratory symptoms, andrecurrent pneumonia.
• The AAP has established a clinical tool regarding which objective signs and symptoms should lead to a radiographic swallowing assessment within their Health Supervision for Children with Down Syndrome Clinical Report.
What is New:
• A comprehensive assessment of clinical signs, symptoms, and common comorbidities in infants with Down syndrome has not previously been correlated with presence of feeding difficulty nor necessity for gastrostomy tube placement, including whether or not the terms used in the AAP guidelines encompass the sensitivity required to detect all infants with feeding difficulty.
• The prevalence of gastrostomy tube placement in children with Down syndrome has not previously been established.
This is a preview of subscription content, log in to check access.
Access options
Buy single article
Instant access to the full article PDF.
US$ 39.95
Price includes VAT for USA
Subscribe to journal
Immediate online access to all issues from 2019. Subscription will auto renew annually.
US$ 199
This is the net price. Taxes to be calculated in checkout.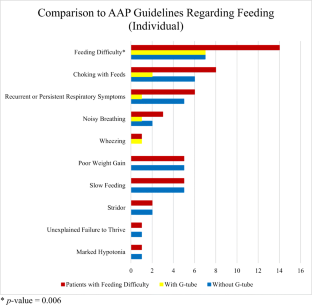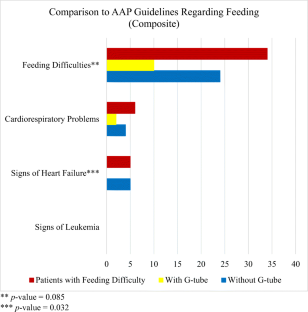 Abbreviations
AAP:

American Academy of Pediatrics

ASD:

Atrial septal defect

CHD:

Congenital heart defect

ED:

Emergency department

EMR:

Electronic medical record

G-tube:

Gastrostomy tube

NCH:

Nationwide Children's Hospital

OSA:

Obstructive sleep apnea

OSU:

Ohio State University

OT:

Occupational therapy

PDA:

Patent ductus arteriosus

PFO:

Patent foramen ovale

PT:

Physical therapy

ST:

Speech therapy

TSH:

Thyroid-stimulating hormone

VSS:

Video swallow study
References
1.

Bull MJ (2011) American Academy of Pediatrics Committee on Genetics. Clinical report – health supervision for children with Down syndrome. Pediatrics. 128(2):393–406

2.

Smith CH, Teo Y, Simpson S (2014) An observational study of adults with Down Syndrome eating independently. Dysphagia 29(1):25–60

3.

Phalen JA; Managing feeding problems and feeding disorders. Pediatr Rev 2013;34(12)):549-57

4.

Jackson J, Maybee J, Moran MK, Wolter-Warmerdam K, Hickey F (2016) Clinical characteristics of dysphagia in children with Down Syndrome. Dysphagia 31:663–671

5.

McDowell KM, Craven DI; Pulmonary complications of Down Syndrome during childhood. J Pediatr 2011;158(2):319–325

6.

Spender Q, Stein A, Dennis J, Reilly S, Percy E, Cave D (1996) An exploration of feeding difficulties in children with Down Syndrome. Dev Med Child Neurol 38(8):681–694

7.

Srinivasan R, Irvine T, Dalzell M (2009) Indications for percutaneous endoscopic gastrostomy and procedure-related outcome. J Pediatr Gastroenterol Nutr 49:584–588

8.

Kerzner B, Milano K, MacLean WC Jr, Berall G, Stuart S, Chatoor I (2015) A practical approach to classifying and managing feeding difficulties. Pediatrics 135(2):344–353

9.

Velayutham P, Irace AL, Kawai K, Dodril P, Perez J, Londahl M, Mundy L, Dombrowski ND, Rahbar R (2018) Silent aspiration: who is at risk? Laryngoscope 128(8):1952–1957

10.

U.S. Food and Drug Administration. Fluoroscopy: Benefits/Risks. https://www.fda.gov/radiation-emitting-products/medical-x-ray-imaging/fluoroscopy

11.

Weir K, McMahon S, Barry L, Masters IB, Chang AB; Clinical signs and symptoms of oropharyngeal aspiration and dysphagia in children. Eur Respir J 2009;33(3):604–611

12.

Weijerman ME, de Winter JP (2010) Clinical practice. The care of children with Down Syndrome. Eur J Pediatr 169(12):1445–1452

13.

Krom H, de Winter JP, Kindermann A (2017) Development, prevention, and treatment of feeding tube dependency. Eur J Pediatr 176(6):683–688

14.

Khalil ST, Uhing MR, Duesing L, Visotcky A, Tarima S, Nghiem-Rao TH (2017) Outcomes of infants with home tube feeding: comparing nasogastric vs gastrostomy tubes. J Parenter Enter Nutr 41(8):1380–1385
Ethics declarations
Conflict of interest
The authors declare that they have no conflict of interest.
Ethical approval
All procedures performed in studies involving human participants were in accordance with the ethical standards of the institutional and/or national research committee and with the 1964 Helsinki declaration and its later amendments or comparable standards.
Informed consent
Secondary to the Chart Review nature of this study, the study's IRB approval did not require informed consent of participants.
Additional information
Publisher's note
Springer Nature remains neutral with regard to jurisdictional claims in published maps and institutional affiliations.
Communicated by Peter de Winter
About this article
Cite this article
Poskanzer, S.A., Hobensack, V.L., Ciciora, S.L. et al. Feeding difficulty and gastrostomy tube placement in infants with Down syndrome. Eur J Pediatr (2020). https://doi.org/10.1007/s00431-020-03591-x
Received:

Revised:

Accepted:

Published:
Keywords
Video swallow study

Deglutition

Deglutition disorders

Trisomy 21

Failure to thrive

Aspiration

Respiratory difficulties

Hypothyroidism

Obstructive sleep apnea

Congenital heart defect