Abstract
Sleep is a physiological function that undergoes, at different stages of life, to considerable variations in neurophysiological and behavioral functions. The developmental age is a period characterized by a continuous process of physical and neuropsychological changes and synaptic remodeling processes that are the neurophysiological basis of brain plasticity, typical of this developmental phase, occurring mainly during sleep. In the description of obstructive sleep apnea (OSA) in children, two main points should be highlighted: its variability in different age groups, and its specificity compared with OSA in adults. The definition and criteria used for the diagnosis of OSA in adults are not applicable to OSA in developmental age. Although the adenotonsillar hypertrophy is the most common risk factor for pediatric OSA, obesity is becoming an increasingly prevalent risk factor, mostly in early childhood (6–9 years) and adolescence. OSA has been shown to affect cognitive function in children and adults. However, OSA impact on cognitive function in children is more severe since acting on the plastic brain structures can change the neuro-psychic development, learning skills, and social interactions. There is a clear difference in the definition of pathology between developmental age and adulthood according to the instrumental parameters: an AHI ≥ 5, which represents, in the pediatric age, the cut-off for a therapeutic pathway necessary to avoid a long-term effect on the child, instead, it represents in adulthood, the lower limit value for the definition of disease. This is a narrative review concerning obstructive sleep apnea in developmental age.
Conclusions: OSA is a common disorder in children and those at risk must be identified, studied, and treated promptly because untreated OSA can be responsible for cardiovascular, metabolic, and neurocognitive morbidities and may induce, sometimes, non-reversible deficits given his insistence on a period of physical and neuro-psychic development.
What is Known:
•This is a review concerning Obstructive Sleep Apnea in developmental age
•Clinical manifestation, diagnostic and therapeutic criteria of sleep apnea in developmental age
What is New:
•
This is a "narrative" review
•This narrative review describes sleep apnea comparing and analyzing the different ages of life
This is a preview of subscription content, log in to check access.
Access options
Buy single article
Instant unlimited access to the full article PDF.
US$ 39.95
Price includes VAT for USA
Subscribe to journal
Immediate online access to all issues from 2019. Subscription will auto renew annually.
US$ 199
This is the net price. Taxes to be calculated in checkout.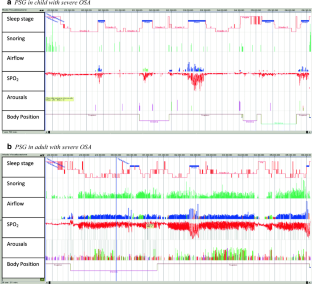 Abbreviations
AASM:

American Academy of Sleep Medicine

AHI:

Apnea hypopnea index

AT:

Adenotonsillectomy

CPAP:

Continuous positive airway pressure

EDS:

Excessive daytime sleepiness

HRP:

Home cardiorespiratory polygraphy

ICSD:

International Classification of Sleep Disorders

OSA:

Obstructive sleep apnea

PSQ:

Pediatric sleep questionnaire

PSG:

Polysomnography

RDI:

Respiratory disturbance index

REM:

Rapid eye movement

RERA:

Respiratory effort-related arousals

SDB:

Sleep disordered breathing

SRBD:

Sleep-related breathing disorder

TST:

Total sleep time
References
1.

Tononi G, Cirelli C (2006) Sleep function and synaptic homeostasis. Sleep Med Rev 10:49–62

2.

Bruni O (2000) Principi di medicina del sonno in età evolutiva. Mediserve editore

3.

American Academy of Sleep Medicine (2014) International classification of sleep disorders. 3rd ed. American Academy of Sleep Medicine, Darien

4.

Villa MP, Brunetti L, Bruni O, Cirignotta F, Cozza P, Donzelli G, Ferini Strambi L, Levrini L, Mondini S, Nespoli L, Nosetti L, Pagani J, Zucconi M, Gruppo di Studio Interdisciplinare Disturbi Respiratori nel Sonno (2004) Guidelines for the diagnosis of childhood obstructive sleep apnea syndrome. Minerva Pediatr 56:239–253

5.

Young T, Palta M, Dempsey J, Skatrud J, Weber S, Badr S (1993) The occurrence of sleep-disordered breathing among middle-aged adults. N Engl J Med 328:1230–1235

6.

Heinzer R, Vat S, Marques-Vidal P, Marti-Soler H, Andries D, Tobback N, Mooser V, Preisig M, Malhotra A, Waeber G, Vollenweider P, Tafti M, Haba-Rubio J (2015) Prevalence of sleep-disordered breathing in the general population: the HypnoLaus study. Lancet Respir Med 3:310–318

7.

Alsubie HS, BaHamm AS (2016) Obstructive sleep apnoea: children are not little adults. Paediatr Respir Rev

8.

Chang SJ, Chae KY (2010) Obstructive sleep apnea syndrome in children: epidemiology, pathophysiology, diagnosis and sequelae. Korean J Pediatr 53:863–871

9.

Berry RB, Budhiraja R, Gottlieb DJ, Gozal D, Iber C, Kapur VK, Marcus CL, Mehra R, Parthasarathy S, Quan SF, Redline S, Strohl KP, Davidson Ward SL, Tangredi MM, American Academy of Sleep Medicine, American Academy of sleep medicine (2012) Rules for scoring respiratory events in sleep: update of the 2007 AASM manual for the scoring of sleep and associated events. Deliberations of the Sleep Apnea Definitions Task Force of the American Academy of Sleep Medicine. J Clin Sleep Med 8:597–619

10.

Reuter S, Moser C, Baack M (2014) Respiratory distress in the newborn. Pediatr Rev 35(10):417–429

11.

Dotan R, Mitchell C, Cohen R et al (2012) Child-adult differences in muscle activation - a review. Pediatr Exerc Sci 24:47–49

12.

Goh DY, Galster P, Marcus CL (2000) Sleep architecture and respiratory disturbances in children with obstructive sleep apnea. Am J Respir Crit Care Med 162:682–686

13.

Charbonneau M, Marin JM, Olha A, Kimoff RJ, Levy RD, Cosio MG (1994) Changes in obstructive sleep apnea characteristics through the night. Chest 106:1695–1701

14.

Marcus CL, Lutz J, Carroll JL, Bamford O (1998) Arousal and ventilatory responses during sleep in children with obstructive sleep apnea. J Appl Physiol 84:1926–1936

15.

Marcus CL, Bamford O, Bamford O, Lutz J (1999) Response to inspiratory resistive loading during sleep in normal children and children with obstructive apnea. J Appl Physiol 87:1448–1454

16.

Katz ES, White DP (2004) Genioglossus activity during sleep in normal control subjects and children with obstructive sleep apnea. Am J Respir Crit Care Med 170:553–560

17.

Liu Y, Su C, Liu R, et al. (2010) NREM-AHI greater than REM-AHI versus REM-AHI greater than NREM-AHI in patients with obstructive sleep apnea: clinical and polysomnographic features. Sleep Breath

18.

Spruyt K, Gozal D (2012) REM and NREM sleep-state distribution of respiratory events in habitually snoring school-aged community children. Sleep Med 13:178–184

19.

Chan KC, Au CT, Hui LL, Ng SK, Wing YK, Li AM (2019 Jul) How OSA evolves from childhood to young adulthood: natural history from a 10-year follow-up study. Chest 156(1):120–130

20.

Lam Y, Chan EYT, Ng DK, Chan CH, Cheung JM, Leung SY, Chow PY, Kwok KL (2006) The correlation among obesity, apnea-hypopnea index, and tonsil size in children. Chest 130:1751–1756

21.

Choi JH, Kim EJ, Choi J et al (2010) Obstructive sleep apnea syndrome: a child is not just a small adult. Ann Otol Rhinol Laryngol 119:656–661

22.

Capdevila OS, Kheirandish-Gozal L, Dayyat E, Gozal D (2008) Pediatric obstructive sleep apnea: complications, management, and long-term outcomes. Proc Am Thorac Soc 5:274–282

23.

Aboussouan LS, Mireles-Cabodevila E (2017) Sleep-disordered breathing in neuromuscular disease: diagnostic and therapeutic challenges. Chest 152:880–892

24.

Ferré Á, Poca MA, de la Calzada MD, et al. (2017) Sleep-related breathing disorders in Chiari malformation type 1: a prospective study of 90 patients. Sleep 1; 40(6)

25.

Kamal M, Tamana SK, Smithson L, Ding L, Lau A, Chikuma J, Mariasine J, Lefebvre DL, Subbarao P, Becker AB, Turvey SE, Sears MR, Canadian Healthy Infant Longitudinal Development (CHILD) Study Investigators, Pei J, Mandhane PJ (2018) Phenotypes of sleep-disordered breathing symptoms to two years of age based on age of onset and duration of symptoms. Sleep Med 48:93–100

26.

Melendres MC, Lutz JM, Rubin ED, Marcus CL (2004) Daytime sleepiness and hyperactivity in children with suspected sleep-disordered breathing. Pediatrics 114:768–775

27.

Bucks RS, Olaithe M, Eastwood P (2013) Neurocognitive function in obstructive sleep apnoea: a meta-review. Respirology 18:61–70

28.

Beebe DW, Gozal D (2002) Obstructive sleep apnea and the prefrontal cortex: towards a comprehensive model linking nocturnal upper airway obstruction to daytime cognitive and behavioral deficits. J Sleep Res 11:1–16

29.

Redline S, Storfer-Isser A, Rosen CL, Johnson NL, Kirchner HL, Emancipator J, Kibler AM (2007) Association between metabolic syndrome and sleep-disordered breathing in adolescents. Am J Respir Crit Care Med 176:401–408

30.

Vlahandonis A, Yiallourou SR, Sands SA, Nixon GM, Davey MJ, Walter LM, Horne RS (2014) Long-term changes in heart rate variability in elementary school-aged children with sleep-disordered breathing. Sleep Med 15:76–82

31.

Amin RS, Kimball TR, Kalra M, Jeffries JL, Carroll JL, Bean JA, Witt SA, Glascock BJ, Daniels SR (2005) Left ventricular function in children with sleep-disordered breathing. Am J Cardiol 95:801–804

32.

Bhattacharjee R, Kheirandish-Gozal L, Pillar G, Gozal D (2009) Cardiovascular complications of obstructive sleep apnea syndrome: evidence from children. Prog Cardiovasc Dis 51:416–433

33.

Bonuck KA, Freeman K, Henderson J (2009) Growth and growth biomarker changes after adenotonsillectomy: systematic review and meta-analysis. Arch Dis Child 94:83–91

34.

Ilarslan NEC, Gunay F, Haskologlu ZS, Bal SK, Tezcaner ZC, Kirsaclioglu CT, Firat S, Altuntas C, Ciftci B, Ozgursoy OB, Cobanoglu N (2019) Evaluation of children with chronic cough including obstructive sleep apnea: a single-center experience. Eur J Pediatr 178(2):189–197

35.

Guilleminault C, Lee JH, Chan A (2005) Pediatric obstructive sleep apnea syndrome. Arch Pediatr Adolesc Med 159:775–785

36.

Marcus CL, Brooks LJ, Draper KA et al (2012) American Academy of Pediatrics. Diagnosis and management of childhood obstructive sleep apnea syndrome. Pediatrics 130:576–584

37.

Carroll JL, McColley SA, Marcus CL, Curtis S, Loughlin GM (1995) Inability of clinical history to distinguish primary snoring from obstructive sleep apnea syndrome in children. Chest 108:610–618

38.

Kaditis A, Kheirandish-Gozal L, Gozal D (2016) Pediatric OSAS: oximetry can provide answers when polysomnography is not available. Sleep Med Rev 27:96–105

39.

Alonso-Álvarez ML, Terán-Santos J, Ordax Carbajo E, Cordero-Guevara JA, Navazo-Egüia AI, Kheirandish-Gozal L, Gozal D (2015) Reliability of home respiratory polygraphy for the diagnosis of sleep apnea in children. Chest 147:1020–1028

40.

Tan HL, Gozal D, Ramirez HM, Bandla HP, Kheirandish-Gozal L (2014) Overnight polysomnography versus respiratory polygraphy in the diagnosis of pediatric obstructive sleep apnea. Sleep 37:255–260

41.

Kaditis AG, Alonso Alvarez ML, Boudewyns A, Alexopoulos EI, Ersu R, Joosten K, Larramona H, Miano S, Narang I, Trang H, Tsaoussoglou M, Vandenbussche N, Villa MP, van Waardenburg D, Weber S, Verhulst S (2016) Obstructive sleep disordered breathing in 2- to 18-year-old children: diagnosis and management. Eur Respir J 47:69–94

42.

Li Z, Celestin J, Lockey RF (2016) Pediatric sleep apnea syndrome: an update. J Allergy Clin Immunol Pract 4:852–861

43.

Torretta S, Rosazza C, Pace ME, Iofrida E, Marchisio P (2017) Impact of adenotonsillectomy on pediatric quality of life: review of the literature. Ital J Pediatr 43(1):107

44.

Dehlink E, Tan HL (2016) Update on paediatric obstructive sleep apnoea. J Thorac Dis 8:224–235

45.

Venekamp RP, Chandrasekharan D, Abel F, Blackshaw H, Kreis IA, Evans H, Schilder AG (2017) Research into childhood obstructive sleep-disordered breathing: a systematic review. CHEST 152:51–57
Ethics declarations
Consent for publication
All participants gave written informed consent for personal data processing.
Competing interests
The authors declare that they have no competing interests.
Additional information
Publisher's note
Springer Nature remains neutral with regard to jurisdictional claims in published maps and institutional affiliations.
Communicated by Peter de Winter
About this article
Cite this article
Lo Bue, A., Salvaggio, A. & Insalaco, G. Obstructive sleep apnea in developmental age. A narrative review. Eur J Pediatr (2020) doi:10.1007/s00431-019-03557-8
Received:

Revised:

Accepted:

Published:
Keywords
Pediatric obstructive sleep apnea

Children

Sleep-disordered breathing

Upper airway

Diagnosis

Treatment