Abstract
In the past several decades, rates of delayed childbearing have increased, and as a result, maternal age has advanced. Our objective was to evaluate whether advanced maternal age is independently associated with an increased risk of childhood cancers in the offspring. A retrospective cohort study of women who delivered between the years 1991 and 2014 was conducted. Elderly parturients (≥ 35 years) were divided into two sub-categories: 35–39 and 40–50 years. The comparison group consisted of parturients aged 20–34 years. All hospitalizations of offspring up to the age of 18 years involving malignant morbidity were compared between the groups. A Kaplan-Meier survival curve was used to compare cumulative malignant morbidity incidence of the offspring. A Weibull regression model was used to control for confounders. During the study period, 201,738 deliveries met the inclusion criteria. Of them, 16.3% (n = 32,804) occurred in mothers aged 35 years or more (35–39 years old n = 26,145, 79.7%; 40–50 years old n = 6659, 20.3%). In the Weibull regression model, advanced maternal age exhibited no association with general malignant morbidity in the offspring up to 18 years of age (mothers aged 35–39: adjusted HR 1.06, 95% CI 0.76–1.48, p = 0.727; mothers aged 40–50: adjusted HR 0.73, 95% CI 0.36–1.46, p = 0.373). For leukemia, the regression model exhibited an independent association in maternal ages of 35–39 (adjusted HR 2.23, 95% CI 1.34–3.69, p = 0.002).
Conclusion: Advanced maternal age does not appear to raise the risk for future malignancy in the offspring up to the age 18 years. The specific nature of the association between maternal age and leukemia of the offspring necessitates further investigation.
What is Known:
• Advanced maternal age is associated with a marked elevation in the risk of different pregnancy complications and adverse pregnancy outcomes.
What is New:
• Advanced maternal age does not appear to raise the risk for future malignancy in the offspring up to the age 18 years.
• Leukemia of the offspring may be associated with advanced maternal age although the specific nature of the association necessitates further investigation.
This is a preview of subscription content, log in to check access.
Access options
Buy single article
Instant access to the full article PDF.
US$ 39.95
Price includes VAT for USA
Subscribe to journal
Immediate online access to all issues from 2019. Subscription will auto renew annually.
US$ 199
This is the net price. Taxes to be calculated in checkout.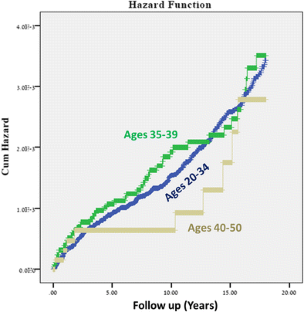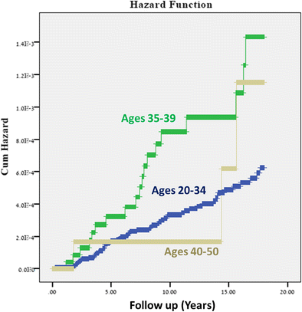 References
1.

Berkowitz GS, Skovron ML, Lapinski RH, Berkowitz RL (1990) Delayed childbearing and the outcome of pregnancy. N Engl J Med 322(10):659–664

2.

Centers for Disease Control and Prevention. (2007) Assisted reproductive technology success rates: National Summary and Fertility Clinic Reports. Centers for Disease Control and Prevention. American Society for Reproductive Medicine, Society for Assisted Reproductive Technology

3.

Central Bureau of Statistics, Number of households in 2016, Israel 2016. Available from: http://cbs.gov.il/www/publications15/meshek_bait/households.pdf

4.

Cleary-Goldman J, Malone FD, Vidaver J, Ball RH, Nyberg DA, Comstock CH, Timor-Tritsch IE (2005) Impact of maternal age on obstetric outcome. Obstet Gynecol 105(5, Part 1):983–990

5.

Dockerty JD, Draper G, Vincent T, Rowan SD, Bunch KJ (2001) Case-control study of parental age, parity and socioeconomic level in relation to childhood cancers. Int J Epidemiol 30(6):1428–1437

6.

Fretts RC, Schmittdiel J, McLean FH, Usher RH, Goldman MB (1995) Increased maternal age and the risk of fetal death. N Engl J Med 333(15):953–957

7.

Gaulden ME (1992) Maternal age effect: the enigma of Down syndrome and other trisomic conditions. Mutation Research/Reviews in Genetic Toxicology 296(1–2):69–88

8.

Gualco G, Klumb CE, Barber GN, Weiss LM, Bacchi CE (2010) Pediatric lymphomas in Brazil. Clinics (Sao Paulo) 65(12):1267–1278

9.

Johnson KJ, Carozza SE, Chow EJ, Fox EE, Horel S, McLaughlin CC, Spector LG (2009) Parental age and risk of childhood cancer: a pooled analysis. Epidemiology (Cambridge, Mass.) 20(4):475

10.

Jolly M, Sebire N, Harris J, Robinson S, Regan L (2000) The risks associated with pregnancy in women aged 35 years or older. Hum Reprod 15(11):2433–2437

11.

Kaatsch P (2010) Epidemiology of childhood cancer. Cancer Treat Rev 36(4):277–285

12.

Key TJA (1995) Hormones and cancer in humans. Mutation Research/Fundamental and Molecular Mechanisms of Mutagenesis 333(1):59–67

13.

Little J. 149 ed. Lyon; Oxford: International Agency for Research on Cancer; Distributed by Oxford University Press; 1999. Epidemiology of childhood cancer

14.

Luke B, Brown MB (2007) Elevated risks of pregnancy complications and adverse outcomes with increasing maternal age. Hum Reprod 22(5):1264–1272

15.

MacMahon B, Newill VA (1962) Birth characteristics of children dying of malignant neoplasms. J Natl Cancer Inst 28(1):231–244

16.

Office for National Statistics Social trends 29, 1999 Edition. The Stationery Office, London

17.

Olshan AF, Smith J, Cook MN, Grufferman S, Pollock BH, Stram DO, Bondy ML (1999) Hormone and fertility drug use and the risk of neuroblastoma: a report from the Children's Cancer Group and the Pediatric Oncology Group. Am J Epidemiol 150(9):930–938

18.

Ries L. G., Smith M. A., Gurney J. G., Linet M., Tamra T., Young J. L., & Bunin G. (1999) Cancer incidence and survival among children and adolescents: United States SEER Program 1975–1995

19.

Ross JA, Spector LG, Robison LL, Olshan AF (2005) Epidemiology of leukemia in children with Down syndrome. Pediatr Blood Cancer 44(1):8–12

20.

Samouhos E (1983) Chromosomes, cancer and radiosensitivity. Am J Clin Oncol 6(4):503–506

21.

Sandlund JT, Downing JR, Crist WM (1996) Non-Hodgkin's lymphoma in childhood. N Engl J Med 334(19):1238–1248

22.

Schüz J, Kaatsch P, Kaletsch U, Meinert R, Michaelis J (1999) Association of childhood cancer with factors related to pregnancy and birth. Int J Epidemiol 28(4):631–639

23.

Stark CR, Mantel N (1966) Effects of maternal age and birth order on the risk of mongolism and leukemia. J Natl Cancer Inst 37(5):687–698

24.

Steliarova-Foucher E, Stiller C, Kaatsch P, Berrino F, Coebergh JW, Lacour B, Perkin M (2004) Geographical patterns and time trends of cancer incidence and survival among children and adolescents in Europe since the 1970s (the ACCIS project): an epidemiological study. Lancet 364(9451):2097–2105

25.

Steuerwald NM, Bermúdez MG, Wells D, Munné S, Cohen J (2007) Maternal age-related differential global expression profiles observed in human oocytes. Reprod BioMed Online 14(6):700–708

26.

Statistics TCBo. (2013) Israel in figures. http://www.cbs.gov.il/www/publications/isr_in_n15e.pdf. Accessed 25 May 2015

27.

Troisi R, Potischman N, Roberts J, Siiteri P, Daftary A, Sims C, Hoover RN (2003) Associations of maternal and umbilical cord hormone concentrations with maternal, gestational and neonatal factors (United States). Cancer Causes Control 14(4):347–355

28.

Wainstock T, Walfisch A, Shoham-Vardi I, Segal I, Harlev A, Sergienko R, Sheiner E (2017) Fertility treatments and pediatric neoplasms of the offspring: results of a population-based cohort with a median follow-up of 10 years. Am J Obstet Gynecol 216(3):314–3e1

29.

Yaniv SS, Levy A, Wiznitzer A, Holcberg G, Mazor M, Sheiner E (2011) A significant linear association exists between advanced maternal age and adverse perinatal outcome. Arch Gynecol Obstet 283(4):755–759

30.

Yeazel MW, Ross JA, Buckley JD, Woods WG, Ruccione K, Robison LL (1997) High birth weight and risk of specific childhood cancers: a report from the Children's Cancer Group. J Pediatr 131(5):671–677

31.

Yip BH, Pawitan Y, Czene K (2006) Parental age and risk of childhood cancers: a population-based cohort study from Sweden. Int J Epidemiol 35(6):1495–1503

32.

Yoon PW, Freeman SB, Sherman SL, Taft LF, Gu Y, Pettay D, Hassold TJ (1996) Advanced maternal age and the risk of Down syndrome characterized by the meiotic stage of chromosomal error: a population-based study. Am J Hum Genet 58(3):628–633

33.

Yu H, Rohan T (2000) Role of the insulin-like growth factor family in cancer development and progression. J Natl Cancer Inst 92(18):1472–1489
Funding
This study was not funded.
Ethics declarations
Conflict of interest
The authors declare that they have no conflict of interest.
Informed consent
For this type of study, formal consent is not required. This is a database retrospective study. This article does not contain any studies with human participants or animals performed by any of the authors.
Additional information
Communicated by Peter de Winter
Electronic supplementary material
About this article
Cite this article
Imterat, M., Wainstock, T., Sheiner, E. et al. Advanced maternal age during pregnancy and the risk for malignant morbidity in the childhood. Eur J Pediatr 177, 879–886 (2018). https://doi.org/10.1007/s00431-018-3136-8
Received:

Revised:

Accepted:

Published:

Issue Date:
Keywords
Follow-up

Elderly

Pediatric morbidity

Cancer

Leukemia

Malignancy

Offspring