Abstract
The aim of this study was to assess the expression of inflammatory mediators in the affected terminal ileum and colon in pediatric Crohn disease (CD) patients with different stages of disease. Additionally, we assessed the role of efflux transporters in disease pathogenesis and their correlation with immune response. The study included 26 CD patients (10 newly diagnosed (CD-new), 8 CD-treated, and 8 CD-remission) and 15 control subjects. The terminal ileum IFN-γ, IL-6, and IL-1β were elevated in CD-new, while in the colon, the IFN-γ, IL-17A, and IL-6 were elevated in both CD-new and CD-treated subgroups. SOCS3 expression was elevated in both subgroups with active inflammation at both ileum and colon, while SOCS1 was elevated only in CD-new ileum and CD-treated colon. MDR1 expression in ileum was reduced in both subgroups with active inflammation, while BCRP was reduced only in CD-new subgroup.
Conclusion: New onset pediatric CD is characterized by Th1 response in ileum and mixed Th1/Th17 response in the colon, with elevated expressions of innate IL-6 and IL-1β. SOCS1/SOCS3 expressions seem to be insufficient for the regulation of the immune response. The reduction in MDR1 expression points to its role in the disease pathogenesis.
What is Known:
• CD is characterized by an aberrant immune response
What is New:
• The immune response in new onset pediatric CD differs between terminal ileum and colon
• MDR1 expression is downregulated at both terminal ileum and colon irrespective of the disease activity
This is a preview of subscription content, log in to check access.
Access options
Buy single article
Instant access to the full article PDF.
US$ 39.95
Price includes VAT for USA
Subscribe to journal
Immediate online access to all issues from 2019. Subscription will auto renew annually.
US$ 199
This is the net price. Taxes to be calculated in checkout.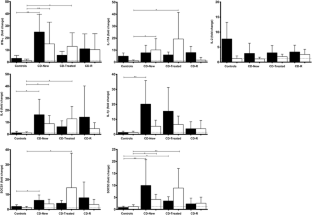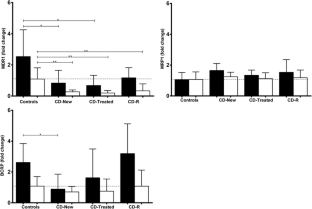 Abbreviations
BCRP:

Breast cancer resistance protein

CD:

Crohn disease

CRP:

C-reactive protein

GAPDH:

Glyceraldehyde 3-phosphate dehydrogenase

IBD:

Inflammatory bowel disease

IFN:

Interferon

IL:

Interleukin

MDR1:

Multidrug resistance gene

MRP1:

Multidrug resistance-associated protein 1

NF-κB:

Nuclear factor-κB

PCDAI:

Pediatric Crohn Disease Activity Index

SOCS:

Suppressors of cytokine signaling molecules

STAT:

Signal transducer and activator of transcription

Treg :

Regulatory T cells
References
1.

Carey R, Jurickova I, Ballard E, Bonkowski E, Han X, Xu H, Denson LA (2008) Activation of an IL-6:STAT3-dependent transcriptome in pediatric-onset inflammatory bowel disease. Inflamm Bowel Dis 14(4):446–457. https://doi.org/10.1002/ibd.20342

2.

Carow B, Rottenberg ME (2014) SOCS3, a major regulator of infection and inflammation. Front Immunol 5:58. https://doi.org/10.3389/fimmu.2014.00058

3.

Chinen T, Kobayashi T, Ogata H, Takaesu G (2006) Suppressor of cytokine signaling-1 regulates inflammatory bowel disease in which both IFNγ and IL-4 are involved. Gastroenterology 130(2):373–388. https://doi.org/10.1053/j.gastro.2005.10.051

4.

Collett A, Higgs NB, Gironella M, Zeef LAH, Hayes A, Salmo E, Haboubi N, Iovanna JL, Carlson GL, Warhurst G (2008) Early molecular and functional changes in colonic epithelium that precede increased gut permeability during colitis development in mdr1a(−/−) mice. Inflamm Bowel Dis 14(5):620–631. https://doi.org/10.1002/ibd.20375

5.

Croker BA, Krebs DL, Zhang J-G et al (2003) SOCS3 negatively regulates IL-6 signaling in vivo. Nat Immunol 4(6):540–545. https://doi.org/10.1038/ni931

6.

Crowe A (2011) The role of P-glycoprotein and breast cancer resistance protein (BCRP) in bacterial attachment to human gastrointestinal cells. J Crohns Colitis 5(6):531–542. https://doi.org/10.1016/j.crohns.2011.05.002

7.

Gurbindo C, Sabbah S, Menezes J, Justinich C, Marchand R, Seidman EG (1993) Interleukin-2 production in pediatric inflammatory bowel disease: evidence for dissimilar mononuclear cell function in Crohn's disease and ulcerative colitis. J Pediatr Gastroenterol Nutr 17(3):247–254. https://doi.org/10.1097/00005176-199310000-00003

8.

Haberman Y, Tickle TL, Dexheimer PJ, Kim MO, Tang D, Karns R, Baldassano RN, Noe JD, Rosh J, Markowitz J, Heyman MB, Griffiths AM, Crandall WV, Mack DR, Baker SS, Huttenhower C, Keljo DJ, Hyams JS, Kugathasan S, Walters TD, Aronow B, Xavier RJ, Gevers D, Denson LA (2014) Pediatric Crohn disease patients exhibit specific ileal transcriptome and microbiome signature. J Clin Invest 124(8):3617–3633. https://doi.org/10.1172/JCI75436

9.

Heyman MMB, Kirschner BBS, Gold BDB et al (2005) Children with early-onset inflammatory bowel disease (IBD): analysis of a pediatric IBD consortium registry. J Pediatr 146(1):35–40. https://doi.org/10.1016/j.jpeds.2004.08.043

10.

Hölttä V, Klemetti P, Sipponen T, Westerholm-Ormio M, Kociubinski G, Salo H, Räsänen L, Kolho KL, Färkkilä M, Savilahti E, Vaarala O (2008) IL-23/IL-17 immunity as a hallmark of Crohn's disease. Inflamm Bowel Dis 14(9):1175–1184. https://doi.org/10.1002/ibd.20475

11.

Hyams JS, Ferry GD, Mandel FS, Gryboski JD, Kibort PM, Kirschner BS, Griffiths AM, Katz AJ, Grand RJ, Boyle JT (1991) Development and validation of a pediatric Crohn's disease activity index. J Pediatr Gastroenterol Nutr 12(4):439–447

12.

Kugathasan S, Saubermann LJ, Smith L, Kou D, Itoh J, Binion DG, Levine AD, Blumberg RS, Fiocchi C (2007) Mucosal T-cell immunoregulation varies in early and late inflammatory bowel disease. Gut 56(12):1696–1705. https://doi.org/10.1136/gut.2006.116467

13.

Masunaga Y, Noto T, Suzuki K, Takahashi K, Shimizu Y, Morokata T (2007) Expression profiles of cytokines and chemokines in murine MDR1a−/− colitis. Inflamm Res 56(11):439–446. https://doi.org/10.1007/s00011-007-6078-6

14.

Panwala CM, Jones JC, Viney JL (1998) A novel model of inflammatory bowel disease: mice deficient for the multiple drug resistance gene, mdr1a, spontaneously develop colitis. J Immunol 161(10):5733–5744

15.

Reinecker HC, Steffen M, Witthoeft T, Pflueger I, Schreiber S, MacDermott RP, Raedler A (1993) Enhanced secretion of tumour necrosis factor-alpha, IL-6, and IL-1 beta by isolated lamina propria mononuclear cells from patients with ulcerative colitis and Crohn's disease. Clin Exp Immunol 94(1):174–181

16.

Savić Mlakar A, Hojsak I, Jergović M, Vojvoda Parčina V, Babić Ž, Troskot B, Mihaljević Ž, Bendelja K (2017) Comparison of cytokine and efflux transporter expression in pediatric versus adult-onset ulcerative colitis. J Pediatr Gastroenterol Nutr 64(6):943–948. https://doi.org/10.1097/MPG.0000000000001403

17.

Schreiber S, Rosenstiel P, Hampe J, Nikolaus S, Groessner B, Schottelius A, Kühbacher T, Hämling J, Fölsch UR, Seegert D (2002) Activation of signal transducer and activator of transcription (STAT) 1 in human chronic inflammatory bowel disease. Gut 51(3):379–385. https://doi.org/10.1136/gut.51.3.379

18.

Shen S, Callaghan D, Juzwik C, Xiong H, Huang P, Zhang W (2010) ABCG2 reduces ROS-mediated toxicity and inflammation: a potential role in Alzheimer's disease. J Neurochem 114(6):1590–1604. https://doi.org/10.1111/j.1471-4159.2010.06887.x

19.

Strober W, Fuss IJ (2011) Proinflammatory cytokines in the pathogenesis of inflammatory bowel diseases. Gastroenterology 140(6):1756–1767. https://doi.org/10.1053/j.gastro.2011.02.016

20.

Tanner SM, Staley EM, Lorenz RG (2013) Altered generation of induced regulatory T cells in the FVB.mdr1a−/− mouse model of colitis. Mucosal Immunol 6(2):309–323. https://doi.org/10.1038/mi.2012.73

21.

Verdier J, Begue B, Cerf-Bensussan N, Ruemmele FM (2012) Compartmentalized expression of Th1 and Th17 cytokines in pediatric inflammatory bowel diseases. Inflamm Bowel Dis 18(7):1260–1266. https://doi.org/10.1002/ibd.21905
Funding
This study was supported by the Croatian Ministry of Sciences and Education.
Ethics declarations
Ethical approval
All procedures performed in studies involving human participants were in accordance with the ethical standards of the institutional and/or national research committee and with the 1964 Helsinki declaration and its later amendments or comparable ethical standards.
Informed consent
Informed consent was obtained from all individual participants included in the study.
Conflict of interest
The authors declare that they have no conflict of interest.
Additional information
Communicated by Peter de Winter
About this article
Cite this article
Savić Mlakar, A., Hojsak, I., Jergović, M. et al. Pediatric Crohn disease is characterized by Th1 in the terminal ileum and Th1/Th17 immune response in the colon. Eur J Pediatr 177, 611–616 (2018). https://doi.org/10.1007/s00431-017-3076-8
Received:

Revised:

Accepted:

Published:

Issue Date:
Keywords
Children

Crohn disease

Immune response

SOCS molecules

Efflux transporters