Abstract
Available reports dealing with acute nonspecific mesenteric lymphadenitis do not address the total duration of symptoms. However, it is commonly assumed a time for recovery ≤ 4 weeks. The purpose of this report was to investigate the course of acute nonspecific mesenteric lymphadenitis in childhood. A review was made of the patients aged ≤ 16 years in whom the diagnosis of acute nonspecific mesenteric lymphadenitis was established between 2011 and 2015 at the Pediatric Emergency Unit. The records of the Pediatric Emergency Unit, those of the referring family doctors, and the results of a structured telephone interview with each family were used. Forty-four patients (25 girls and 19 boys) aged 2.5 to 16, median 8.2, years were included. A bimodal distribution in duration of symptoms was observed: symptoms persisted for ≤ 2 weeks in 22 patients and 3 to 10 weeks in 22. Clinical and laboratory characteristics were similar in children with symptoms persisting for 2 weeks or less 28 and in those with symptoms persisting for 3–10 weeks.
Conclusion: In patients affected with acute nonspecific mesenteric lymphadenitis, it is advantageous to think of the time span for recovery in terms of ≥ 4 weeks.
What is Known:
• Mesenteric adenitis is a self-limiting inflammatory condition with well-characterized clinical presentation and imaging features.
• A total duration of symptoms of ≤ 4 weeks is usually hypothesized.
What is New:
• Symptoms persist for 3 to 10 weeks in half of the patients.
• At presentation, clinical and laboratory characteristics are similar in children with symptoms persisting for 2 weeks or less and in those with 45 symptoms persisting for 3–10 weeks.
This is a preview of subscription content, log in to check access.
Access options
Buy single article
Instant access to the full article PDF.
US$ 39.95
Price includes VAT for USA
Subscribe to journal
Immediate online access to all issues from 2019. Subscription will auto renew annually.
US$ 199
This is the net price. Taxes to be calculated in checkout.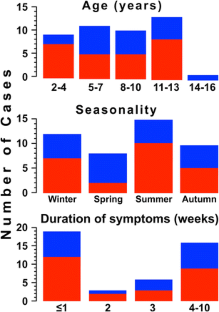 References
1.

Blattner RJ (1969) Acute mesenteric lymphadenitis. J Pediatr 74:479–481

2.

Gilmore OJ, Browett JP, Griffin PH, Ross IK, Brodribb AJ, Cooke TJ, Higgs MJ, Williamson RC (1975) Appendicitis and mimicking conditions. A prospective study. Lancet 306:421–424

3.

Helbling R, Conficconi E, Wyttenbach M, Benetti C, Simonetti GD, Bianchetti MG, Hamitaga F, Lava SA, Fossali EF, Milani GP (2017) Acute nonspecific mesenteric lymphadenitis: more than "no need for surgery". Biomed Res Int 2017:9784565

4.

Gross I, Siedner-Weintraub Y, Stibbe S, Rekhtman D, Weiss D, Simanovsky N, Arbell D, Hashavya S (2017) Characteristics of mesenteric lymphadenitis in comparison with those of acute appendicitis in children. Eur J Pediatr 176:199–205

5.

Vayner N, Coret A, Polliack G, Weiss B, Hertz M (2003) Mesenteric lymphadenopathy in children examined by US for chronic and/or recurrent abdominal pain. Pediatr Radiol 33:864–867

6.

Karmazyn B, Werner EA, Rejaie B, Applegate KE (2005) Mesenteric lymph nodes in children: what is normal? Pediatr Radiol 35:774–777

7.

Simanovsky N, Hiller N (2007) Importance of sonographic detection of enlarged abdominal lymph nodes in children. J Ultrasound Med 26:581–584

8.

Grimwood K, Forbes DA (2009) Acute and persistent diarrhea. Pediatr Clin N Am 56:1343–1361

9.

Conrad MA, Rosh JR (2017) Pediatric inflammatory bowel disease. Pediatr Clin N Am 64:577–591

10.

Krille L, Zeeb H, Jahnen A, Mildenberger P, Seidenbusch M, Schneider K, Weisser G, Hammer G, Scholz P, Blettner M (2012) Computed tomographies and cancer risk in children: a literature overview of CT practices, risk estimations and an epidemiologic cohort study proposal. Radiat Environ Biophys 51:103–111

11.

Manson D (2004) Contemporary imaging of the child with abdominal pain or distress. Paediatr Child Health 9:93–97

12.

Scholer SJ, Pituch K, Orr DP, Dittus RS (1996) Clinical outcomes of children with acute abdominal pain. Pediatrics 98:680–685
Acknowledgments
The authors would like to thank Dr. Alec Villa for his assistance in the linguistic revision.
Funding
This work was supported in part by the Fondazione E. Balli and the Swiss Research Network of Clinical Pediatric Hubs. Dr. Gregorio P. Milani is the current recipient of research grants from the Fondazione G. & D. de Marchi ONLUS.
Ethics declarations
The study has been performed in accordance with the ethical standards as laid down in the 1964 Declaration of Helsinki and its later amendments.
Conflict of interest
The authors declare that they have no conflict of interest.
Additional information
Communicated by Peter de Winter
About this article
Cite this article
Benetti, C., Conficconi, E., Hamitaga, F. et al. Course of acute nonspecific mesenteric lymphadenitis: single-center experience. Eur J Pediatr 177, 243–246 (2018). https://doi.org/10.1007/s00431-017-3010-0
Received:

Revised:

Accepted:

Published:

Issue Date:
Keywords
Abdominal pain

Appendicitis

Lymphadenopathy

Mesenteric lymph nodes

Ultrasonography