Abstract
Currently recommended management of acute gastroenteritis is supportive. Although the affected children habitually have vomiting, recommendations do not focus on the correction of this symptom. In this condition, elevated ketone bodies and stimuli initiated by gut mucosa damage produced by the enteral pathogen likely underlay nausea and vomiting. As compared to 0.9% saline, intravenous administration of a dextrose-containing bolus of 0.9% saline is associated with a greater reduction of circulating ketones and a shorter duration of nausea and vomiting. Nonetheless, this treatment strategy is not followed by a lower rate of hospitalization.
Conclusion: Well-designed investigations suggest that antagonists of the type 3 serotonin receptor, most frequently oral ondansetron, reduce the rate of vomiting, improve the tolerance of oral rehydration, and reduce the need for intravenous rehydration.
What is Known:
• Although children with gastroenteritis habitually have vomiting, current recommendations do not focus on the correction of this symptom.
What is New:
• Recently acquired evidence supports the prescription of ondansetron, an antagonist of the type 3 serotonin receptor, to increase the success rate of oral rehydration therapy.
This is a preview of subscription content, log in to check access.
Access options
Buy single article
Instant access to the full article PDF.
US$ 39.95
Price includes VAT for USA
Subscribe to journal
Immediate online access to all issues from 2019. Subscription will auto renew annually.
US$ 199
This is the net price. Taxes to be calculated in checkout.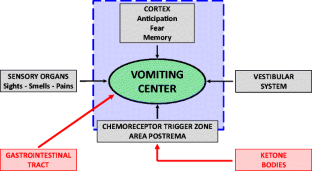 References
1.

Albano F, Bruzzese E, Spagnuolo MI, De Marco G (2006) Antiemetics for children with gastroenteritis: off-label but still on in clinical practice. J Pediatr Gastroenterol Nutr 43:402–404

2.

Cheng A (2011) Emergency department use of oral ondansetron for acute gastroenteritis-related vomiting in infants and children. Paediatr Child Health 16:177–182

3.

Fedorowicz Z, Jagannath VA, Carter B (2011) Antiemetics for reducing vomiting related to acute gastroenteritis in children and adolescents. Cochrane Database Syst Rev 7:CD005506

4.

Felts PW (1983) Ketoacidosis. Med Clin North Am 67:831–843

5.

Freedman SB, Hall M, Shah SS, Kharbanda AB, Aronson PL, Florin TA, Mistry RD, Macias CG, Neuman MI (2014) Impact of increasing ondansetron use on clinical outcomes in children with gastroenteritis. JAMA Pediatr 168:321–329

6.

Geurts D, de Vos-Kerkhof E, Polinder S, Steyerberg E, van der Lei J, Moll H, Oostenbrink R (2017) Implementation of clinical decision support in young children with acute gastroenteritis: a randomized controlled trial at the emergency department. Eur J Pediatr 176:173–181

7.

Golembiewski J (2014) Antiemetics: focus on pharmacology. J Perianesth Nurs 29:514–518

8.

Hendren G, Aponte-Feliciano A, Kovac A (2015) Safety and efficacy of commonly used antiemetics. Expert Opin Drug Metab Toxicol 11:1753–1767

9.

Janet S, Molina JC, Marañón R, García-Ros M (2015) Effects of rapid intravenous rehydration in children with mild-to-moderate dehydration. Pediatr Emerg Care 31:564–567

10.

Keren R (2014) Ondansetron for acute gastroenteritis: a failure of knowledge translation. JAMA Pediatr 168:308–309

11.

Lang TF, Hussain K (2014) Pediatric hypoglycemia. Adv Clin Chem 63:211–245

12.

Levy JA, Bachur RG (2007) Intravenous dextrose during outpatient rehydration in pediatric gastroenteritis. Acad Emerg Med 14:324–330

13.

Levy JA, Bachur RG, Monuteaux MC, Waltzman M (2013) Intravenous dextrose for children with gastroenteritis and dehydration: a double-blind randomized controlled trial. Ann Emerg Med 61:281–288

14.

Santi M, Lava SA, Camozzi P, Giannini O, Milani GP, Simonetti GD, Fossali EF, Bianchetti MG, Faré PB (2015) The great fluid debate: saline or so-called "balanced" salt solutions? Ital J Pediatr 41:47

15.

Morgan JA (2015) Should 0.9% saline be used for maintenance fluids in hospitalised children? Arch Dis Child 100:715–717

16.

Reid SR, Losek JD (2009) Rehydration: role for early use of intravenous dextrose. Pediatr Emerg Care 25:49–54

17.

Schnadower D, Finkelstein Y, Freedman SB (2015) Ondansetron and probiotics in the management of pediatric acute gastroenteritis in developed countries. Curr Opin Gastroenterol 31:1–6

18.

Singh P, Kuo B (2016) Central aspects of nausea and vomiting in GI disorders. Curr Treat Options Gastroenterol 14:444–451

19.

Tomasik E, Ziółkowska E, Kołodziej M, Szajewska H (2016) Systematic review with meta-analysis: ondansetron for vomiting in children with acute gastroenteritis. Aliment Pharmacol Ther 44:438–446

20.

Whyte LA, Al-Araji RA, McLoughlin LM (2015) Guidelines for the management of acute gastroenteritis in children in Europe. Arch Dis Child Educ Pract Ed 100:308–312

21.

Zanon D, Gallelli L, Rovere F, Paparazzo R, Maximova N, Lazzerini M, Reale A, Corsetti T, Renna S, Emanueli T, Mannelli F, Manteghetti F, Da Dalt L, Palleria C, Banchieri N, Urbino A, Miglietta M, Cardoni G, Pompilio A, Arrighini A, Lazzari C, Messi G (2013) Off-label prescribing patterns of antiemetics in children: a multicenter study in Italy. Eur J Pediatr 172:361–367
Acknowledgments
S.A.G.L. is the current recipient of a research grant from the Fondazione Ettore e Valeria Rossi. G. P. M. is the current recipient of research grants from the Fondazione G. & D. de Marchi ONLUS. The authors would like to thank Dr. Alec Villa for his assistance in the linguistic revision.
Ethics declarations
The study has been performed in accordance with the ethical standards as laid down in the 1964 Declaration of Helsinki and its later amendments.
Conflict of interest
The authors declare that they have no conflict of interest.
Research involving human participants and/or animals
Not applicable (review study).
Informed consent
Not applicable (review study).
Additional information
Communicated by Peter de Winter
About this article
Cite this article
Canziani, B.C., Uestuener, P., Fossali, E.F. et al. Clinical Practice: Nausea and vomiting in acute gastroenteritis: physiopathology and management. Eur J Pediatr 177, 1–5 (2018). https://doi.org/10.1007/s00431-017-3006-9
Received:

Revised:

Accepted:

Published:

Issue Date:
Keywords
Acute gastroenteritis

Antagonists of the type 3 serotonin receptor

Ketosis

Ondansetron

Vomiting