Abstract
The authors compared the age and referral patterns of pediatric patients undergoing surgical intervention for cryptorchidism at a rural, West Virginia University, versus urban, Johns Hopkins University, tertiary center. A retrospective review of patients undergoing surgical evaluation for cryptorchidism was performed. Patients treated for reasons unrelated to cryptorchidism or referred for multiple urologic diagnoses were excluded. The patients at each institution were then divided into four groups based on their corrected gestational age at time of surgery. Referral times and provider specialties were also obtained. A total of 131 cases at the urban center and 100 cases at the rural center were identified. At the rural center, the average age of referral and surgery were 48.3 and 53.8 months, respectively, compared to 59.6 and 65.2 months at the urban center. Only 40% of patients at the rural site and 29% at the urban institution underwent intervention at less than 18 months of age. There was no significant difference in time of referral to surgery between the institutions. The majority of referrals were made by private practice pediatricians.
Conclusion: In this study, a pattern of delayed referral and intervention was observed at both institutions despite differing geographic regions and heterogeneous patient populations. It is important that referring providers realize that scrotal U/S does not change management of UDT and should not delay prompt referral.
What is known:
• Significant referral delay is a challenging issue in the management of cryptorchidism.
• Ultrasound is not a valid method for the detection of cryptorchidism.
What is new:
• The rural and urban management of cryptorchidism is not that different.
• More emphasis should be put on the detection management of cryptorchidism.
This is a preview of subscription content, log in to check access.
Access options
Buy single article
Instant access to the full article PDF.
US$ 39.95
Price includes VAT for USA
Subscribe to journal
Immediate online access to all issues from 2019. Subscription will auto renew annually.
US$ 199
This is the net price. Taxes to be calculated in checkout.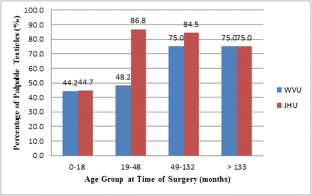 Abbreviations
AAP:

American Academy of Pediatrics

AUA:

American Urologic Association

CPT:

Current Procedural Terminology

EUA:

European Association of Urology

JHU:

Johns Hopkins University

PHIS:

Pediatric Health and Information System

PCP:

Primary care physician(s)

U/S:

Ultrasound

UDT:

Undescended testicle(s)

UDAP:

Urologic Diseases in America Project

VUR:

Vesicoureteral reflux

WVU:

West Virginia University
References
1.

[No authors listed] (1995) Recommendations for preventive pediatric health care: committee on practice and ambulatory medicine. J Pediatr 96(2 Pt1): 373

2.

American Academy of Pediatrics (1996) Timing of elective surgery on the genitalia of male children with particular reference to the risks, benefits, and psychological effects of surgery and anesthesia. J Pediatr 97:590

3.

Barthold JS (2012) Abnormalities of the testis and scrotum and their surgical management. In: Wein AJ, Kavoussi LR, Novick AC et al (eds) Campbell-Walsh Urology, 10th edn. Elsevier Saunders, Philadelphia, pp 3696–3730

4.

Bayne AP, Alonzo DG, Hsieh MH (2011) Impact of anatomical and socioeconomic factors on timing of urological consultation for boys with cryptorchidism. J Urol 189:1601

5.

Chen Y, Huang W, Huang K (2013) Factors related to the time of cryptorchidism surgery—a nationwide population-based study in Taiwan. J Formos med Assoc 113:915

6.

Dieckmann KP, Pichlmeier U (2004) Clinical epidemiology of testicular germ cell tumors. World J Urol 22(1):2

7.

Docimo SG (1995) The results of surgical therapy for cryptorchidism: a literature review and analysis. J Urol 154(3):1148

8.

Hrivatakis G, Astfalk W, Schmidt A (2014) The timing of surgery for undescended testis—a retrospective multicenter analysis. Dtsch Arztebl Int 111:649

9.

Jensen MS, Olsen LH, Thulstrup AM (2011) Age at cryptorchism diagnosis and orchiopexy in Denmark: a population based study of 508, 964 boys born from 1995 to 2009. J Urol 186:1595

10.

Joshi SS, Clayton DB, Pope JC (2014) Spontaneous descent rate of cryptorchis testes: a plea for early referral. J Urol 191:4S

11.

Klaassen Z, Ellington C, Reinstatler L (2014) Lower socioeconomic status is associated with malignancy in patients with undescended testis. J Urol 191(4s):e29

12.

Kokorowski PJ, Routh JC, Graham AD, Nelson CP (2010) Variations in timing of surgery among boys who underwent orchiopexy for cryptorchidism. J Pediatr 126:576

13.

Kollin C, Hesser U, Ritzen EM (2006) Testicular growth from birth to two years of age, and the effect of orchidopexy at age nine months: a randomized, controlled study. Acta Paediatr 95(3):318

14.

Kollin C, Karpe B, Hesser U (2007) Surgical treatment of unilaterally undescended testes: testicular growth after randomization to orchiopexy at age 9 months or 3 years. J Urology 174(4 PT2):1589

15.

Kolon TF, Herndon CDA, Baker LA 2014 Evaluation and treatment of cryptorchidism: AUA Guideline. American Urological Association Education and Research, Inc

16.

Mangione-Smith R, DeCristofarco A, Setodji C (2007) The quality of ambulatory care delivered to children in the United States. N Engl J med 357:1515

17.

McCarthy D, Schoen C, Radley D (2014) State health system performance: a score card. Jama 312(2):131

18.

Nah SA, Yeo CS, How GY (2014) Undescended testis: 513 patients' characteristics, age at orchidopexy and patterns of referral. Arch Dis Child 99(5):401

19.

Snodgrass W, Bush N, Holzer M (2011) Current referral patterns and means to improve accuracy in diagnosis of undescended testis. J Pediatr 127:382

20.

Springer A, Subramaniam R, Krall C (2013) Orchidopexy patterns in Austria from 1993 to 2009. J Pediatr Urol 9:535

21.

Steckler R, Zaontz M, Skoog S, Rushton G (1995) Cryptorchidism, pediatricians, and family practitioners: patterns of practice and referral. J Pediatr 127(6):948–951

22.

Tekgul S, Dogan HS, Hoebeke P 2014 European Society for Paediatric Urology Guidelines on Paediatric Urology: cryptorchidism. Eur Assoc Urol

23.

Wohlfahrt-Veje C et al (2009) Acquired cryptorchidism is frequent in infancy and childhood. Int J Androl 32:423

24.

Wood HM, Elder JS (2009) Cryptorchidism and testicular cancer: separating fact from fiction. J Urol 181(2):452

25.

Yiee JHU, Saigal CS, Lai J (2012) Timing of orchiopexy in the United States: a quality-of-care indicator. Urology 80(5):1121
Ethics declarations
Funding source
No funding was secured for this study.
Financial disclosure
The authors have no financial relationships relevant to this article to disclose.
Conflict of interest
The authors declare that they have no conflicts of interest.
Additional information
Level of evidence: 3
Economic/Decision Analysis or Modeling Studies
Communicated by Jaan Toelen
About this article
Cite this article
Point, D., Morley, C., Tourchi, A. et al. Rural versus urban compliance in the management of cryptorchidism: is there a difference?. Eur J Pediatr 176, 1067–1073 (2017). https://doi.org/10.1007/s00431-017-2946-4
Received:

Revised:

Accepted:

Published:

Issue Date:
Keywords
Orchiopexy

Cryptorchidism

Referral

Urban