Abstract
The nationwide 'German Health Interview and Examination Survey for Children and Adolescents' (KiGGS), conducted in 2003–2006, showed an increase in the prevalence rates of overweight and obesity compared to the early 1990s, indicating the need for regular monitoring. Recently, a follow-up—KiGGS Wave 1 (2009–2012)—was carried out as a telephone-based survey, providing parent-reported height and weight from 5155 children aged 4–10 years. Since parental reports lead to a bias in prevalence rates of weight status, a correction is needed. From a subsample of KiGGS Wave 1 participants, measurements for height and weight were collected in a physical examination. In order to correct prevalence rates derived from parent reports, weight status categories based on parent-reported and measured height and weight were used to estimate a correction formula according to an established procedure. The corrected prevalence rates derived from KiGGS Wave 1 for overweight, including obesity, in children aged 4–10 years in Germany showed that stagnation is reached compared to the KiGGS baseline study (2003–2006).
Conclusion: The rates for overweight, including obesity, in Germany have levelled off. However, they still remain at a high level, indicating a need for further public health action.
What is Known:
• In the last decades, prevalence of overweight and obesity has risen. Now a days, the prevalence seems to be stagnating.
• In Germany, prevalence estimates of overweight and obesity are only available from regional or non-representative studies.
What is New:
• This article gives an update for prevalence rates of overweight and obesity amongst children aged 4–10 years in Germany based on a nationwide and representative sample.
• Results show that stagnation in prevalence rates for overweight in children in Germany is reached.
This is a preview of subscription content, log in to check access.
Access options
Buy single article
Instant access to the full article PDF.
US$ 39.95
Price includes VAT for USA
Subscribe to journal
Immediate online access to all issues from 2019. Subscription will auto renew annually.
US$ 199
This is the net price. Taxes to be calculated in checkout.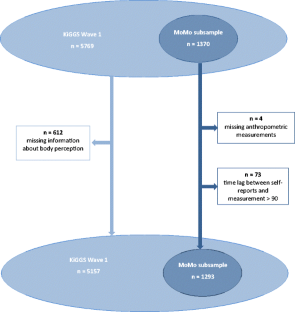 Abbreviations
BMI:

Body mass index

KiGGS:

German Health Interview and Examination Survey for Children and Adolescents

MoMo:

Motorik-Modul Study
References
1.

Blüher S, Meigen C, Gausche R, Keller E, Pfäffle R, Sabin M, Werther G, Odeh R, Kiess W (2011) Age-specific stabilization in obesity prevalence in German children: a cross-sectional study from 1999 to 2008. Int J Pediatr Obes 6(2–2):e199–e206. doi:10.3109/17477166.2010.526305

2.

Brettschneider AK, Rosario AS, Ellert U (2011) Validity and predictors of BMI derived from self-reported height and weight among 11- to 17-year-old German adolescents from the KiGGS study. BMC Res Notes 4:414. doi:10.1186/1756-0500-4-414

3.

Brettschneider AK, Ellert U, Schaffrath Rosario A (2012) Comparison of BMI derived from parent-reported height and weight with measured values: results from the German KiGGS study. Int J Environ Res Public Health 9(2):632–647. doi:10.3390/ijerph9020632

4.

Brettschneider AK, Schaffrath Rosario A, Kuhnert R, Schmidt S, Wiegand S, Ellert U, Kurth BM (2015) Updated prevalence rates of overweight and obesity in 11- to 17-year-old adolescents in Germany. Results from the telephone-based KiGGS Wave 1 after correction for bias in self-reports. BMC Public Health 15:1101. doi:10.1186/s12889-015-2467-x

5.

Kromeyer-Hauschild K, Wabitsch M, Kunze D, Geller F, Geiß HC, Hesse V, von Hippel A, Jaeger U, Johnson D, Korte W, Menner K, Müller JM, Niemann-Pilatus A, Remer T, Schaefer F, Wittchen H-U, Zabransky S, Zellner K, Ziegler A, Hebebrand J (2001) Percentiles of body mass index in children and adolescents evaluated from different regional German studies. Monatsschrift Kinderheilkunde 149:807–818

6.

Kurth BM, Ellert U (2010) Estimated and measured BMI and self-perceived body image of adolescents in Germany: part 1—general implications for correcting prevalence estimations of overweight and obesity. Obes Facts 3(3):181–190. doi:10.1159/000314638

7.

Kurth BM, Schaffrath Rosario A (2007) The prevalence of overweight and obese children and adolescents living in Germany. Results of the German Health Interview and Examination Survey for Children and Adolescents (KiGGS). Bundesgesundheitsblatt Gesundheitsforschung Gesundheitsschutz 50(5–6):736–743. doi:10.1007/s00103-007-0235-5

8.

Lange M, Butschalowsky HG, Jentsch F, Kuhnert R, Schaffrath Rosario A, Schlaud M, Kamtsiuris P, KiGGS Study Group (2014) The first KiGGS follow-up (KiGGS Wave 1): study conduct, sample design, and response. Bundesgesundheitsblatt Gesundheitsforschung Gesundheitsschutz 57(7):747–761. doi:10.1007/s00103-014-1973-9

9.

Moss A, Klenk J, Simon K, Thaiss H, Reinehr T, Wabitsch M (2012) Declining prevalence rates for overweight and obesity in German children starting school. Eur J Pediatr 171(2):289–299. doi:10.1007/s00431-011-1531-5

10.

Sanders RH, Han A, Baker JS, Cobley S (2015) Childhood obesity and its physical and psychological co-morbidities: a systematic review of Australian children and adolescents. Eur J Pediatr 174(6):715–746. doi:10.1007/s00431-015-2551-3

11.

Wabitsch M, Moss A, Kromeyer-Hauschild K (2014) Unexpected plateauing of childhood obesity rates in developed countries. BMC Med 12:17. doi:10.1186/1741-7015-12-17

12.

Wick K, Hölling H, Schlack R, Bormann B, Brix C, Sowa M, Strauss B, Berger U (2011) Self-assessment of BMI data: verification of the practicability of a correction formula on a sample of 11- to 13-year-old girls. Bundesgesundheitsblatt Gesundheitsforschung Gesundheitsschutz 54(6):752–759. doi:10.1007/s00103-011-1284-3
Acknowledgments
The authors thank all participants and their parents for participating in the telephone interview, as well as all the colleagues at the Robert Koch Institute who were involved in conducting the study. The authors would also like to thank the team of the 'Motorik-Modul' (MoMo) for providing the measurements of height and weight of a subsample of the KiGGS participants.
Authors' contributions
AKB performed the statistical analyses and wrote the manuscript. BMK, UE and AS made substantial contributions, revised the manuscript critically, and counselled AKB on statistical questions. BMK is the principal investigator of KiGGS and developed, together with UE, the correction procedure applied in this article. AKB and UE were involved in data assessment and data validation process. SS is a contributor of the 'Motorik Modul' MoMo and was involved in data collection and data assessment. All authors have read and approved the final version.
Ethics declarations
Conflict of interest
The authors declare that they have no conflict of interest.
Ethical approval
The Federal Office for Data Protection and the ethics committee of the Charité—Universitätsmedizin Berlin approved the survey.
Informed consent
A written informed consent from parents or caregivers was required prior to the interviews.
Funding
The KiGGS study was funded by the German Federal Ministry of Health, Ministry of Education and Research and the Robert Koch Institute. MoMo is funded by the Federal Ministry of Education and Research (funding reference number 01ER1503) within the research program 'long-term studies' in public health research.
Additional information
Dr. Ute Ellert and Dr. Bärbel-Maria Kurth contributed equally to this work.
Revisions received: 13 January 2017; 16 January 2017; (2)
Communicated by Mario Bianchetti
About this article
Cite this article
Brettschneider, A., Schienkiewitz, A., Schmidt, S. et al. Updated prevalence rates of overweight and obesity in 4- to 10-year-old children in Germany. Results from the telephone-based KiGGS Wave 1 after correction for bias in parental reports. Eur J Pediatr 176, 547–551 (2017). https://doi.org/10.1007/s00431-017-2861-8
Received:

Revised:

Accepted:

Published:

Issue Date:
Keywords
Overweight

Obesity

Prevalence

Children

KiGGS Wave 1