Abstract
Refugee children and their families constitute a vulnerable group regarding health and access to care. In a register-based cohort design, we examined differences in uptake of immunisations and child health examinations between refugee children and Danish-born children, including predictors of uptake among refugee children. Refugee children (n = 16,701) who, between January 1993 and December 2010, obtained residency permits in Denmark were included and matched in a 1:6 ratio on age and sex with Danish-born children (n = 100,206). Personal identification numbers were cross-linked to the National Danish Health Service Register, identifying all contacts for immunisation and child health examinations. We estimated hazard ratios (HR) of uptake. Refugee children had a lower uptake of all immunisations compared to Danish-born children. The lowest uptake was found for immunisation against diphtheria, tetanus, pertussis and polio (HR = 0.50; 95 % confidence interval (CI) 0.48–0.51). Participation in child health examinations was also lower among refugee children with the lowest at the last child health examination at age 5 (HR = 0.48; 95 % CI 0.47–0.50). Adjusting the analysis for parental income increased the HRs by 10–20 %.
Conclusion: This Danish register-based study using nationwide data revealed a lower uptake of routine immunisations and child health examinations among refugee children compared to Danish-born children.
What is Known:
•Uptake of immunisation and child health examination is associated with low household income, unemployment and low educational status among the parents.
•Uptake may be even lower among refugee families as they constitute a vulnerable group regarding access to healthcare.
What is New:
•Refugee children had lower uptake of immunisations and child health examinations compared to Danish-born children.
•Several predictors of uptake were identified including region of origin and duration of residence.
This is a preview of subscription content, log in to check access.
Access options
Buy single article
Instant access to the full article PDF.
US$ 39.95
Price includes VAT for USA
Subscribe to journal
Immediate online access to all issues from 2019. Subscription will auto renew annually.
US$ 199
This is the net price. Taxes to be calculated in checkout.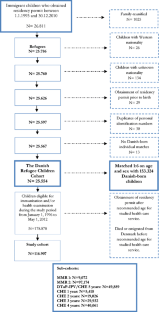 Abbreviations
CHE:

child health examination

DTaP-IPV:

immunisation against diphtheria, tetanus, pertussis and polio

GP:

general practitioner

HR:

hazard ratio

MMR:

immunisation against measles, mumps and rubella

SEP:

socioeconomic position
References
1.

Andersen PH, Knudsen LK, Valentiner-Branth P (2013) MMR vaccination coverage at end of 2012. EPINews 16. doi:http://www.ssi.dk/English/News/EPI-NEWS/2013/No16%20-%202013.aspx

2.

Danis K, Georgakopoulou T, Stavrou T, Laggas D, Panagiotopoulos T (2010) Socioeconomic factors play a more important role in childhood vaccination coverage than parental perceptions: a cross-sectional study in Greece. Vaccine 28:1861–1869. doi:10.1016/j.vaccine.2009.11.078

3.

Doherty E, Walsh B, O'Neill C (2014) Decomposing socioeconomic inequality in child vaccination: results from Ireland. Vaccine 32:3438–3444. doi:10.1016/j.vaccine.2014.03.084

4.

Eurostat (2014) Glossary:equivalised disposable income. http://epp.eurostat.ec.europa.eu/statistics_explained/index.php/Glossary:Equivalised_disposable_income. Accessed 18-09-2014

5.

Fazel M, Wheeler J, Danesh J (2005) Prevalence of serious mental disorder in 7000 refugees resettled in western countries: a systematic review. Lancet 365:1309–1314. doi:10.1016/S0140-6736(05)61027-6

6.

Frederiksen HW, Kamper-Jorgensen Z, Agyemang C, Krasnik A, Norredam M (2013) Health-reception of newly arrived documented migrants in Europe—why, whom, what and how? Eur J Public Health 23:725–726. doi:10.1093/eurpub/ckt110

7.

Frederiksen HW, Krasnik A, Norredam M (2012) Policies and practices in the health-related reception of quota refugees in Denmark. Dan Med J 59:A4352

8.

Freed GL, Clark SJ, Pathman DE, Schectman R (1999) Influences on the receipt of well-child visits in the first two years of life. Pediatrics 103:864–869

9.

International Organization for Immigrants (2013) IOM resettlement services. IOM. http://www.iom.int/files/live/sites/iom/files/What-We-Do/docs/IOM-Resettlement-Brochure-27-June-2013.pdf. Accessed 01-11-2014

10.

Luman ET, McCauley MM, Shefer A, Chu SY (2003) Maternal characteristics associated with vaccination of young children. Pediatrics 111:1215–1218

11.

Navarro-Rubio MD, Jovell AJ, Schor EL (1995) Socioeconomic status and preventive health-care use by children in Spain. Am J Prev Med 11:256–262

12.

Nielsen SS, Hempler NF, Krasnik A (2013) Issues to consider when measuring and applying socioeconomic position quantitatively in immigrant health research. Int J Environ Res Public Health 10:6354–6365. doi:10.3390/ijerph10126354

13.

Norredam M, Nielsen SS, Krasnik A (2010) Migrants' utilization of somatic healthcare services in Europe—a systematic review. Eur J Public Health 20:555–563. doi:10.1093/eurpub/ckp195

14.

Norredam M, Olsbjerg M, Petersen JH, Juel K, Krasnik A (2012) Inequalities in mortality among refugees and immigrants compared to native Danes—a historical prospective cohort study. BMC Public Health 12:757. doi:10.1186/1471-2458-12-757

15.

Rosenkotter N, van Dongen MC, Hellmeier W, Simon K, Dagnelie PC (2012) The influence of migratory background and parental education on health care utilisation of children. Eur J Pediatr 171:1533–1540. doi:10.1007/s00431-012-1774-9

16.

Samad L, Tate AR, Dezateux C, Peckham C, Butler N, Bedford H (2006) Differences in risk factors for partial and no immunisation in the first year of life: prospective cohort study. BMJ 332:1312–1313. doi:10.1136/bmj.332.7553.1312

17.

Selden TM (2006) Compliance with well-child visit recommendations: evidence from the Medical Expenditure Panel Survey, 2000–2002. Pediatrics 118:e1766–1778. doi:10.1542/peds.2006-0286

18.

Social- og Integrationsministeriet (2012) Fakta om integration - Status og udvikling. Social- og Integrationsministeriet, Copenhagen

19.

Sondergaard G, Biering-Sorensen S, Michelsen SI, Schnor O, Andersen AM (2008) Non-participation in preventive child health examinations at the general practitioner in Denmark: a register-based study. Scand J Prim Health Care 26:5–11. doi:10.1080/02813430801940877

20.

Statistics Denmark (2011) Indvandrere i Danmark 2011. Copenhagen. doi:http://www.dst.dk/pukora/epub/upload/16209/indv.pdf

21.

Statistics Denmark (2013) Indvandrere i Danmark 2013. Statistics Denmark, Copenhagen

22.

Statistics Denmark (2014) Indvandrere i Danmark 2014. Statistics Denmark, Copenhagen

23.

Steel Z, Chey T, Silove D, Marnane C, Bryant RA, van Ommeren M (2009) Association of torture and other potentially traumatic events with mental health outcomes among populations exposed to mass conflict and displacement: a systematic review and meta-analysis. JAMA 302:537–549. doi:10.1001/jama.2009.1132

24.

Sundhedsstyrelsen (2011) Vejledning om forebyggende sundhedsydelser til børn og unge. Copenhagen. doi:http://sundhedsstyrelsen.dk/publ/publ2011/cff/sundhedsydelser/sundhedsydelser.pdf

25.

Global Polio Eradication Initiative (2015). History of polio. http://www.polioeradication.org/Default.aspx?tabid=71&Tag=history. Accessed 21 Mar 2014

26.

Theeten H, Hens N, Vandermeulen C, Depoorter AM, Roelants M, Aerts M, Hoppenbrouwers K, Van Damme P (2007) Infant vaccination coverage in 2005 and predictive factors for complete or valid vaccination in Flanders, Belgium: an EPI-survey. Vaccine 25:4940–4948. doi:10.1016/j.vaccine.2007.03.032

27.

Udlændingeservice (2011) Tal og fakta på udlændingeområdet 2010. Udlændingeservice, København

28.

Udlændingestyrelsen (2012) Tal og fakta på udlændingeområdet 2011. Udlændingestyrelsen, København

29.

Udlændingestyrelsen (2013) Tal og fakta på udlændingeområdet 2012

30.

Udlændingestyrelsen (2014) Tal og fakta på udlændingeområdet 2013

31.

Udlændingestyrelsen (2015) Tal og fakta på udlændingeområdet 2014

32.

UNICEF United Nations. Office of the Special Representative of the Secretary-General for Children aAC (2009) Machel study 10-year strategic review: children and conflict in a changing world

33.

United Nations High Commissioner for refugees (2014) flowing across borders. http://www.unhcr.org/pages/49c3646c125.html

34.

United Nations High Commissioner for Refugees (2014) UNHCR Global Trends 2013

35.

Villadsen SF, Mortensen LH, Andersen AM (2009) Ethnic disparity in stillbirth and infant mortality in Denmark 1981–2003. J Epidemiol Community Health 63:106–112. doi:10.1136/jech.2008.078741

36.

Wagner KS, van Wijgerden JC, Andrews N, Goulden K, White JM (2014) Childhood vaccination coverage by ethnicity within London between 2006/2007 and 2010/2011. Arch Dis Child 99:348–353. doi:10.1136/archdischild-2013-304388

37.

Wallby T, Hjern A (2011) Child health care uptake among low-income and immigrant families in a Swedish county. Acta Paediatr 100:1495–1503. doi:10.1111/j.1651-2227.2011.02344.x

38.

Wood R, Blair M (2014) A comparison of Child Health Programmes recommended for preschool children in selected high-income countries. Child Care Health Dev 40:640–653. doi:10.1111/cch.12104

39.

World Bank (2013) Global monitoring report 2013: rural–urban dynamics and the millenium development goals. World Bank, Washington DC. doi:10.1596/978-0-8213-9806-7

40.

Yu SM, Bellamy HA, Kogan MD, Dunbar JL, Schwalberg RH, Schuster MA (2002) Factors that influence receipt of recommended preventive pediatric health and dental care. Pediatrics 110:e73
Authors' contributions
S. Pagh Moller and M. Norredam originated the idea and the design of the study. M. Norredam established the population, and S. Pagh Moller analysed the data in consultation with A. Hjern, A. Nybo Andersen and M. Norredam. All authors contributed to the interpretation of the results. S. Pagh Moller wrote the first draft, and all authors were involved in revising the manuscript for important intellectual content. All authors contributed to the writing and approval of the final article.
Ethics declarations
Ethical standards
The manuscript does not contain clinical studies or patient data, and Danish law does not require that register-based studies are approved by an ethical committee.
Ethical approval
For this type of study, formal consent is not required. This article does not contain any studies with human participants or animals performed by any of the authors.
Conflict of interest
The authors declare that they have no conflict of interests.
Additional information
Communicated by Peter de Winter
About this article
Cite this article
Moller, S.P., Hjern, A., Andersen, A.N. et al. Differences in uptake of immunisations and health examinations among refugee children compared to Danish-born children: a cohort study. Eur J Pediatr 175, 539–549 (2016). https://doi.org/10.1007/s00431-015-2663-9
Received:

Revised:

Accepted:

Published:

Issue Date:
Keywords
Access

Child healthcare

Immunisations

Refugee

Children

Register-based

Migration