Abstract
Improving health-related quality of life (HrQoL) is one aim of growth hormone treatment for short-statured patients. Yet, evidence of the relationship between height and HrQoL is inconclusive, especially for young people. This study investigates the association of height and HrQoL in the general German adolescent population. A total of 6646 adolescents and 6388 parents from the German Health Interview and Examination Survey for Children and Adolescents (KIGGS) were included in the analysis. An analysis of covariance was used to evaluate the effect of height deviation on HrQoL as assessed with the KINDL-R in adolescent self-report and parent-report, taking into account sociodemographic and health-related variables. Height was found to be a weak predictor of HrQoL in both adolescent-report and parent-report. Short and tall adolescents did not substantially differ from the normal statured. Sociodemographic and health-related variables failed to significantly interact with height. In contrast, psychosocial variables contributed to the explained HrQoL variance.
Conclusion: Height does not appear to be a strong determinant of HrQoL on the population level. These results suggest that the height gain in short stature treatment may not be the most important objective. Contrary to prevalent stereotypes, short adolescents can experience a high HrQoL.
This is a preview of subscription content, log in to check access.
Access options
Buy single article
Instant access to the full article PDF.
US$ 39.95
Price includes VAT for USA
Subscribe to journal
Immediate online access to all issues from 2019. Subscription will auto renew annually.
US$ 199
This is the net price. Taxes to be calculated in checkout.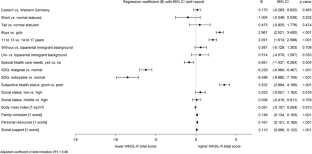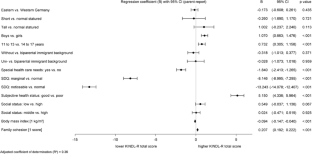 Abbreviations
BMI:

Body mass index

Cm:

Centimeters

CSHCN:

Special health care needs

GH:

Growth hormone

GHD:

Growth hormone deficiency

HrQoL:

Health-related quality of life

Height SDS:

Height standard deviation scores

KIGGS:

German Health Interview and Examination Survey for Children and Adolescents

MEHM:

Minimum European Health Module

RKI:

Robert-Koch-Institute

SD:

Standard deviation

SDQ:

Strength and difficulties questionnaire

SES:

Socioeconomic status

SS:

Short stature

SSS:

Social support scale
References
1.

Abe S, Okumura A, Mukae T et al (2009) Depressive tendency in children with growth hormone deficiency. J Paediatr Child Health 45:636–640

2.

Attanasio AF, Shavrikova EP, Blum F et al (2005) Quality of life in childhood onset growth hormone-deficient patients in the transition phase from childhood to adulthood. J Clin Endocr Metab 90:4525–4529

3.

Bethell C, Read D, Stein R et al (2002) Identifying children with special health care needs: development and evaluation of a short screening instrument. Ambul Pediatr 2:38–48

4.

Blum WF, Ross JL, Zimmermann AG et al (2013) GH treatment to final height produces similar height gains in patients with SHOX deficiency and Turner syndrome: results of a multicenter trial. J Clin Endocr Metab 98:1383–1392

5.

Bongseog K, Mi Jung P (2009) The influence of weight and height status on psychological problems of elementary school children through child behavior checklist analysis. Yonsei Med J 50:340–344

6.

Bullinger M (2002) Assessing health-related quality of life in medicine. An overview of concepts, methods and applications in international research. Restor Neurol Neurosci 20:93–101

7.

Bullinger M, Kirchberger I (1998) SF-36. Fragebogen zum Gesundheitszustand. Hogrefe, Göttingen

8.

Bullinger M, Koltowska-Haggstrom M, Sandberg D et al (2009) Health-related quality of life of children and adolescents with growth hormone deficiency or idiopathic short stature—part 2: available results and future directions. Horm Res 72:74–81

9.

Bullinger M, Quitmann J, Power M et al (2013) Assessing the quality of life of health-referred children and adolescents with short stature: development and psychometric testing of the QoLISSY instrument. Health Qual Life Out 11

10.

Carel J, Chatelain J, Rochiccioli P et al (2003) Improvement in adult height after growth hormone treatment in adolescents with short stature born small for gestational age: results of a randomized controlled study. J Clin Endocr Metab 88:1587–1593

11.

Carel J, Ecosse E, Nicolino M et al (2002) Adult height after long-term recombinant growth hormone treatment for idiopathic isolated growth hormone deficiency: observational follow-up study of the French population-based registry. Br Med J 325:70–73

12.

Carrieri V, De Paola M (2012) Height and subjective well-being in Italy. Econ Hum Biol 10:289–298

13.

Christensen TL, Djurhuus CB, Clayton P et al (2007) An evaluation of the relationship between adult height and health-related quality of life in the general UK population. Clin Endocrinol 67:407–412

14.

Cohen LE (2014) Idiopathic short stature: a clinical review. J Am Med Assoc 311:1787–1796

15.

Cohen P, Rogol AD, Deal CL et al (2008) Consensus statement on the diagnosis and treatment of children with idiopathic short stature: a summary of the Growth Hormone Research Society, the Lawson Wilkins Pediatric Endocrine Society, and the European Society for Paediatric Endocrinology Workshop. J Clin Endocr Metab 93:4210–4217

16.

Coker RT, Elliott MN, Wallander JL et al (2011) Assiociation of family stressful life-change events and health-related quality of life in fifth-grade children. Arch Pediatr Adolesc Med 165:354–359

17.

Coste J, Pouchot J, Carel J (2012) Height and health-related quality of life: a nationwide population study. J Clin Endocr Metab 97:3231–3239

18.

Deaton A, Arora R (2009) Life at the top: the benefits of height. Econ Hum Biol 7:133–136

19.

Deodati A, Cianfarani S (2011) Impact of growth hormone therapy on adult height of children with idiopathic short stature: systematic review. Br Med J 342:7157

20.

Donald CA, Ware JE (1984) The measurement of social support. Res Commun Mental Health 4:325–370

21.

Downie A, Mulligan J, Stratford R et al (1997) Are short normal children at a disatvantage? The Wessex growth study. Br Med J 3:97–100

22.

Erhart M, Ellert U, Kurth BM et al (2009) Measuring adolescents' HRQoL via self reports and parent proxy reports: an evaluation of the psychometric properties of both versions of the KINDL-R instrument. Health Qual Life Outcomes 7:77

23.

Godby M (2008) Analysis of covariance. In: S B, McNutt L (eds) Encyclopedia of epidemiology. SAGE Publications, Inc, Thousand Oaks

24.

Goodmann R (1997) The strengths and difficulties questionnaire: a research note. J Child Psychol Psychiatry 38:581–586

25.

Kranzler J, Rosenbloom A, Poroctor B et al (2000) Is short stature a handicap? A comparison of the psychosocial functioning of referred and nonreferred children with normal short stature and children with normal stature. J Peadiatr 136:96–102

26.

Kremer B, Klimek L, Bullinger M et al (2001) Generic or disease-specific quality of life scales to characterize health status in allergic rhinitis? Allergy 56:957–963

27.

Lee JM, Appugliese D, Coleman SM et al (2009) Short stature in a population-based cohort: social, emotional, and behavioral functioning. Pediatrics 124

28.

Magnusson PK, Gunnell D, Tynelius P et al (2005) Strong inverse association between height and suicide in a large cohort of Swedish men: evidence of early life origins of suicidal behavior. Am J Psychiatr 162:1373–1375

29.

Neuhauser H, Schienkiewitz A, Schaffrath Rosario A et al (2013) Referenzperzentile für antrhopometrische Maßzahlen und Blutdruck aus der Studie zur Gesundheit von Kindern und Jugendlichen in Deutschland (KIGGS). In: Beiträge zur Gesundheitsberichterstattung. Robert Koch Institut, Berlin, p 12–21

30.

Nutbeam D (2000) Health literacy as a public health goal: a challenge for contemporary health education and communication strategies into the 21st century. Health Promot Int 15:259–267

31.

Quitmann J, Behnke J, Dörr HG et al (2012) Gesundheitsbezogene Lebensqualität und psychische Gesundheit von kleinwüchsigen Kindern und Jugendlichen. Z Med Psychol :132–139

32.

Ravens-Sieberer U (2000) Verfahren zur Erfassung der gesundheitsbezogenen Lebensqualität bei Kindern und Jugendlichen. Bundesgesundheitsbla 43:198–209

33.

Ravens-Sieberer U, Ellert U, Erhart M (2007) Gesundheitsbezogene Lebensqualität von Kindernund Jugendlichen in Deutschland. Bundesgesundheitsbla 50:810–812

34.

Rees D, Sabia J, Argys L (2009) A head above the rest: height and adolescent psychological well-being. Econ Hum Biol 7:217–228

35.

Ross JL, Sandberg DE, Rose SR et al (2004) Psychological adaptation in children with ideopathic short stature treated with growth hormone or placebo. J Clin Endocr Metab 89:4873–4878

36.

Sandberg DE, Colsman M (2005) Growth hormone treatment of short stature: status of the quality of life rationale. Horm Res 63:275–283

37.

Sandberg DE, Voss LD (2002) The psychosocial consequences of short stature: a review of the evidence. Best Pract Res Clin Endocrinol 16:449–463

38.

Schneewind K, Beckmann M, Hecht-Jackl A (1985) Familienklima-Skalen. In: Institut für Psychologie- Persönlichkeitspsychologie und Psychodiagnostik der Ludwig Maximilians Universität, München

39.

Schwarzer R, Jerusalem M (1999) Skalen zur Erfassung von Lehr- und Schülermerkmalen. Dokumentation der psychometrischen Verfahren im Rahmen der Wissenschaftlichen Begleitung des Modellversuchs Selbstwirksame Schulen. In:Institut für Psychologie, Freie Universität Berlin, Berlin

40.

Stöcklin L, Loss G, Vonmutius E et al (2013) Health-related quality of life in rural children living in four European countries: the GABRIEL study. Int J Public Health 58:355–366

41.

The European Qolissy Group (2013) Quality of life in short stature youth-the QoLISSY questionnaire user's manual. Pabst Science Publishers, Lengerich

42.

Ulph F, Betts P, Mulligan J et al (2004) Personality functioning: the influence of stature. Arch Dis Child 89:17–21

43.

Visser-Van Balen H, Geenen R, Kamp GA et al (2007) Long-term psychosocial consequences of hormone treatment for short stature. Acta Pediatr 96:715–719

44.

Visser-Van Balen H, Sinnema G, Geenen R (2006) Growing up with ideopathic short stature: psychological development and hormone therapy; a critical review. Arch Dis Child 91:433–439

45.

Voss LD (2001) Short normal stature and psychosocial disadvantage: a critical review of the evidence. J Pediatr Endocrinol Metab 11:701–711

46.

Wheeler P, Bresnahan K, Shepard B et al (2004) Short stature and functional impairment: a systematic review. Arch Pediatr Adolesc Med 158:236–243

47.

Winkler J, Stolzenberg H (2009) Adjustierung des Sozialen-Schicht-Index für die Anwendung im Kinder- und Jugendgesundheitssurvey (KiGGS) 2003/2006 Wismar Discussion Papers 07

48.

Wygold T (2002) Psychosocial adapation to short stature—an indication for growth hormone therapy? Horm Res 58:20–23

49.

Zimet GD, Owens R, Dahms W et al (1997) Psychosocial outcome of children evaluated for short stature. Arch Pediatr Adolesc Med 151:1017–1023
Compliance with ethical standards
Conflict of interest
The authors report no conflict of interests. The authors alone are responsible for the content and writing of the paper. Authors received no compensation for their contributions to this manuscript.
Statement of human rights
Ethical approval: The German Health Interview and Examination Survey for Children and Adolescents (KIGGS) survey has been approved by the ethics committee of the University Hospital Charité at the Humboldt University Berlin and has therefore been performed in accordance with the ethical standards laid down in the 1964 Declaration of Helsinki and its later amendments.
Informed consent
Informed consent: All adult persons—as parents and for their underage children gave their informed consent prior to their inclusion in the study. Details that might disclose the identity of the subjects under study were omitted.
Additional information
Communicated by Jaan Toelen
About this article
Cite this article
Sommer, R., Daubmann, A., Quitmann, J. et al. Understanding the impact of statural height on health-related quality of life in German adolescents: a population-based analysis. Eur J Pediatr 174, 875–882 (2015). https://doi.org/10.1007/s00431-014-2480-6
Received:

Revised:

Accepted:

Published:

Issue Date:
Keywords
Height

Health-related quality of life

Short stature

KIGGS health survey

Adolescents