Abstract
Knowledge of the distribution spectrum of causative organisms and their resistance patterns has become a core requirement for the rational and effective management of urinary tract infections. In the context of a prospective trial on the use of antibiotic prophylaxis in infants with underling kidney malformations, we conducted an online survey among paediatric nephrologists on positive urine cultures (July 2010–June 2012) from both hospitalized and non-hospitalized infants under 24 months of age. We collected 4745 urine cultures (UCs) at 18 units in 10 European countries. Escherichia coli was the most frequent bacterium isolated from UCs; however, in 10/16 hospitals and in 6/15 community settings, E. coli was isolated in less than 50 % of the total positive UCs. Other bacterial strains were Klebsiella, Enterococcus, Proteus and Pseudomonas not only from hospital settings. E. coli showed a high resistance to amoxicillin and trimethoprim and variable to cephalosporin. Nitrofurantoin had a good rate of efficacy, with 11/16 hospitals and 11/14 community settings reporting a resistance lower than 5 %.
Conclusion: E. coli is the most common organism causing UTIs in infants; however, other bacterial strains are frequently isolated. As a result, antibiotic prophylaxis should be more elastic and adaptable over time in order to guarantee maximum efficacy.
This is a preview of subscription content, log in to check access.
Access options
Buy single article
Instant access to the full article PDF.
US$ 39.95
Price includes VAT for USA
Subscribe to journal
Immediate online access to all issues from 2019. Subscription will auto renew annually.
US$ 199
This is the net price. Taxes to be calculated in checkout.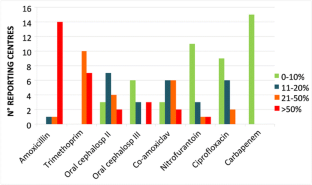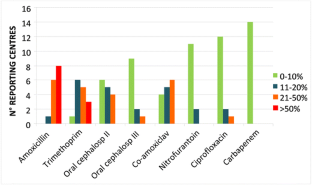 Abbreviations
CLSI:

Clinical and Laboratory Standards Institute

EUCAST:

European Committee for Antimicrobial Susceptibility Testing

UCs:

Urine cultures

UTI:

Urinary tract infection

VUR:

Vesico-ureteral reflux
References
1.

Academy of Pediatrics subcommittee on Urinary Tract Infection, Steering Committee on Quality Improvement and Management (2011) Urinary Tract Infection: clinical practice guideline for the diagnosis and management of the initial UTI in febrile infants and children 2 to 24 months. Pediatrics 128:595

2.

Ammenti A, Cataldi L, Chimenz R, Fanos V, La Manna A, Marra G, Materassi M, Pecile P, Pennesi M, Pisanello L, Sica F, Toffolo A, Montini G, Italian Society of Pediatric Nephrology (2012) Febrile urinary tract infection in young children. Recommendations for the diagnosis, treatment and follow-up. Acta Paediatr 101(5):451–457

3.

Ashkenazi S (2012) Beginning and possibility the end of the antibiotic era. J Paediatr Child Health 49:E179–E182

4.

Beetz R, Westenfelder M (2011) Antimicrobial therapy of urinary tract infections in children. Int J Antimicrob Agents 38:42–50

5.

Bertrand X, Dowzick MJ (2012) Antimicrobial susceptibility among gram-negative isolates collected from intensive care units in north America, Europe, the Asia-pacific rim, Latin America, the Middle East, and Africa between 2004 and 2009 as part of the tigecycline evaluation and surveillance trial. Clin Ther 34(1):124–137

6.

Boggan J, Navar-Boggan A, Jhaveri R (2012) Pediatric-specific antimicrobial susceptibility data and empiric antibiotic selection. Pediatrics 130:e615–e622

7.

Catal F, Bavbek N, Bayrak O, Karabel M, Karabel D, Odemis E, Uz E (2009) Antimicrobial resistance patterns of urinary tract pathogens and rationale for empirical therapy in Turkish children for the years 2000–2006. Int Urol Nephrol 41:953–957

8.

CDC Antibiotic resistance threats in the United States 2013[http://www.cdc.gov/drugresistance/threat-report-2013 ]

9.

Chavez-Bueno S, Stull TL (2009) Antibacterial agents in pediatrics. Infect Dis Clin N Am 23:865–880

10.

Cheng C, Tsai MH, Huang YC, Su LH, Tsau YK, Lin CJ, Chiu CH, Lin TY (2008) antibiotic resistance patterns of community-acquired urinary tract infections in children with vesicoureteral reflux receiving prophylactic antibiotic therapy. Pediatrics 122:1212–1217

11.

ClinicalTrials.gov Identifier: NCT02021006

12.

Coraggio MJ, Gross TP, Roscelli JD (1989) Nitrofurantoin toxicity in children. J Pediatr Infect Dis 8:163–168

13.

Cullen IM, Manecksha RP, McCullagh E, Ahmad S, O'Kelly F, Flynn R, McDermott TE, Murphy P, Grainger R, Fennell JP, Thornhill JA (2013) An 11-year analysis of the prevalent uropathogens and the changing pattern of Escherichia coli antibiotic resistance in 38,530 community urinary tract infections, Dubllin 1999–2009. Ir J Med Sci 182:81–89

14.

David MZ, Crawford SE, Boyle-Vavra S, Hostetler AM, Kim DC, Daum RS (2006) Contrasting pediatric and adult methicillin-resistant Staphylococcus aureus isolates. Emerg Infect Dis 12(4):631–637

15.

ECDC Antimicrobial resistance interactive database [http://www.ecdc.europa.eu/en/healthtopics/antimicrobial_resistance/database/Pages/database.aspx]

16.

Elliott SP (2008) Antimicrobial-resistant pathogens: an emerging pediatric threat. Adv Pediatr 55(1):329–348

17.

Gaspari R, Dickson E, Karlowsky J, Doern G (2005) Antibiotic resistance trends in paediatric uropathogens. Int J Antimicrob Agents 26:267–271

18.

Goossen H, Ferech M, Stichele RV, Elseviers M, for the ESAC Project Group (2005) Outpatient antibiotic use in Europe and association with resistance: a cross-national database study. Lancet 365:379–387

19.

Hellerstein S (1982) Recurrent urinary tract infection in children. Pediatr Infect Dis J 1:271–281

20.

Hellström A, Hanson E, Hansson S, Hjälmås K, Jodal U (1991) Association between urinary symptoms at 7 years old and previous urinary tract infection. Arch Dis Child 66(2):232–234

21.

Holmberg L, Boman G, Böttiger LE, Eriksson B, Spross R, Wessling A (1980) Adverse reactions to nitrofurantoin. Analysis of 921 reports. Am I Med 69:733–738

22.

Hyun D, Hersh A, Namtu K, Palazzi D, Maples H, Newland J, Saiman L (2013) Antimicrobial stewardship in pediatrics: How every pediatrician can be a steward. JAMA Pediatr 167(9):859–866

23.

Karlowsky J, Karlowsky JA, Lagacé-Wiens PRS, Simner PJ, DeCorby MR, Adam HJ, Walkty A, Hoban DJ, Zhanel GG (2011) Antimicrobial resistance in urinary tract pathogens in Canada from 2007 to 2009: CANWARD Surveillance Study. Antimicrob Agents Chemotherapy 55:3169–3175

24.

Ladhani S, Gransden W (2003) Increasing antibiotic resistance among urinary tract isolates. Arch Dis Child 88:444–445

25.

Marcus N, Ashkenazi S, Yaari A, Samra Z, Livni G (2005) Non-Escherichia coli versus Escherichia coli community-acquired urinary tract infections in children hospitalized in a tertiary center. Pediatr Infect Dis J 24:581–585

26.

Montini G, Rigon L, Zucchetta P, Fregonese F, Toffolo A, Gobber D, Cecchin D, Pavanello L, Molinari PP, Maschio F, Zanchetta S, Cassar W, Casadio L, Crivellaro C, Fortunati P, Corsini A, Calderan A, Comacchio S, Tommasi L, Hewitt IK, Da Dalt L, Zaccheelo G, Dall'Amico R, IRIS Group (2008) Prophylaxis after first febrile urinary tract infection in children? A multicenter, randomized, controlled, non inferiority trial. Pediatrics 122(5):1064–1071

27.

National Institute for Health and Clinical Excellence. Urinary tract infection in children: diagnosis, treatment and long term management. August 2007. [www.nice.org.uk/guidance/CG54]

28.

Newman TB, Bernzweig JA, Takayama JI, Finch SA, Wasserman RC, Pantell RH (2002) Urine testing and urinary tract infections in febrile infants seen in office settings: the Pediatric Research in Office Settings' Febrile Infant Study. Arch Pediatr Adolesc Med 156:44–54

29.

O'Brien TF (2011) What has kept the antibiotic miracle alive? N Engl J Med 365:953–955

30.

Peco-Antic A, Paripovic D, Buljugic S, Kruscic D, Spasojevic B, Cvetkovic M, Kostic M, Laban-Nestorovic S, Milosevski-Lomic G (2012) Antibiotic resistance of uropathogens in newborn and young children with acute pyelonephritis. Srp Arh Celok Lek 140:179–183

31.

Peters CA, Skoog SJ, Arant BS Jr, Coppo HL, Elder JS, Hudson RG, Khoury AE, Lorenzo AJ, Pohl HG, Shapiro E, Snodgrass WT, Diaz M (2010) Summary of the AUA Guidelines on management of primary vesicoureteral reflux in children. J Urol 184:1134–1144

32.

Smith SP, Manges AR, Riley LW (2008) Temporal changes in the prevalence of community-acquired antimicrobial-resistant urinary tract infection affected by Escherichia coli clonal group composition. Clin Infect Dis 46(5):689–695

33.

Tekgül S, Riedmiller H, Hoebeke P, Kocvara R, Nijman RJ, Radmayr C, Stein R, Dogan HS, European Association of Urology (2012) EAU Guidelines on vesicoureteral reflux in children. Eur Urol 62:534–542

34.

The ESCAPE Trial Group (2009) Strict blood-pressure control and progression of renal failure in children. N Engl J Med 361:1639–1650

35.

Tonkic M, Barisk IG, Punda-Polic V (2005) Prevalence and antimicrobial resistance of extended-spectrum beta-lactamases-producing Escherichia coli and Klebsiella pneumoniae strains isolated in a university hospital in Split, Croatia. Int Microbiol 8(2):119–124

36.

Versporten A, Sharland M, Bielicki J, Drapier N, Vankerckhoven V, Goossens H (2012) The antibiotic resistance and prescribing in European Children project: a neonatal and pediatric antimicrobial web-based point prevalence survey in 73 hospitals worldwide. Pediatr Infect Dis J 32:e242–e253

37.

Yuksel S, Oztürk B, Kavaz A, Ozçakar ZB, Acar B, Güriz H, Aysev D, Ekim M, Yalçinkaya F (2006) Antibiotic resistance of urinary tract pathogens and evaluation of empirical treatment in Turkish children with urinary tract infectious. Int J Antimicrob Agents 28:413–416
Acknowledgments
Thanks to all the microbiology departments for the support given to the authors in the selection of the data: Simone Ambretti (Bologna), Akgun Yaman (Adana), Joanna Klepacka (Krakow), Derya Aydin (Istanbul), Jaulhac Benoit (Strasbourg), Emilie Bessede (Bordeaux), Genovaite Bernatoniene (Vilnius), Suzana Laban-Nestorović (Belgrade), Eva Kenesei (Budapest), Nigar Çelik Özer (Istanbul), SC Droz (Bern), Anna Komarnicka (Gdansk), Lucia Rossi (Padova), Irene Burckhardt (Heidelberg) and Johannes Huebner (Munich).
Additional information
Communicated by Jaan Toelen
About this article
Cite this article
Alberici, I., Bayazit, A.K., Drozdz, D. et al. Pathogens causing urinary tract infections in infants: a European overview by the ESCAPE study group. Eur J Pediatr 174, 783–790 (2015). https://doi.org/10.1007/s00431-014-2459-3
Received:

Revised:

Accepted:

Published:

Issue Date:
Keywords
Urinary tract infection

Antibiotic resistance

Infants

Escherichia coli

Urine culture