Abstract
This is a prospective study using non-invasive electrical cardiometry to measure hemodynamic changes during surgical ligation of patent ductus arteriosus (PDA) in very low birth weight (VLBW, ≤1500 g) infants. The aims of this study were to examine hemodynamic aberration caused by abrupt closure of a ductal shunting and to define factors that affect hemodynamic changes. Simultaneous measurements of heart rate (HR), stroke volume (SV), cardiac output (CO), and systemic vascular resistance (SVR) were collected at ten time points: 1 h prior to anesthesia, at the beginning of anesthesia, starting of surgery, immediately after PDA being ligated, and 1 h followed by 6, 12, 18, 24, and 48 h after the surgery. Thirty infants with gestational age of 27.7 ± 2.0 weeks and birth weight of 929 ± 280 g were studied. Upon sudden termination of ductal shunting, there was a significant decline in CO to 73 % of presurgery baseline. The deterioration in CO was associated with a decreased SV rather than HR. At the same time, there was an increase of SVR following ductal ligation. Magnitude of CO and SV reduction were higher in smaller infants (≤1 kg), and recovery was to a lesser degree in infants with more severe PDA.
Conclusion: Reduced stroke volume and elevated vascular resistance contribute to the major hemodynamic aberrations in VLBW infants receiving PDA ligation surgery.
This is a preview of subscription content, log in to check access.
Access options
Buy single article
Instant access to the full article PDF.
US$ 39.95
Price includes VAT for USA
Subscribe to journal
Immediate online access to all issues from 2019. Subscription will auto renew annually.
US$ 199
This is the net price. Taxes to be calculated in checkout.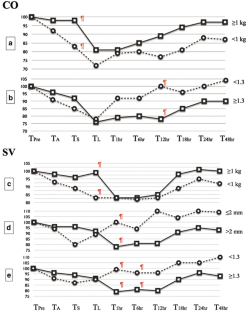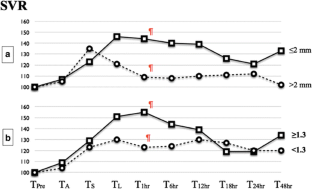 Abbreviations
CO:

Cardiac output

EC:

Electrical cardiometry

PDA:

Patent ductus arteriosus

SV:

Stroke volume

VLBW:

Very low birth weight
References
1.

El-Khuffash AF, Jain A, Dragulescu A, McNamara PJ, Mertens L (2012) Acute changes in myocardial systolic function in preterm infants undergoing patent ductus arteriosus ligation: a tissue Doppler and myocardial deformation study. J Am Soc Echocardiogr 25(10):1058–1067

2.

Grollmuss O, Demontoux S, Capderou A, Serraf A, Belli E (2012) Electrical velocimetry as a tool for measuring cardiac output in small infants after heart surgery. Intensive Care Med 38(6):1032–1039

3.

Grollmuss O, Gonzalex P (2014) Non-invasive cardiac output measurement in low and very low birth weight infants: a method comparison. Front Pediatr 2:16

4.

Harting MT, Blakley ML, Cox CS Jr, Lantin-Hermoso R, Andrassy RJ, Lally KP (2008) Acute hemodynamic decompensation following patent ductus arteriosus ligation in premature infants. J Invest Surg 21(3):133–138

5.

Kimball TR, Ralston MA, Khoury P, Crump RG, Cho FS, Reuter JH (1996) Effect of ligation of patent ductus arteriosus on left ventricular performance and its determinants in premature neonates. J Am Coll Cardiol 27(1):193–197

6.

Lindner W, Seidel M, Versmold HT, Dohlemann C, Riegel KP (1990) Stroke volume and left ventricular output in preterm infants with patent ductus arteriosus. Pediatr Res 27(3):278–281

7.

McNamara PJ, Stewart L, Shivananda SP, Stephens D, Sehgal A (2010) Patent ductus arteriosus ligation is associated with impaired left ventricular systolic performance in premature infants weighing less than 1000 g. J Thorac Cardiovasc Surg 140(1):150–157

8.

Noori S, Drabu B, Soleymani S, Seri I (2012) Continuous non-invasive cardiac output measurements in the neonate by electrical velocimetry: a comparison with echocardiography. Arch Dis Child Fetal Neonatal Ed 97(5):F340–F343

9.

Noori S, Friedlich P, Seri I, Wong P (2007) Changes in myocardial function and hemodynamics after ligation of the ductus arteriosus in preterm infants. J Pediatr 150(6):597–602

10.

Norozi K, Beck C, Osthaus WA, Wille I, Wessel A, Bertram (2008) Electrical velocimetry for measuring cardiac output in children with congenital heart disease. Br J Anaesth 100(1):88–94

11.

Osthaus WA, Huber D, Beck C, Winterhalter M, Boethig D, Wessel A, Sumpelmann R (2007) Comparison of electrical velocimetry and transpulmonary thermodilution for measuring cardiac output in piglets. Pediatr Anaesth 17(8):749–755

12.

Osypka M, Soleymani S, Seri I, Noori S (2012) Assessment of cardiac output in neonates: techniques using the Fick principle, pulse wave form analysis, and electrical impedance. In: Kleinman CS, Seri I (eds) Hemodynamics and cardiology: neonatology questions and controversies, 2nd edn. Saunders, Philadelphia

13.

Rauch R, Welish E, Lansdell N, Burrill E, Jones J, Robinson T, Bock D, Clarson C, Filler G, Norozi K (2013) Non-invasive measurement of cardiac output in obese children and adolescents: comparison of electrical cardiometry and transthoracic Doppler echocardiography. J Clin Monit Comput 27(4):187–193

14.

Rowland DG, Gutgesell HP (1995) Noninvasive assessment of myocardial contractility, preload, and afterload in healthy newborn infants. Am J Cardiol 75(12):818–821

15.

Schubert S, Schmits T, Weiss M, Nagdyman N, Huebler M, Alexi-Meskishvili V, Berger F, Stiller B (2008) Continuous, non-invasive techniques to determine cardiac output in children after cardiac surgery: evaluation of transesophageal Doppler and electric velocimetry. J Clin Monit Comput 22(4):299–307

16.

Teixeira LS, Shivananda SP, Stephens D, Van Arsdell G, McNamara PJ (2008) Postoperative cardiorespiratory instability following ligation of the preterm ductus arteriosus is related to early need for intervention. J Perinatol 28(12):803–810

17.

Tomaske M, Knirsch W, Kretschmar O, Woitzek K, Balmer C, Schmitz A, Bauersfeld U, Weiss M (2008) Cardiac output measurement in children: comparison of Aesculon cardiac output monitor and thermodilution. Br J Anaesth 100(4):517–520

18.

Wong J, Agus MS, Steil GM (2013) Cardiac parameters in children recovered from acute illness as measured by electrical cardiometry and comparisons to the literature. J Clin Monit Comput 27(1):81–91

19.

Wong J, Dorney K, Hannon M, Steil GM (2014) Cardiac output assessed by non-invasive monitoring is associated with ECG changes in children with critical asthma. J Clin Monit Comput 28(1):75–82

20.

Yeh TF, Raval D, Luken J, Thalji A, Lilien L, Pildes RS (1981) Clinical evaluation of premature infants with patent ductus arteriosus: a scoring system with echocardiogram, acid-base, and blood gas correlations. Crit Care Med 9(9):655–657

21.

Zoremba N, Bickenbach J, Krauss B, Rossaint R, Kuhlen R, Schalte G (2007) Comparison of electrical velocimetry and thermodilution techniques for the measurement of cardiac output. Acta Anaesthesiol Scand 51(10):1314–1319
Acknowledgments
The authors are grateful to the Statistics Center for Clinical Research of Chang Gung Memorial Hospital for their assistance in statistical analyses.
Conflict of interest
The authors declare that there are no conflicts of interest in this study.
Additional information
Reyin Lien and Kai-Hsiang Hsu contributed equally to this work.
Communicated by Patrick Van Reempts
About this article
Cite this article
Lien, R., Hsu, K., Chu, J. et al. Hemodynamic alterations recorded by electrical cardiometry during ligation of ductus arteriosus in preterm infants. Eur J Pediatr 174, 543–550 (2015). https://doi.org/10.1007/s00431-014-2437-9
Received:

Revised:

Accepted:

Published:

Issue Date:
Keywords
Cardiac output

Ductus arteriosus

Electrical cardiometry

Hemodynamic

Preterm