Abstract
Vitamin D receptor (VDR) is a potential candidate gene for community-acquired pneumonia (CAP). Examining the susceptibility VDR gene for CAP is essential for early intervention, prevention of related complications, and improvement of outcome. A case-control study was performed to examine the association between rs2239185 of VDR gene and CAP among children in Chinese Han population. Polymerase chain reaction and direct sequencing were used to genotype rs2239185 in 91 CAP children and 94 healthy children. For rs2239185, individuals with TT genotype showed a significantly higher risk of CAP than those with CC plus CT genotypes (P = 0.008). The occurrence of T allele of rs2239185 was significantly more frequent in CAP children than those in normal controls (P = 0.045).We found through stratification analysis that CAP children with systemic inflammatory response syndrome (SIRS), leukocyte count (WBC) >10 × 109/L, C-reactive protein (CRP) >25 mg/L, procalcitonin (PCT) >2 ng/mL, and pediatric critical illness score <80 scores showed significantly higher frequency of TT genotype than those in normal controls (P = 0.0012, 0.0035, 0.0005, 0.0002, and 0.0021, respectively).
Conclusion: TT genotype of rs2239185 in VDR gene might be one of the potential genetic risk factors for CAP, and T allele of rs2239185 might be associated with the susceptibility to CAP and the severity of CAP.
This is a preview of subscription content, log in to check access.
Access options
Buy single article
Instant access to the full article PDF.
US$ 39.95
Price includes VAT for USA
Subscribe to journal
Immediate online access to all issues from 2019. Subscription will auto renew annually.
US$ 199
This is the net price. Taxes to be calculated in checkout.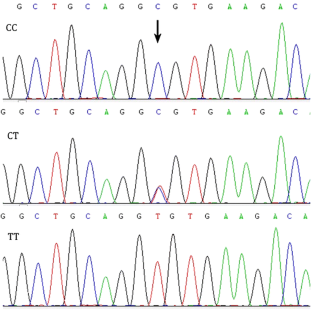 Abbreviations
CAP:

Community-acquired pneumonia

CI:

Confidence intervals

CRP:

C-reactive protein

OR:

Odds ratios

PCIS:

Pediatric critical illness score

PCR:

Polymerase chain reaction

PCT:

Procalcitonin

SIRS:

Systemic inflammatory response syndrome

SNPs:

Single nucleotide polymorphisms

VDR:

Vitamin D receptor

WBC:

Leukocyte count
References
1.

Baig S, Moatter T (2010) Vitamin D is not just about healthy bones anymore. J Coll Physicians Surg Pak 20(6):355

2.

Ban Y, Ban Y, Taniyama M, Katagiri T (2000) Vitamin D receptor initiation codon polymorphism in Japanese patients with Graves' disease. Thyroid 10(5):375–380

3.

Ban Y, Taniyama M, Ban Y (2000) Vitamin D receptor gene polymorphism is associated with Graves' disease in the Japanese population. J Clin Endocrinol Metab 85(12):639–4643

4.

Baqui AH, Black RE, Arifeen SE, Hill K, Mitra SN, al Sabir A (1998) Causes of childhood deaths in Bangladesh: results of a nationwide verbal autopsy study. Bull World Health Organ 76(2):161

5.

Bellamy R, Ruwende C, Corrah T, McAdam KPWJ, Thursz M, Whittle HC, Hill AVS (1999) Tuberculosis and chronic hepatitis B virus infection in Africans and variation in the vitamin D receptor gene. J Infect Dis 179(3):721–724

6.

Boussekey N, Leroy O, Alfandari S, Devos P, Georges H, Guery B (2006) Procalcitonin kinetics in the prognosis of severe community-acquired pneumonia. Intensive Care Med 32(3):469–472

7.

Boussekey N, Leroy O, Georges H, Devos P, d'Escrivan T, Guery B (2005) Diagnostic and prognostic values of admission procalcitonin levels in community-acquired pneumonia in an intensive care unit. Infection 33(4):257–263

8.

Chang TJ, Lei HH, Yeh JI, Chiu KC, Lee KC, Chen MC, Chuang LM (2000) Vitamin D receptor gene polymorphisms influence susceptibility to type 1 diabetes mellitus in the Taiwanese population. Clin Endocrinol (Oxf) 52(5):575–580

9.

Cherian T (2003) WHO standard radiological definitions. Proceedings from a WHO consultative forum on ARI. World Health Organization, Geneva

10.

Chiu KC, Chuang LM, Yoon C (2001) The vitamin D receptor polymorphism in the translation initiation codon is a risk factor for insulin resistance in glucose tolerant Caucasians. BMC Med Genet 2(1):2

11.

D'Ambrosio D, Cippitelli M, Cocciolo MG, Mazzeo D, Di Lucia P, Lang R, Sinigaglia F, Panina-Bordignon P (1998) Inhibition of IL-12 production by 1,25-dihydroxyvitamin D3. Involvement of NF-kappaB down regulation in transcriptional repression of the p40 gene. J Clin Investig 101(1):252

12.

Gasser CS, Simonsen CC, Schilling JW, Schimke RT (1982) Expression of abbreviated mouse dihydrofolate reductase genes in cultured hamster cells. Proc Natl Acad Sci U S A 79(21):6522

13.

Gigane A, Torcianti M, Boldrini E, Manzotti S, Falcone G, Greco F, Mattioli-Belmonte M (2008) Vitamin K and D association stimulates in vitro osteoblast differentiation of fracture site derived human mesenchymal stem cells. J Biol Regul Homeost Agents 22(1):35–44

14.

Goldstein B, Giroir B, Randolph A, International Consensus Conference on Pediatric Sepsis (2005) International Pediatric sepsis consensus conference: definitions for sepsis and organ dysfunction in pediatrics. Pediatr Crit Care Med 6(1):2–8

15.

Gombart AF, Borregaard N, Koeffler HP (2005) Human cathelicidin antimicrobial peptide (CAMP) gene is a direct target of the vitamin D receptor and is strongly up-regulated in myeloid cells by 1,25-dihydroxyvitamin D3. FASEB J 19(9):1067–1077

16.

Gruss P, Lai CJ, Dhar R, Khoury G (1979) Splicing as a requirement for biogenesis of functional 16S mRNA of simian virus 40. Proc Natl Acad Sci U S A 76(9):4317–4321

17.

Hamer DH, Leder P, Hamer DH, Leder P, Hamer DH, Leder P (1979) Splicing and the formation of stable RNA. Cell 18(4):1299–1302

18.

Hamer DH, Smith KD, Boyer SH, Leder P (1979) SV40 recombinants carrying rabbit β-globin gene coding sequences. Cell 17(3):725–735

19.

Harbarth S, Holeckova K, Froidevaux C, Pittet D, Ricou B, Grau GE, Vadas L, Pugin J (2001) Diagnostic value of procalcitonin, interleukin-6, and interleukin-8 in critically ill patients admitted with suspected sepsis. Am J Respir Crit Care Med 64(3):396–402

20.

Janssen R, Bont L, Siezen CLE, Hodemaekers HM, Ermers MJ, Doornbos G, Slot RV, Wijmenga C, Goeman JJ, Kimpen JLL, Houwelingen HSV, Kimman TG, Hoebee B (2007) Genetic susceptibility to respiratory syncytial virus bronchiolitis is predominantly associated with innate immune genes. J Infect Dis 196(6):826–834

21.

Krieg EF, Butler MA, Chang MH, Liu T, Yesupriya A, Dowling N, Lindegren ML (2010) Lead and cognitive function in VDR genotypes in the third National Health and Nutrition Examination Survey. Neurotoxicol Terato 32(2):262–272

22.

Lai CJ, Khoury G (1979) Deletion mutants of simian virus 40 defective in biosynthesis of late viral mRNA. Proc Natl Acad Sci U S A 76(1):71–75

23.

Lemire JM, Archer DC, Beck L, Spiegelberg HL (1995) Immunosuppressive actions of 1,25-dihydroxyvitamin D3: preferential inhibition of Th1 functions. J Nutr 125(6Supp):1704S–1708S

24.

Levy MM, Fink MP, Marshall JC, Abraham E, Angus D, Cook D, Cohen J, Opal SM, Vincent JL, Ramsay G (2003) 2001 SCCM/ESICM/ACCP/ATS/SIS International Sepsis Definitions Conference. Intensive Care Med 29(4):530–538

25.

Liu PT, Stenger S, Li H, Wenzel L, Tan BH, Krutzik SR, Ochoa MT, Schauber J, Wu K, Meinken C, Kamen DL, Wagner M, Bals R, Steinmeyer A, Zügel U, Gallo RL, Eisenberg D, Hewison M, Hollis BW, Adams JS, Bloom BR, Modlin RL (2006) Toll-like receptor triggering of a vitamin D-mediated human antimicrobial response. Science 311(5768):1770–1773

26.

Liu W, Zhang CY, Wu XM, Tian L, Li CZ, Zhao QM, Zhang PH, Yang SM, Yang H, Zhang XT, Cao WC (2003) A case-control study on the vitamin D receptor gene polymorphisms and susceptibility to pulmonary tuberculosis. Zhonghua Liu Xing Bing Xue Za Zhi 24(5):389–392

27.

Lu Q, Li CC (2013) Comment on children with community-acquired pneumonia. Chin J Pediatr 51(10):721–724

28.

Markowitz RI, Ruchelli E (1998) Pneumonia in infants and children: radiological pathological correlation. Semin Roentgenol 33(2):151–162

29.

Matheu V, Bäck O, Mondoc E, Issazadeh-Navikas S (2003) Dual effects of vitamin D-induced alteration of TH1/TH2 cytokine expression: enhancing IgE production and decreasing airway eosinophilia in murine allergic airway disease. J Allergy Clin Immuno 112(3):585–592

30.

McDermott MF, Ramachandran A, Ogunkolade BW, Aganna E, Curtis D, Boucher BJ, Snehalatha C, Hitman GA (1997) Allelic variation in the vitamin D receptor influences susceptibility to IDDM in Indian Asians. Diabetologia 40(8):971–975

31.

Meisner M, Rotgeri A, Brunkhorst FM (2000) A semi-quantitative point-of-care test for the measurement of procalcitonin. J Lab Med 24:76–85

32.

Müller B, Becker KL, Schächinger H, Rickenbacher PR, Huber PR, Zimmerli W, Ritz R (2000) Calcitonin precursors are reliable markers of sepsis in a medical intensive care unit. Crit Care Med 28((4):977–983

33.

Nyström PO (1998) The systemic inflammatory response syndrome: definitions and aetiology. J Antimicrob Chemother 41(suppl 1):1–7

34.

Pichler J, Gerstmayr M, Szépfalusi Z, Urbanek R, Peterlik M, Willheim M (2002) 1 alpha,25(OH)2D3 inhibits not only Th1 but also Th2 differentiation in human cord blood T cells. Pediatr Res 52(1):12–18

35.

Poon AH, Laprise C, Lemire M, Montpetit A, Sinnett D, Schurr E, Hudson TJ (2004) Association of vitamin D receptor genetic variants with susceptibility to asthma and atopy. Am J Respir Crit Care Med 170(9):967–973

36.

Raby BA, Lazarus R, Silverman EK, Lake S, Lange C, Wjst M, Weiss ST (2004) Association of vitamin D receptor gene polymorphisms with childhood and adult asthma. Am J Respir Crit Care Med 170(10):1057–1065

37.

Reichel H, Koeffler HP, Tobler A, Norman AW (1987) 1 alpha,25-Dihydroxyvitamin D3 inhibits gamma-interferon synthesis by normal human peripheral blood lymphocytes. Proc Natl Acad Sci U S A 84(10):3385–3389

38.

Ren XX, Song GW (2006) Pediatric risk of mortality III score and pediatric critical illness score. J Appl Clin Pediatr 21(6):382–384

39.

Ren XX, Song GW, Liao B, Chen SX (2003) Pediatric critical illness score and systemic inflammatory response syndrome in assessing the severity and prognosis of pediatric patients. J Appl Clin Pediatr 18(2):105–107

40.

Roth DE, Jones AB, Prosser C, Robinson JL, Vohra S (2008) Vitamin D receptor polymorphisms and the risk of acute lower respiratory tract infection in early childhood. J Infect Dis 197(5):676–680

41.

Roy S, Frodsham A, Saha B, Hazra SK, Mascie-Taylor CGN, Hill AVS (1999) Association of vitamin D receptor genotype with leprosy type. J Infect Dis 179(1):187–191

42.

Rudan I, Boschi-Pinto C, Biloglav Z, Mulholland K, Campbell H (2008) Epidemiology and etiology of childhood pneumonia. Bull World Health Organ 86(5):408–416B

43.

Sandra Tjabringa G, Rabe KF, Hiemstra PS (2005) The human cathelicidin LL-37: a multifunctional peptide involved in infection and inflammation in the lung. Pulm Pharmacol Ther 18:321–327

44.

Selvaraj P, Narayanan PR, Reetha AM (2000) Association of vitamin D receptor genotypes with the susceptibility to pulmonary tuberculosis in female patients & resistance in female contacts. Indian J Med Res 111:172–179

45.

Selwyn BJ et al (1990) The epidemiology of acute respiratory tract infection in young children: comparison of findings from several developing countries. Clin Infect Dis 12:S870–S888

46.

Sørensen OE, Follin P, Johnsen AH, Calafat J, Tjabringa GS, Hiemstra PS, Borregaard N et al (2001) Human cathelicidin, hCAP-18, is processed to the antimicrobial peptide LL-37 by extracellular cleavage with proteinase 3. Blood 97:3951–3959

47.

Tang J, Zhou R, Luger D, Zhu W, Silver PB, Grajewski RS, Su SB, Chan CC, Adorini L, Caspi RR (2009) Calcitriol suppresses antiretinal autoimmunity through inhibitory effects on the Th17 effector response. J Immunol 182(8):4624–4632

48.

The Group of Emergency, Chinese pediatric Society, and Chinese Medical Association (2006) Pediatric septic shock (septic shock) treatment recommended program. China Pediatr Emerg Med 13(4):313–315

49.

The Subspecialty Group of Respiratory Diseases, The Editorial Board, Chinese Journal of Pediatrics (2007) Guidelines for management of children community acquired pneumonia. Chin J Pediatr 45(3):223–226

50.

Wang TT, Tavera-Mendoza LE, Laperriere D, Libby E, Burton MacLeod N, Nagai Y, Bourdeau V, Lallemant B, Zhang R, Mader S, White JH (2005) Large-scale in silico and microarray-based identification of direct 1,25-dihydroxyvitamin D3 target genes. Mol Endocrinol 19(11):2685–2695

51.

Wilkinson RJ, Llewelyn M, Toossi Z, Patel P, Pasvol G, Lalvani A, Wright D, Latif M, Davidson RN (2000) Influence of vitamin D deficiency and vitamin D receptor polymorphisms on tuberculosis among Gujarati Asians in west London: a case-control study. Lancet 355(9204):618–621

52.

World Health Organization (1995) The management of acute respiratory infections in children. Practical guidelines for outpatient care. World Health Organization, Geneva

53.

World Health Organization (2001) Standardization of interpretation of chest radiographs for the diagnosis of pneumonia in children. In WHO/V&B/01.35. Pneumonia Vaccine Trials Investigator's Group. World Health Organization, Geneva
Acknowledgments
At the point of finishing this paper, I would like to express my sincere thanks to all those who have lent me hands in the course of my writing this paper. First of all, I would like to take this opportunity to show my sincere gratitude to my supervisor, Mrs Zhang, who has given me so much useful advices on my writing and has tried her best to improve my paper. Secondly, I would like to express my gratitude to my teachers who offered me references and information on time. Without their help, it would be much harder for me to finish my study and this paper.
Conflict of interest
We declare that we have no conflicts of interest.
Ethical standards
The protocols for the study and the written consent were approved by the ethics committee of Capital Institute of Pediatrics at Beijing, China (Approval ID SHERLL 2013075), and have therefore been performed in accordance with the ethical standards laid down in the 1964 Declaration of Helsinki and its later amendments.
Additional information
Wei Li and Linying Guo contributed equally to this work.
Communicated by David Nadal
About this article
Cite this article
Li, W., Guo, L., Li, H. et al. Polymorphism rs2239185 in vitamin D receptor gene is associated with severe community-acquired pneumonia of children in Chinese Han population: a case-control study. Eur J Pediatr 174, 621–629 (2015). https://doi.org/10.1007/s00431-014-2433-0
Received:

Revised:

Accepted:

Published:

Issue Date:
Keywords
Vitamin D receptor

Community-acquired pneumonia

rs2239185

SIRS