Abstract
Congenital central hypoventilation syndrome (CCHS) is characterised by hypoventilation most marked during sleep and is often associated with abnormalities of the autonomic nervous system. We report an infant with severe CCHS and Hirschsprung disease in whom, while awaiting genotyping, the diagnosis was facilitated by the results of a carbon dioxide (CO2) sensitivity study in the neonatal period and was confirmed by paired-like homeobox 2B (PHOX2B) mutational analysis. The infant had no ventilatory response to increased inspired carbon dioxide levels when either awake or asleep suggesting he had a severe form for CCHS; indeed, he subsequently demonstrated to have the 20/31 genotype. This is the first case report of a genotype-confirmed CCHS disease in a neonate with Hirschsprung disease further characterised by a ventilatory challenge.
Conclusion: CO2 sensitivity status may assist in determining the severity of the CCHS.
This is a preview of subscription content, log in to check access.
Access options
Buy single article
Instant access to the full article PDF.
US$ 39.95
Price includes VAT for USA
Subscribe to journal
Immediate online access to all issues from 2019. Subscription will auto renew annually.
US$ 199
This is the net price. Taxes to be calculated in checkout.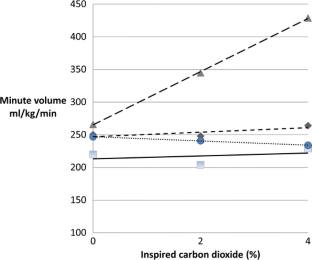 Abbreviations
CCHS:

Congenital central hypoventilation syndrome

CO2 :

Carbon dioxide

PHOX2B:

Homeobox 2B (human gene)

Phox2b:

Homeobox 2B (mouse gene)

RTN:

Retrotrapezoid nucleus

SIMV:

Synchronised intermittent mandatory ventilation
References
1.

Amiel J, Laudier B, Attie-Bitach T, Trang H, de Pontual L, Gener B, Trochet D, Etchevers H, Ray P, Simonneau M, Vekemans M, Munnich A, Gaultier C, Lyonnet S (2003) Polyalanine expansion and frameshift mutations of the paired-like homeobox gene PHO2B in congenital central hypoventilation syndrome. Nat Genet 33:459–461

2.

Carroll MS, Patwari PP, Kenny AS, Brogadir CD, Stewart TM, Weese-Mayer DE (2014) Residual chemosensitivity to ventilatory challenges in genotyped congenital central hypoventilation syndrome. J Appl Physiol 116:439–450

3.

Dubreuil V, Ramanantsoa N, Trochet D, Vaubourg V, Amiel J, Gallego J, Brunet JF, Goridis C (2008) A human mutation in Phox2B causes lack of CO2 chemosensitivity, fatal central apnea and specific loss of parafacial neurons. Proc Natl Acad Sci U S A 105:1067–1072

4.

Haddad GG, Mazza NM, Defendini R, Blanc WA, Driscoll JM, Epstein MA, Mellins RB (1978) Congenital failure of automatic control of ventilation, gastrointestinal motility and heart rate. Medicine (Baltimore) 57:517–526

5.

Lingappa L, Panigrahi NK, Chirla DK, Burton-Jones S, Williams MM (2012) Congenital central hypoventilation syndrome with PHOX2B gene mutation. Indian J Pediatr 79:1526–1528

6.

Da L, Rand CM, Zhou L, Berry-Kravis EM, Jennings LJ, Yu M, Weese-Mayer DE (2009) Paired-like homeobox gene 2B (PHOX2B) and congenital central hypoventilation syndrome (CCHS): genotype/phenotype correlation in cohort of 347 cases. Am J Respir Crit Care Med 179:A6341

7.

Mellins RB, Balfour HH Jr, Turino GM, Winters RW (1970) Failure of automatic control of ventilation (Ondine's curse). Report of an infant born with this syndrome and review of the literature. Medicine 49:487–504

8.

Milerad J, Lagercrantz H, Lofgren O (1985) Alveolar hypoventilation treated with medroxyprogesterone. Arch Dis Child 60:150–155

9.

Patwari PP, Carroll MS, Rand CM, Kumar R, Harper R, Weese-Mayer DE (2010) Congenital central hypoventilation syndrome and the PHOX2B gene: a model of respiratory and autonomic dysregulation. Respir Physiol Neurobiol 173:322–335

10.

Rigatto H, Brady JP, de la TorreVerduzco R (1975) Chemoreceptor reflexes in preterm infants: II. The effect of gestational and postnatal age on the ventilatory response to inhaled carbon dioxide. Pediatrics 55:614–620

11.

Spengler CM, Gozal D, Shea SA (2001) Chemoreceptive mechanisms elucidated by studies of congenital central hypoventilation syndrome. Respir Physiol 129:247–255

12.

Trang H, Dehan M, Beaufils F, Zaccaria I, Amiel J, Gaultier C, French CCHS Working Group (2005) The French congenital central hypoventilation syndrome registry: general data, phenotype, and genotype. Chest 127:72–79

13.

Weese-Mayer DE, Berry-Kravis EM, Zhou L, Maher BS, Silvestri JM, Curran ME, Marazita ML (2003) Idiopathic congenital central hypoventilation syndrome: analysis of genes pertinent to early autonomic nervous system embryologic development and identification of mutations in PHOX2B. Am J Med Genet A 123:267–278

14.

Weese-Mayer DE, Berry-Kravis EM, Ceccherini I, Keens TG, Loghmanee DA, Trang H (2010) An official ATS clinical policy statement: congenital central hypoventilation syndrome: genetic basis, diagnosis, and management. Am J Respir Crit Care Med 181:626–644
Acknowledgments
Conflict of interest
None.
Funding
AG is an NIHR Senior Investigator. The research was supported by the National Institute for Health Research (NIHR) Biomedical Research Centre based at Guy's and St Thomas' NHS Foundation Trust and King's College London. The views expressed are those of the author(s) and not necessarily those of the NHS, the NIHR or the Department of Health.
Contributor statement
Dr. Rossor undertook the physiological assessments under Professor Greenough and Dr. Bhat's guidance. All authors contributed to the writing of the manuscript.
Additional information
Communicated by Peter de Winter
About this article
Cite this article
Rossor, T., Soe, A., Bhat, R. et al. Congenital central hypoventilation syndrome and carbon dioxide sensitivity. Eur J Pediatr 173, 1727–1730 (2014). https://doi.org/10.1007/s00431-014-2432-1
Received:

Accepted:

Published:

Issue Date:
Keywords
Congenital central hypoventilation syndrome

Autonomic nervous system

Chemoreceptor

Ventilation