Abstract
Our aim was to determine whether viral lower respiratory tract infections (LRTIs) adversely affect prematurely born infants' lung function at follow up. Seventy infants, median gestational age 34 (range, 24–35) weeks were prospectively followed; 32 had an RSV (n = 14) or another respiratory viral (n = 18) LRTI (viral LRTI group) and 38 had no LRTI (no LRTI group). Six of the viral LRTI and five of the no LRTI group had been hospitalised. Nasopharyngeal aspirates (NPAs) obtained whenever the infants had an LRTI. Lung function (functional residual capacity [FRCHe], compliance [Crs] and resistance [Rrs] of the respiratory system) was measured at 36 weeks postmenstrual age (PMA) and 1 year corrected. At 1 year, lung volume (FRCpleth) and airways resistance (Raw) were also assessed. There were no significant differences in the lung function of the two groups at 36 weeks PMA but at 1 year, the viral LRTI compared to the no LRTI group had a higher mean Raw (23 versus 17 cm H2O/l/s, p = 0.0068), the differences remained significant after adjustment. Conclusion: These results suggest viral LRTIs, regardless of whether hospitalisation is required, adversely affect prematurely born infants' airway resistance at follow up.
This is a preview of subscription content, log in to check access.
Access options
Buy single article
Instant access to the full article PDF.
US$ 39.95
Price includes VAT for USA
Subscribe to journal
Immediate online access to all issues from 2019. Subscription will auto renew annually.
US$ 199
This is the net price. Taxes to be calculated in checkout.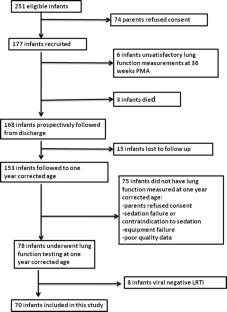 Abbreviations
BPD:

Bronchopulmonary dysplasia

Crs:

Compliance of the respiratory system

FRCHe :

Functional residual capacity (by helium gas)

FRCpleth:

Functional residual capacity (by plethysmograph)

LRTI:

Lower respiratory tract infection

NPA:

Nasopharyngeal aspirate

PCR:

Polymerase chain reaction

PMA:

Post menstrual age

Raw:

Airway resistance

Rrs:

Resistance of the respiratory system

RSV:

Respiratory syncytial virus
References
1.

Brittain-Long R, Nord S, Olofsson S, Brittain-Long R, Nord S (2008) Multiplex real-time PCR for detection of respiratory tract infections. J Clin Virol 41:53–56

2.

Broughton S, Bhat R, Roberts A, Zuckerman M, Rafferty G, Greenough A (2006) Diminished lung function, RSV infection, and respiratory morbidity in prematurely born infants. Arch Dis Child 91:26–30

3.

Broughton S, Sylvester KP, Fox G, Zuckerman M, Smith M, Milner AD, Rafferty GF, Greenough A (2007) Lung function in prematurely born infants after viral lower respiratory tract infections. Pediatr Infect Dis J 26:1019–1024

4.

Cassimos DC, Tsalkidis A, Tripsianis GA, Stogiannidou A, Anthracopoulos M, Ktenidou-Kartali S, Aivazis V, Gardikis S, Chatzimichael A (2008) Asthma, lung function and sensitization in school children with a history of bronchiolitis. Pediatr Int 50:51–56

5.

Clark SJ (2000) Respiratory syncytial virus infection in high risk infants and the potential impact of prophylaxis in a United Kingdom cohort. Arch Dis Child 83:313–316

6.

Drysdale SB, Alcazar-Paris M, Wilson T, Smith M, Zuckerman M, Broughton S, Rafferty GF, Peacock JL, Johnston SL, Greenough A (2013) Rhinovirus infection and healthcare utilisation in prematurely born infants. Eur Respir J 42:1020–1036

7.

Drysdale SB, Wilson T, Alcazar M, Broughton S, Zuckerman M, Smith M, Rafferty GF, Johnston SL, Greenough A (2011) Lung function prior to viral lower respiratory tract infections in prematurely born infants. Thorax 66:468–473

8.

Gaultier C, Fletcher ME, Beardsmore C, England S, Motoyama E (1995) Respiratory function measurements in infants: measurement conditions. Working Group of the European Respiratory Society and the American Thoracic Society. Eur Respir J 8:1057–1066

9.

Greenough A, Alexander J, Boit P, Boorman J, Burgess S, Burke A, Chetcuti PA, Cliff I, Lenney W, Lytle T, Morgan C, Raiman C, Shaw NJ, Sylvester KP, Turner J (2009) School age outcome of hospitalisation with respiratory syncytial virus infection of prematurely born infants. Thorax 64:490–495

10.

Guilbert TW, Singh AM, Danov Z, Evans MD, Jackson DJ, Burton R, Roberg KA, Anderson EL, Pappas TE, Gangnon R, Gern JE, Lemanske RF Jr (2011) Decreased lung function after preschool wheezing rhinovirus illnesses in children at risk to develop asthma. J Allergy Clin Immunol 128:532–538

11.

Hall CB, Hall WJ, Gala CL, MaGill FB, Leddy JP (1984) Long-term prospective study in children after respiratory syncytial virus infection. J Pediatr 105:358–364

12.

Henry RL, Hodges IGC, Milner AD (1983) Respiratory problems 2 years after acute bronchiolitis. Arch Dis Child 58:713–716

13.

Hey EN (1969) The relation between environmental temperature and oxygen consumption in the new-born baby. J Physiol 200:589–603

14.

Hofhuis W, Huysman MWA, van der Wiel EC, Holland WP, Hop WC, Brinkhorst G, de Jongste JC, Merkus PJ (2002) Worsening of V'maxFRC in infants with chronic lung disease in the first year of life: a more favorable outcome after high-frequency oscillation ventilation. Am J Respir Crit Care Med 166:1539–1543

15.

Hoo AF, Dezateux C, Henschen M, Costeloe K, Stocks J (2002) Development of airway function in infancy after preterm delivery. J Pediatr 141:652–658

16.

Kotaniemi-Syrjänen A, Reijonen TM, Korhonen K, Waris M, Vainionpää R, Korppi M (2008) Wheezing due to rhinovirus infection in infancy: bronchial hyperresponsiveness at school age. Pediatr Int 50:506–510

17.

Lu X, Chittaganpitch M, Olsen SJ, Mackay IM, Sloots TP, Fry AM, Erdman DD (2006) Real-time PCR assays for detection of bocavirus in human specimens. J Clin Microbiol 44:3231–3235

18.

McConnochie KM, Mark JD, McBride JT, Hall WJ, Brooks JG, Klein SJ, Miller RL, McInerny TK, Nazarian LF, MacWhinney JB (1985) Normal pulmonary function measurements and airway reactivity in childhood after mild bronchiolitis. J Pediatr 107:54–58

19.

Morris MG, Gustafson P, Tepper R, Gappa M, Stocks J, ERS/ATS Task Force on Standards for Infant Respiratory Function Testing (2001) The bias flow nitrogen washout technique for measuring the functional residual capacity in infants, ERS/ATS Task Force on Standards for Respiratory Function Testing. Eur Respir J 1:529–587

20.

Nix WA, Maher K, Johansson ES, Lindberg AM, Pallansch MA, Oberste MS (2008) Detection of all known parechoviruses by real-time PCR. J Clin Microbiol 46:2519–2524

21.

Rolfe KJ, Parmar S, Mururi D, Wreghitt TG, Jalal H, Zhang H, Curran MD (2007) An internally controlled, one-step, real-time RT-PCR assay for norovirus detection and genogrouping. J Clin Virol 39:318–321

22.

Sigurs N, Aljassim F, Kjellman B, Robinson PD, Sigurbergsson F, Bjarnason R, Gustafsson PM (2010) Asthma and allergy patterns over 18 years after severe RSV bronchiolitis in the first year of life. Thorax 65:1045–1052

23.

Stein RT, Sherrill D, Morgan WJ, Holberg CJ, Halonen M, Taussig LM, Wright AL, Martinez FD (1999) Respiratory syncytial virus in early life and risk of wheeze and allergy by age 13 years. Lancet 354(9178):541–545

24.

Stokes GM, Milner AD, Hodges IG, Groggins RC (1981) Lung function abnormalities after acute bronchiolitis. J Pediatr 98:871–874

25.

Tepper RS, Rosenberg DEH (1992) Airway responsiveness in infants following bronchiolitis. Pediatr Pulmonol 13:6–10

26.

Thomas M, Rafferty GF, Limb ES, Peacock JL, Calvert SA, Marlow N, Milner AD, Greenough A (2004) Pulmonary function at follow-up of very preterm infants from the United Kingdom oscillation study. Am J Respir Crit Care Med 169:868–872

27.

Turner SW, Young S, Landau LI, Le Souëf PN (2002) Reduced lung function both before bronchiolitis and at 11 years. Arch Dis Child 87:417–420

28.

Yuksel B, Greenough A (1994) Measurement of thoracic gas volume in patients born prematurely: should occlusion be made at end-inspiration or end-expiration? Pediatr Pulmonol 18:295–298
Funding
The research was supported by the National Institute for Health Research (NIHR) Biomedical Research Centre based at Guy's and St Thomas' NHS Foundation Trust and King's College London. The views expressed are those of the author(s) and not necessarily those of the NHS, the NIHR or the Department of Health.
MA and TW were supported by Abbott Laboratories. SLJ is supported by the Asthma UK Clinical Chair CH11SJ, and ERC FP7 Advanced grant 233015. SLJ and AG are MRC and Asthma UK Centre in Allergic Mechanisms of Asthma Investigators, supported by MRC Centre Grant G1000758. AG and SLJ are NIHR Senior Investigators.
Conflict of interest
Abbott Laboratories, who supported Mrs Wilson and Mrs Alcazar, market palivizumab a monoclonal antibody against RSV.
Contributorship list
AG and SLJ designed the study. SBD, MA and TW collected the data, SBD, MS and MZ undertook the viral studies. JL and JLP undertook the statistical analysis. SBD, MP, SB and GFR were involved in the lung function studies. All authors were involved in producing the manuscript.
Additional information
Communicated by Patrick Van Reempts
About this article
Cite this article
Drysdale, S.B., Lo, J., Prendergast, M. et al. Lung function of preterm infants before and after viral infections. Eur J Pediatr 173, 1497–1504 (2014). https://doi.org/10.1007/s00431-014-2343-1
Received:

Revised:

Accepted:

Published:

Issue Date:
Keywords
Airways resistance

Resistance of the respiratory system

Respiratory syncytial virus

Rhinovirus