Abstract
Treatment of parapneumonic empyema (PE) consists of intravenous antibiotics and, in case of large effusions and persisting fever, pleural chest drain (±intrapleural fibrinolytics) or video-assisted surgical intervention. We standardized the treatment for PE in our tertiary care center choosing a first-step nonsurgical approach. The aim was to evaluate the need for surgery and to collect data on disease course, outcome, and microbiology. For all children treated for PE between 2006 and 2013, data were prospectively collected concerning treatment, length of stay, duration of fever, complications, and causative agent. Of 132 children treated for PE, 20 % needed surgical intervention. Analyzed per year, the need for surgery decreased from almost 40 % in 2007 to 0 % in 2010 again increasing to 40 % although this did not reach statistical significance (p = 0.115). Median duration of "in-hospital fever" was 5 days (IQR, 3–8). The duration of fever correlated with pleural LDH (r = 0.324; p = 0.002) and pleural glucose (r = −0.248; p = 0.021) and was inversely correlated with pleural pH (r = −0.249; p = 0.046). Based on pleural PCR data, 85 % of PE were caused by Streptococcus pneumoniae (40 % serotype 1). Conclusion: After introduction of a standardized primary medical approach (chest drain ± fibrinolysis) for PE in our institution, the need for surgical rescue interventions overall remained at 20 %, which is higher than in some other reports. Difference in microbiology or disease severity could not be proven.
This is a preview of subscription content, log in to check access.
Access options
Buy single article
Instant access to the full article PDF.
US$ 39.95
Price includes VAT for USA
Subscribe to journal
Immediate online access to all issues from 2019. Subscription will auto renew annually.
US$ 199
This is the net price. Taxes to be calculated in checkout.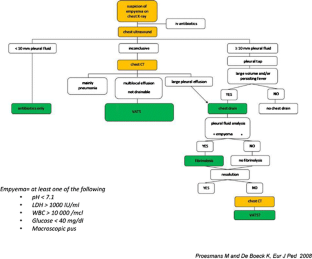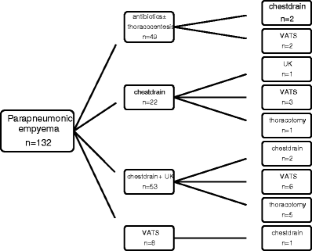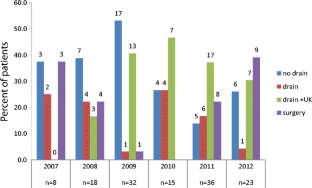 Abbreviations
LOS:

Length of stay

PE:

Parapneumonic empyema

UK:

Urokinase

VATS:

Video-assisted thoracoscopic surgery
References
1.

Andrade AL, Toscano CM, Minamisava R, Costa PS, Andrade JG (2011) Pneumococcal disease manifestation in children before and after vaccination: what's new? Vaccine 29(Suppl 3):C2–C14

2.

Balfour-Lynn IM, Abrahamson E, Cohen G, Hartley J, King S, Parikh D, Spencer D, Thomson AH, Urquhart D (2005) BTS guidelines for the management of pleural infection in children. Thorax 60(Suppl 1):i1–i21

3.

Buckingham SC, King MD, Miller ML (2003) Incidence and etiologies of complicated parapneumonic effusions in children, 1996 to 2001. Pediatr Infect Dis J 22:499–504

4.

Byington CL, Korgenski K, Daly J, Ampofo K, Pavia A, Mason EO (2006) Impact of the pneumococcal conjugate vaccine on pneumococcal parapneumonic empyema. Pediatr Infect Dis J 25:250–254

5.

Byington CL, Spencer LY, Johnson TA, Pavia AT, Allen D, Mason EO, Kaplan S, Carroll KC, Daly JA, Christenson JC, Samore MH (2002) An epidemiological investigation of a sustained high rate of pediatric parapneumonic empyema: risk factors and microbiological associations. Clin Infect Dis 34:434–440

6.

Cohen E, Mahant S, Dell SD, Traubici J, Ragone A, Wadhwa A, Connolly B, Weinstein M (2012) The long-term outcomes of pediatric pleural empyema: a prospective study. Arch Pediatr Adolesc Med 166:999–1004

7.

Colice GL, Curtis A, Deslauriers J, Heffner J, Light R, Littenberg B, Sahn S, Weinstein RA, Yusen RD (2000) Medical and surgical treatment of parapneumonic effusions: an evidence-based guideline. Chest 118:1158–1171

8.

Davies CW, Gleeson FV, Davies RJ (2003) BTS guidelines for the management of pleural infection. Thorax 58(Suppl 2):ii18–ii28

9.

Galmes J, Li Y, Rajoharison A, Ren L, Dollet S, Richard N, Vernet G, Javouhey E, Wang J, Telles JN, Paranhos-Baccala G (2012) Potential implication of new torque teno mini viruses in parapneumonic empyema in children. Eur Respir J 42:470–479

10.

Gasior AC, Knott EM, Sharp SW, Ostlie DJ, Holcomb GW 3rd, St Peter SD (2013) Experience with an evidence-based protocol using fibrinolysis as first line treatment for empyema in children. J Pediatr Surg 48:1312–1315

11.

Goossens MC, Catry B, Verhaegen J (2012) Antimicrobial resistance to benzylpenicillin in invasive pneumococcal disease in Belgium, 2003–2010: the effect of altering clinical breakpoints. Epidemiol Infect 141:490–495

12.

Grijalva CG, Zhu Y, Nuorti JP, Griffin MR (2011) Emergence of parapneumonic empyema in the USA. Thorax 66:663–668

13.

Grisaru-Soen G, Eisenstadt M, Paret G, Schwartz D, Keller N, Nagar H, Reif S (2013) Pediatric parapneumonic empyema: risk factors, clinical characteristics, microbiology, and management. Pediatr Emerg Care 29:425–429

14.

Kurt BA, Winterhalter KM, Connors RH, Betz BW, Winters JW (2006) Therapy of parapneumonic effusions in children: video-assisted thoracoscopic surgery versus conventional thoracostomy drainage. Pediatrics 118:e547–e553

15.

Lynch JP 3rd, Zhanel GG (2010) Streptococcus pneumoniae: epidemiology and risk factors, evolution of antimicrobial resistance, and impact of vaccines. Curr Opin Pulm Med 16:217–225

16.

Masson A, Menetrey C, Garnier F, Bahans C, Fargeot A, Layadi M, Soulier JL, Guigonis V (2011) Parapneumonic pleural effusion incidence in a French region before and during the antipneumococcal vaccine era. Arch Pediatr 18:846–849

17.

McKee AJ, Ives A, Balfour-Lynn IM (2011) Increased incidence of bronchopulmonary fistulas complicating pediatric pneumonia. Pediatr Pulmonol 46:717–721

18.

Padman R, King KA, Iqbal S, Wolfson PJ (2007) Parapneumonic effusion and empyema in children: retrospective review of the duPont experience. Clin Pediatr (Phila) 46:518–522

19.

Paraskakis E, Vergadi E, Chatzimichael A, Bouros D (2012) Current evidence for the management of paediatric parapneumonic effusions. Curr Med Res Opin 28:1179–1192

20.

Picard E, Joseph L, Goldberg S, Mimouni FB, Deeb M, Kleid D, Raveh D (2012) Predictive factors of morbidity in childhood parapneumonic effusion-associated pneumonia: a retrospective study. Pediatr Infect Dis J 29:840–843

21.

Pillai D, Song X, Pastor W, Ottolini M, Powell D, Wiedermann BL, DeBiasi RL (2011) Implementation and impact of a consensus diagnostic and management algorithm for complicated pneumonia in children. J Investig Med 59:1221–1227

22.

Playfor SD, Smyth AR, Stewart RJ (1997) Increase in incidence of childhood empyema. Thorax 52:932

23.

Proesmans M, De Boeck K (2009) Clinical practice: treatment of childhood empyema. Eur J Pediatr 168:639–645

24.

Rees JH, Spencer DA, Parikh D, Weller P (1997) Increase in incidence of childhood empyema in West Midlands, UK. Lancet 349:402

25.

Reinert R, Jacobs MR, Kaplan SL (2010) Pneumococcal disease caused by serotype 19A: review of the literature and implications for future vaccine development. Vaccine 28:4249–4259

26.

Schultz KD, Fan LL, Pinsky J, Ochoa L, Smith EO, Kaplan SL, Brandt ML (2004) The changing face of pleural empyemas in children: epidemiology and management. Pediatrics 113:1735–1740

27.

Sonnappa S, Jaffe A (2007) Treatment approaches for empyema in children. Paediatr Respir Rev 8:164–170

28.

Strachan RE, Cornelius A, Gilbert GL, Gulliver T, Martin A, McDonald T, Nixon G, Roseby R, Ranganathan S, Selvadurai H, Smith G, Soto-Martinez M, Suresh S, Teoh L, Thapa K, Wainwright CE, Jaffe A (2012) Pleural fluid nucleic acid testing enhances pneumococcal surveillance in children. Respirology 17:114–119

29.

Tan TQ, Mason EO Jr, Wald ER, Barson WJ, Schutze GE, Bradley JS, Givner LB, Yogev R, Kim KS, Kaplan SL (2002) Clinical characteristics of children with complicated pneumonia caused by Streptococcus pneumoniae. Pediatrics 110:1–6

30.

Thomson AH, Hull J, Kumar MR, Wallis C, Balfour Lynn IM (2002) Randomised trial of intrapleural urokinase in the treatment of childhood empyema. Thorax 57:343–347

31.

Van Ackere T, Proesmans M, Vermeulen F, Van Raemdonck D, De Boeck K (2009) Complicated parapneumonic effusion in Belgian children: increased occurrence before routine pneumococcal vaccine implementation. Eur J Pediatr 168:51–58

32.

Wong KS, Lin TY, Huang YC, Chang LY, Lai SH (2005) Scoring system for empyema thoracis and help in management. Indian J Pediatr 72:1025–1028
Conflict of interest
The authors declare no conflict of interest. This is a nonsponsored study.
Additional information
Communicated by Peter de Winter
About this article
Cite this article
Proesmans, M., Gijsens, B., Van de Wijdeven, P. et al. Clinical outcome of parapneumonic empyema in children treated according to a standardized medical treatment. Eur J Pediatr 173, 1339–1345 (2014). https://doi.org/10.1007/s00431-014-2319-1
Received:

Revised:

Accepted:

Published:

Issue Date:
Keywords
Empyema

Children

Treatment

Etiology