Abstract
Recombinant soluble human thrombomodulin (TM-α) has been shown to be useful in the treatment of disseminated intravascular coagulation (DIC) in a heparin-controlled study and has been available for clinical use in Japan since 2008. However, data on its use for neonatal DIC have not been reported from any clinical studies, so efficacy and safety were analyzed in 60 neonatal DIC patients identified in post-marketing surveillance. The DIC resolution rate as of the day after last administration of TM-α was 47.1 %, and the survival rate at 28 days after last administration was 76.7 %. Hemostatic test result profiles revealed decreased levels of fibrin/fibrinogen degradation products and increased platelet counts and antithrombin activity. Incidences of adverse drug reactions, bleeding-related adverse drug reactions, and bleeding-related adverse events were 6.7, 6.7, and 16.7 %, respectively, with no significant differences between neonatal, pediatric (excluding neonates), and adult DIC patients. Conclusion: This surveillance provided real-world data on the safety and effectiveness of TM-alpha in the treatment of neonatal DIC in general practice settings.
This is a preview of subscription content, log in to check access.
Access options
Buy single article
Instant access to the full article PDF.
US$ 39.95
Price includes VAT for USA
Subscribe to journal
Immediate online access to all issues from 2019. Subscription will auto renew annually.
US$ 199
This is the net price. Taxes to be calculated in checkout.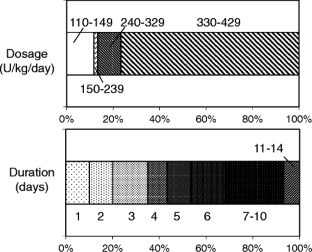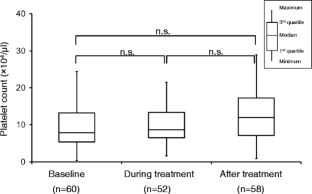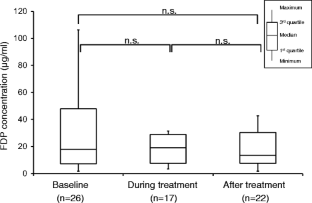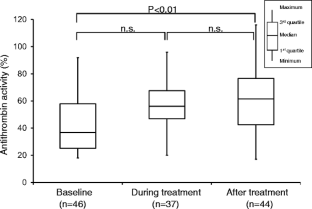 Abbreviations
ADRs:

Adverse drug reactions

AEs:

Adverse events

DIC:

Disseminated intravascular coagulation

FDP:

Fibrinogen/fibrin degradation products

JMHW:

Japanese Ministry of Health and Welfare

PMS:

Post-marketing surveillance

TM:

Thrombomodulin
References
1.

Andrew M, Paes B, Johnston M (1990) Development of the hemostatic system in the neonate and young infant. Am J Pediatr Hematol Oncol 12(1):95–104

2.

Andrew M, Paes B, Milner R, Johnston M, Mitchell L, Tollefsen DM, Castle V, Powers P (1988) Development of the human coagulation system in the healthy premature infant. Blood 72(5):1651–1657

3.

Bhat R, Monagle P (2012) The preterm infant with thrombosis. Arch Dis Child Fetal Neonatal Ed 97(6):F423–F428

4.

Bick RL (2002) Disseminated intravascular coagulation: a review of etiology, pathophysiology, diagnosis, and management: guidelines for care. Clin Appl Thromb Hemost 8(1):1–31

5.

Dairaku M, Sueishi K, Tanaka K (1982) Disseminated intravascular coagulation in newborn infants. Prevalence in autopsies and significance as a cause of death. Pathol Res Pract 174(1–2):106–115

6.

De Carolis MP (2010) Use of protein C concentrate in neonatal period. Minerva Pediatr 62(3 Suppl 1):29–30

7.

El Beshlawy A, Alaraby I, Abou Hussein H, Abou-Elew HH, Mohamed Abdel Kader MS (2010) Study of protein C, protein S, and antithrombin III in newborns with sepsis. Pediatr Crit Care Med 11(1):52–59

8.

Esmon CT (2002) Protein C pathway in sepsis. Ann Med 34(7–8):598–605

9.

Esmon NL, Owen WG, Esmon CT (1982) Isolation of a membrane-bound cofactor for thrombin-catalyzed activation of protein C. J Biol Chem 257(2):859–864

10.

Fischer D, Schloesser RL, Nold-Petry CA, Nold MF, Veldman A (2009) Protein C concentrate in preterm neonates with sepsis. Acta Paediatr 98(9):1526–1529

11.

Gobel U, von Voss H, Jurgens H, Petrich C, Pothmann R, Sprock I, Lemburg P (1980) Efficiency of heparin in the treatment of newborn infants with respiratory distress syndrome and disseminated intravascular coagulation. Eur J Pediatr 133(1):47–49

12.

Gomi K, Zushi M, Honda G, Kawahara S, Matsuzaki O, Kanabayashi T, Yamamoto S, Maruyama I, Suzuki K (1990) Antithrombotic effect of recombinant human thrombomodulin on thrombin-induced thromboembolism in mice. Blood 75(7):1396–1399

13.

Hanesaka Y, Takahashi Y, Kawaguchi C, Morikawa H, Yasuhara H, Yoshida K, Yoshioka A (2004) Clinical effect of nafamostat mesilate for disseminated intravascular coagulation of neonate the comparison with gabexate mesilate. Jpn J Pediatr Hematol 18:23–28

14.

Hudson IR, Gibson BE, Brownlie J, Holland BM, Turner TL, Webber RG (1990) Increased concentrations of D-dimers in newborn infants. Arch Dis Child 65(4 Spec No):383–384

15.

Kobayashi N, Maekawa T, Takada M, Tanaka H, Gonmori H (1983) Criteria for diagnosis of DIC based on the analysis of clinical and laboratory findings in 345 DIC patients collected by the Research Committee on DIC in Japan. Bibl Haematol 49(49):265–275

16.

Koh SC, Cheong YC, Arulkumaran S, Ratnam SS (1997) Coagulation activation, fibrinolysis and inhibitors in neonates. Ann Acad Med Singap 26(6):767–771

17.

Kusuda S, Fujimura M, Sakuma I, Aotani H, Kabe K, Itani Y, Ichiba H, Matsunami K, Nishida H, Neonatal Research Network J (2006) Morbidity and mortality of infants with very low birth weight in Japan: center variation. Pediatrics 118(4):e1130–e1138

18.

Marlar RA, Kleiss AJ, Griffin JH (1982) Mechanism of action of human activated protein C, a thrombin-dependent anticoagulant enzyme. Blood 59(5):1067–1072

19.

McDonald MM, Johnson ML, Rumack CM, Koops BL, Guggenheim MA, Babb C, Hathaway WE (1984) Role of coagulopathy in newborn intracranial hemorrhage. Pediatrics 74(1):26–31

20.

Mimuro J, Takahashi H, Kitajima I, Tsuji H, Eguchi Y, Matsushita T, Kuroda T, Sakata Y (2013) Impact of recombinant soluble thrombomodulin (thrombomodulin alfa) on disseminated intravascular coagulation. Thromb Res 131(5):436–443

21.

Monagle P, Barnes C, Ignjatovic V, Furmedge J, Newall F, Chan A, De Rosa L, Hamilton S, Ragg P, Robinson S, Auldist A, Crock C, Roy N, Rowlands S (2006) Developmental haemostasis. Impact for clinical haemostasis laboratories. Thromb Haemost 95(2):362–372

22.

Nadel S, Goldstein B, Williams MD, Dalton H, Peters M, Macias WL, Abd-Allah SA, Levy H, Angle R, Wang D, Sundin DP, Giroir B, REsearching severe Sepsis and Organ dysfunction in children: A gLobal perspective (RESOLVE) study group (2007) Drotrecogin alfa (activated) in children with severe sepsis: a multicentre phase III randomised controlled trial. Lancet 369:836–843

23.

Nakamura T, Ariyoshi N, Asakura A, Shirahata A (1987) Effects of gabexate mesilate on DIC of infancy and childhood. Jpn J Pediatr Hematol 1:75–83

24.

Saito H, Maruyama I, Shimazaki S, Yamamoto Y, Aikawa N, Ohno R, Hirayama A, Matsuda T, Asakura H, Nakashima M, Aoki N (2007) Efficacy and safety of recombinant human soluble thrombomodulin (ART-123) in disseminated intravascular coagulation: results of a phase III, randomized, double-blind clinical trial. J Thromb Haemost 5(1):31–41

25.

Schmidt B, Gillie P, Mitchell L, Andrew M, Caco C, Roberts R (1998) A placebo-controlled randomized trial of antithrombin therapy in neonatal respiratory distress syndrome. Am J Respir Crit Care Med 158(2):470–476

26.

Shirahata A, Shirakawa Y, Yoshida Y, Ichikawa K, Takahashi Y, Kajino Y, lguchi Y, Sato A, Ariyoshi N, Miyakawa T (1993) The usefulness of antithrombin III concentrate in disseminated intravascular coagulation of newborn infants. J Jpn Soc Perinat Neonatal Med 29:98–105

27.

Tay SP, Cheong SK, Boo NY (2003) Circulating tissue factor, tissue factor pathway inhibitor and D-dimer in umbilical cord blood of normal term neonates and adult plasma. Blood Coagul Fibrinolysis 14(2):125–129

28.

Veldman A, Fischer D, Nold MF, Wong FY (2010) Disseminated intravascular coagulation in term and preterm neonates. Semin Thromb Hemost 36(4):419–428

29.

von Kries R, Stannigel H, Gobel U (1985) Anticoagulant therapy by continuous heparin-antithrombin III infusion in newborns with disseminated intravascular coagulation. Eur J Pediatr 144(2):191–194

30.

Williams MD, Chalmers EA, Gibson BE, Haemostasis, Thrombosis Task Force BCfSiH (2002) The investigation and management of neonatal haemostasis and thrombosis. Br J Haematol 119(2):295–309
Acknowledgments
This study used the TM-α PMS database. We wish to thank all the participating physicians and registered patients who took part in this surveillance. We are also grateful to Katsuhito Nihashi for his support with statistical analyses. This surveillance was supported in part by the Japanese Society on Thrombosis and Hemostasis.
Conflict of interest
Masahiro Kajiki and Goichi Honda are employees of Asahi Kasei Pharma Corporation. The other authors have no competing financial interests to declare.
About this article
Cite this article
Shirahata, A., Mimuro, J., Takahashi, H. et al. Recombinant soluble human thrombomodulin (thrombomodulin alfa) in the treatment of neonatal disseminated intravascular coagulation. Eur J Pediatr 173, 303–311 (2014). https://doi.org/10.1007/s00431-013-2155-8
Received:

Revised:

Accepted:

Published:

Issue Date:
Keywords
Disseminated intravascular coagulation (DIC)

Thrombomodulin

Neonatal

Post-marketing surveillance