Abstract
Mutations in the gene for adenosine triphosphate-binding cassette transporter subfamily A member 3 (ABCA3) have been reported in infants and children with surfactant deficiency and interstitial lung disease. We report a case of siblings found to be compound heterozygotes for two novel ABCA3 gene mutations but developing very different course of lung disease. The index case is a baby girl with severe interstitial lung disease that manifested on the first days of life. Her 4-year-old brother carrying the same mutations has no signs of lung disease so far. Our findings suggest the contribution of other genetic, epigenetic and environmental factors to discordant phenotype observed in patients carrying the same mutations in the ABCA3 gene. The clinical course of the index case suggests benefit of combined medical therapy in treating infants with ABCA3 deficiency.
This is a preview of subscription content, log in to check access.
Access options
Buy single article
Instant access to the full article PDF.
US$ 39.95
Price includes VAT for USA
Subscribe to journal
Immediate online access to all issues from 2019. Subscription will auto renew annually.
US$ 199
This is the net price. Taxes to be calculated in checkout.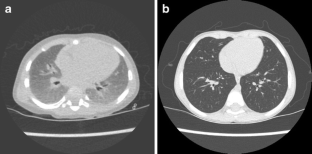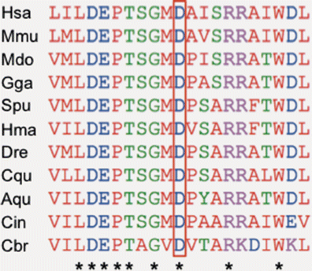 Abbreviations
ABCA3:

Adenosine triphosphate-binding cassette transporter subfamily A member 3

CPAP:

Continuous-positive airway pressure

CT:

Computed tomography

ILD:

Interstitial lung disease

ICU:

Intensive care unit

SP:

Surfactant protein

DIP:

Desquamative interstitial pneumonitis

CF:

Cystic fibrosis
References
1.

Boyle MP (2007) Strategies for identifying modifier genes in cystic fibrosis. Proc Am Thorac Soc 4:52–57

2.

Brasch F, Schimanski S, Mühlfeld C et al (2006) Alteration of the pulmonary surfactant system in full-term infants with hereditary ABCA3 deficiency. Am J Respir Crit Care Med 174(5):571–580

3.

Cohen-Cymberknoh M, Blau H, Shoseyov D et al (2009) Intravenous monthly pulse methylprednisolone treatment for ABPA in patients with cystic fibrosis. J Cyst Fibros 8:253–257

4.

Guillot L, Tabary O, Nathan N, Corvol H, Clement A (2011) Macrolides: new therapeutic perspectives in lung diseases. Int J Biochem Cell Biol 43:1241–1246

5.

Hayes D, Lloyd EA, Fitch JA, Bush A (2012) ABCA3 transporter deficiency. Am J Respir Crit Care Med 186(8):807

6.

Shulenin S, Nogee LM, Annilo T, Wert SE, Whitsett JA, Dean M (2004) ABCA3 gene mutations in newborns with fatal surfactant deficiency. N Engl J Med 350:1296–1303

7.

Vece TJ, Fan LL (2011) Diagnosis and management of diffuse lung disease in children. Paediatr Respir Rev 12:238–242

8.

Wambach JA, Wegner DJ, Depass K et al (2012) Single ABCA3 mutations increase risk for neonatal respiratory distress syndrome. Pediatrics 130:e1575–e1582

9.

Whitsett JA, Wert SE, Weaver TE (2010) Alveolar surfactant homeostasis and the pathogenesis of pulmonary disease. Annu Rev Med 61:105–119

10.

Yokota T, Matsumura Y, Ban N, Matsubayashi T, Inagaki N (2008) Heterozygous ABCA3 mutation associated with non-fatal evolution of respiratory distress. Eur J Pediatr 167:691–693
Acknowledgments
The authors thank the parents of the affected children, Dr. Alfred C. Looman for the genetic analyses results and Dr. Tuuli Metsvaht for the helpful comments on the manuscript. Tarmo Annilo is supported by University of Tartu (grant "Center of Translational Genomics"), Estonian Government (grant #SF0180142s08), European Commission through the European Regional Development Fund (grant "Centre of Excellence in Genomics"), Estonian Research Infrastructures Roadmap and FP7 (grant #313010).
Conflict of interest
The authors declare no conflict of interest.
About this article
Cite this article
Hallik, M., Annilo, T. & Ilmoja, M. Different course of lung disease in two siblings with novel ABCA3 mutations. Eur J Pediatr 173, 1553–1556 (2014). https://doi.org/10.1007/s00431-013-2087-3
Received:

Accepted:

Published:

Issue Date:
Keywords
ABCA3

Surfactant

Paediatric interstitial lung disease

Newborn respiratory distress