Abstract
Hyperinsulinaemic hypoglycaemia (HH) is characterised by the dysregulated secretion of insulin from the pancreatic β-cell. It is a major cause of severe and persistent hypoglycaemia in the newborn period. There have been no previous studies assessing the various biochemical alterations at the time of hypoglycaemia in relation to the severity of the hypoglycaemia. Biochemical and clinical data were collected on 90 neonates (gestational age range, 32–42 weeks) with a diagnosis of HH [(based on glucose requirement > 8 mg/kg/min) and the biochemical profile of insulin action (low beta-hydroxybutyrate and fatty acid concentrations)] who had undergone fasting studies. The results showed that (a) the serum insulin level measured at the time of hypoglycaemia had no correlation with the severity of hypoglycaemia, (b) the serum insulin level was undetectable despite severe hypoglycaemia in a significant proportion of patients, (c) there was no correlation between the birth weight and the insulin level at the time of hypoglycaemia, (d) the suppression of ketogenesis was more marked than that of the non-esterified fatty acids. This study suggests that the diagnosis of HH should not rely solely on a raised serum insulin level at the time of hypoglycaemia but on the constellation of clinical and biochemical findings.
This is a preview of subscription content, log in to check access.
Access options
Buy single article
Instant access to the full article PDF.
US$ 39.95
Price includes VAT for USA
Subscribe to journal
Immediate online access to all issues from 2019. Subscription will auto renew annually.
US$ 199
This is the net price. Taxes to be calculated in checkout.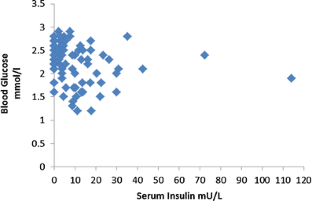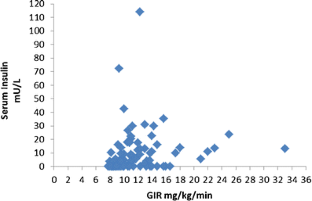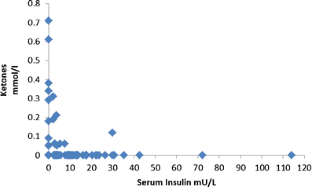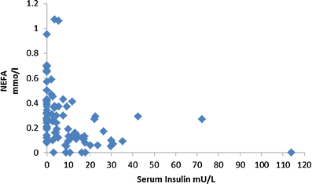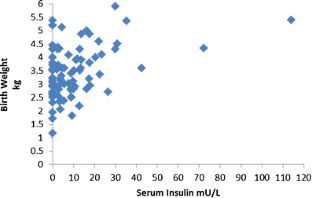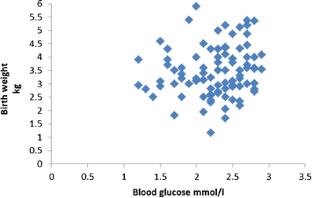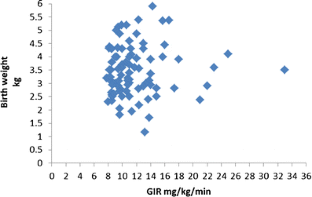 Abbreviations
GIR:

Glucose infusion rate

NEFA:

Non-esterified fatty acids
References
1.

Arnoux JB, Verkarre V, Saint-Martin C, Montravers F, Brassier A, Valayannopoulos V, Brunelle F, Fournet JC, Robert JJ, Aigrain Y, Bellanné-Chantelot C, de Lonlay P (2011) Congenital hyperinsulinism: current trends in diagnosis and therapy. Orphanet J Rare Dis 6:63

2.

Aynsley-Green A, Hussain K, Hall J, Saudubray JM, Nihoul-Fekete C, De Lonlay-Debeney P, Brunelle F, Otonkoski T, Thornton P, Lindley KJ (2000) Practical management of hyperinsulinism in infancy. Arch Dis Child Fetal Neonatal Ed 82:F98–F107

3.

Aynsley-Green A, Jenkins P, Tronier B, Heding LG (1984) Plasma proinsulin and C-peptide concentrations in children with hyperinsulinaemic hypoglycaemia. Acta Paediatr Scand 73:359–363

4.

Beylot M, Picard S, Chambrier C, Vidal H, Laville M, Cohen R, Cotisson A, Mornex R (1991) Effect of physiological concentrations of insulin and glucagon on the relationship between nonesterified fatty acids availability and ketone body production in humans. Metabolism 40:1138–1146

5.

Bommen M, Stanhope R, Kurtz AB, Brook CG (1984) Plasma C peptide in hyperinsulinaemic hypoglycaemia. Arch Dis Child 59:1096–1098

6.

Castillo MJ, Scheen AJ, Letiexhe MR, Lefèbvre PJ (1994) How to measure insulin clearance. Diabetes Metab Rev 10:119–150

7.

Dekelbab BH, Sperling MA (2006) Recent advances in hyperinsulinemic hypoglycaemia of infancy. Acta Paediatr 95:1157–1164

8.

Duckworth WC, Bennett RG, Hamel FG (1998) Insulin degradation: progress and potential. Endocr Rev 19:608–624

9.

Dunne MJ, Cosgrove KE, Shepherd RM, Aynsley-Green A, Lindley KJ (2004) Hyperinsulinism in infancy: from basic science to clinical disease. Physiol Rev 84:239–275

10.

Fowden AL (1992) The role of insulin in fetal growth. Early Hum Dev 29:177–181

11.

Hoe FM, Thornton PS, Wanner LA, Steinkrauss L, Simmons RA, Stanley CA (2006) Clinical features and insulin regulation in infants with a syndrome of prolonged neonatal hyperinsulinism. J Pediatr 148:207–212

12.

Hussain K (2005) Congenital hyperinsulinism. Semin Fetal Neonatal Med 10:369–376

13.

Jacob S, Hauer B, Becker R, Artzner S, Grauer P, Löblein K, Nielsen M, Renn W, Rett K, Wahl HG, Stumvoll M, Häring HU (1999) Lipolysis in skeletal muscle is rapidly regulated by low physiological doses of insulin. Diabetologia 42:1171–1174

14.

James C, Kapoor RR, Ismail D, Hussain K (2009) The genetic basis of congenital hyperinsulinism. J Med Genet, England, pp 289–299

15.

Keller U, Gerber PP, Stauffacher W (1988) Fatty acid-independent inhibition of hepatic ketone body production by insulin in humans. Am J Physiol 254:E694–E699

16.

Ktorza A, Bihoreau MT, Nurjhan N, Picon L, Girard J (1985) Insulin and glucagon during the perinatal period: secretion and metabolic effects on the liver. Biol Neonate 48:204–220

17.

Lebowitz MR, Blumenthal SA (1993) The molar ratio of insulin to C-peptide. An aid to the diagnosis of hypoglycaemia due to surreptitious (or inadvertent) insulin administration. Arch Intern Med 153:650–655

18.

Lewis GF, Vranic M, Harley P, Giacca A (1997) Fatty acids mediate the acute extrahepatic effects of insulin on hepatic glucose production in humans. Diabetes 46:1111–1119

19.

Lindley KJ, Dunne MJ, Kane C, Shepherd RM, Squires PE, James RF, Johnson PR, Eckhardt S, Wakeling E, Dattani M, Milla PJ, Aynsley-Green A (1996) Ionic control of beta cell function in nesidioblastosis. A possible therapeutic role for calcium channel blockade. Arch Dis Child 74:373–378

20.

Menni F, de Lonlay P, Sevin C, Touati G, Peigné C, Barbier V, Nihoul-Fékété C, Saudubray JM, Robert JJ (2001) Neurologic outcomes of 90 neonates and infants with persistent hyperinsulinemic hypoglycaemia. Pediatrics 107:476–479

21.

Morishima T, Pye S, Bradshaw C, Radziuk J (1992) Posthepatic rate of appearance of insulin: measurement and validation in the nonsteady state. Am J Physiol 263:E772–E779

22.

Palladino AA, Bennett MJ, Stanley CA (2008) Hyperinsulinism in infancy and childhood: when an insulin level is not always enough. Clin Chem 54:256–263

23.

Pørksen N, Nyholm B, Veldhuis JD, Butler PC, Schmitz O (1997) In humans at least 75% of insulin secretion arises from punctuated insulin secretory bursts. Am J Physiol 273:E908–E914

24.

Rabkin R, Ryan MP, Duckworth WC (1984) The renal metabolism of insulin. Diabetologia 27:351–357

25.

Rahn T, Ridderstråle M, Tornqvist H, Manganiello V, Fredrikson G, Belfrage P, Degerman E (1994) Essential role of phosphatidylinositol 3-kinase in insulin-induced activation and phosphorylation of the cGMP-inhibited cAMP phosphodiesterase in rat adipocytes. Studies using the selective inhibitor wortmannin. FEBS Lett 350:314–318

26.

Senniappan S, Shanti B, James C, Hussain K (2012) Hyperinsulinaemic hypoglycaemia: genetic mechanisms, diagnosis and management. J Inherit Metab Dis 35:589–601

27.

Thomas PM, Cote GJ, Wohllk N, Haddad B, Mathew PM, Rabl W, Aguilar-Bryan L, Gagel RF, Bryan J (1995) Mutations in the sulfonylurea receptor gene in familial persistent hyperinsulinemic hypoglycaemia of infancy. Science 268:426–429

28.

Thomas P, Ye Y, Lightner E (1996) Mutation of the pancreatic islet inward rectifier Kir6.2 also leads to familial persistent hyperinsulinemic hypoglycaemia of infancy. Hum Mol Genet 5:1809–1812

29.

Wahren J, Ekberg K, Johansson J, Henriksson M, Pramanik A, Johansson BL, Rigler R, Jörnvall H (2000) Role of C-peptide in human physiology. Am J Physiol Endocrinol Metab 278:E759–E768
Conflict of interest
None
Additional information
Hessah Al-Otaibi and Senthil Senniappan contributed equally to this work.
About this article
Cite this article
Al-Otaibi, H., Senniappan, S., Alam, S. et al. Biochemical studies in patients with hyperinsulinaemic hypoglycaemia. Eur J Pediatr 172, 1435–1440 (2013). https://doi.org/10.1007/s00431-013-2053-0
Received:

Accepted:

Published:

Issue Date:
Keywords
Hyperinsulinaemic hypoglycaemia

Insulin

Glucose