Abstract
Atopic dermatitis is very frequent in the first 6 months of life, and the severe exudative form of this skin disorder is by no means rare. Failure to achieve immunization protection is a potentially life-threatening complication of exudative atopic dermatitis that may go unrecognized. We report the case of a 6-month-old infant with severe exudative atopic dermatitis in whom hypoproteinemia and agammaglobulinemia were attributed to the massive exudation after exclusion of other possible causes. The patient failed to respond to standard immunization, and adequate protection with a good antibody response could be achieved only after exudation from the skin lesions had been treated by intensive topical skin therapy and multiple intravenous immunoglobulin substitution. Two otherwise similar earlier case reports did not investigate the immune status. Therefore, to the best of our knowledge, this is the first report to draw attention to absence of immunization protection in exudative atopic dermatitis. Conclusion: We hope that our case report will motivate pediatricians to check the immunization status of patients with exudative atopic dermatitis and take the necessary steps to improve their care.
This is a preview of subscription content, log in to check access.
Access options
Buy single article
Instant access to the full article PDF.
US$ 39.95
Price includes VAT for USA
Subscribe to journal
Immediate online access to all issues from 2019. Subscription will auto renew annually.
US$ 199
This is the net price. Taxes to be calculated in checkout.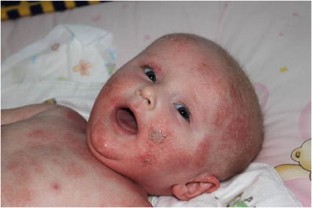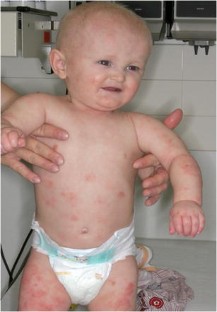 Abbreviations
AD:

Atopic dermatitis

α1-AT:

Alpha-1-antitrypsin

Hib:

Haemophilus polyribosylribitol phosphate

THI:

Transient hypogammaglobulinemia of infancy
References
1.

Akdis CA, Akdis M, Bieber T, Bindsley-Jensen C, Boguniewicz M, Eigenmann P, Hamid Q, Kapp A, Leung DY, Lipozencic J, Luger TA, Muraro A, Novak N, Platts-Mills TA, Rosenwasser L, Scheynius A, Simons FE, Spergel J, Turjanmaa K, Wahn U, Weidinger S, Werfel T, Zuberbier T (2006) Diagnosis and treatment of atopic dermatitis in children and adults: European Academy of Allergology and Clinical Immmunology/American Academy of Allergy, Asthma and Immunology/PRACTALL Consensus Report. J Allergy Clin Immunol 118:152–169

2.

Arkwright PD, Patel L, Moran A, Haeney MR, Ewing CI, David TJ (2000) Atopic eczema is associated with delayed maturation of the antibody response to pneumococcal vaccine. Clin Exp Immunol 122:16–19

3.

Boguniewicz M, Leung DY (2011) Atopic dermatitis: a disease of altered skin barrier and immune dysregulation. Immunol Rev 242:233–246

4.

Keles S, Artac H, Kara R, Gokturk B, Ozen A, Reisli I (2010) Transient hypogammaglobulinemia and unclassified hypogammaglobulinemia: 'similarities and differences'. Pediatr Allergy Immunol 21:843–851

5.

Shinagawa T, Matsuda S, Ishiguro H, Shikada M, Takakura I, Morimoto T, Niimura F, Oh Y (2007) Hyperaldosteronemia and hypogammaglobulinemia secondary to atopic dermatitis-induced exudation in an infant presenting with growth failure. Tokai J Exp Clin Med 32:18–22

6.

Walker AM, Kemp AS, Hill DJ, Shelton MJ (1994) Features of transient hypogammaglobulinaemia infants screened for immunological abnormalities. Arch Dis Child 70:183–186

7.

Wang AS, Liang MG, Schneider LC (2012) Severe atopic dermatitis and transient hypogammaglobulinemia in children. Pediatr Dermatol 29:73–78

8.

Wollenberg A, Räwer HC, Schauber J (2011) Innate immunity in atopic dermatitis. Clin Rev Allergy Immunol 41:272–281

9.

Yasuno T, Yamasaki A, Maeda Y, Fujiki A, Yaguyu S (2007) Atopic dermatitis and transient hypogammaglobulinemia of infancy improved simultaneously. Pediatr Int 49:406–408
Conflict of interest
The authors have no conflicts of interest to disclose.
About this article
Cite this article
Lankisch, P., Laws, H., Weiss, M. et al. Agammaglobulinemia and lack of immunization protection in exudative atopic dermatitis. Eur J Pediatr 173, 117–119 (2014). https://doi.org/10.1007/s00431-013-2011-x
Received:

Accepted:

Published:

Issue Date:
Keywords
Exudative atopic dermatitis

Immunization

Immune status

Agammaglobulinemia

Complication