Abstract
X-linked hypohidrotic ectodermal dysplasia (XLHED; ectodysplasin deficiency) has been classically described as affecting hair, sweat glands, and dentition. What may be underappreciated is the effect ectodysplasin deficiency has on glands surrounding the airways and eyes and the resulting chronic health issues. In this study, 12 male children (age range 6–13 years) and 14 male adults with XLHED (18–58 years of age) were investigated by pulmonary function tests, measurement of fractional exhaled nitric oxide, and by ophthalmologic assessments. Twelve healthy individuals (six children, six adults) served as controls. Signs of airway constriction and inflammation were detected in eight children with XLHED, including the youngest subject, and in ten adult XLHED patients. Increased tear osmolarity, reduced tear film break-up time, and other ocular abnormalities were also present at an early age. Five of 12 XLHED subjects not reporting a history of asthma and 7 of the 12 patients not reporting a history of dry eye issues showed at least two abnormal test results in the respective organ system. The presence of residual sweat ducts, suggestive of partial ectodysplasin gene expression, correlated with milder disease in two XLHED subjects with mutations affecting the collagen-like domain of ectodysplasin. Conclusion: The high prevalence of asthma-like symptoms in XLHED patients as young as 6 years and a similar prevalence of dry eye problems indicate that screening evaluation, regular monitoring, and consideration of therapeutic intervention should begin in early childhood.
This is a preview of subscription content, log in to check access.
Access options
Buy single article
Instant access to the full article PDF.
US$ 39.95
Price includes VAT for USA
Subscribe to journal
Immediate online access to all issues from 2019. Subscription will auto renew annually.
US$ 199
This is the net price. Taxes to be calculated in checkout.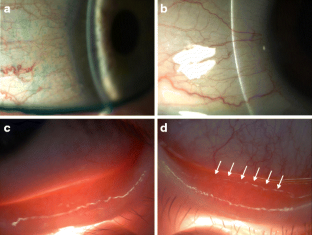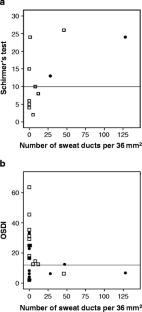 References
1.

American Thoracic Society and European Respiratory Society (2005) ATS/ERS recommendations for standardized procedures for the online and offline measurement of exhaled lower respiratory nitric oxide and nasal nitric oxide. Am J Respir Crit Care Med 171:912–930

2.

Bayés M, Hartung AJ, Ezer S, Pispa J, Thesleff I, Srivastava AK et al (1998) The anhidrotic ectodermal dysplasia gene (EDA) undergoes alternative splicing and encodes ectodysplasin-A with deletion mutations in collagenous repeats. Hum Mol Genet 7:1661–1669

3.

Beahrs JO, Lillington GA, Rosan RC, Russin L, Lindgren JA, Rowley PT (1971) Anhidrotic ectodermal dysplasia: predisposition to bronchial disease. Ann Intern Med 74:92–96

4.

Bryk J, Hardouin E, Pugach I, Hughes D, Strotmann R, Stoneking M et al (2008) Positive selection in East Asians for an EDAR allele that enhances NF-kappaB activation. PLoS One 3:e2209

5.

Capitanio MA, Chen JT, Arey JB, Kirkpatrick JA (1968) Congenital anhidrotic ectodermal dysplasia. Am J Roentgenol Radium Ther Nucl Med 103:168–172

6.

Casal ML, Mauldin EA, Ryan S, Scheidt JL, Kennedy J, Moore PF et al (2005) Frequent respiratory tract infections in the canine model of X-linked ectodermal dysplasia are not caused by an immune deficiency. Vet Immunol Immunopathol 107:95–104

7.

Clarke A, Phillips DI, Brown R, Harper PS (1987) Clinical aspects of X-linked hypohidrotic ectodermal dysplasia. Arch Dis Child 62:989–996

8.

Cluzeau C, Hadj-Rabia S, Bal E, Clauss F, Munnich A, Bodemer C et al (2011) The EDAR370A allele attenuates the severity of hypohidrotic ectodermal dysplasia caused by EDA gene mutation. Br J Dermatol 166:678–681

9.

de Monchy I, Gendron G, Miceli C, Pogorzalek N, Mariette X, Labetoulle M (2011) Combination of the Schirmer I and phenol red thread tests as a rescue strategy for diagnosis of ocular dryness associated with Sjögren's syndrome. Invest Ophthalmol Vis Sci 52:5167–5173

10.

European Community Respiratory Health Survey (1996) Variations in the prevalence of respiratory symptoms, self-reported asthma attacks, and use of asthma medication in the European Community Respiratory Health Survey (ECRHS). Eur Respir J 9:687–695

11.

Hammersen JE, Neukam V, Nüsken KD, Schneider H (2011) Systematic evaluation of exertional hyperthermia in children and adolescents with hypohidrotic ectodermal dysplasia: an observational study. Pediatr Res 70:297–301

12.

Kaercher T (2004) Ocular symptoms and signs in patients with ectodermal dysplasia syndromes. Graefe's Arch Clin Exp Ophthalmol 242:495–500

13.

Kobielak K, Kobielak A, Roszkiewicz J, Wierzba J, Limon J, Trzeciak WH (2001) Mutations in the EDA gene in three unrelated families reveal no apparent correlation between phenotype and genotype in the patients with an X-linked anhidrotic ectodermal dysplasia. Am J Med Genet 100:191–197

14.

Lemp MA, Bron AJ, Baudouin C, Benítez Del Castillo JM, Geffen D, Tauber J et al (2011) Tear osmolarity in the diagnosis and management of dry eye disease. Am J Ophthalmol 151:792–798

15.

Lexner MO, Bardow A, Juncker I, Jensen LG, Almer L, Kreiborg S et al (2008) X-linked hypohidrotic ectodermal dysplasia. Genetic and dental findings in 67 Danish patients from 19 families. Clin Genet 74:252–259

16.

Martinez FD (2003) Respiratory syncytial virus bronchiolitis and the pathogenesis of childhood asthma. Pediatr Infect Dis J 22:S76–S82

17.

Mauldin EA, Gaide O, Schneider P, Casal ML (2009) Neonatal treatment with recombinant ectodysplasin prevents respiratory disease in dogs with X-linked ectodermal dysplasia. Am J Med Genet A 149A:2045–2049

18.

Maziak W, Behrens T, Brasky TM, Duhme H, Rzehak P, Weiland SK et al (2003) Are asthma and allergies in children and adolescents increasing? Results from ISAAC phase 1 and phase 3 surveys in Münster, Germany. Allergy 58:572–579

19.

Miller KL, Walt JG, Mink DR, Satram-Hoang S, Wilson SE, Perry HD et al (2010) Minimal clinically important difference for the ocular surface disease index. Arch Ophthalmol 128:94–101

20.

Miraglia Del Giudice M, Marseglia GL, Leonardi S, Tosca MA, Marseglia A, Perrone L et al (2011) Fractional exhaled nitric oxide measurements in rhinitis and asthma in children. Int J Immunopathol Pharmacol 24:29–32

21.

Monreal AW, Zonana J, Ferguson B (1998) Identification of a new splice form of the EDA1 gene permits detection of nearly all X-linked hypohidrotic ectodermal dysplasia mutations. Am J Hum Genet 63:380–389

22.

Mou C, Thomason HA, Willan PM, Clowes C, Harris WE, Drew CF et al (2008) Enhanced ectodysplasin-A receptor (EDAR) signaling alters multiple fiber characteristics to produce the East Asian hair form. Hum Mutat 29:1405–1411

23.

Pult H, Riede-Pult BH, Nichols JJ (2012) Relation between upper and lower lids' meibomian gland morphology, tear film, and dry eye. Optom Vis Sci 89:E310–E315

24.

Schneider H, Hammersen J, Preisler-Adams S, Huttner K, Rascher W, Bohring A (2011) Sweating ability and genotype in individuals with X-linked hypohidrotic ectodermal dysplasia. J Med Genet 48:426–432

25.

Schneider P, Street SL, Gaide O, Hertig S, Tardivel A, Tschopp J et al (2001) Mutations leading to X-linked hypohidrotic ectodermal dysplasia affect three major functional domains in the tumor necrosis factor family member ectodysplasin-A. J Biol Chem 276:18819–18827

26.

Swee LK, Ingold-Salamin K, Tardivel A, Willen L, Gaide O, Favre M et al (2009) Biological activity of ectodysplasin A is conditioned by its collagen and heparan sulfate proteoglycan-binding domains. J Biol Chem 284:27567–27576

27.

Taylor DR, Pijnenburg MW, Smith AD, DeJongste JC (2006) Exhaled nitric oxide measurements: clinical application and interpretation. Thorax 61:817–827

28.

Thurnam J (1848) Two cases in which skin, hair and teeth were very imperfectly developed. Proc R Med Chir Soc 31:71–82

29.

Turner S (2008) Exhaled nitric oxide in the diagnosis and management of asthma. Curr Opin Allergy Clin Immunol 8:70–76

30.

Vanselow NA, Yamate M, Adams MS, Callies Q (1970) The increased prevalence of allergic disease in anhidrotic congenital ectodermal dysplasia. J Allergy 45:302–309

31.

Vincent MC, Biancalana V, Ginisty D, Mandel JL, Calvas P (2001) Mutational spectrum of the ED1 gene in X-linked hypohidrotic ectodermal dysplasia. Eur J Hum Genet 9:355–363
Acknowledgments
We thank Tessa Lorenze Field for excellent technical assistance and would like to express our gratitude to all individuals who participated in this study. This study was funded partially by the German–Swiss–Austrian ectodermal dysplasia patient support group and by a grant from Edimer Pharmaceuticals (Cambridge, USA).
Conflict of interest
Kenneth Huttner and Ramsey Johnson are employees of Edimer Pharmaceuticals. K.H. contributed substantially to the study design. R.J. performed the confocal microscopy. Holm Schneider is a member of the clinical advisory board of Edimer Pharmaceuticals and received project funding from this company. Otherwise, the company was neither involved in collection, analysis or interpretation of data, nor in the writing of the report or the decision to submit it for publication. The first draft of this manuscript was written by J.D. and H.S. None of the authors has been paid to produce this article.
About this article
Cite this article
Dietz, J., Kaercher, T., Schneider, A. et al. Early respiratory and ocular involvement in X-linked hypohidrotic ectodermal dysplasia. Eur J Pediatr 172, 1023–1031 (2013). https://doi.org/10.1007/s00431-013-1985-8
Received:

Revised:

Accepted:

Published:

Issue Date:
Keywords
Ectodermal dysplasia

Ectodysplasin

Seromucous glands

Inflammation

Asthma

Dry eye