Abstract
Mulibrey nanism (MUL) is a rare autosomal recessive disorder with severe primordial growth retardation and multiorgan involvement, caused by mutations in TRIM37. Early clinical detection is important since more than 50 % of the patients develop congestive heart failure. We report a 12-year-old patient who presented in infancy with severe growth retardation, dysmorphic features, and cleft palate. Clinical diagnosis of MUL was established at the age of 5 years. Postmortem, molecular diagnostic confirmed MUL as a novel 1-bp deletion (c.1233delA) in exon 14 of the TRIM37 coding region. Cardiac examination at the age of 6 years revealed constrictive pericarditis with significant elevation of atrial filling pressures, consecutive hepatomegaly, and protein loosing enteropathy. Since the parents refused pericardectomy, surgery was delayed until the age of 12 years, when congestive heart failure deteriorated. Despite pericardectomy, the boy died from persistent right heart failure. Conclusion: Our report underlines the necessity of early clinical diagnosis of Mulibrey nanism. Careful cardiologic examination is required to detect constrictive pericarditis, which is a major factor of mortality in these patients. Pericardectomy should be performed early, to avoid sequelae of persisting congestive heart failure.
This is a preview of subscription content, log in to check access.
Access options
Buy single article
Instant access to the full article PDF.
US$ 39.95
Price includes VAT for USA
Subscribe to journal
Immediate online access to all issues from 2019. Subscription will auto renew annually.
US$ 199
This is the net price. Taxes to be calculated in checkout.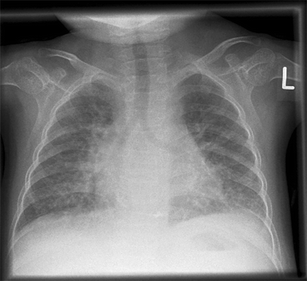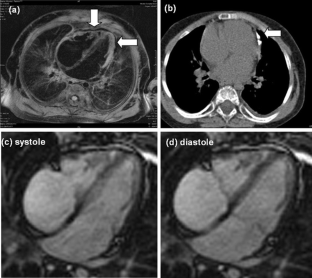 References
1.

Avela K, Lipsanen-Nyman M, Idänheimo N, Seemanová E, Rosengren S, Mäkelä TP, Perheentupa J, Chapelle AD, Lehesjoki AE (2000) Gene encoding a new RING-B-box-Coiled-coil protein is mutated in mulibrey nanism. Nat Genet 25:298–301

2.

Clayton PE, Hanson D, Magee L, Murray PG, Saunders E, Abu-Amero SN, Moore GE, Black GC (2012) Exploring the spectrum of 3-M syndrome, a primordial short stature disorder of disrupted ubiquitination. Clin Endocrinol (Oxf) 77:335–342

3.

Eerola A, Pihkala JI, Karlberg N, Lipsanen-Nyman M, Jokinen E (2007) Cardiac dysfunction in children with mulibrey nanism. Pediatr Cardiol 28:155–162

4.

Kallijärvi J, Avela K, Lipsanen-Nyman M, Ulmanen I, Lehesjoki AE (2003) The TRIM37 gene encodes a peroxisomal RING-B-box-coiled-coil protein: classification of mulibrey nanism as a new peroxisomal disorder. Am J Hum Genet 70:1215–1228

5.

Karlberg N, Jalanko H, Lipsanen-Nyman M (2007) Growth and growth hormone therapy in subjects with mulibrey nanism. Pediatrics 120:e102–e111

6.

Karlberg N, Jalanko H, Perheentupa J, Lipsanen-Nyman M (2004) Mulibrey nanism: clinical features and diagnostic criteria. J Med Genet 41:92–98

7.

Karlberg N, Karlberg S, Karikoski R, Mikkola S, Lipsanen-Nyman M, Jalanko H (2009) High frequency of tumours in Mulibrey nanism. J Pathol 218:163–171

8.

Karlberg S, Toppari J, Karlberg N, Nurmio M, Karikoski R, Jalanko H, Lipsanen-Nyman M (2011) Testicular failure and male infertility in the monogenic Mulibrey nanism disorder. J Clin Endocrinol Metab 9:3399–40

9.

Kivisto S, Lipsanen-Nyman M, Kupari M, Hekali P, Lauerma K (2004) Cardiac involvement in Mulibrey nanism: characterization with magnetic resonance imaging. J Cardiovasc Magn Reson 6:645–652

10.

Kokki S, Lauerma K, Kupari M, Lipsanen-Nyman M, Hekali P (2000) Assessment of mulibrey nanism cardiopathy with functional magnetic resonance imaging. MAGMA 11:84–86

11.

Lipsanen-Nyman M, Perheentupa J, Rapola J, Sovijarvi A, Kupari M (2003) Mulibrey heart disease: clinical manifestations, long-term course, and results of pericardiectomy in a series of 49 patients born before 1985. Circulation 107:2810–2815

12.

Prader A, Largo RH, Molinari L, Issler C (1989) Physical growth of Swiss children from birth to 20 years of age. First Zürich longitudinal study of growth and development. Helv Paediatr Acta Suppl 52:1–125

13.

Wollmann HA, Kirchner T, Enders H, Preece MA, Ranke MB (1995) Growth and symptoms in Silver-Russell syndrome: review on the basis of 386 patients. Eur J Pediatr 154:958–968
About this article
Cite this article
Kumpf, M., Hämäläinen, R.H., Hofbeck, M. et al. Refractory congestive heart failure following delayed pericardectomy in a 12-year-old child with Mulibrey nanism due to a novel mutation in TRIM37. Eur J Pediatr 172, 1415–1418 (2013). https://doi.org/10.1007/s00431-013-1962-2
Received:

Revised:

Accepted:

Published:

Issue Date:
Keywords
Mulibrey nanism

Constrictive pericarditis

Myocardial fibrosis