Abstract
A prospective cross-sectional study was conducted in a tertiary care center to determine the accuracy of transcutaneous bilirubin measurements (TcB) measured by the Konica Minolta JM-103™ meter compared to total serum bilirubin (TSB) in Asian infants aged 5–14 days. There were 405 late-preterm and term infants involved, and 455 paired samples were obtained by venepuncture and analyzed for bilirubin levels. TcB measurements were performed using the average of three measurements (TcB3) and a single measurement (TcB1) method. The overall correlation between TSB and the TcB was 0.80 (p ≤ 0.001) for TcB3 and 0.76 (p ≤ 0.001) for TcB1, respectively. The mean (SD) difference between TcB3 and TSB was −17.6 (29.5) μmol/L (median, −17.0; interquartile range (IQR), −39.1 to 1.7) and between TcB1 and TSB was −20.7 (32.3) μmol/L (median, −20.4; IQR, −42.5 to 1.7). The mean difference (SD) between the TcB3 and TSB in the low-risk (TSB < 170 μmol/L), intermediate-risk (TSB 170–254 μmol/L), and high-risk (TSB ≥ 255 μmol/L) groups was −2.8 (27.2), −13.4 (27.0), and −33.4 (29.1) μmol/L, respectively. To detect a TSB level of ≥255 μmol/L, using the TcB cutoff level of 204 μmol/L provides a sensitivity of 96 % with a specificity of 58 %. Conclusion: The TcB meter using a specific cutoff level can be reliably used as a screening tool for jaundice detection in older, postdischarge neonates, including the Asian population. Lower cutoff values can be set to capture all infants who merit closer surveillance, potential investigation, and treatment with higher accompanying screening costs.
This is a preview of subscription content, log in to check access.
Access options
Buy single article
Instant access to the full article PDF.
US$ 39.95
Price includes VAT for USA
Subscribe to journal
Immediate online access to all issues from 2019. Subscription will auto renew annually.
US$ 199
This is the net price. Taxes to be calculated in checkout.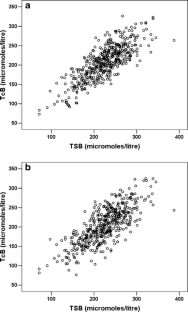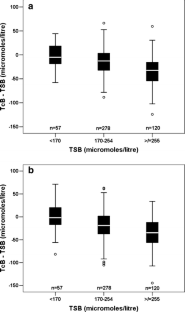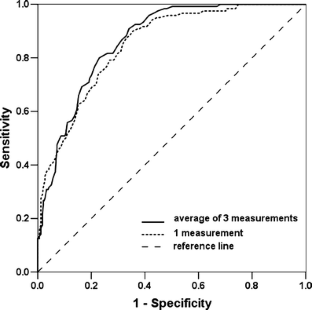 Abbreviations
TcB:

Transcutaneous bilirubin

TSB:

Total serum bilirubin
References
1.

American Academy of Pediatrics Clinical Practice Guideline (2004) Management of hyperbilirubinemia in the newborn infant 35 or more weeks of gestation. Pediatrics 114:297–316

2.

Bhutani VK, Vilms RJ, Hamerman-Johnson L (2010) Universal bilirubin screening for severe neonatal hyperbilirubinemia. J Perinatol 30(Suppl):S6–S15

3.

Bosschaart N, Kok JH, Newsum AM et al (2012) Limitations and opportunities of transcutaneous bilirubin measurements. Pediatrics 129:689–694

4.

Ebbesen F, Vandborg PK, Trydal T (2012) Comparison of the transcutaneous bilirubinometers BiliCheck and Minolta JM-103 in preterm neonates. Acta Paediatr 101:1128–1133

5.

Engle WD, Jackson GL, Stehel EK, Sendelbach DM, Manning MD (2005) Evaluation of a transcutaneous jaundice meter following hospital discharge in term and near-term neonates. J Perinatol 25:486–490

6.

Holland L, Blick K (2009) Implementing and validating transcutaneous bilirubinometry for neonates. Am J Clin Pathol 132:555–561

7.

Keren R, Tremont K, Luan X, Cnaan A (2009) Visual assessment of jaundice in term and late preterm infants. Arch Dis Child Fetal Neonatal Ed 94:F317–F322

8.

Knudsen A, Kruse C, Ebbesen F (1993) Detection of hyperbilirubinemia by skin color measurements in icteric newborn infants at 5 to 14 days of age. Acta Paediatr 82:510–513

9.

Lam TS, Tsui KL, Kam CW (2008) Evaluation of a point-of-care transcutaneous bilirubinometer in Chinese neonates at an accident and emergency department. Hong Kong Med J 14:356–360

10.

Maisels MJ, Bhutani VK, Bogen D, Newman TB, Stark AR, Watchko JF (2009) Hyperbilirubinemia in the newborn infant ≥35 weeks' gestation: an update with clarifications. Pediatrics 124:1193–1198

11.

Maisels MJ, Engle WD, Wainer S, Jackson GL, McManus S, Artinian F (2011) Transcutaneous bilirubin levels in an outpatient and office population. J Perinatol 31:621–624

12.

Maisels MJ, Ostrea EM Jr, Touch S et al (2004) Evaluation of a new transcutaneous bilirubinometer. Pediatrics 113:1628–1635

13.

Moyer VA, Ahn C, Sneed S (2000) Accuracy of clinical judgment in neonatal jaundice. Arch Pediatr Adolesc Med 154:391–394

14.

Panburana J, Boonkasidach S, Rearkyai S (2010) Accuracy of transcutaneous bilirubinometry compare to total serum bilirubin measurement. J Med Assoc Thai 93(Suppl 2):S81–S86

15.

Sanpavat S, Nuchprayoon I (2005) Comparison of two transcutaneous bilirubinometers—Minolta Airshields jaundice meter JM 103 and Spectrx Bilicheck—in Thai neonates. Southeast Asian J Tropl Med Public Health 36:1533–1537

16.

Sanpavat S, Nuchprayoon I (2004) Noninvasive transcutaneous bilirubin as a screening test to identify the need for serum bilirubin assessment. J Med Assoc Thai 87:1193–1198

17.

Sanpavat S, Nuchprayoon I, Smathakanee C, Hansuebsai R (2005) Nomogram for prediction of the risk of neonatal hyperbilirubinemia, using transcutaneous bilirubin. J Med Assoc Thai 88:1187–1193

18.

Yasuda S, Yasuda S, Itoh S, Isobe K et al (2003) New transcutaneous jaundice device with two optical paths. J Perinat Med 31:81–88

19.

Yamauchi Y, Yamanouchi I (1991) Transcutaneous bilirubinometry: effect of postnatal age. Acta Paediatr Jpn 33:663–667

20.

Yu ZB, Dong XY, Han SP et al (2011) Transcutaneous bilirubin nomogram for predicting neonatal hyperbilirubinemia in healthy term and late-preterm Chinese infants. Eur J Pediatr 170:185–191
Conflict of interest
The M.Well Med Co., Ltd. provided the investigators a grant-in-aid of research and also supplied the transcutaneous bilirubin device. The authors have no financial relationship with the organization that sponsored the research; the sponsor was not involved in any stage of the study; and the investigators have full control of the published data.
About this article
Cite this article
Kitsommart, R., Pornladnun, P., Chomchai, C. et al. Accuracy and precision of transcutaneous bilirubinometry in postdischarge Asian neonates. Eur J Pediatr 172, 781–786 (2013). https://doi.org/10.1007/s00431-013-1960-4
Received:

Accepted:

Published:

Issue Date:
Keywords
Accuracy

Jaundice

Postdischarge neonates

Transcutaneous bilirubinometer