Abstract
We report on a male infant presenting at 4 months of age with failure to thrive, dehydration, hypotonia, lethargy, and vomiting. Laboratory and imaging tests revealed severe hypercalcemia (5.8 mmol/l), suppressed parathyroid hormone (0.41 pmol/l), hypercalciuria (8.0 mmol/mmol creatinine), elevated 25-hydroxyvitamin D3 (over 600 nmol/l), and nephrocalcinosis. These symptoms are characteristic of idiopathic infantile hypercalcemia (IIH, MIM 143880). Conservative therapy (parenteral rehydration, diuretics, corticosteroids, bisphosphonates, and vitamin D prophylaxis withdrawal) was not able to improve the symptoms and laboratory values, and acute hemodiafiltration was necessary to normalize hypercalcemia. Clinical symptoms resolved rapidly after normalization of serum calcium levels. Molecular genetic testing revealed a homozygous mutation (R396W) in the CYP24A1 gene (MIM 126065) encoding 25-hydroxyvitamin D3 24-hydroxylase, which is the key enzyme responsible for 1,25-dihydroxyvitamin D3 degradation. The CYP24A1 gene mutation leads to the increased sensitivity of the patients to even prophylactic doses of vitamin D and to the development of severe symptomatic hypercalcemia in patients with IIH. Conclusion: Our patient is only the thirteenth patient with IIH caused by mutation in the CYP24A1 gene and the first one needing acute hemodiafiltration for severe symptomatic hypercalcemic crisis. In all patients with suspected IIH the DNA analysis for CYP24A1 gene mutations should be performed regardless of the type of vitamin D supplementation and serum levels of vitamin D.
This is a preview of subscription content, log in to check access.
Access options
Buy single article
Instant access to the full article PDF.
US$ 39.95
Price includes VAT for USA
Subscribe to journal
Immediate online access to all issues from 2019. Subscription will auto renew annually.
US$ 199
This is the net price. Taxes to be calculated in checkout.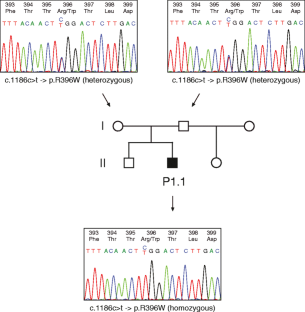 References
1.

Dauber A, Nguyen TT, Sochett E, Cole DE, Horst R, Abrams SA, Carpenter TO, Hirschhorn JN (2012) Genetic defect in CYP24A1, the vitamin D 24-hydroxylase gene, in a patient with severe infantile hypercalcemia. J Clin Endocrinol Metab 97(2):E268–E274, Epub 2011 Nov 23

2.

DeLuca HF, Schnoes HK (1976) Metabolism and mechanism of action of vitamin D. Annu Rev Biochem 45:631–666

3.

Fanconi G (1951) [Chronic disorders of calcium and phosphate metabolism in children]. Schweiz Med Wochenschr 81(38):908–913

4.

Fraser D (1967) The relation between infantile hypercalcemia and vitamin D—public health implications in North America. Pediatrics 40(6):1050–1061

5.

Hesse V, Siebenhuner M, Plenert W, Markestad T, Aksnes L, Aarskog D (1985) [Evaluation of vitamin D "interval administration" for the prevention of rickets in infancy]. Kinderarztl Prax 53(8):383–393

6.

Huang J, Coman D, McTaggart SJ, Burke JR (2006) Long-term follow-up of patients with idiopathic infantile hypercalcaemia. Pediatr Nephrol 21(11):1676–1680

7.

Ji HF, Shen L (2011) CYP24A1 mutations in idiopathic infantile hypercalcemia. N Engl J Med 365(18):1741, author reply 1742–3

8.

Jones G (2008) Pharmacokinetics of vitamin D toxicity. Am J Clin Nutr 88(2):582S–586S

9.

Jones G, Prosser DE, Kaufmann M (2011) 25-Hydroxyvitamin d-24-hydroxylase (CYP24A1): its important role in the degradation of vitamin D. Arch Biochem Biophys. [Epub ahead of print]

10.

Lightwood R, Stapleton T (1953) Idiopathic hypercalcaemia in infants. Lancet 265(6779):255–256

11.

Masuda S, Byford V, Arabian A, Sakai Y, Demay MB, St-Arnaud R, Jones G (2005) Altered pharmacokinetics of 1alpha, 25-dihydroxyvitamin D3 and 25-hydroxyvitamin D3 in the blood and tissues of the 25-hydroxyvitamin d-24-hydroxylase (Cyp24a1) null mouse. Endocrinology 146(2):825–834

12.

Misselwitz J, Hesse V (1986) Hypercalcemia following prophylactic vitamin D administration. Kinderarztl Prax 54(8):431–438

13.

Pronicka E, Rowinska E, Kulczycka H, Lukaszkiewicz J, Lorenc R, Janas R (1997) Persistent hypercalciuria and elevated 25-hydroxyvitamin D3 in children with infantile hypercalcaemia. Pediatr Nephrol 11(1):2–6

14.

Prosser DE, Guo Y, Jia Z, Jones G (2006) Structural motif-based homology modeling of CYP27A1 and site-directed mutational analyses affecting vitamin D hydroxylation. Biophys J 90(10):3389–3409

15.

Prosser DE, Jones G (2004) Enzymes involved in the activation and inactivation of vitamin D. Trends Biochem Sci 29(12):664–673

16.

Schlingmann KP, Kaufmann M, Weber S, Irwin A, Goos C, John U, Misselwitz J, Klaus G, Kuwertz-Broking E, Fehrenbach H, Wingen AM, Guran T, Hoenderop JG, Bindels RJ, Prosser DE, Jones G, Konrad M (2011) Mutations in CYP24A1 and idiopathic infantile hypercalcemia. N Engl J Med 365(5):410–421

17.

Streeten EA, Zarbalian K, Damcott CM (2011) CYP24A1 mutations in idiopathic infantile hypercalcemia. N Engl J Med 365(18):1741–1742, author reply 1742–3

18.

Tebben PJ, Milliner DS, Horst RL, Harris PC, Singh RJ, Wu Y, Foreman JW, Chelminski PR, Kumar R (2012) Hypercalcemia, hypercalciuria, and elevated calcitriol concentrations with autosomal dominant transmission due to CYP24A1 mutations: effects of ketoconazole therapy. J Clin Endocrinol Metab 97(3):E423–E427, Epub 2012 Feb 15
Acknowledgments
We would like to thank Milan Pánek, M.D., and Ludmila Svobodová for the care for the patient.
Conflict of interest
The authors declare no conflict of interest.
About this article
Cite this article
Fencl, F., Bláhová, K., Schlingmann, K.P. et al. Severe hypercalcemic crisis in an infant with idiopathic infantile hypercalcemia caused by mutation in CYP24A1 gene. Eur J Pediatr 172, 45–49 (2013). https://doi.org/10.1007/s00431-012-1818-1
Received:

Revised:

Accepted:

Published:

Issue Date:
Keywords
Idiopathic infantile hypercalcemia

CYP24A1 gene

Hypercalcemic crisis

Infant

Nephrocalcinosis