Abstract
Over the past decade, concerns about bullying and its effects on school health have grown. However, few studies in Turkey have examined the prevalence of bullying in childhood and adolescence and its association with health problems. The current study aimed to examine the prevalence and manifestation of bullying and victimization among male and female students aged 11–15 years. A second goal was to examine the physical and psychological symptoms associated with being a bully, victim and both a bully and a victim ('bully–victim'). Participants were 1,315 students from grades 5, 7, and 9, selected from three schools in Western Turkey. Twenty percent of the students were found to be involved in the cycle of bullying (5 % as a bully, 8 % as a victim, and 7 % as bully–victims). Bullies (although not victims) were found to show decreased levels of school satisfaction and school attendance. Being a victim or a bully–victim was associated with a significantly increased risk of experiencing a wide range of physical and psychological health symptoms (victims OR, 1.67–3.38; p < 0.01; bully–victims OR, 2.13–3.15; p < 0.01). Being a bully, in contrast, was associated with high levels of irritability (OR, 2.82; p < 0.01), but no other health concerns. Children that were bullies and victims were almost as vulnerable to health symptoms as children that were purely victims. Conclusion: These findings contribute to a better understanding of bullying in Turkish schools, emphasizing the negative effects of bullying involvement on health and well-being.
This is a preview of subscription content, log in to check access.
Access options
Buy single article
Instant access to the full article PDF.
US$ 39.95
Price includes VAT for USA
Subscribe to journal
Immediate online access to all issues from 2019. Subscription will auto renew annually.
US$ 199
This is the net price. Taxes to be calculated in checkout.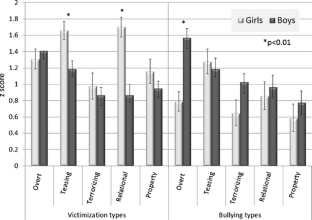 References
1.

Alikasifoglu M, Erginoz E, Ercan O, Uysal O, Albayrak-Kaymak D (2007) Bullying behaviours and psychosocial health: results from a cross-sectional survey among high school students in Istanbul, Turkey. Eur J Pediatr 166(12):1253–60

2.

Alikasifoglu M, Erginoz E, Ercan O, Uysal O, Kaymak DA (2004) Violent behaviour among Turkish high school students and correlates of physical fighting. Eur J Public Health 14(2):173–7

3.

Ando M, Asakura T (2005) Psychosocial influences on physical, verbal and indirect bullying among Japanese early adolescents. J Early Adolesc 25(3):268–29

4.

Arslan S, Savaser S, Yazgan Y (2011) Prevalence of peer bullying in high school students in Turkey and the roles of socio-cultural and demographic factors in the bullying cycle. Indian J Pediatr 78(8):987–992

5.

Ashley OS, Foshee VA (2005) Adolescent help-seeking for dating violence: prevalence, socio demographic correlates, and sources of help. J Adolesc Health 36(1):25–31

6.

Atik G (2011) Assessment of school bullying in Turkey: a critical review of self-report instruments. Procedia Soc Behav Sci 15:3232–3238

7.

Baldry AC, Farrington PD (2000) Bullies and delinquents: personal characteristics and parental styles. J Commun Appl Psychol 10:17–31

8.

Craig WM (1998) The relationship among bullying, victimization, depression, anxiety, and aggression in elementary school children. Pers Indiv Differ 24(1):123–130

9.

Cui S, Cheng Y, Xu Z, Chen D, Wang Y (2011) Peer relationships and suicide ideation and attempts among Chinese adolescents. Cihld Care Hlth Dev 37(5):692–702 c31

10.

Due P, Holstein BH, Lynch J (2005) Bullying and symptoms among school-aged children: international comparative cross sectional study in 28 countries. Eur J Public Health 15(2):128–132

11.

Erath SA, Tu KM, El-Sheikh M (2011) Socially anxious and peer-victimized preadolescents: "Doubly Primed" for distress? J Abnorm Child Psychol 38(10):761–4

12.

Espelage DL, Holt MK (2003) Bullying and victimization during early adolescence: Peer influences and psychosocial correlates. Haworth, Binghamton, pp 123–42

13.

Fekkes M, Pijpers IMF, Fredriks MA, Vogels T, Verloove-Vanhorick PS (2006) Do bullied children get ill or do ill children get bullied? A prospective cohort study on the relationship between bullying and health related symptoms. Pediatrics 117:1568–1574

14.

Fitzpatrick KM, Dulin A, Piko B (2010) Bullying and depressive symptomatology among low-income, African–American youth. J Youth Adolesc 39:634–645

15.

Forero R, McLellan L, Rissel C, Bauman A (1999) Bullying behavior and psychosocial health among school students in new south wales, Australia: Cross Sectional Survey. BMJ 319:344–348

16.

Gini G (2008) Associations between bullying behaviour, psychosomatic complaints, emotional and behavioural problems. J Pediatr Child H 44:492–497

17.

Gini G, Pozzoli T (2009) Association between bullying and psychosomatic problems: a meta-analysis. Pediatrics 123:1059–1065

18.

Glew GM, Fan MY, Katon W, Rivara FP, Kernic MA (2005) Bullying, psychosocial adjustment, and academic performance in elementary school. Arch Pediatr Adolesc Med 159:1026–1031

19.

Grinberg I, Dawkins M, Dawkins MP, Fullilove C (2005) Adolescents at risk for violence: an initial validation of the life challenges questionnaire and risk assessment index. Adolescence 40(159):573–99

20.

Gultekin Z, Sayil M (2005) A study of reliability and validity of the peer victimization scale. Turk Psikoloji Yazilari Turk 8(15):47–61

21.

Kaltiala-Heino R, Rimpela M, Marttunen M, Rimpela A, Rantanen P (1999) Bullying, depression, and suicidal ideation in Finnish adolescents: school survey. BMJ 319:348–51

22.

Karatas H, Ozturk C (2011) Relationship between bullying and health problems in primary school children. Asian Nurs Res 5(2):81–87

23.

Kaya F, Bilgin H, Singer MI (2012) Contributing factors to aggressive behaviors in high school students in Turkey. J School Nurs 28(1):56–63

24.

Kim YS, Koh YJ, Leventhal B (2005) School bullying and suicidal risk in Korean middle school students. Pediatrics 115:357–363

25.

Kim YS, Leventhal BL, Koh YJ, Hubbard A, Boyce WT (2006) Bullying in school and youth violence, causes and consequences of psychopathologic behavior. Arch Gen Psychiatry 63:1033–1041

26.

Landstedt E, Gadin KG (2011) Experiences of violence among adolescents: gender patterns in types, perpetrators and associated psychological distress. Int J Public Health 56:419–427

27.

Maynard H, Joseph S (2000) Development of the multidimensional victimization scale. Aggress Behav 26:169–178

28.

Meltzer H, Vostanis P, Ford T, Bebbington P, Dennis MS (2011) Victims of bullying in childhood and suicide attempts in adulthood. Eur Psychiat 26:498–503

29.

Nansel TR, Craig W, Overpeck MD, Saluja G, Ruan WJ (2004) Cross-national consistency in the relationship between bullying behaviors and psychosocial adjustment. Arch Pediatr Adolesc 158:730–736

30.

Natvig KG, Albrektsen G, Qvarnstrom U (2001) Psychosomatic symptoms among victims of school bullying. J Health Psychol 6(4):365–377

31.

Olweus D (1994) Bullying at school: basic facts and effects of a school based intervention program. J Child Psychol Psychiatry 35(7):1171–90

32.

Olweus D, Mona ES (2003) Prevalence estimation of school bullying with the Olweus/Bully Questionnaire. Aggress Behav 29:239–268

33.

Orpinas P, Murray N, Kelder S (1999) Parental influences on students' aggressive behaviors and weapon carrying. Health Educ Behav 26:774

34.

Pekel-Uludagli N, Ucanok Z (2005) Loneliness, academic achievement and types of bullying according to sociometric status in bully/victim groups. Turk J Psychol 20(56):77–92

35.

Perkins HJ, Montford CR (2005) The impact of violence on adolescents in schools: a case study on the role of school-based health centers. Nurs Clin N 40(4):671–9

36.

Rigby K (1996) Bullying in school and what to do about it. Australian Council of Educational Research, Melbourne

37.

Rigby K (1998) The relationship between reported health and involvement in bully/victim problems among male and female secondary school students. J Health Psychol 3(4):465–476

38.

Rigby K (1999a) What harm does bullying do? Children and crime: victims and offenders conference convened, Australian Institute and Held in Brisbane 17–18

39.

Rigby K (1999) Peer victimization at school and the health of secondary students. Brit J Educ Psychol 22(2):28–34

40.

Rigby K (2002) Effects of peer victimization in schools and perceived social support on adolescent well-being. J Adolesc 23(1):57–68

41.

Rigby K (2003) Consequences of bullying in schools. Can J Psychiatry 48(9):583–59033131181

42.

Rothon C, Head J, Klineberg E, Stansfeld S (2011) Can social support protect bullied adolescents from adverse outcomes? A prospective study on the effects of bullying on the educational achievement and mental health of adolescents at secondary schools in East London. J Adolesc 34:579–588

43.

Rudolph KD, Gordon WT, Hessel ET, Schmidt JD (2011) A latent growth curve analysis of early and increasing peer victimization as predictors of mental health across elementary school. J Clin Child Adolesc Psychol 40(1):111–122

44.

Salmivalli C, Niemine E (2002) Proactive and reactive aggression among school bullies, victims, and bully–victims. Aggress Behav 28(1):30–44

45.

Salmivalli C, Voeten M (2004) Connection between attitudes, group norms and behaviors associated with bullying in schools. İnt J Behav Dev 28:246–258

46.

Salmon G, James A, Smith DM (1998) Bullying in school: self reported anxiety, depression, and self esteem in secondary school children. BMJ 317:924–5

47.

Seals D, Young J (2003) Bullying and victimization: prevalence and relationship to gender, grade level, ethnicity, self-esteem, and depression. Adolescence 38:735–757

48.

Sidelinger DE, Guerrero AP, Rodríguez-Frau M, Mirabal-Colón B (2005) Training healthcare professionals in youth violence prevention: an overview. Am J Prev Med 29(2):205

49.

Skybo T (2005) Witnessing violence: biopsychosocial impact on children. Pediatr Nurs 31(4):263–270

50.

Slee PT (1995) Peer victimization and its relationship to depression among Australian primary school students person. Pers Indiv Differ 18:57–62

51.

Smith P, Talamelli L, Cowie H, Naylor P, Chauhan P (2004) Profiles of non-victims, escaped victims, continuing victims and new victims of school bullying. Brit J Educ Psychol 74:565–581

52.

Theriot MT, Dulmus CN, Sowers KM, Johnson TK (2005) Factors relating to self-identification among bully victims. Child Youth Serv Rev 27(9):979–994

53.

Vieno A, Gini G, Santinello M (2011) Different forms of bullying and their association to smoking and drinking behavior in Italian adolescents. J Sch Health 81(7):393–399

54.

Williams K, Chambers M, Logan S, Robinson D (1996) Association of common health symptoms with bullying in primary school children. BMJ 313:17–19

55.

Wolke S, Woods L, Bloomfield L, Karstadt L (2001) Bullying involvement in primary school and common health problems. Arch Dis Child 85:197–201
About this article
Cite this article
Arslan, S., Hallett, V., Akkas, E. et al. Bullying and victimization among Turkish children and adolescents: examining prevalence and associated health symptoms. Eur J Pediatr 171, 1549–1557 (2012). https://doi.org/10.1007/s00431-012-1782-9
Received:

Accepted:

Published:

Issue Date:
Keywords
Bullying

Victims

Child

Turkey

Health