Abstract
We performed a cohort study of children who survived bacterial meningitis after the neonatal period at a single pediatric center in France over a 10-year period (1995–2004) to identify predictors of death and long-term neurological deficits in children with bacterial meningitis. We performed multivariate regression to determine independent predictors of death and neurologic deficits. We identified 101 children with bacterial meningitis of which 19 died during initial hospitalization. Need for mechanical ventilation [hazard ratio (HR) 11.5, 95 % confidence interval (CI) 2.4–55.5)] and thrombocytopenia defined as a platelet count <150 × 109 per liter (HR 0.6, 95 % CI 0.4–0.9) at presentation were associated with death during initial hospitalization. At final assessment, 42 of the 70 survivors had no neurologic deficits identified; 20 had a single deficit, and eight had multiple deficits. A delay in initiation of antibiotics (HR 1.3, 95 % CI 1.1–1.7) and hydrocephalus on computed tomographic scan (HR 2.6, 95 % CI 1.1–6.0) were associated with having one or more long-term neurologic deficits. Identification of children at risk of death or long-term neurologic sequelae may allow therapeutic interventions to be directed to children at the highest risk.
This is a preview of subscription content, log in to check access.
Access options
Buy single article
Instant access to the full article PDF.
US$ 39.95
Price includes VAT for USA
Subscribe to journal
Immediate online access to all issues from 2019. Subscription will auto renew annually.
US$ 199
This is the net price. Taxes to be calculated in checkout.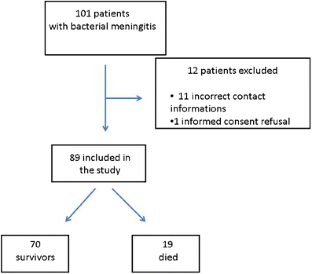 Abbreviations
BUN:

Blood urea nitrogen

CSF:

Cerebrospinal fluid

GBS:

Group B Streptococcus

GCS:

Glasgow coma scale

ICU:

Intensive care unit

OR:

Odds ratio

RBC:

Red blood cells

WBC:

White blood cells
References
1.

Akpede GO, Akuhwa RT, Ogiji EO, Ambe JP (1999) Risk factors for an adverse outcome in bacterial meningitis in the tropics: a reappraisal with focus on the significance and risk of seizures. Ann Trop Paediatr 19(2):151–159

2.

Bhat BV, Verma IC, Puri RK, Srinivasan S, Nalini P (1987) Prognostic indicators in pyogenic meningitis. Indian Pediatr 24(11):977–983

3.

Casado-Flores J, Aristegui J, de Liria CR, Martinon JM, Fernandez C (2006) Clinical data and factors associated with poor outcome in pneumococcal meningitis. Eur J Pediatr 165(5):285–289

4.

Chandran A, Herbert H, Misurski D, Santosham M (2011) Long-term sequelae of childhood bacterial meningitis: an underappreciated problem. Pediatr Infect Dis J 30:3-6

5.

Chang YC, Huang CC, Wang ST, Liu CC, Tsai JJ (1998) Risk factors analysis for early fatality in children with acute bacterial meningitis. Pediatr Neurol 18(3):213–217

6.

de Jonge RC, van Furth AM, Wassenaar M, Gemke RJ, Terwee CB (2010) Predicting sequelae and death after bacterial meningitis in childhood: a systematic review of prognostic studies. BMC Infect Dis 10:232

7.

Gerber J, Nau R (2010) Mechanisms of injury in bacterial meningitis. Curr Opin Neurol 23(3):312–318

8.

Grimwood K, Anderson P, Anderson V, Tan L, Nolan T (2000) Twelve year outcomes following bacterial meningitis: further evidence for persisting effects. Arch Dis Child 83(2):111–116

9.

Herrero M, Alcalde M, Gomez B, Hernandez JL, Sota M, Benito J, Mintegi S (2011) Invasive bacterial infections in a paediatric emergency department in the era of the heptavalent pneumococcal conjugate vaccine. Eur J Emerg Med 19:89-94

10.

Jefferson T, Ferroni E, Curtale F, Giorgi Rossi P, Borgia P (2006) Streptococcus pneumoniae in western Europe: serotype distribution and incidence in children less than 2 years old. Lancet Infect Dis 6(7):405–410

11.

Kaaresen PI, Flaegstad T (1995) Prognostic factors in childhood bacterial meningitis. Acta Paediatr 84(8):873–878

12.

Kim KS (2010) Acute bacterial meningitis in infants and children. Lancet Infect Dis 10(1):32–42

13.

Kirimi E, Tuncer O, Arslan S, Atas B, Caksen H, Uner A, Oner AF, Odabas D (2003) Prognostic factors in children with purulent meningitis in Turkey. Acta Med Okayama 57(1):39–44

14.

Kirkpatrick B, Reeves DS, MacGowan AP (1994) A review of the clinical presentation, laboratory features, antimicrobial therapy and outcome of 77 episodes of pneumococcal meningitis occurring in children and adults. J Infect 29(2):171–182

15.

Koomen I, Grobbee DE, Roord JJ, Donders R, Jennekens-Schinkel A, van Furth AM (2003) Hearing loss at school age in survivors of bacterial meningitis: assessment, incidence, and prediction. Pediatrics 112(5):1049–1053

16.

Koomen I, Grobbee DE, Roord JJ, Jennekens-Schinkel A, van der Lei HD, Kraak MA, van Furth AM (2004) Prediction of academic and behavioural limitations in school-age survivors of bacterial meningitis. Acta Paediatr 93(10):1378–1385

17.

Kornelisse RF, Westerbeek CM, Spoor AB, van der Heijde B, Spanjaard L, Neijens HJ, de Groot R (1995) Pneumococcal meningitis in children: prognostic indicators and outcome. Clin Infect Dis 21(6):1390–1397

18.

Levy C, de La Rocque F, Cohen R (2009) Epidemiology of pediatric bacterial meningitis in France. Med Mal Infect 39(7–8):419–431

19.

Makwana N, Riordan FA (2007) Bacterial meningitis: the impact of vaccination. CNS Drugs 21(5):355–366

20.

Merkelbach S, Sittinger H, Schweizer I, Muller M (2000) Cognitive outcome after bacterial meningitis. Acta Neurol Scand 102(2):118–123

21.

Molyneux E, Riordan FA, Walsh A (2006) Acute bacterial meningitis in children presenting to the Royal Liverpool Children's Hospital, Liverpool, UK and the Queen Elizabeth Central Hospital in Blantyre, Malawi: a world of difference. Ann Trop Paediatr 26(1):29–37

22.

Nigrovic LE, Kuppermann N, Macias CG, Cannavino CR, Moro-Sutherland DM, Schremmer RD, Schwab SH, Agrawal D, Mansour KM, Bennett JE, Katsogridakis YL, Mohseni MM, Bulloch B, Steele DW, Kaplan RL, Herman MI, Bandyopadhyay S, Dayan P, Truong UT, Wang VJ, Bonsu BK, Chapman JL, Kanegaye JT, Malley R (2007) Clinical prediction rule for identifying children with cerebrospinal fluid pleocytosis at very low risk of bacterial meningitis. JAMA 297(1):52–60

23.

Nigrovic LE, Kuppermann N, Malley R (2008) Children with bacterial meningitis presenting to the emergency department during the pneumococcal conjugate vaccine era. Acad Emerg Med 15(6):522–528

24.

Nigrovic LE, Malley R, Kuppermann N (2009) Cerebrospinal fluid pleocytosis in children in the era of bacterial conjugate vaccines: distinguishing the child with bacterial and aseptic meningitis. Pediatr Emerg Care 25(2):112–117, quiz 8–20

25.

Oostenbrink R, Maas M, Moons KG, Moll HA (2002) Sequelae after bacterial meningitis in childhood. Scand J Infect Dis 34(5):379–382

26.

Oostenbrink R, Moons KG, Derksen-Lubsen G, Grobbee DE, Moll HA (2002) Early prediction of neurological sequelae or death after bacterial meningitis. Acta Paediatr 91(4):391–398

27.

Pagliano P, Fusco U, Attanasio V, Rossi M, Pantosti A, Conte M, Faella FS (2007) Pneumococcal meningitis in childhood: a longitudinal prospective study. FEMS Immunol Med Microbiol 51(3):488–495

28.

Pelkonen T, Roine I, Monteiro L, Correia M, Pitkaranta A, Bernardino L, Peltola H (2009) Risk factors for death and severe neurological sequelae in childhood bacterial meningitis in sub-Saharan Africa. Clin Infect Dis 48(8):1107–1110

29.

Roine I, Peltola H, Fernandez J, Zavala I, Gonzalez Mata A, Gonzalez Ayala S, Arbo A, Bologna R, Mino G, Goyo J, Lopez E, Dourado de Andrade S, Sarna S (2008) Influence of admission findings on death and neurological outcome from childhood bacterial meningitis. Clin Infect Dis 46(8):1248–1252

30.

Saez-Llorens X, McCracken GH Jr (2003) Bacterial meningitis in children. Lancet 361(9375):2139–2148

31.

Singhi P, Bansal A, Geeta P, Singhi S (2007) Predictors of long term neurological outcome in bacterial meningitis. Indian J Pediatr 74(4):369–374

32.

Streharova A, Krcmery V, Kisac P, Kalavsky E, Holeckova K, Lesnakova A, Luzinsky L, Adamkovicova E, Pavlikova Z, Spilakova N, Kacunova B, Dovalova V, Wiczmandyova O, Spanik S, Liskova A, Chovancova D, Kovac M, Ondrusova A, Bauer F, Benca J, Rudinsky B, Sramka M, Kralova J, Krsakova J, Krumpolcova M, Findova L, Svabova V, Sladeckova V, Seckova S, Saniova J, Pavlicova B, Taziarova M, Bukovinova P, Kolenova A, Horvathova E, Hvizdak F, Luzica R, Rolnikova B, Bocakova A, Grey E, Bielova M, Huttova M, Sabo I, Jalili N (2007) Predictors of inferior outcome in community acquired bacterial meningitis. Neuro Endocrinol Lett 28(Suppl 3):2–4

33.

Thigpen MC, Whitney CG, Messonnier NE, Zell ER, Lynfield R, Hadler JL, Harrison LH, Farley MM, Reingold A, Bennett NM, Craig AS, Schaffner W, Thomas A, Lewis MM, Scallan E, Schuchat A (2011) Bacterial meningitis in the United States, 1998–2007. N Engl J Med 364(21):2016–2025

34.

Wald ER, Bergman I, Taylor HG, Chiponis D, Porter C, Kubek K (1986) Long-term outcome of group B streptococcal meningitis. Pediatrics 77(2):217–221
Financial disclosure statement
All authors declare complete disclosure of financial relationship with any manufacturer whose product is discussed in the manuscript.
Author contribution
Fatiha Bargui and Irene D'Agostino: acquisition of data, drafting the manuscript.
Corinne Alberti and Priscilla Armoogum: statistical analysis, revising the manuscript.
Nathalie Bellier, Laurence Morin, Giuliano Galli Gibertini, Assia Smail, Patricia Mariani-Kurkdjian, Catherine Doit, Stéphane Bonacorsi, Mathie Lorrot, Stéphane Dauger, Mathieu Neve, and Albert Faye: acquisition of data, revising the article.
Anna Zanin, Antoine Bourrillon, Edouard Bingen, Jean-Christophe Mercier, and Lise E. Nigrovic: interpretation of data, revising the manuscript.
Luigi Titomanlio: conception and design, interpretation of data, revising the manuscript.
Additional information
Fatiha Bargui and Irene D'Agostino contributed equally.
About this article
Cite this article
Bargui, F., D'Agostino, I., Mariani-Kurkdjian, P. et al. Factors influencing neurological outcome of children with bacterial meningitis at the emergency department. Eur J Pediatr 171, 1365–1371 (2012). https://doi.org/10.1007/s00431-012-1733-5
Received:

Accepted:

Published:

Issue Date:
Keywords
Bacterial meningitis

Neurological outcome

Long-term sequelae

Neurologic deficits