Abstract
Cystic fibrosis (CF) is an inherited disorder with a devastating prognosis. Determination of chloride concentration in sweat has been the gold standard test for diagnosing CF for over 50 years and still remains the primary screening test. However, now that the genetic cause is known and can be studied, genetic confirmation is mandatory in every suspected patient. We present a patient who had been clinically diagnosed and whose genetic testing could not confirm CF, leading us to search for other options that may also give a positive sweat test. The patient turned out to suffer type 1 pseudohypoaldosteronism, a condition that may cause severe dehydration, hyponatremia and hyperkalemia episodes if not diagnosed and treated early with sodium supplementation. We found a genetic variation in the epithelial sodium channel gene which has not been reported previously, and we discuss the possibility of it being the cause of our patient's phenotype. Conclusion: this patient clearly illustrates the usefulness of genetic confirmation for CF for the diagnosis and genetic counselling, even when it is clinically oriented, and describes a novel mutation of the amiloride-sensitive epithelial sodium channel possibly causing type 1 pseudohypoaldosteronism.
This is a preview of subscription content, log in to check access.
Access options
Buy single article
Instant access to the full article PDF.
US$ 39.95
Price includes VAT for USA
Subscribe to journal
Immediate online access to all issues from 2019. Subscription will auto renew annually.
US$ 199
This is the net price. Taxes to be calculated in checkout.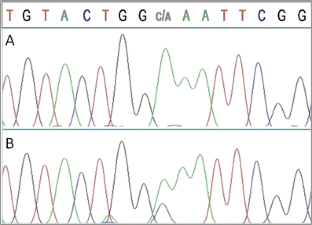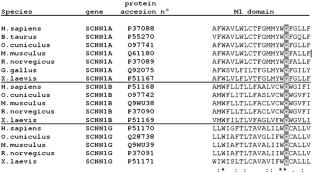 Abbreviations
CF:

Cystic fibrosis

PHA1:

Pseudohypoaldosteronism type 1

ENaC:

Epithelial sodium channel

DGGE:

Denaturing gradient gel electrophoresis

SSCP/HD:

Single-stranded conformation polymorphism/heteroduplex

PCR:

Polymerase chain reaction

RFLP:

Restriction fragment length polymorphism
References
1.

Azad AK, Rauh R, Vermeulen F, Jaspers M, Korbmacher J, Boissier B, Bassinet L et al (2009) Mutations in the amiloride-sensitive epithelial sodium channel in patients with cystic fibrosis-like disease. Hum Mutat 30:1093–1103

2.

Berdiev BK, Qadri YJ, Benos DJ (2009) Assessment of the CFTR and ENaC association. Mol Biosyst 5:123–127

3.

Fajac I, Viel M, Gaitch N, Hubert D, Bienvenu T (2009) Combination of ENaC and CFTR mutations may predispose to cystic fibrosis-like disease. Eur Respir J 34:772–773

4.

Hanukoglu A, Bistritzer T, Rakover Y, Mandelberg A (1994) Pseudohypoaldosteronism with increased sweat and saliva electrolyte values and frequent lower respiratory tract infections mimicking cystic fibrosis. J Pediatr 125:752–755

5.

Kashlan OB, Maarouf AB, Kussius C, Denshaw RM, Blumenthal KM, Kleyman TR (2006) Distinct structural elements in the first membrane-spanning segment of the epithelial sodium channel. J Biol Chem 281:30455–30462

6.

Noone PG, Pue CA, Zhou Z, Friedman KJ, Wakeling EL, Ganeshananthan M, Simon RH, Silverman LM, Knowles MR (2000) Lung disease associated with the IVS8 5T allele of the CFTR gene. Am J Respir Crit Care Med 162:1919–1924

7.

Rauh R, Diakov A, Tzschoppe A, Korbmacher J, Azad AK, Cuppens H, Cassiman JJ, Dotsch J, Sticht H, Korbmacher C (2010) A mutation of the epithelial sodium channel associated with atypical cystic fibrosis increases channel open probability and reduces Na+ self inhibition. J Physiol 588:1211–1225

8.

Sheridan MB, Fong P, Groman JD, Conrad C, Flume P, Diaz R, Harris C, Knowles M, Cutting GR (2005) Mutations in the beta-subunit of the epithelial Na+ channel in patients with a cystic fibrosis-like syndrome. Hum Mol Genet 14:3493–3498

9.

Wallis C (2003) Atypical cystic fibrosis—diagnostic and management dilemmas. J R Soc Med 96(Suppl 43):2–10

10.

Weiss FU, Simon P, Bogdanova N, Mayerle J, Dworniczak B, Horst J et al (2005) Complete cystic fibrosis transmembrane conductance regulator gene sequencing in patients with idiopathic chronic pancreatitis and controls. Gut 54(10):1456–1460
About this article
Cite this article
Mora-Lopez, F., Bernal-Quiros, M., Lechuga-Sancho, A.M. et al. Novel mutation in the epithelial sodium channel causing type I pseudohypoaldosteronism in a patient misdiagnosed with cystic fibrosis. Eur J Pediatr 171, 997–1000 (2012). https://doi.org/10.1007/s00431-012-1697-5
Received:

Accepted:

Published:

Issue Date:
Keywords
Cystic fibrosis

Type I pseudohypoaldosteronism

Epithelial sodium channel