Abstract
Human non-polio enterovirus (EV) is the most important cause of aseptic meningitis in children. Only a few studies report the lack of cerobrospinal fluid (CSF) pleocytosis in children with confirmed EV meningitis; however, the characteristics of these children have not been well defined. This paper describes the clinical and laboratory features of EV meningitis in children with no CSF pleocytosis. Clinical, laboratory, and virological data of Dutch patients <16 years diagnosed with EV meningitis, between 2003 and 2008, were analyzed retrospectively. Data of children with and without CSF pleocytosis were compared. A total of 149 children were infected with EV. Patients presented mainly with fever (n = 113), malaise (n = 43), abdominal pain (n = 47), and irritability (n = 61). Of the 60 patients with EV meningitis, 23 had no pleocytosis. Those who lacked CSF pleocytosis were younger [odds ratio (OR) 1.00; 95% confidence interval (CI) 1.000–1.002; p = 0.001], had experienced drowsiness more (OR 9.60; 95% CI 2.24–41.15; p = 0.002), had lower white blood cell counts (OR 0.73; 95% CI 0.61–0.89; p = 0.001), and had higher C-reactive protein (OR 1.13; 95% CI 1.03–1.23; p = 0.006) than those with pleocytosis. Conclusion. These findings show that EV meningitis occurs in the absence of CSF pleocytosis, particularly in young infants, meaning that EV meningitis in this age group cannot be solely excluded by the absence of CSF pleocytosis. They also confirm the importance of genome detection in the diagnosis of EV meningitis in young infants.
This is a preview of subscription content, log in to check access.
We're sorry, something doesn't seem to be working properly.
Please try refreshing the page. If that doesn't work, please contact support so we can address the problem.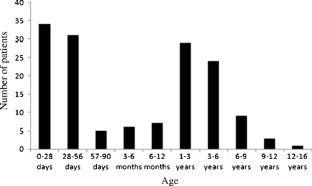 References
1.

Abzug MJ, Levin MJ, Rotbart HA (1993) Profile of enterovirus disease in the first two weeks of life. Pediatr Infect Dis J 12:820–824

2.

Ahmed A, Brito F, Goto C, Hickey SM, Olsen KD, Trujillo M, McCracken GH Jr (1997) Clinical utility of the polymerase chain reaction for diagnosis of enteroviral meningitis in infancy. J Pediatr 131:393–397

3.

Archimbaud C, Chambon M, Bailly J et al (2009) Impact of rapid enterovirus molecular diagnosis on the management of infants, children, and adults with aseptic meningitis. J Med Virol 81:42–48

4.

Bonadio WA, Stancol L, Bruce R, Barry D, Smith D (1992) Reference values of normal cerebrospinal fluid composition in infants ages 0 to 8 weeks. Pediatr Infect Dis J 11:589–591

5.

Byington CL, Taggart EW, Carroll KC, Hillyard DR (1999) A polymerase chain reaction-based epidemiologic investigation of the incidence of nonpolio enteroviral infections in febrile and afebrile infants 90 days and younger. Pediatrics 103:E27

6.

Chambon M, Archimbaud C, Bailly J, Henquell C, Regagnon C, Charbonné F, Peigue-Lafeuille H (2001) Circulation of enteroviruses and persistence of meningitis cases in the winter of 1999–2000. J Med Virol 65:340–347

7.

Chang LY, Huang LM, Gau SS et al (2007) Neurodevelopment and cognition in children after enterovirus 71 infection. N Engl J Med 356:1226–1234

8.

Graham AK, Murdoch DR (2005) Association between cerebrospinal fluid pleocytosis and enteroviral meningitis. J Clin Microbiol 43:1491

9.

Henquell C, Chambon M, Bailly JL, Alcaraz S, De Champs C, Archimbaud C, Labbé A, Charbonné F, Peigue-Lafeuille H (2001) Prospective analysis of 61 cases of enteroviral meningitis: interest of systematic genome detection in cerebrospinal fluid irrespective of cytologic examination results. J Clin Virol 21:29–53

10.

Huang CC, Liu CC, Chang YC, Chen CY, Wang ST, Yeh TF (1999) Neurologic complications in children with enterovirus 71 infection. N Engl J Med 341:936–942

11.

Hyppia T, Orsnell C, Maaronen C, Khan M, Kalkkinnen N, Auvinen P, Kinnunen L, Stanway G (1992) A distinct picornavirus group identified by sequence analysis. Proc Natl Acad Sci USA 89:8847–8851

12.

Kawashima H, Ioi H, Ishii C, Hasegawa Y, Amaha M, Kashiwagi Y, Takekuma K, Hoshika A, Watanabe Y (2008) Viral loads of cerebrospinal fluid in infants with enterovirus meningitis. J Clin Lab Anal 22:216–219

13.

Khetsuriani N, LaMonte A, Oberste MS, Pallansch M (2006) Neonatal enterovirus infections reported to the national enterovirus surveillance system in the United States 1983–2003. Pediatr Infect Dis J 25:889–893

14.

Khetsuriani N, LaMonte-Fowlkes A, Oberste MS, Pallansch MA (2006) Enterovirus surveillance—United States, 1970–2005. MMWR Surveill Summ 55:1–20

15.

Lee BE, Chawla R, Langley JM et al (2006) Paediatric Investigators Collaborative Network on Infections in Canada (PICNIC) study of aseptic meningitis. BMC Infect Dis 6:68

16.

Modlin JF (2009) Enterovirus: coxsackieviruses, echoviruses, and newer enteroviruses. In: Long SS, Pickering LK, Prober CG (eds) Principles and practice of pediatric infectious diseases, 3rd edn. Churchill Livingstone, Edinburgh, pp 1149–1157

17.

Mulford WS, Buller RS, Arens MQ, Storch GA (2004) Correlation of cerebrospinal fluid (CSF) cell counts and elevated CSF protein levels with enterovirus reverse transcription-PCR results in pediatric and adult patients. J Clin Microbiol 42:4199–4203

18.

Newland JG, Romero JR, Sarica A, Zach TL, Linder K (2002) Spectrum of neonatal enteroviral disease over an 8-year period. Clinical Infectious Diseases Electronic Edition: 40th Annual Infectious Diseases Society of America Meeting, Program and Abstracts, 2002; pg 50; Abstract 34. Available at: http://www.journals.uchicago.edu. Accessed October 2008

19.

Nijhuis M, Maarseveen N, Schuurman R, Verkuijlen S, de Vos M, Hendriksen K, van Loon AM (2002) Rapid and sensitive routine detection of all members of the genus Enterovirus in different clinical specimens by real-time PCR. J Clin Microbiol 40:3666–3670

20.

Ramers C, Billman G, Hartin M, Ho S, Sawyer MH (2000) Impact of a diagnostic cerebrospinal fluid enterovirus polymerase chain reaction test on patient management. JAMA 283:2680–2685

21.

Rittichier KR, Bryan PA, Bassett KE, Taggart EW, Enriquez FR, Hillyard DR, Byington CL (2005) Diagnosis and outcomes of enterovirus infections in young infants. Pediatr Infect Dis J 24:546–550

22.

Sato M, Hosoya M, Honzumi K, Watanabe M, Ninomiya N, Shigeta S, Suzuki H (2003) Cytokine and cellular inflammatory sequence in enteroviral meningitis. Pediatrics 112:1103–1107

23.

Sawyer MH (2002) Enterovirus infections: diagnosis and treatment. Semin Pediatr Infect Dis J 13:40–47

24.

Sawyer MH, Holland D, Aintablian N, Connor JD, Keyser EF, Waecker N Jr (1994) Diagnosis of enteroviral central nervous system infection by polymerase chain reaction during a large community outbreak. Pediatr Infect Dis J 13:177–182

25.

Seehusen DA, Reeves MM, Fomin DA (2003) Cerebrospinal fluid analysis. Am Fam Physician 68:1103–1108

26.

Seiden JA, Zorc JJ, Hodinka RL, Shah SS (2010) Lack of cerebrospinal fluid pleocytosis in young infants with enterovirus infections of the central nervous system. Pediatr Emerg Care 26:77–81

27.

van de Pol AC, Wolfs TF, Jansen NJ, van Loon AM, Rossen JW (2006) Diagnostic value of real-time polymerase chain reaction to detect viruses in young children admitted to the paediatric intensive care unit with lower respiratory tract infection. Crit Care 10:R61

28.

Wildin S, Chonmaitree T (1987) The importance of the virology laboratory in the diagnosis and management of viral meningitis. Am J Dis Child 141:454–45
Acknowledgments
We thank Dr. A.J.C.M. van der Velden, Pediatrician, Franciscus Hospital Roosendaal, for providing the clinical charts of patients from his hospital. We thank M.A. Verboon-Maciolek for critical reading of the manuscript.
Statement of competing interest
The authors declare that they have no competing interests.
About this article
Cite this article
de Crom, S.C.M., van Furth, M.A.M., Peeters, M.F. et al. Characteristics of pediatric patients with enterovirus meningitis and no cerebral fluid pleocytosis. Eur J Pediatr 171, 795–800 (2012). https://doi.org/10.1007/s00431-011-1626-z
Received:

Accepted:

Published:

Issue Date:
Keywords
Enterovirus

Children

Meningitis

Pleocytosis

Cerebrospinal fluid