Abstract
Low back pain (LBP) is prevalent in teenagers but not necessarily detrimental to their quality of life (QoL). This population-based study evaluated a global QoL score and the association between LBP and life events and/or health problems affecting QoL. Schoolchildren were investigated in Fribourg-Switzerland and Barcelona-Spain. In addition to the KIDSCREEN, a health-related QoL questionnaire, two Numerical Rating Scales were used to assess QoL in general, and the influence of LBP on QoL. Open questions explored life events and health problems affecting QoL; responses were submitted to content analysis. Adolescents were stratified: Pain-free, Other pain (OP), isolated LBP (IsoLBP), LBP + other pains (LBP + OP), and LBP + whole-body pain (LBP + WBP). Between-group comparisons were performed using Chi-squared tests and ANOVA. Linear regression analysis was performed to assess between-group differences in the impact of LBP on QoL. Schoolchildren (1,470) (mean age = 15.05 years, 52.6% = boys) completed the questionnaire. LBP lasting >1 day in the last month was reported by 39.8% (N = 560): of them, 242 (43.2%) reported IsoLBP, 268 (47.9%) LBP + OP, and 50 (9.1%) LBP + WBP. QoL was lower in LBP + WBP (mean = 6.44 vs. LBP + OP = 7.8; IsoLBP = 7.6, OP = 7.96, Pain-free = 8.1; p < 0.001). There were 18.5% who reported health problems and 15.3% life events with a perceived impact on QoL. Prevalence was higher in LBP + WBP with >30% of this group identifying life events and/or health problems vs. 10–12% in PFree or IsoLBP groups (p < 0.001). IsoLBP affected QoL marginally (mean = 2.4 ± 2.2) compared to LBP + WBP (mean = 4.9 ± 2.4) (p < 0.001). LBP affected QoL marginally. These results stress the distinction between disease and common life experience. They also indicate the potential value of global QoL assessments in clinical settings.
This is a preview of subscription content, log in to check access.
Access options
Buy single article
Instant access to the full article PDF.
US$ 39.95
Price includes VAT for USA
Subscribe to journal
Immediate online access to all issues from 2019. Subscription will auto renew annually.
US$ 199
This is the net price. Taxes to be calculated in checkout.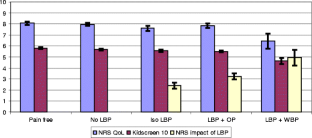 References
1.

Boyce W, Torsheim T, Currie C, Zambon A (2006) The family affluence scale as a measure of national wealth: validation of an adolescent self-report measure. Soc Indic Res 78:473–487

2.

Cooke D, Newman S, Sacker A, DeVellis B, Bebbington P, Meltzer H (2007) The impact of physical illnesses on non-psychotic psychiatric morbidity: data from the household survey of psychiatric morbidity in Great Britain. Br J Health Psychol 12:463–471

3.

Dunn KM, Croft PR (2005) Classification of low back pain in primary care: using "bothersomeness" to identify the most severe cases. Spine 30:1887–1892

4.

Feldman DS, Hedden DM, Wright JG (2000) The use of bone scan to investigate back pain in children and adolescents. J Pediatr Orthop 20:790–795

5.

Ferrer M, Pellise F, Escudero O, Alvarez L, Pont A, Alonso J, Deyo R (2006) Validation of a minimum outcome core set in the evaluation of patients with back pain. Spine 31:1372–1379, discussion 1380

6.

Huguet A, Miro J (2008) The severity of chronic pediatric pain: an epidemiological study. J Pain 9:226–236

7.

Huguet A, Eccleston C, Miro J, Gauntlett-Gilbert J (2009) Young people making sense of pain: cognitive appraisal, function, and pain in 8–16 year old children. Eur J Pain 13:751–759

8.

Jones GT, Silman AJ, Macfarlane GJ (2003) Predicting the onset of widespread body pain among children. Arthritis Rheum 48:2615–2621

9.

Jones GT, Power C, Macfarlane GJ (2009) Adverse events in childhood and chronic widespread pain in adult life: results from the 1958 British Birth Cohort Study. Pain 143:92–96

10.

Juniper EF, Guyatt GH, Streiner DL, King DR (1997) Clinical impact versus factor analysis for quality of life questionnaire construction. J Clin Epidemiol 50:233–238

11.

Mannion AF, Elfering A, Staerkle R, Junge A, Grob D, Semmer NK, Jacobshagen N, Dvorak J, Boos N (2005) Outcome assessment in low back pain: how low can you go? Eur Spine J 14:1014–1026

12.

Mays N, Pope C (1996) Rigor in Qualitative Research. Qualitative Research in Health Care. BMJ books, London

13.

Mikkelsson M, El-Metwally A, Kautiainen H, Auvinen A, Macfarlane GJ, Salminen JJ (2008) Onset, prognosis and risk factors for widespread pain in schoolchildren: a prospective 4-year follow-up study. Pain 138:681–687

14.

Ogden CA, Abbott J, Aggett P, Derkx BH, Maity S, Thomas AG (2008) Pilot evaluation of an instrument to measure quality of life in British children with inflammatory bowel disease. J Pediatr Gastroenterol Nutr 46:117–120

15.

Paananen MV, Taimela SP, Tammelin TH, Kantomaa MT, Ebeling HE, Taanila AM, Zitting PJ, Karppinen JI (2011) Factors related to seeking health care among adolescents with musculoskeletal pain. Pain 152:896–903

16.

Page LA, Thomson WM, Jokovic A, Locker D (2008) Epidemiological evaluation of short-form versions of the Child Perception Questionnaire. Eur J Oral Sci 116:538–544

17.

Palacio-Vieira JA, Villalonga-Olives E, Valderas JM, Espallargues M, Herdman M, Berra S, Alonso J, Rajmil L (2008) Changes in health-related quality of life (HRQoL) in a population-based sample of children and adolescents after 3 years of follow-up. Qual Life Res 17:1207–1215

18.

Patton GC, Viner R (2007) Pubertal transitions in health. Lancet 369:1130–1139

19.

Pellise F, Balague F, Rajmil L, Cedraschi C, Aguirre M, Fontecha CG, Pasarin M, Ferrer M (2009) Prevalence of low back pain and its effect on health-related quality of life in adolescents. Arch Pediatr Adolesc Med 163:65–71

20.

Petersen S, Hagglof BL, Bergstrom EI (2009) Impaired health-related quality of life in children with recurrent pain. Pediatrics 124(4):e759–e767

21.

Pope C, Ziebland S, Mays N (2000) Qualitative research in health care. Analysing qualitative data. BMJ 320:114–116

22.

Rajmil L, Herdman M, Fernandez de Sanmamed MJ, Detmar S, Bruil J, Ravens-Sieberer U, Bullinger M, Simeoni MC, Auquier P (2004) Generic health-related quality of life instruments in children and adolescents: a qualitative analysis of content. J Adolesc Health 34:37–45

23.

Ravens-Sieberer U, Gosch A, Erhart M, von Rueden U, Nickel J, Kurth BM, Duer W et al (2006) The KIDSCREEN Questionnaires—Quality of life questionnaires for children and adolescents—handbook. Pabst Science Publisher, Lengerich (Germany)

24.

Ravens-Sieberer U, Gosch A, Rajmil L, Erhart M, Bruil J, Power M, Duer W, Auquier P, Cloetta B, Czemy L, Mazur J, Czimbalmos A, Tountas Y, Hagquist C, Kilroe J (2008) The KIDSCREEN-52 quality of life measure for children and adolescents: psychometric results from a cross-cultural survey in 13 European countries. Value Health 11:645–658

25.

Simeoni MC, Sapin C, Antoniotti S, Auquier P (2001) Health-related quality of life reported by French adolescents: a predictive approach of health status? J Adolesc Health 28:288–294

26.

Spencer J, Ritchie L (1994) Qualitative data analysis for applied policy research. In: Bryman A, Burgess RG (eds) Analysing qualitative data. Routledge, London

27.

Stratford PW, Binkley JM, Riddle DL, Guyatt GH (1998) Sensitivity to change of the Roland-Morris Back Pain Questionnaire: part 1. Phys Ther 78:1186–1196

28.

Ventura A, Cárcel C (1999) Index de Capacitat Econòmica Familiar a la Ciutat de Barcelona II. Ajuntament de Barcelona. Gabinet Tècnic de Programacio, Barcelona

29.

Watson KD, Papageorgiou AC, Jones GT, Taylor S, Symmons DP, Silman AJ, Macfarlane GJ (2002) Low back pain in schoolchildren: occurrence and characteristics. Pain 97:87–92
Conflicts of interest
None.
About this article
Cite this article
Balagué, F., Ferrer, M., Rajmil, L. et al. Assessing the association between low back pain, quality of life, and life events as reported by schoolchildren in a population-based study. Eur J Pediatr 171, 507–514 (2012). https://doi.org/10.1007/s00431-011-1596-1
Received:

Revised:

Accepted:

Published:

Issue Date:
Keywords
Low back pain

Quality of life

Adolescents

Brief scales

Life events