Abstract
Congenital nasal obstruction can result in neonatal respiratory distress because neonates are obligate nasal breathers. Therefore, all physicians who deal with infants should be familiar with the structural abnormalities, masses, and syndromes that cause nasal obstruction, so that appropriate work-up and treatment can be promptly initiated. This paper reviews the embryology of the nasal passage and then continues with the different causes of nasal obstruction. Special attention is paid to the presentation, physical exam findings, and imaging modality of choice.
This is a preview of subscription content, log in to check access.
Access options
Buy single article
Instant access to the full article PDF.
US$ 39.95
Price includes VAT for USA
Subscribe to journal
Immediate online access to all issues from 2019. Subscription will auto renew annually.
US$ 199
This is the net price. Taxes to be calculated in checkout.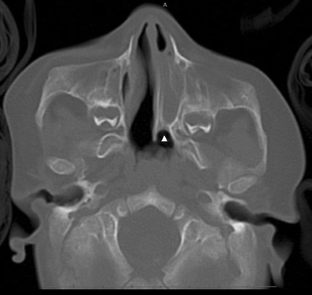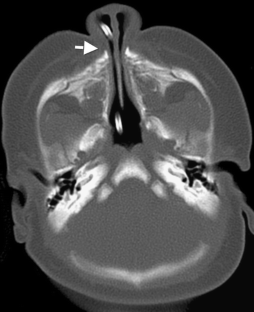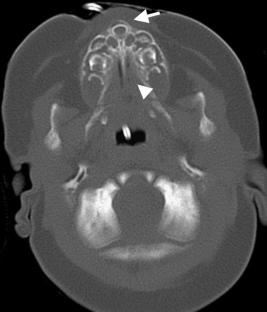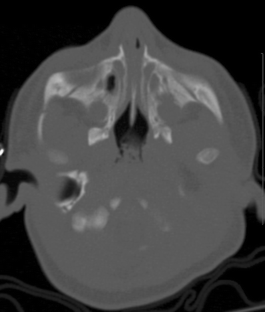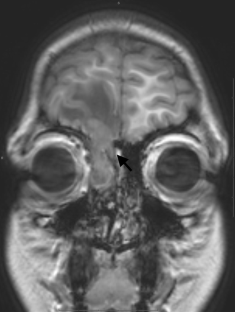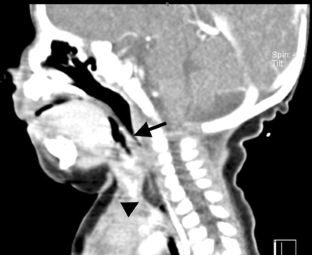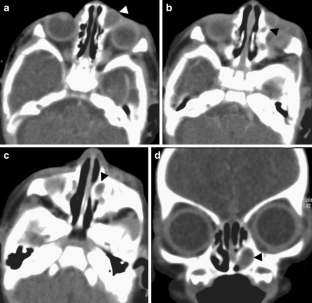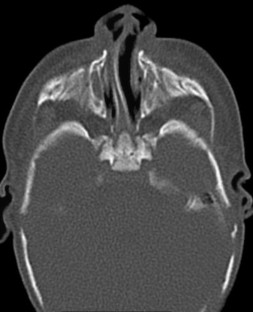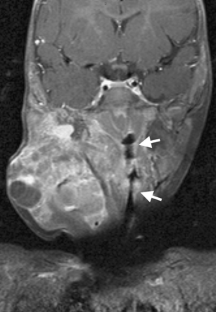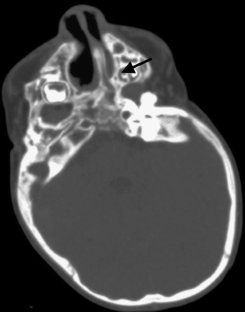 Abbreviations
CT:

Computerized tomography

PAS:

Pyriform aperature stenosis

MRI:

Magnetic resonance imaging

CNS:

Central nervous system

CSF:

Cerebrospinal fluid

AVM:

Arteriovenous malformation
References
1.

Arlis H, Ward RF (1992) Congenital nasal pyriform aperture stenosis. Isolated abnormality vs developmental field defect. Arch Otolaryngol Head Neck Surg 118(9):989–991

2.

Belden CJ, Mancuso AA, Schmalfuss IM (1999) CT features of congenital nasal piriform aperture stenosis: initial experience. Radiology 213:495–501

3.

Brown OE, Pownell P, Manning SC (1996) Choanal atresia: a new anatomic classification and clinical management applications. Laryngoscope 106:97–101

4.

Burrow TA, Saal HM, de Alarcon A, Martin LJ, Cotton RT, Hopkin RJ (2009) Characterization of congenital anomalies in individuals with choanal atresia. Arch Otolaryngol Head Neck Surg 135(6):543–547

5.

Coppit GL 3rd, Perkins JA, Manning SC (2000) Nasopharyngeal teratomas and dermoids: a review of the literature and case series. Int J Pediatr Otorhinolaryngol 52(3):219–227

6.

De Moura CP, Andrade D, Cunha LM, Tavares MJ, Cunha MJ, Vaz P, Barros H, Pueschel SM, Clemente MP (2008) Down syndrome: otolaryngological effects of rapid maxillary expansion. J Laryngol Otol 122(12):1318–1324

7.

Denoyelle F, Ducroz V, Roger G, Garabedian EN (1997) Nasal dermoid sinus cysts in children. Laryngoscope 107(6):795–800

8.

Gray LP (1978) Deviated nasal septum. Incidence and etiology. Ann Otol Rhinol Laryngol Supp 87(3 Pt 3 Suppl 50):3–20

9.

Guilmin-Crépon S, Garel C, Baumann C et al (2006) High proportion of pituitary abnormalities and other congenital defects in children with congenital nasal pyriform aperture stenosis. Pediatr Res 60(4):478–484

10.

Hedlund G (2006) Congenital frontonasal masses: developmental anatomy, malformations, and MR imaging. Pediatr Radiol 36(7):647–662

11.

Hengerer AS, Brickman TM, Jeyakumar A (2008) Choanal atresia: embryologic analysis and evolution of treatment, a 30-year experience. Laryngoscope 118(5):862–866

12.

Hepler KM, Woodson GE, Kearns DB (1995) Respiratory distress in the neonate. Sequela of a congenital dacryocystocele. Arch Otolaryngol Head Neck Surg 121(12):1423–1425

13.

Huth ME, Heimgartner S, Schnyder I, Caversaccio MD (2008) Teratoma of the nasal septum in a neonate: an endoscopic approach. J Pediatr Surg 43(11):2102–2105

14.

Jacqueline EJ, Young E, Heier L (1998) Congenital bony nasal cavity deformities. Am J Rhinol 12(2):81–86

15.

Leclerc JE, Fearon B (1987) Choanal atresia and associated anomalies. Int J Pediatr Otorhinolaryngol 13(3):265–272

16.

Lo LJ, Chen YR (1999) Airway obstruction in severe syndromic craniosynostosis. Ann Plast Surg 43(3):258–264

17.

MacEwen CJ, Young JD (1991) Epiphora during the first year of life. Eye 5:596–600

18.

Macfarlane R, Rutka JT, Armstrong D et al (1995) Encephaloceles of the anterior cranial fossa. Pediatr Neurosurg 23(3):148–158

19.

Ma KH, Cheung KL (2006) Nasal glioma. Hong Kong Med J 12(6):477–479

20.

Nathan CO, Seid AB (1997) Neonatal rhinitis. Int J Pediatr Otorhinolaryngol 39(1):59–65

21.

Neskey D, Eloy JA, Casiano RR (2009) Nasal, septal, and turbinate anatomy and embryology. Otolaryngol Clin North Am 42(2):193–205

22.

Raghavan U, Fuad F, Gibbin KP (2004) Congenital midnasal stenosis in an infant. Int J Pediatr Otorhinolaryngol 68(6):823–825

23.

Shetty SC, Gupta S, Cherian M, Chary G, Shariff S (2000) Mature teratoma of the nasal vestibule: a case report. Ear Nose Throat J 79(8):620–623

24.

Tolley NS, Ford G, Commins D (1992) The management of neonatal rhinitis. Int J Pediatr Otorhinolaryngol 24(3):253–260

25.

Van Den Abbeele T, Triglia JM, François M, Narcy P (2001) Congenital nasal pyriform stenosis: diagnosis and management of 20 cases. Ann Otol Rhinol Laryngol 110:70–75

26.

Zanini SA, Viterbo F, Parro FH (1996) Apert's syndrome: modification in corrective techniques. J Craniofac Surg 7(1):79–81
Financial disclosures
None.
Conflicts of interest
None.
About this article
Cite this article
Adil, E., Huntley, C., Choudhary, A. et al. Congenital nasal obstruction: clinical and radiologic review. Eur J Pediatr 171, 641–650 (2012). https://doi.org/10.1007/s00431-011-1591-6
Received:

Accepted:

Published:

Issue Date:
Keywords
Nasal obstruction

Nasopharyngeal obstruction

Choanal atresia

Pyriform aperature stenosis

Midnasal stenosis

Nasal dermoid

Teratoma

Glioma

Encephalocele

Turbinate hypertrophy

Septal deviation

Neonatal rhinitis