Abstract
We present a 9-month-old boy with megaloblastic anaemia, neutropenia and hypogammaglobulinaemia due to vitamin B12 deficiency. The deficiency was secondary to prolonged exclusive breastfeeding with inadequate nutritional amounts of vitamin B12 from the mother. There were no clinical or biological signs of maternal anaemia or macrocytosis. Treatment with oral vitamin B12 rapidly improved the biological findings of the child. Vitamin B12 deficiency should be considered in infants older than 2 months presenting with failure to thrive, neurocognitive retardation or even pancytopenia and hypogammaglobulinaemia, even in the absence of any signs of maternal anaemia or macrocytosis. Therefore, evaluation of vitamin B12 status during pregnancy and lactation is necessary in order to prevent B12 deficiency and its possible long-term effects in infants. Conclusion: Further studies should be conducted to evaluate the optimal oral dosage of vitamin B12 in children since limited data on the use of oral B12 substitution are available.
This is a preview of subscription content, log in to check access.
Access options
Buy single article
Instant access to the full article PDF.
US$ 39.95
Price includes VAT for USA
Subscribe to journal
Immediate online access to all issues from 2019. Subscription will auto renew annually.
US$ 199
This is the net price. Taxes to be calculated in checkout.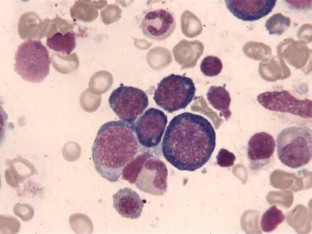 References
1.

Avci Z, Turul T, Aysun S, Unal I (2003) Involuntary movements and magnetic resonance imaging findings in infantile cobalamine (vitamin B12) deficiency. Pediatrics 112(3 Pt 1):684–686

2.

Bolaman Z, Kadikoylu G, Yukselen V, Yavasoglu I, Barutca S, Senturk T (2003) Oral versus intramuscular cobalamin treatment in megaloblastic anaemia: a single-center, prospective, randomized, open-label study. Clin Ther 12:3124–3134

3.

Celiker MY, Chawla A (2009) Congenital B12 deficiency following maternal gastric bypass. J Perinatol 29(9):640–642

4.

Dror DK, Allen LH (2008) Effect of vitamin B12 deficiency on neurodevelopment in infants: current knowledge and possible mechanisms. Nutr Rev 66(5):250–255

5.

Grange DK, Finlay JL (1994) Nutritional vitamin B12 deficiency in a breastfed infant following maternal gastric bypass. Pediatr Hematol Oncol 11(3):311–318

6.

Honzik T, Adamovicova M, Smolka V, Magner M, Hruba E, Zeman J (2010) Clinical presentation and metabolic consequences in 40 breastfed infants with nutritional vitamin B12 deficiency—what have we learned? Eur J Paediatr Neurol 14(6):488–495

7.

Horstmann M, Neumaier-Probst E, Lukacs Z, Steinfeld R, Ullrich K, Kohlschuetter A (2003) Infantile cobalamin deficiency with cerebral lactate accumulation and sustained choline depletion. Neuropediatrics 34(5):261–264

8.

Lövblad K, Ramelli G, Remonda L, Nirkko AC, Ozdoba C, Schroth G (1997) Retardation of myelination due to dietary vitamin B12 deficiency: cranial MRI findings. Pediatr Radiol 27(2):155–158

9.

Mathey C, Di Marco J-N, Poujol A, Cournevelle M-A, Brevaut V, Livet M-O, Chabrol B, Michel G (2007) Failure to thrive and psychomotor regression revealing vitamin B12 deficiency in 3 infants. Arch Pediatr 14:467–471

10.

Rasmussen S, Fernhoff PM, Scanlon KS (2001) Vitamin B12 deficiency in children and adolescents. J Pediatr 138(1):10–17

11.

Van Winckel M, Vande Velde S, De Bruyne R, Van Biervliet S (2011) Vegetarian infant and child nutrition. Eur J Pediatr. doi:10.1007/s00431-011-1547-x

12.

Yenicesu I (2008) Pancytopenia due to vitamin B12 deficiency in a breast-fed infant. Pediatr Hematol Oncol 25(4):365–367
Sources of support
None.
Financial disclosure and conflict of interest
None.
Informed consent prior to our case report
Yes.
About this article
Cite this article
Quentin, C., Huybrechts, S., Rozen, L. et al. Vitamin B12 deficiency in a 9-month-old boy. Eur J Pediatr 171, 193–195 (2012). https://doi.org/10.1007/s00431-011-1577-4
Received:

Accepted:

Published:

Issue Date:
Keywords
Vitamin B12 deficiency

Megaloblastic anaemia

Neutropenia

Hypogammaglobulinemia