Abstract
High dependency care (HDC) is a level of care situated between intensive care and usual ward care with its delivery being independent of location. Inadequate definition makes it problematic to determine the number of children receiving HDC, to identify their care setting and therefore to undertake service planning. We aimed to estimate the volume of hospital inpatient HDC in a geographically defined population using a customised measurement tool in four types of paediatric hospital services (1) tertiary specialist wards, (2) tertiary paediatric intensive care units, (3) district general hospitals (DGHs) general wards and (4) wards at a major acute general hospital. A region-wide prospective cohort study during 2005 collected data to develop a 36-item HDC measurement tool, which then identified children receiving HDC by day and night. The cohort identified 1,763 children as receiving HDC during an admission to 1 of 36 hospital wards in 14 hospitals. HDC was delivered during 9,077 shift periods of 12 h or 4,538 bed days. The volume of care and patient profiles varied by hospital type, within hospital by ward type and by age and season. Tertiary specialist wards and ICUs provided 72% of HDC, with the remainder delivered at the DGHs and the major acute general hospital. The volume of admissions to tertiary specialist wards showed little seasonality and children tended to be older (26% were aged 10–15 years). By comparison, admissions to DGHs were younger with an excess during the winter months. This is the first UK study to quantify HDC from empirical data encompassing all hospital and ward types within a large clinical network. A lack of HDC-designated beds across the region resulted in HDC delivery on all types of hospital wards. The study size and representativeness makes the estimated number of HDC bed days per head of population likely to reflect the wider UK population.
This is a preview of subscription content, log in to check access.
Access options
Buy single article
Instant access to the full article PDF.
US$ 39.95
Price includes VAT for USA
Subscribe to journal
Immediate online access to all issues from 2019. Subscription will auto renew annually.
US$ 199
This is the net price. Taxes to be calculated in checkout.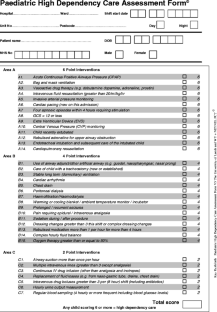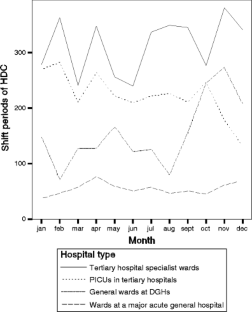 References
1.

Altman DG (1991) Practical statistics for medical research. Chapman and Hall, London

2.

Arts DGT, de Keizer NF, Scheffer G (2002) Defining and improving data quality in medical registries: a literature review, case study and generic framework. J Am Med Informat Assoc 9:600–611

3.

Cohen JA (1960) A co-efficient for agreement for nominal scales. Educ Psychol 20:37–46

4.

Crabtree I (2001) A bridge to the future: impact on high dependency and intensive care. J Child Health Care 5(4):150–154

5.

Crombie IK, Davies HTO (1997) Research in health care. Design conduct and interpretation of health services research. John Wiley and Sons, Chichester

6.

Department of Health (1997) A framework for the future. DH, London

7.

Department of Health (2001) High dependency care for children—report of an expert advisory group for Department of Health. http://www.dh.gov.uk/en/PublicationsAndStatistics/Publications/PublicationsPolicyAndGuidance/DH_4089100.htm. Accessed 12 Sept 2003

8.

dos Santos Silva I (1999) Cancer epidemiology: principles and methods. International Agency for Research on Cancer, France

9.

Feltbower R, Lewis IJ, Picton S et al (2004) Diagnosing childhood cancer in primary care—a realistic expectation? Br J Cancer 90(10):1882–1884

10.

Information centre for health and social care (2007) Paediatric critical care MDS. User guidance. http://www.ic.nhs.uk/services/the-casemix-service/using-this-service/reference/archive/paediatric-and-neonatal-critical-care-mds-user-guidance.htm. Accessed 6 May 2008

11.

Maybloom B, Chapple J, Davidson LL (2002) Admissions for critically ill children: where and why? Intensive Crit Care Nurs 18:151–161

12.

Meininger JC (1998) Epidemiologic designs. In: Brink PJ, Wood MJ (eds) Advanced Design in Nursing Research. Sage Publications, London

13.

Miranda DR, de Rijk A, Schaufeli W (1996) Simplified therapeutic intervention scoring system. The TISS-28 items-result from a multicentre study. Crit Care Med 24(1):64–73

14.

Mishel MH (1998) Methodological studies: instrument development. In: Brink PJ, Wood MJ (eds) Advanced Design in Nursing Research. Sage Publications, London

15.

Munro R (1999) Critical to success. Nurs Times 95(43):12–13

16.

National Information Governance Board. http://www.nigb.nhs.uk/ Accessed 7 Jan 2011

17.

Office of National Statistics (2006) Table 9. Mid-2005 population estimates: quinary age groups and sex for local authorities in the UK. http://www.statistics.gov.uk/statbase/Expodata/Spreadsheets/D9666.xls. Accessed 10 Mar 2007

18.

Paediatric Intensive Care Audit Network (PICANet) (2007) National Report of the Paediatric Intensive Care Audit Network 2004–2006. Universities of Leeds, Leicester and Sheffield. ISBN 78 0 85316 264 3

19.

Paediatric Intensive Care Audit Network. (PICANet) (2009) National Report of the Paediatric Intensive Care Audit Network 2006–2008 Universities of Leeds Leicester and Sheffield. Available online. http://www.picanet.org.uk/Documents/General/Annual%20report_2009/PICANet%20Report%202006%20-%202008_new.pdf. Accessed 15 Jan 2010

20.

Pollack MM, Alexander SR, Clarke N, Ruttimann UE, Tesselaar HM, Bachulis AC (1991) Improved outcomes from tertiary care pediatric intensive care. A state wide comparison of tertiary and non tertiary care facilities. Crit Care Med 19(2):150–159

21.

Rushforth K (2008) Paediatric High dependency Care in West, North and East Yorkshire. http://etheses.whiterose.ac.uk. Accessed 31 March 2011

22.

SPSS Inc. (2006) SPSS for windows Rel15.0.1. SPSS Inc, Chicago

23.

Streiner DL, Norman GR (2001) Health measurement scales: a practical guide to their development and use. Oxford University Press, Oxford

24.

Wade KJ (2002) Paediatric high dependency provision: a case for urgent review in the United Kingdom. Intensive Crit Care Nurs 18:109–117
Conflict of interest
None.
About this article
Cite this article
Rushforth, K., Darowski, M. & McKinney, P.A. Quantifying high dependency care: a prospective cohort study in Yorkshire (UK). Eur J Pediatr 171, 77–85 (2012). https://doi.org/10.1007/s00431-011-1475-9
Received:

Accepted:

Published:

Issue Date:
Keywords
High dependency care

Cohort study

Measurement tool

Paediatric intensive care

Long-term domiciliary ventilation