Abstract
Neonatal cholestasis is a serious condition which requires urgent further investigation. Delayed referral of cholestatic neonates, however, is still a significant problem. Every child presenting with jaundice beyond the age of 2 weeks should be evaluated with a fractionated bilirubin checked. In case of neonatal cholestasis, the first step should be the assessment of coagulation and urgent parenteral vitamin K administration in case of coagulopathy and the exclusion of life-threatening conditions or disorders requiring urgent specific treatment. Any child presenting with acholic stools should be referred to a paediatric hepatology unit in order to confirm or rule out biliary atresia, as prognosis after porto-enterostomy correlates with younger age at the time of surgery. Once these conditions have been excluded, a more individualised approach is used based on anamnestic, clinical and further diagnostic findings. Besides specific medical or surgical therapy for selected diseases, early supportive treatment aiming for optimal growth and development and prevention of complications is of uttermost importance.
This is a preview of subscription content, log in to check access.
Access options
Buy single article
Instant access to the full article PDF.
US$ 39.95
Price includes VAT for USA
Subscribe to journal
Immediate online access to all issues from 2019. Subscription will auto renew annually.
US$ 199
This is the net price. Taxes to be calculated in checkout.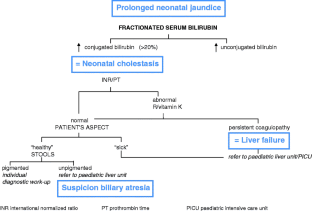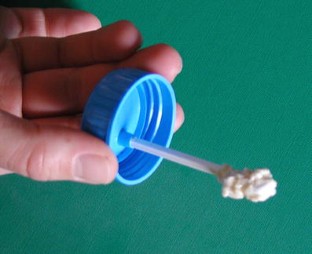 Abbreviations
ALT:

Alanine aminotransferase

AST:

Aspartate aminotransferase

INR:

International normalised ratio

MCT:

Medium chain triglycerides

PT:

Prothrombin time

Torches:

Toxoplasma, others, rubella, cytomegalovirus, herpes simplex, syphilis
References
1.

American Academy of Pediatrics (2004) Clinical practice guideline: management of hyperbilirubinemia in the newborn infant 35 or more weeks of gestation. Pediatrics 114:297–316

2.

Balistreri WF, Bezerra JA (2006) Whatever happened to "neonatal hepatitis"? Clin Liver Dis 10:27–53

3.

Balistreri WF, Grand R, Hoofnagle JH et al (1996) Biliary atresia: current concepts and research directions. Summary of a symposium. Hepatology 23:1682–1692

4.

Campion A, Guimber D, Michaud L et al (2001) Analysis of delay in diagnosis of extrahepatic biliary atresia. Arch Pediatr 83:493–498

5.

Carmi R, Magee CA, Neill CA et al (1993) Extrahepatic biliary atresia and associated anomalies: etiologic heterogeneity suggested by distinctive patterns of associations. Am J Med Genet 45:683–693

6.

Chen SM, Chang MH, Du JC et al (2006) Screening for biliary atresia by infant stool colour card in Taiwan. Pediatrics 117:1147–1154

7.

Dellert SF, Balistreri WF (2000) Neonatal cholestasis. In: Walker WA (ed) Pediatric gastrointestinal disease: pathophysiology, diagnosis, management, 3rd edn. B.C. Decker, Ontario

8.

Dick MC, Mowat AP (1985) Hepatitis syndrome in infancy—an epidemiological survey with 10 year follow up. Arch Dis Child 60:512–516

9.

Fahnehjelm KT, Fischler B, Martin L et al (2010) Occurrence and pattern of ocular disease in children with cholestatic disorders. Acta Ophthalmol 6 (in press)

10.

Grosfeld JL, Fitzgerald JF, Predaina R et al (1989) The efficacy of hepatoportoenterostomy in biliary atresia. Surgery 106:692–700, discussion 700–691

11.

Hussein M, Howard ER, Mieli-Vergani G et al (1991) Jaundice at 14 days of age: exclude biliary atresia. Arch Dis Child 66:1177–1179

12.

Kasai M, Watanabe I, Ohi R (1975) Follow-up studies of long term survivors after hepatic portoenterostomy for "noncorrectible" biliary atresia. J Pediatr Surg 10:173–182

13.

Koopen NR, Muller M, Vonk RJ et al (1998) Molecular mechanisms of cholestasis: causes and consequences of impaired bile formation. Biochim Biophys Acta 1408:1–17

14.

Lally KP, Kanegaye J, Matsumura M et al (1989) Perioperative factors affecting the outcome following repair of biliary atresia. Pediatrics 83:723–726

15.

Lee WS (2008) Pre-admission consultation and late referral in infants with neonatal cholestasis. J Paediatr Child Health 44:57–61

16.

Matsui A, Dodoriki M (1995) Screening for biliary atresia. Lancet 345:1181

17.

Matsui A, Ishikawa T (1994) Identification of infants with biliary atresia in Japan. Lancet 343:925

18.

McClement JW, Howard ER, Mowat AP (1985) Results of surgical treatment for extrahepatic biliary atresia in United Kingdom 1980–2. Survey conducted on behalf of the British paediatric association gastroenterology group and the British association of paediatric surgeons. Br Med J (Clin Res Ed) 290:345–347

19.

McKiernan PJ (2002) Neonatal cholestasis. Semin Neonatol 7:153–165

20.

Mieli-Vergani G, Howard ER, Portman B et al (1989) Late referral for biliary atresia—missed opportunities for effective surgery. Lancet 1:421–423

21.

Moyer V, Freese DK, Whitington PF et al (2004) Guideline for the evaluation of cholestatic jaundice in infants: recommendations of the North American society for pediatric gastroenterology, hepatology and nutrition. J Pediatr Gastroenterol Nutr 39:115–128

22.

Park WH, Choi SO, Lee HJ et al (1997) A new diagnostic approach to biliary atresia with emphasis on the ultrasonographic triangular cord sign: comparison of ultrasonography, hepatobiliary scintigraphy, and liver needle biopsy in the evaluation of infantile cholestasis. J Pediatr Surg 32:1555–1559

23.

Perlmutter DH (2007) α1-antitrypsin deficiency. In: Suchy FJ, Sokol RJ, Balistreri WF (eds) Liver disease in children, 3rd edn. Cambridge University Press, Cambridge

24.

Ryckman F, Fisher R, Pedersen S et al (1993) Improved survival in biliary atresia patients in the present era of liver transplantation. J Pediatr Surg 28:382–385, discussion 386

25.

Suchy FJ (2007) Approach to the infant with cholestasis. In: Suchy FJ, Sokol RJ, Balistreri WF (eds) Liver disease in children, 3rd edn. Cambridge University Press, Cambridge

26.

Trauner M, Meier PJ, Boyer JL (1998) Molecular pathogenesis of cholestasis. N Engl J Med 339:1217–1227
About this article
Cite this article
De Bruyne, R., Van Biervliet, S., Vande Velde, S. et al. Clinical practice. Eur J Pediatr 170, 279–284 (2011). https://doi.org/10.1007/s00431-010-1363-8
Received:

Accepted:

Published:

Issue Date:
Keywords
Neonatal cholestasis

Jaundice

Conjugated hyperbilirubinaemia

Extrahepatic biliary atresia