Abstract
The aim of the study was to determine the contemporary socio-clinical profile and perinatal outcome of illicit substance use in pregnancy in a large UK city and compare with published literature. Cases were identified retrospectively from the 'cause for concern' referrals over 5 years (2003–2007). Data was collected on mother–infant pair from medical notes and laboratory records. Chi-square and Mann–Whitney U tests were used where appropriate for statistical analysis. One hundred sixty-eight women were identified as using illicit substance in pregnancy. Smoking (97.4%), unemployment (85.4%) and single status (42.3%) were frequent. Besides controlled use of methadone, heroin, cannabis and benzodiazepines were the most commonly used drugs. Hepatitis C prevalence was high (29.9%) despite low antenatal screening rates (57.7%). Neonatal morbidity was related to prematurity (22.9%), small for dates (28.6%) and neonatal abstinence syndrome (NAS; 58.9%). By day 5 of life, 95.1% of the babies developing NAS and 96.1% of those requiring pharmacological treatment were symptomatic. Of the infants developing NAS, 31.7% required pharmacological treatment. A total of 82.5% babies went home with their mother, and 21.2% were placed on the Child Protection Register. Only 14.3% were breast feeding at discharge. Illicit substance use in pregnancy continues to be associated with significant maternal and neonatal morbidity, and the socio-clinical profile in this decade appears unchanged in the UK. Hepatitis C prevalence is high, and detection should be improved through targeted antenatal screening. Where facility in the community is unavailable, 5 days of hospital stay is sufficient to safely identify babies at risk of developing NAS. Most babies were discharged home with their mother.
This is a preview of subscription content, log in to check access.
Access options
Buy single article
Instant access to the full article PDF.
US$ 39.95
Price includes VAT for USA
Subscribe to journal
Immediate online access to all issues from 2019. Subscription will auto renew annually.
US$ 199
This is the net price. Taxes to be calculated in checkout.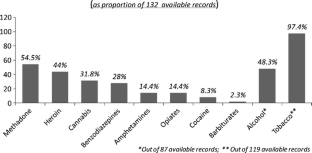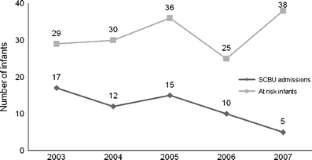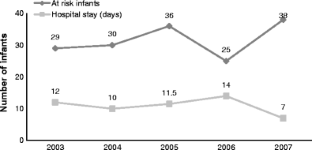 References
1.

Arlettaz R, Kashiwagi M, Das-Kundu S et al (2005) Methadone maintenance program in pregnancy in a Swiss perinatal centre (II): neonatal outcome and social resources. Acta Obstet Gynecol Scand 84:145–150

2.

Batey RG, Weissel K (1993) A 40 month follow-up of pregnant drug using women treated at Westmead Hospital. Drug Alcohol Rev 12:265–270

3.

Department of Health (2002) Statistics from the regional drug misuse databases for six months ending March 2001 Statistical Bulletin; 2002/07. Department of Health. http://www.dh.gov.uk/prod_consum_dh/groups/dh_digitalassets/@dh/@en/documents/digitalasset/dh_4023196.pdf. Accessed 25 Aug 2010

4.

Department of Health (2007) Drug misuse and dependence: UK guidelines on clinical management. DOH and devolved administrations. http://www.nta.nhs.uk/uploads/clinical_guidelines_2007.pdf. Accessed 3 Jun 2010

5.

Dryden C, Young D, Hepburn M, Mactier H (2009) Maternal methadone use in pregnancy: factors associated with the development of neonatal abstinence syndrome and implications for healthcare resources. BJOG 116:665–671

6.

European Monitoring Centre for Drugs and Drug Addiction (2009) Drug-related infectious diseases and drug-related deaths. EMCDDA, Luxembourg. http://www.emcdda.europa.eu/attachements.cfm/att_93236_EN_EMCDDA_AR2009_EN.pdf. Accessed 3 Jun 2010

7.

Fajemirokun-Odudeyi O, Sinha C, Tutty S et al (2006) Pregnancy outcome in women who use opiates. Eur J Obstet Gynecol Reprod Biol 126:170–175

8.

Hoare J (2009) Drug misuse declared: findings from the 2008/09 British Crime Survey—England and Wales. Home Office Statistical Bulletin, London. http://rds.homeoffice.gov.uk/rds/pdfs09/hosb1209.pdf. Accessed 3 Jun 2010

9.

Johnson K, Greenough A, Gerada C (2003) Maternal drug use and length of neonatal unit stay. Addiction 98:785–789

10.

Lejeune C, Simmat-Durand L, Gourarier L, Aubisson S (2006) Prospective multicentre observational study of 260 infants born to 259 opiate-dependent mothers on methadone or high-dose buprenorphine substitution. Drug Alcohol Depend 82(3):250–257

11.

National Institute of Drug Abuse (1999) Substance Abuse and Mental Health Services Administration (SAMHSA): National Household Survey on Drug Abuse (NHSDA). http://www.oas.samhsa.gov/NHSDA/99StateTabs/toc.htm. Accessed 3 Jun 2010

12.

Neonatal drug withdrawal (1998) American Academy of Pediatrics Committee on Drugs. Pediatrics 101:1079–1088

13.

Northern and Yorkshire Public Health Observatory (2002) Drug misuse in pregnancy in the Northern and Yorkshire Region. Occasional Paper No.6. http://www.dur.ac.uk/ne.pho/view_file.php?c=349. Accessed 3 Jun 2010

14.

Oei J, Feller JM, Lui K (2001) Coordinated outpatient care of the narcotic-dependent infant. J Paediatr Child Health 37:266–270

15.

Oei J, Lui K (2007) Management of the newborn infant affected by maternal opiates and other drugs of dependency. J Paediatr Child Health 43:9–18

16.

Office for National Statistics (2007) Press release, 24 May 2007, based on 2005 data. http://www.statistics.gov.uk/pdfdir/preterm0507.pdf. Accessed 3 Jun 2010

17.

O'Grady MJ, Hopewell J, White MJ (2009) Management of neonatal abstinence syndrome: a national survey and review of practice. Arch Dis Child Fetal Neonatal Ed 94:F249–F252

18.

Rajagopal R, Mang A, Wisdom S (2008) Substance abuse in pregnancy and maternal & neonatal outcome—5 year study. Abstract of Societies. Scot Med J 53:49

19.

Saiki T, Lee S, Hannam S, Greenough A (2010) Neonatal abstinence syndrome—postnatal ward versus neonatal unit management. Eur J Pediatr 169:95–98

20.

Sarkar S, Donn SM (2006) Management of neonatal abstinence syndrome in neonatal intensive care units: a national survey. J Perinatol 26:15–17

21.

Vucinovic M, Roje D, Vucinovic Z et al (2008) Maternal and neonatal effects of substance abuse during pregnancy: our 10-year experience. Yonsei Med J 49:705–713

22.

Welsh Assembly Government (2009) Maternity statistics, Wales: method of delivery, 1998–2008. Welsh Assembly Government, Cardiff, UK. http://wales.gov.uk/docs/statistics/2009/090325sdr422009aen.pdf?lang=en. Accessed 3 Jun 2010

23.

Welsh Index of Multiple Deprivation (2005) National Assembly of Wales Statistic Directorate. http://wales.gov.uk/cisd/publications/statspubs/wimd2005summaryrevised/en.pdf?cr=5&lang=en. Accessed 3 Jun 2010

24.

Williams-Petersen MG, Myers BJ, Degen HM et al (1994) Drug-using and nonusing women: potential for child abuse, child rearing attitudes, social support, and affection for expected baby. Int J Addict 29:1631–1643
Acknowledgements
We would like to thank Virginia Hewitt, lead midwife for vulnerable adults and children, for her suggestions in the formative stage of the study and Cerys Nicholls for her help in collecting maternal data. We would like to thank the audit department at Singleton Hospital and Mrs. Lynda Challacombe for their help in obtaining medical notes.
Conflict of interest
The authors declare no conflict of interest.
Appendix
Appendix
About this article
Cite this article
Goel, N., Beasley, D., Rajkumar, V. et al. Perinatal outcome of illicit substance use in pregnancy—comparative and contemporary socio-clinical profile in the UK. Eur J Pediatr 170, 199–205 (2011). https://doi.org/10.1007/s00431-010-1284-6
Received:

Accepted:

Published:

Issue Date:
Keywords
Illicit substance use

Substance misuse

Socio-clinical profile

Perinatal outcome

Neonatal abstinence syndrome